#belgianwhite – PorchDrinking.com
August 31, 2018 | Dan Bortz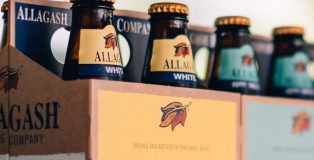 Avg. Reading Time:
2
min
When you use the hardworking sensibility of a Mainer to brew an American interpretation of a classic Belgian-style Wit, the results should be delicious. If you brew that same beer once a week for over 20 years while constantly striving for perfection, then the resulting beer will be singularly iconic. Today's featured brew may have served as a gateway craft beer to many, but we should avoid pigeonholing it as such. Whether it's your first craft beer or your 1000th, Allagash White is a Craft Beer OG that continues to hold up.
Read More
October 17, 2016 | Mike Zoller
Avg. Reading Time:
7
min
Walk into nearly any bar in American and you'll likely spot a beer served with an orange slice. Immediately Blue Moon Belgian White comes to mind. First brewed by Keith Villa at the Sandlot Brewery attached to Coors Field in 1995, Blue Moon Belgian White was originally called Bellyside Belgian White and bars served it with lemon. Things have changed over the years and I met up with Villa at the Great American Beer Fest to talk with him about his brewing background, the history and growth of Blue Moon as well as his thoughts on the craft beer industry.