No Comments
The OGs of Craft Beer | Allagash Brewing Company – White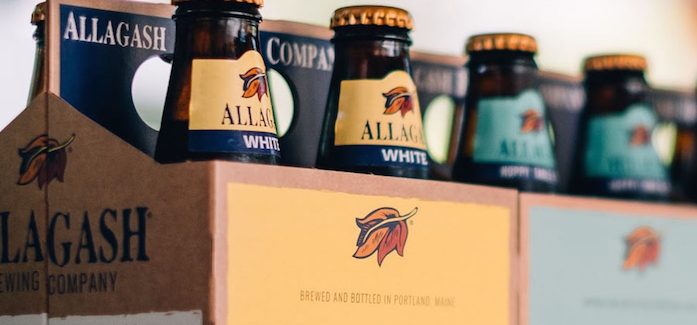 When you use the hardworking sensibility of a Mainer to brew an American interpretation of a classic Belgian-style Wit, the results should be delicious. If you brew that same beer once a week for over 20 years while constantly striving for perfection, then the resulting beer will be singularly iconic. Today's featured brew may have served as a gateway craft beer to many, but we should avoid pigeonholing it as such. Whether it's your first craft beer or your 1000th, Allagash White is a Craft Beer OG that continues to hold up.

The year was 1995. In the corner of a warehouse in Portland, Maine, Allagash's founder and sole employee, Rob Tod, cobbled together a 15-barrel brewhouse. Though German and English beer styles were fairly easy to find in those days, Belgian styles were still hiding on the fringes of the upstart craft beer scene. Rob wanted to bring these beers into the spotlight.
The very first batch of beer that Rob brewed and sold was Allagash White.
https://www.instagram.com/p/BmhNSuFB25n/?taken-by=allagashbrewing
Allagash White was met with skepticism when it entered the market. Why was the beer cloudy? What is that spicy flavor? Why does it smell that way?
The beer was very different than what was being served in Portland at the time. Slowly but surely, this "strange" Belgian-style brew got a foothold. Beer drinkers in Maine – and eventually the rest of New England – started to understand what White was all about.
This OG's malt bill includes oats, malted wheat and raw wheat, which help to give it a light body and hazy appearance. Coriander and Curuçao orange peel are also added to the kettle to impart the the beer with refreshing notes of spice and citrus.
https://www.instagram.com/p/BkThnWhgjf0/?taken-by=allagashbrewing
With availability in 17 states and name recognition in all 50, it's fair to say that Allagash White has definitely caught on and become a modern classic. With Rob Tod still leading the team, Allagash strives to make every batch of White taste just like that first one. Consistency is key.
Whether you've been drinking craft beer for 25 years or 25 seconds, it's hard to argue with the simple, well-crafted beauty of Allagash White. It has a subtle complexity that you can analyze as every successive sip unfolds on your palate, but it can also be a refreshing lawnmower beer. No matter how you choose to enjoy it, at over 20 years old, this beer holds up.
We at Porchdrinking.com thoroughly enjoy covering craft beer trends and showcasing the newest and beers. But, before terms like Brut, Milkshake, New England and even BBA entered the brewing-industry lexicon, beer fans were thrilled to taste Ambers, Pale Ales and some mysterious beer that may or may not have arrived from India. So, for one month, we are going to take time to remember some of those OGs of Craft Beer — the brews that made it all possible. While we can't cover all the OGs of Craft Beer, we want to take this time in August to pay homage to several of them. If your favorite "classic" isn't on the list; don't fret. Let us know what you loved back in the day (or still do), and bring attention in the comments section below or via our social media channels.
Featured image courtesy of Allagash Brewing Company
---