#election2020 Archives – PorchDrinking.com
November 2, 2020 | Seth Garland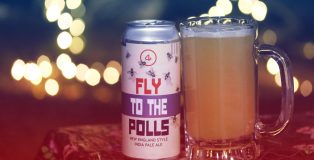 Hopefully you've already voted, or made plans to cast your vote for the 2020 election (if not, it's 'Bout Damn Time you do). In one final push to motivate voters, 4 Noses Brewing Company released their newest Hazy IPA, Fly to the Polls, on Friday.
September 29, 2020 | Ruvani de Silva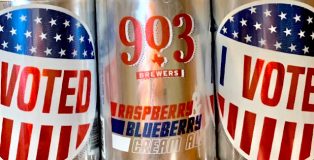 With National Voter Registration Day just behind us and a mere seven weeks until the 2020 Presidential Election, there couldn't be a more appropriate time for a brewery to highlight the need for all U.S. citizens to get out and vote. 903 Brewing, based in Sherman, Texas, is in the process of brewing its second bipartisan call-to-action I Voted beer. The blueberry-raspberry-cherry Berliner-Style Weisse follows the raspberry-blueberry sweet Cream Ale that kick-started the project during the May Primaries. 
The I Voted beers sport equally red-white-blue packaging and are designed to encourage voters of all persuasions to make themselves heard on Election Day. With the original batch of I Voted having sold out swiftly, 903 is releasing an expanded run of its new Berliner-Style Weisse. The latest release will hit supermarket shelves in mid-October in time for early voting, and should be available for Election Night consumption.