#nelsonsauvin Archives – PorchDrinking.com
February 11, 2019 | Scott Johnson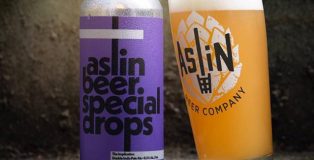 The reckoning of New England IPAs is going to come. After years of the milkshake beer being the new kid on the block, trends are slowly switching back to old school pale ales and even hopped lagers. I don't think the NEIPA will fully go away, but when every brewery jumps on the trend it just loses it's panache. I thought I had tasted every kind of juice box imaginable … until trying The Implication from Aslin Beer Company.
March 10, 2014 | Bob McGurgan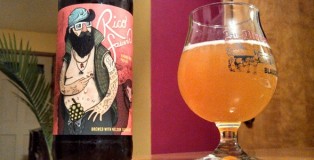 Against the Grain Rico Sauvin
ABV: 7.6%
I passed a lone bottle of Against the Grain's Rico Sauvin IPA at Party Mart in Louisville, Ky. And then I stopped. And then I picked up the bottle. The gentleman on the wrapper peered suggestively at me. I registered vague surprise that the bottle wasn't sticky.
I mean… look at that dude. He is so skanky. The pimply nose… the hop cone mustache… the tickled nipple. He stares into the skanky part of your soul. Then again, I think he reflects the beer-drinking facet that I love the most: skanky soul-searching. Preferably at 1AM+. I carried the bottle to the counter.