No Comments
Inaugural Boulder IPA Festival Part 2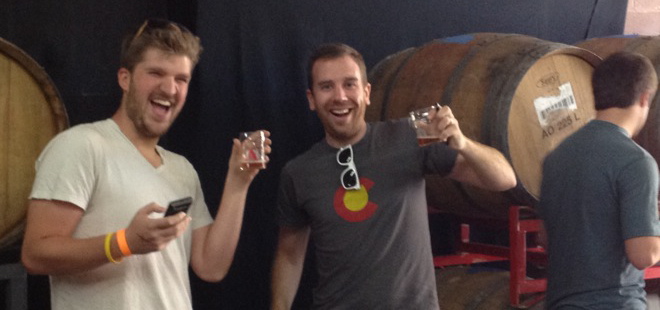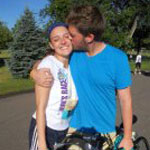 Scott and I originally went into the inaugural Boulder IPA Festival believing that we would only receive 16 four oz. pours. So, when we arrived, we studied the list of 90 beers to star the must-drinks and quickly weeded out the beers we have had over and over again. However, once we checked in and dropped the completely badass "we're on the guest list" line, we found out that we were VIPs.
Very. Important. Persons.
They slapped an orange bracelet on our wrists, and just like that our beer minimum went from 16 to infinity. We were like really old kids in a really awesome candy store.
The original goal was to keep a track of all the beers we drank, making sure to take notes on flavor, color, and such. However, after ten pours of deliciously hoppy beer, the list became more and more incoherent until we reached a point when notes were no longer taken. The truth is the beer was good. Damn good. Nevertheless, here is my best take of the beer-by-beer journey to the IPA Festival (which was definitely not at Asher Brewing Company):
Dogfish Head – 120 Minute IPA – We picked this one first because it was pretty rare and we didn't want it to disappear on us. Marked at a whopping 15%, this beer was quite the kick as the first beer of the evening. My notes: "strong, alcoholy, amazing!"
Cigar City – Jai Alai – I went for the Jai Alai and Scott got the oak aged Jai Alai. This beer was very herby but super delicious. Scott's was a bit smoother and way good. My notes: "smooth, subtle, herb"
Oskar Blues – Double Hopped Deviant Dale's IPA – Luckily our infinite beer bracelets allowed us to have some of our favorite beers, and seeing as I had never tried this version of Deviant before, I was all over the opportunity. And it was fucking awesome. My wife says Deviant Dale's tastes like the smell of weed, but this one literally tasted like a handful of hops. So good. My notes: "skunky, handful of hops, so good right now"
Nebraska Brewing – Hop God – I gave Nebraska a chance, and it failed. This beer was way underwhelming. It was like the Hermes of beers. My notes: "citrusy, light, Lindsey would like this"
David Markham – Something Different – Something different indeed. David Markham brewed this and won himself a contest for it. It was delicious and he was an awesome dude. My notes: "homebrew, David Markham"
Alright. This is the point where events get fuzzy. At this point in the day, I was enjoying a lovely bratwurst topped with sauerkraut; it was amazing. And then Scott and I started jamming to xylophone and talking about Batman. And somewhere between all of this, I started getting distracted.
COOP Ale Works – Orange Blossom Double IPA – Now here was a "girly" IPA that I could really get into. It was so tasty. Scott described it as the "sorbet of double IPAs," and I wish I could say he was joking. Absolutely delicious. My notes: "citrusy, orangey, fruity"
Grand Teton Brewery – The Lost Continent – Unfortunately I remember nothing about this beer as my notes can attest to. My notes: "getting drunk"
And at this point, I feel like the notes will have to speak for themselves:
New Belgium – Super – "fucking super sweet"
Water – "good"
Pizza Port – Retox – "a little bitter, okay" (I know I had more from this place)
Port Brewing – Hop 15 – "golden, hoppy as fuck, alxoholu" (sic)
Two Brother's Brewing – Outlaw – "(no notes available)"
And I have no idea where this is from – 4.0 Beer – "4.0 beer sucks"
Now, I am certain that I must've had at least 25 four ounce pours over the course of those five hours, but I can't tell you where they went or why they aren't here. But what I can tell you is when this thing rolls around again next year, you should probably be there. Go for the beer, stay for the weird cornhole-esque game.