One Comment
Vine Street Pub and Brewery- Denver, CO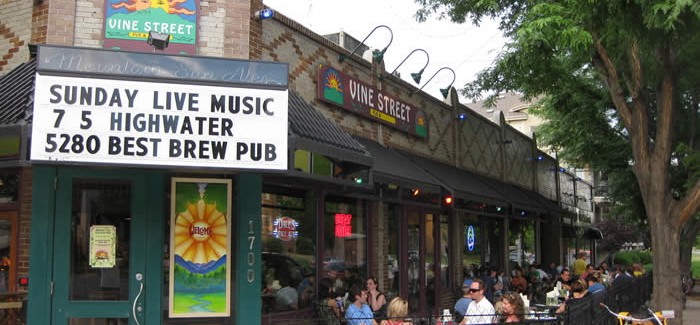 OK, I'll admit it, I'm not a Colorado native. I came up for school at Colorado State from New Mexico and only moved down to the capital a little over a year ago. That means, like so many other migrant Coloradans, I'm still discovering all that the Mile High City has to offer, and it's a lot. So many pubs, clubs, breweries, hangouts, bars and so much more that this self-proclaimed beer snob is sure that funds will dry up well before my thirst for something new does.
One of the first places I was invited to try when newly arrived in Denver was the Vine Street Pub and Brewery. Nestled on the corner of Vine St. (aptly named, yes?) and 17th St., only four easily walkable blocks to City Park, this stop on my discovery express has a relaxed, down-home atmosphere that caters to all. And that's the point. Managing partner Paul Nashak describes the importance of having a "community gathering space" for beer connoisseurs and casual drop-ins alike since their opening back in 1993.
"It's a living room-like feel, with comfy seats, a lot of open space, and board (and other bar) games to give the feel of a community meeting place, [rather than just a bar bar]," he explains.
The other bar games, as I'm sure you're wondering, include dice, Yahtzee, classics like trivial pursuit, and the crowd favorite, corn hole! These pandemically popular activities, coupled with two outdoor patio areas (one for seating and one for corn holing), make The Vine Street Pub a great people watching place to unwind after a long day in the summer, as well as a great leaves-changing-color watching post-up in the fall.
But don't forget about the beer! Mountain Sun Pubs and Breweries, of which Vine Street is the Denver chapter with the other two in Boulder, Colorado, have won six gold medals at previous years' Great American Beer Fests. They submitted five additional hopped masterpieces this year.  No introduction needed, while not a GABF entrant, just sit back and try NOT to have your mouth water: Belgian Dip Chocolate Stout. It's on tap and if you're not salivating enough to impress even Pavlov, try saying it over and over to yourself slowly … I'll wait … Still nothing? Then take a look at their food menu.
From burritos to the vegetarian-fed Date Night burger (all the burgers are veggie fed), from grilled cheese to the Gooney Bird, I dare you to try and find an absence of dishes that tickle your fancy, or at least your funny bone.
Cash only!?**
**With one Karmazing exception
All good things must come to an end. I just made that up. But seriously, when you arrive at the time to pay your tab, you'll notice two things at Vine St. 1. It is cheap! and 2. It's cash only … sort of. Not surprisingly, these two miracles coincide quite intimately. By not allowing credit cards, Vine St. can charge patrons less for their beers because they don't need to worry about the 2.5% charge that runs directly to Visa or MasterCard (or 5% with Discover) with each swipe.
"This allows us to keep the menu cheap and increases the value of our local beer," says Nashak. It also gives more of the feeling that you're paying a neighbor or friend for mowing your lawn, rather than closing out a tab for some drinks. Again, community focus above all else, except maybe the quality of beer. Want to run in for a quick game of Parcheesi but only brought the plastic? No problem. Vine St. has what are called "Karma Envelopes." These are pre-addressed, pre-stamped envelopes that you take home and, through the honor system, send your payment in later via cash or check. That's right! It's 2012 and while this is the only operating business I've ever seen to continue to do this in this day in age, it's nice to know that when all else fails at least SOMEWHERE people have faith in people enough to still use the honor system.
(Editor's note below)
During GABF our staff was lucky enough to tour Vine Street's brewing facilities as party of a Brewery Bus Tour put on by the Brewer's Association.  The facility opened just earlier this year and is by far the cleanest brewing operation we've seen.  Vine Street keeps 21 different beers on tap, most of which are all brewed by the Mountain Sun family.  In order to do this, their beers are brewed at each of the different locations and transported to those individual sites.
The combination of fantastic in-house beers and equally mind blowing food, makes Vine Street a must-visit Denver brewery.