No Comments
Trinity Brewing Oh Face Saison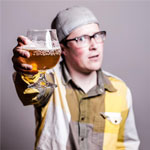 Style: Saison
ABV: 4.8%
Background
Here in Colorado the temperatures have dropped into the negatives the past couple days. So you would think that I would reach for a dark and heavy stout but no I went straight for the light refreshing characteristics of a Saison, Trinity Brewing Oh Face. Oh Face is part of Trinity's Office Space-themed beers and is a complex saison that is fermented with brettanomyces then brewed with spelt, oats, rye, and wheat. Finally, it is spiced with pumpkin and lavender. If things go well, this beer should be showing me its oh oh oh face if you know what I mean.
Tasting
Oh Face pours a hazy-straw color with a small amount of head. The aroma leaps out of the glass revealing lavender, herbal, slight vegetal, hints of spice,  and sour notes. Up front the beer starts out slightly tart, then fades into pumpkin and citrus notes. The beer finishes with a nice herbal spice kick with a light tart bitterness that lingers on the tongue.  Oh Face does a very good job of allowing its flavors to shine and not become muddled. Overall, Oh Face is a very interesting and quite refreshing beer.
Aging
As time passes Oh Face's wild yeast will develop and the spice characteristic will mellow. Feel free to experiment and see how this beer develops.
Recommendation
WillyD Approved. Summer or winter, if you have got a case of the Mondays, then Oh Face will do the trick. Look for this beer to be  distributed in very limited allocations of 750 ml bottles and some draft to the best beer stores in Denver, Colorado Springs, Boulder, and Fort Collins.