No Comments
Big Beers Festival in 140 Characters or Less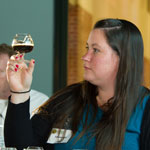 Last weekend I had the great pleasure of going to the Big Beers, Belgians and Barleywines Festival in Vail, CO. 13 of us from Northern Colorado loaded into a caravan and headed up the mountain for the 13th annual fest. That's right, lucky 13. What could go wrong there?
I shared a condo with professional brewers, brewery owners, festival staff, home brewers and lovers of beer. Prior to the fest I was given a hard time, all in good fun, about not being able to hang with the big boys at Big Beers. I'm young, female, and it was my first year, they were convinced I would be over a toilet by the end of the weekend, like so many of them have done before. But I showed them, I held my own. Nary a hangover graced my head or stomach. And I have the tweets to prove it. After all, we all know how well booze and social media mix.
Side note: You will notice very few pictures of people, and that is to protect the guilty.
For more beer fun make sure to follow Lauren on Twitter @NapaofBeerGirl