No Comments
Best Recruiting Class in History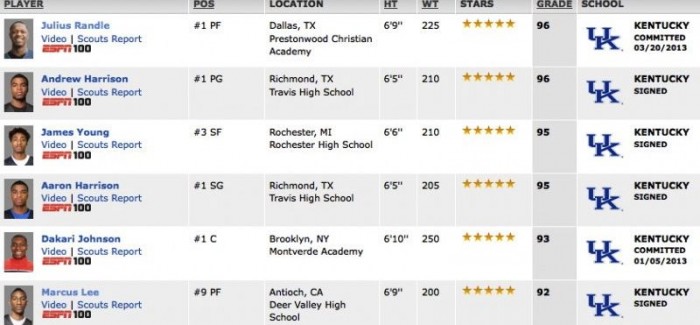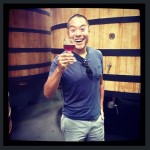 On Tuesday night, the University of Kentucky Men's Basketball team wrapped their worst season in the modern era by falling to Robert Morris in the first round of the NIT. On Wednesday, Kentucky set themselves up for statistically the best recruiting class in collegiate history and what could become the deepest team in collegiate history.
Yesterday afternoon at around 1:15 eastern, Julius Randle, the #1 rated power forward in the 2013 class announced that he would be joining Aaron Harrison the #1 ranked point guard, Andrew Harrison the #1 ranked shooting guard, Dakari Johnson, the #1 rated center, James Young, the #3 rated small forward, Marcus Lee, the #9 rated power forward and Derek Willis a three star power forward to form the essential dream team of recruiting classes. The scary thing is, that this recruiting class may not be done yet. While the #1 overall prospect Andrew Wiggins is still technically considering Kentucky, it would be a bit unlikely that he'd commit to an already crowded rotation, however hometown rising star point guard Dominique Hawkins could provide the work ethic and sure shot that Kentucky was missing this season.
On top of the incoming crop of diaper dandies consider the possibility for the first and possibly only time in several years Cats fans may see a number of returning faces. Archie Goodwin, Ryan Harrow, and Alex Poythress  immediately pledged their return after Tuesday's embarrassing loss, citing that they weren't ready for the NBA. Center Willie Cauley-Stein also voiced his interest in returning but hinted that family members may be influencing a return.
What this year's team lacked came down to a number of factors: a need for leadership, swagger, maturity, and heart. If any of the aforementioned returners along side Kyle Wiltjer, the timid sharp shooter who lacked defensive athleticism  can polish their game during the off season, coupled with the fresh talent coming in, this could also be the deepest team in NCAA history.
And while it's very unlikely that the returners will be able to assume that leadership role between now and the start of next season, much like last year's one and dones, the 2014 class promises to be replete with leader, athletes with swagger, and work horses with the will to win.
So while many out there are crowing about the Wildcats' fall from grace, most of Big Blue Nation is patiently taking note, because the college basketball obsessed fan base knows what lies ahead, and it's looking they should start to clear space in Rupp for banner number 9.