No Comments
Flying Dog – Single Hop Series: Citra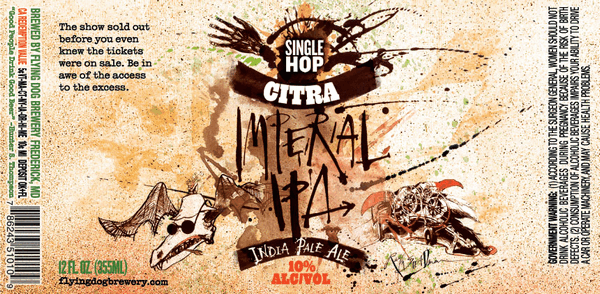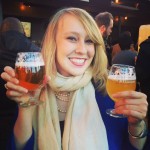 Flying Dog – Single Hop Series: Citra
ABV: 10%
IBU: 70
One of the best places to enjoy fun new brews in Washington, DC is Pizzeria Paradiso. This week, I met a friend for their Wednesday 1/2 priced draft happy hour. This is a great opportunity to try new beers without committing a lot of cash. Upon glancing over the draft offerings, I immediately noticed a new beer from Flying Dog (one of my favorite area breweries) with the sole purpose of showcasing the flavor profile of a single strain of hops.  In 2012, the brewery released six single-hop varieties with very limited distribution (so I am a little late to this hop-centric party). Each brew is made with the same grist in order to truly feature the subtleties of each type of hop. As a hop head, I could not pass this up.
The butterscotch golden IPA arrived in a 9 oz snifter (the smaller the glass, the more serious – aka alcoholic – the beer). It was initially crowned with a nice, clean, white head but this rapidly disappeared. The nose greeted me with an aroma of mild hop and a bit of earthy malt. The first sip was not as robustly bitter as I had expected from this Imperial IPA. Fear not, hop lovers: the hop sting arrives right at the finish which provides a pleasant warming sensation. Citra is an aptly named varietal, as the overwhelming flavor is of grapefruit rind.
I am very much looking forward to brew experiments like this in the future. In drinking so many beers that feature a bouquet of ingredients, we sometimes lose sight of the individual flavors that blend together to produce a well-developed beer. Flying Dog pays homage to the individual ingredients and varietals that make the beer we love so intriguing. By allowing the unique profile of a single hop to shine through, the drinker is brought back to consider what the basics of beer really are. As I discussed with my neighbor at the bar, a trend in homebrewing you see in neophyte brewers is a desire to jump directly into complex, fancy concoctions, such as a Mexican Chocolate Chipotle Espresso Stout. What is often forgotten is one must master the basic stout before adding nuances and unusual ingredients to the flavor profile.
I will venture to make a prediction here: this "back to basics" approach will absolutely be a growing trend in craft beer in the coming years – but it will come with a twist. Breweries are becoming more adventurous with their recipes – which is fantastic! – but at some point, re-examining the fundamentals will not only be necessary, but I believe there will be a growing consumer demand for it. Just as molecular gastronomy did in the foodie scene (such as featuring the umpteen ways to cook and showcase the flavor and discover the essence of simple yet vital ingredients like eggs), I feel there is a beer movement brewing that seeks to relearn, rework, and honor the fundamentals in new, innovative ways.