One Comment
Jolly Pumpkin – Fuego del Otono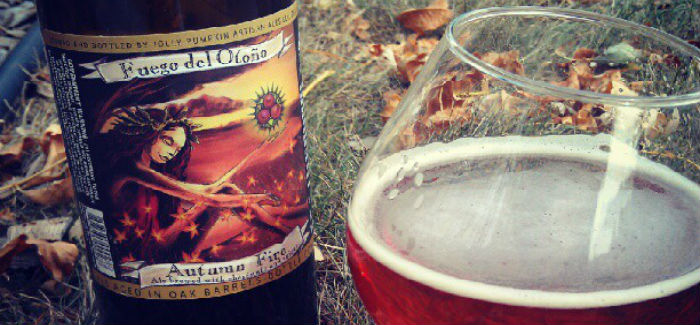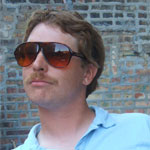 6.1% ABV
Some people drink for education, some drink for relaxation, some drink for inspiration. I have never understood the idea of drinking for any purpose other than pleasure. Sure, I write about the beers, but I only review beer that I enjoy, the beers that I want others exposed to as well. Ron Jeffries, Brew Master at Jolly Pumpkin, says, "We create beers to lighten the spirit and soothe the soul." Preach on, brother. This is a philanthropic venture on the brewing end and a hedonist venture on the consumption end. Share the joy! And what brings more joy than beer? Well, fire. But fire and beer together. Whoa, whoa, whoa, it's magic. Literally translated, Fuego del Otono means "fire of the fall" (or "Autumn Fire" as they call it at Jolly Pumpkin).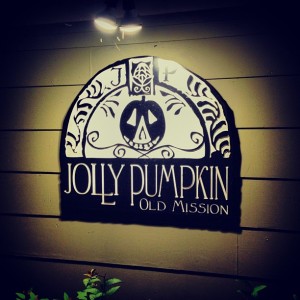 Scents of candied sweet potato (you know with cinnamon on top) and peaches ruminate from 22-ounce bomber as the beer pours into a snifter. Its hazy orange-yellow pour is as murky as Tiajuana tap water, capped by an off-white, quickly-receding crown. Aged in oak, this ale, brewed with chestnuts and spices, exudes nuttiness and all of those fall/winter sweet spices – nutmeg, allspice, cinnamon – on the tongue; the aftertaste, however, is pure sour on the back end. Your taste buds are never overwhelmed and always left guessing.
Artisanal brewers are those that focus on the craft of each batch, experimentation within the traditional styles, and producing quality beers in conventional and non-conventional ways for consumers to enjoy! Fuego del Otono will excite sour lovers, intrigue saison fans, and please adventurous drinkers. The fire in this beer is not in the taste, but in the craft, as Ron Jeffries and Jolly Pumpkin continue to put the ART in artisanal. And the art for Jeffries is making people's day better one beer at a time.