One Comment
Colorado's Pumpkin Beer Season Release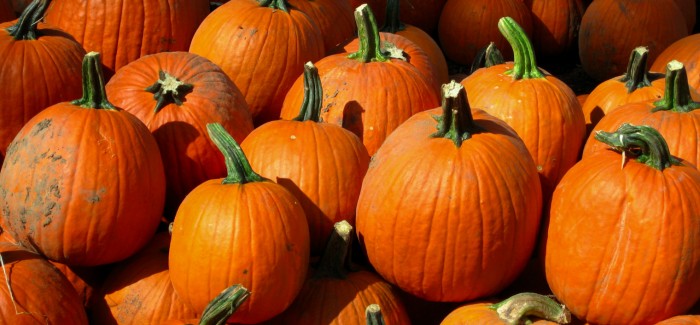 Whether you like it or not, summer is coming to an end in Colorado. You can feel the impending change of season in the cool breeze, and may even notice the leaves starting to hint at their changing colors. There is no escaping it, autumn is on the way.
We prefer not to be sad about the ending summer season, and instead look forward to what fall has to offer: pumpkin beer!
Pumpkin beer is sort of like of the Donald Trump of craft beers – some people love them and can't get enough, while others vehemently hate them and want they would go away already. The similarity ends there, however, because unlike the one-of-a-kind Trump, there are countless different styles and varieties of pumpkin beer. With so many options to choose from, even the biggest pumpkin-hater is sure to find a pumpkin beer they can enjoy.
To encourage you to get out there find your own pint of pumpkin beer perfection, today we bring you the following list of Colorado pumpkin beer releases.
Available Now
Avery Brewing – Rumpkin
This newly released fall favorite is made with fresh Boulder pumpkin, spices, and is aged in fine fresh rum barrels to add suggestions of delicate oak and candied molasses.
Copper Kettle – 2014 Rum Pumpkin Porter
A high gravity English style porter dressed up with pumpkin pie spices and aged in Jamaican rum barrels.
Copper Kettle – Imperial Pumpkin Porter
A toasty and robust English style porter with layers of pumpkin pie spices.
Dry Dock Brewing Co – Imperial Pumpkin
This spiced Imperial Pumpkin ale is made with real pumpkin and tastes like autumn in a glass!
Crabtree Brewing Co – Chunkin' Pumpkin
Made with over 1200 pounds of locally grown, fresh-roasted pumpkin.
Eddyline Brewing – Pumpkin Patch Ale
Celebrate the bountiful season with this delicious Pumpkin Patch Ale, made with real pumpkin, spices, and honey.
Epic Brewing – Gourdian Pumpkin Ale
Even the pumpkin beer haters will love the fresh taste of real pumpkin, a touch of spices, and just a hint of graham cracker piecrust and maple sweetness.
Joyride Brewing – Scarecrow Pumpkin Ale
Made with fresh pumpkin, Madagascar vanilla beans, and lightly spiced with cinnamon, nutmeg and allspice.
Lone Tree Brewing – Mr. Moo's Pumpkin Brew
A pumpkin forward ale with just the right amount of spice.
New Belgium – Pumpkick Spiced Seasonal Ale
An unexpected kick of tart cranberry juice and a touch of lemongrass brightens this traditionally spiced pumpkin ale.
Odyssey Beerwerks – Fluffy Pumpkin
A rich, chocolately porter with toasted marshmallow and pumpkin.
Tommyknocker Brewery – Small Batch Pumpkin Ale
A hearty brown ale brewed to celebrate the season with real pumpkin, a hint of spice, and a touch of molasses.
Trinity Brewing – Emma's Pumpkin Saison
A fall version of the Belgian style made with torch roasted and caramelized sugar pumpkins, brown sugar, and spices.
Upslope – Pumpkin Ale
This GABF gold medal winning beer is made with organic baby bear pumpkins and a custom blend of six spices.
Coming Soon
Lost Highway Brewing Company – Pumpkin Ale
Made with 72 pounds of pumpkin meat, pumpkin pie spices and a Belgian yeast strain.
Available Sept. 16
Dry Dock Brewing – Pumpkin Apricot Blonde
Dry Dock's combined their award winning Apricot Blonde recipe with pounds of pumpkin to create a fall twist on one of their favorites.
Available Sept. 18 at 3pm
Wiley Roots Brewing – Apumpalyptica
Imperial ale brewed with locally grown pumpkins and spices.
Available Sept. 19
Copper Kettle – Vanilla Chai Pumpkin Porter
This beer is creamy with the the combination of pumpkin and chai spice, perfect for fall.
Available Sept. 23
Saint Patrick's Brewing Company – Pumpkin Vanilla Chai Lager
Aromas of chai tea, ginger, vanilla and citrus are complimented by notes of malted barley and pumpkin.
Available Sept. 23
City Star Brewing – Country Pumpkin
Harvest ale brewed with cinnamon, ginger, allspice, cloves, nutmeg and aged on Madagascar vanilla beans.
Available Sept. 26
CO Brew – Pumpkin Porter
A lightly spiced porter with a roasted malty backbone that lets the roasted pumpkin flavor come through.
Available late-September
Broken Compass Brewing – Chocolate Pumpkin Pie Stout
The taproom favorite is returning this year, made with 215 pounds of pumpkin!
Available late September
Locavore Beer Works – Replacement Killer Pumpkin Ale
Locavore's take on the fall classic, using roasted pumpkin and spices from Savory Spice Shop.
Available Oct. 3
Three Barrel Brewing – Pumpelstiltskin
A field pumpkin saison full of earthy fullness, gorgeous flavors and a spicy finish.
Available early October
Coopersmith Pub – Charlie's Great Pumpkin Brown
Brewed with 200 pounds pumpkin, the flavors and aromas are reminiscent of the caramelized crust of a freshly baked pie.
Available Oct. 26
CAUTION: Brewing – Tim Curry Imperial Pumpkin
Back this year by popular demand, Tim is a delicious curry-infused imperial pumpkin ale.
Available October
Pateros Creek Brewing – Owl Canyon Pumpkin Ale
Made with Fresh Pumpkins from Osborn Farm and only the best spices.
Available October
Bristol Brewing Co – Venetucci Pumpkin Ale
A subtly spiced, malty treat made with local Venetucci Farm pumpkins.
Available October
Yak and Yeti – Disgruntled Pumpkin Ale
Made with real organic pumpkin in the boil and plenty of the classic pumpkin pie spices.
Available mid-November
---