5 Comments
2013 GABF Fantasy Brewery Draft Results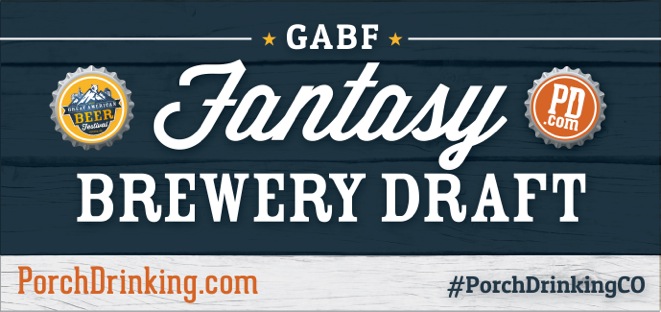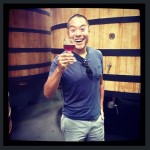 As if the Great American Beer Festival weren't ridiculously fun on it's own merits, we decided to punch things up a bit this year by inviting a mix of national and local writers to participate in our inaugural 2013 GABF Fantasy Brewery Draft. A big thanks to
Illegal Pete's
who sponsored and hosted the draft Sunday night.
The draft took place on Sunday and featured the following:
Eric Gorski, Staff Writer and Beer Blogger for the
Denver Post
Holly Aker, Caroline Wallace, and Sarah Wood, Co-Founders of
Bitch Beer
Tom Rotunno, Senior Editor,
CNBC
The draft ran like any other fantasy sports snake-style draft would with the last pick of the first round receiving the first pick of the second round.
Our participants will score points based on how their breweries medal during the actual competition.  Please note, that beers in the Great American Beer Festival are judged based on their style guidelines. So while you may be a huge fan of a crazy creative beer, it may not necessarily win due to it's style category guidelines.  Here's how participants will score points.
Point breakdown:
1 point for Bronze
3 points for Silver
5 points for Gold
20 points for Brewery and Brewmaster of the Year for a Brewing Company (regardless of size)
15 points for Brewery and Brewmaster of the Year for a Brew Pub (regardless of size)
Judging will take place on Saturday morning and we'll have the final results on how our participants finished on Monday.
And now to the draft results: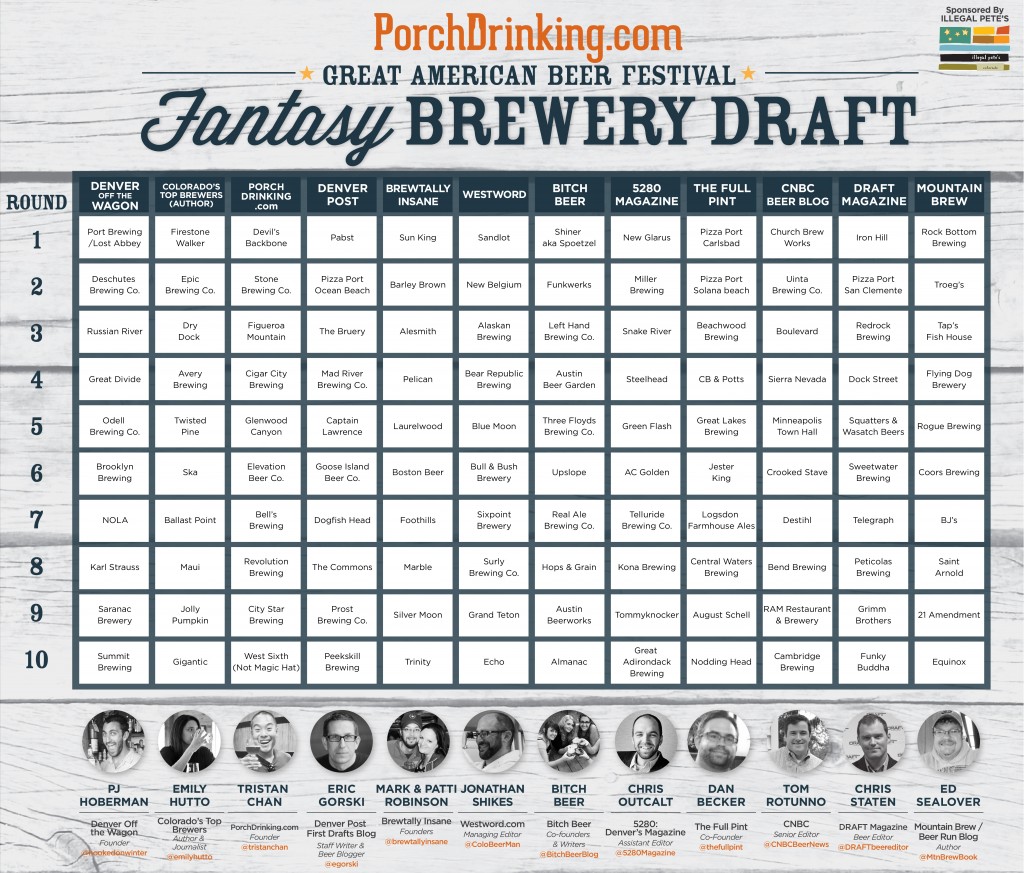 A few notes:
PJ had the first pick of the draft and in turn caused the first controversy over whether Port Brewing and Lost Abbey counted together, and in fact, they were.
Eric Gorski shocked the world by taking Pabst with the 4th overall pick… somewhere hipsters are raising their ironically bedazzled tall boys.
Ed decided to go mainstream with the likes of Rock Bottom, Coors, and BJ's… his conscience was taking a beating all draft long.
Mark and Patti had some solid late round steals with Foothills and Boston Beer and Laurelwood.
Dan from the Full Pint might have drafted a brewery that isn't being judged (is Jester King in the competition?)
Aside from repeatedly attempting to draft breweries that had already been taken (we won't fault him completely because he was drafting remotely) Tom from CNBC got some great steals with Destihl and Crooked Stave in the later rounds.
Bitch Beer drafted 5 Texas breweries cough*homers*cough.
Shikes nearly completed the trifecta taking Sandlot and Blue Moon but missing out on Coors.
And I followed the homer route as well by taking hometown brewery West Sixth… not to be confused with Magic Hat #9.  Also much love to my dark horse pick with City Star Brewing up in Berthoud, CO!