4 Comments
Victory Brewing Company – Dirt Wolf D.I.P.A.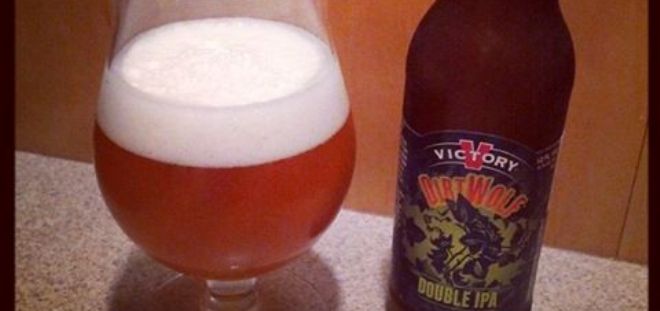 Today we're joined by Vin, founder of Bier Battered.com, a fantastic new startup beer site.  He's guest blogging for us and sharing his showcase of Victory Brewing Company Dirt Wolf D.I.P.A.  Check out his post below and also visit bierbattered.com.- Tristan
I would like to thank Tristan from PorchDrinking so much for the opportunity to guest post, and let me have the chance to write about brand new beer from the East Coast.
DirtWolf, initially released in early October 2013, is Victory Brewing Company's first entry into the 4 pack market. It is currently replacing the venerable hop-bomb Hop Wallop in the Victory line up.
DirtWolf is Double IPA that Victory describes as: "Wildly assertive, intentionally untamed and dangerously satisfying.. This 8.7% abv brew blends the powerful citrus aroma and fruity flavors, with the piney, earthy and mildly floral characteristics found in these intriguing hop varieties."
I grabbed mine just as it hit the shelves in stores, so my bottles are as fresh as it could get, which is never a bad thing with a DIPA. 🙂
Pouring into a Duvel Tulip glass, DirtWolf pours crystal clear amber with a thin off-white head that leaves a pretty lace as you sip.
I was initially hit with a huge nose of citrus and pine.   Taste followed the same as the nose, very smooth and easy to sip, with just the right amount of malt sweetness and hop bitterness.  On the back end of the sip you can really pick up on the pine, nearly as "sucking on pine codes" as Stone's RuinTen was. Some reviews have said they picked up on the oniony "cat piss" smell, but I have not noticed it at all.  Though it does seem like only certain people are sensitive to or pick up on that one (and it generally seems to occur with Simcoe hops).
While it is very balanced, it does lean slightly to the sweet side.  Nothing too crazy, but it was perfect for my tastes.
Mouth-feel was of medium carbonation, with a dry slightly bitter finish.
My untapped summary was pretty much to the point: "Full of pine, citrus, resin, and awesome-sauce."  As far as DIPA's go, dare I say I enjoy this one more than the Gold Standard Dogfish Head 90 min IPA?  It is quite possible actually.  Admittedly, I am not the hugest IPA fan (or at least of fan of the all-out hop-bombs), and finding a truly balanced and enjoyable one seems to carry a price tag to match its quality.
With a price tag of $7.99 or $8.99 for the 4 pack, you would be hard pressed to find a better deal for the insane quality, huge distribution footprint and ready availability that is Dirt Wolf. Personally I find it to be on par, if not better than many of the other 4 pack DIPA's that sell for a good three to five dollars more. If you see it, you would be remiss in not trying it.
-Vin