No Comments
GIVEAWAY | Brewed Food Revolution Embarks on National Tour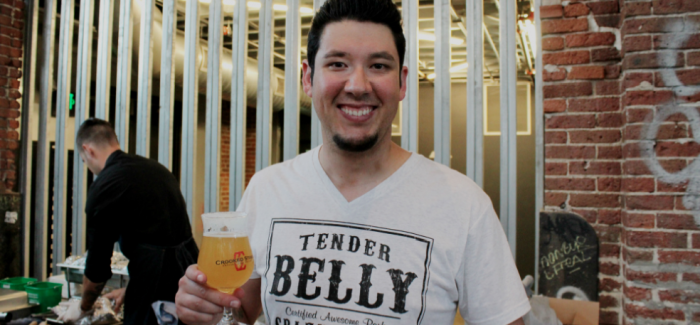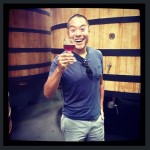 A food and beer revolution is primed to sweep the nation. No I'm not talking about food and beer pairing dinners, nor am I referencing cooking with beer. This runs much deeper. Brewed Food, which we've documented several times before on PorchDrinking, takes the entire brewing process and incorporates those elements in the very fabric of cooking. From malted barley miso to hop cured egg yolk, Jensen Cummings' food and beer revolution has sparked a new movement within the culinary industry.
Brewed Food officially kicks off its national tour this Tuesday night at 6pm at The Odd Duck in Austin, TX. The Austin stop will also feature beer from New Belgium Brewing, as well as Jester King Brewery as well as the entire Brewed Food experience. Jensen's next stop takes place in Portland, OR on April 19th followed by future stops in Los Angeles, San Diego and New York planned throughout the rest of the year.
For a chance to win two tickets to the Portland stop or any other future stops, subscribe to our newsletter by e-mailing [email protected]. Reply the the subject line Brewed Food and in the body include your first and last name as well as the upcoming city's Brewed Food event you'd like to attend.
Here's a sneak peak of Tuesday night's menu.
RECEPTION
New Belgium 2016 La Folie
Wild yeast fermented soup dumpling & Tender Belly Pig Heart Yakitori / pedio-lacto yuzu kosho
FIRST
New Belgium Fat Tire Amber Ale & Citradelic Tangerine IPA
New Style Sashimi / wort soy, hop cured egg yolk
SECOND
New Belgium Trippel Belgian Style Ale
Tender Belly Pork Bugolgi / baechu kimchi, fermented cherry sriracha
THIRD
Jester King Dichotomous
Gulf Fish / hop & spent grain sauce
Fourth
Jester King Gotlandsdricka
Bone Marrow / beet, cricket miso
Dessert
Jester King Nocturn Chrysalis
Spent Grain Cream Puffs / wort caramel
Additionally, Chef Jensen Cummings broke down some of his classic dishes that most perfectly the Brewed Food culinary experience.
Sour-Barrel Baechu Kimchi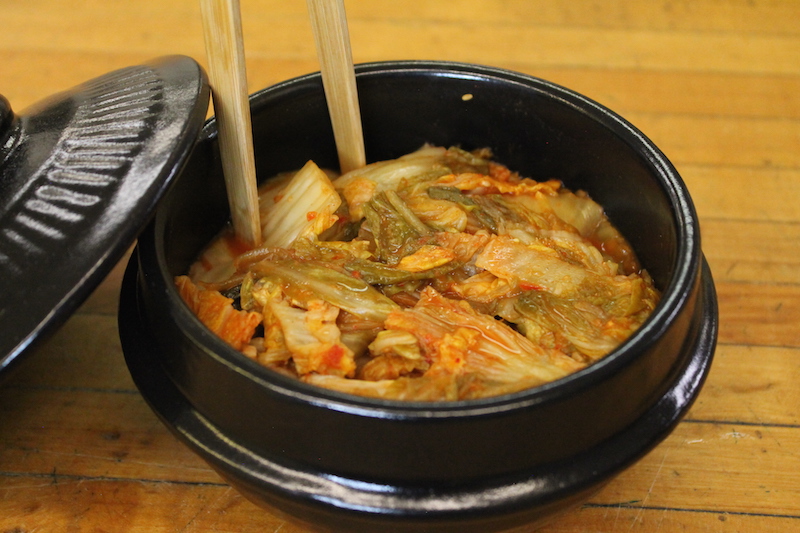 For Korean cuisine, saying "kimchi" is like saying "salad" in French cuisine. There are hundreds of styles with hundreds of variations. Baechu (napa cabbage) style is the most commonly recognized style utilizing red chili and garlic, buried in pots in the ground. Classic! We have taken that base and applied layers of unique fermentation by pulling wood inoculate from the Foeder (a large wood barrel for aging) Forest at New Belgium in Fort Collins, CO. The mosh pit of different wild yeasts and micro-organisms bring a funky sour and woody characteristic to our Baechu Kimchi whose complexity is mind blowing!
Lacto-Fermented Sriracha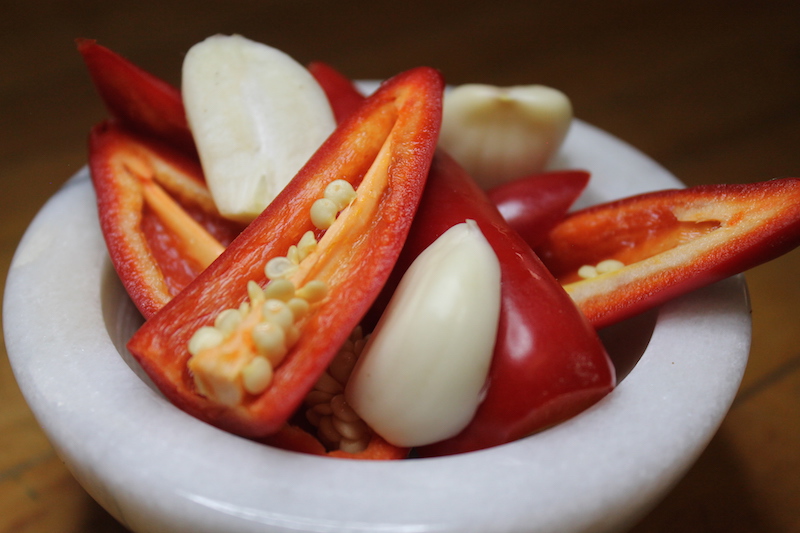 Sriracha has become so quintessentially American, that you can find it in every Mexican restaurant! Our recipe harkens back to this powerhouse sauces' humble roots in the town of 'Si Racha' in Thailand, where it all began. Simply red chiles, garlic, salt, sugar and vinegar, with our twist of using beer yeast in the process. Then applying a brewer's technique of barrel blending beers, in which we barrel blend different batches to create the perfect harmony of funky, salty, sour and spicy balance that sets our sriracha apart.
Malted-Barley Miso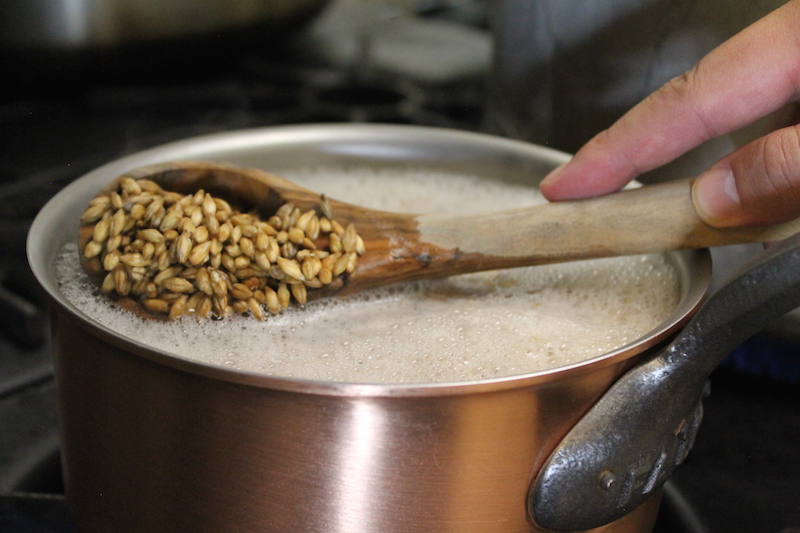 Miso is the Bouillon of Japanese cuisine. Utilized as the base of so many sauces, soups and marinades. Its culinary hierarchy in Japan is only surpassed by rice and soy sauce. We pay homage to this culinary giant by bringing brewing grains, such as malted barley, in place of soybeans. To keep that classic flavor and texture in-tact we initiate primary fermentation of the grains with Koji (Japanese mold culture inoculated rice), then pitch brewing yeast in secondary fermentation process to bring the brewing approach full circle.
Wild-Yeast Yuzu Kosho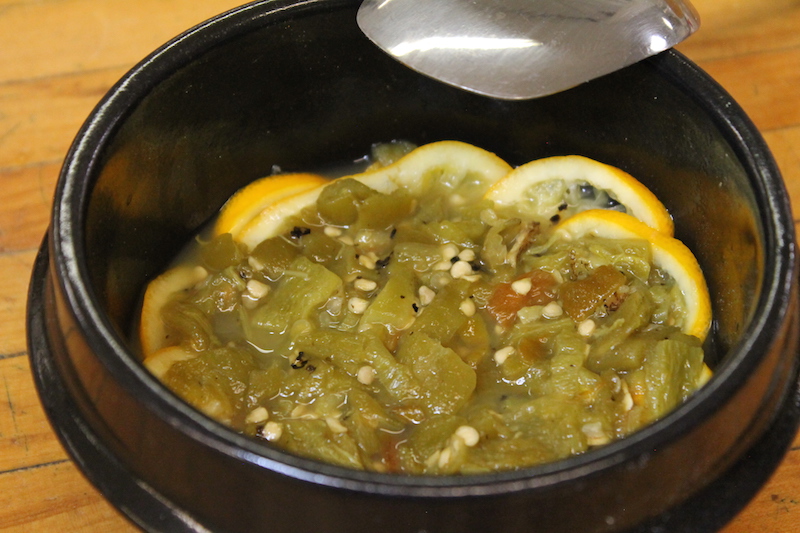 Yuzu (Japanese citrus fruit) does not get enough love in the states for its intensity, versatility and savory balance. Yuzo Kosho takes the depth of this fruit even further with green chiles and copious amounts of salt. Used as pure punch you in the face flavor to add to grilled meats, its time for Yuzu Kosho to shine! We, true to form, task yeast to bring its flare to the party. Multiple wild yeast strains are used in multiple stages to bring an equally intense flavor dynamic from the yeast to stand up to the yuzu and green chiles.
Hop-Cured Egg Yolk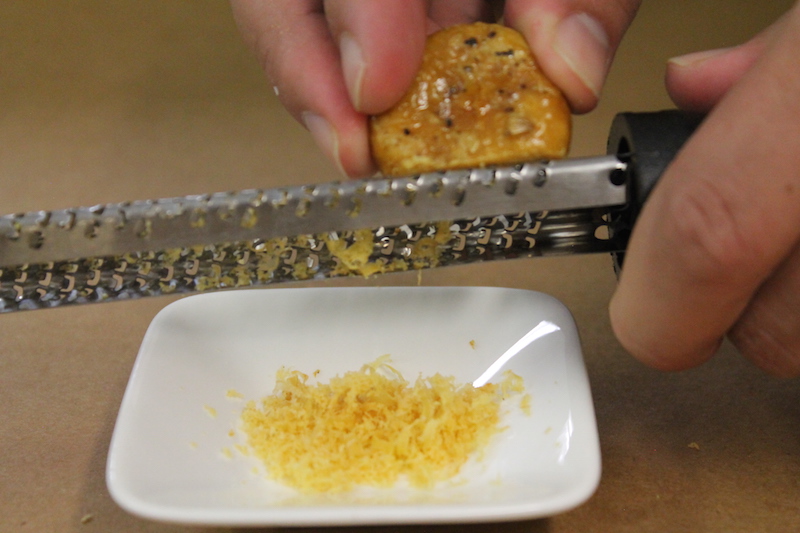 When someone sees little dried apricot looking gems being grated on a microplane, you get a lot of head turns and perplexed looks. Questions like, "is that cheese?" are common place. The answer is "no". Not long ago what they are seeing was a raw egg yolk. They have been packed in a mixture of salt, sugar, spent grains and hops for 48 hours, rinsed and air dried for 2 weeks. Then they are ready to make people go, "huh". From there to give more looks of bewilderment we can age these for periods of time that will at stages coax out flavors from cheese to jerky to bonito fish flake, all the humble little egg yolk.
---