No Comments
Event Recap | Denver Rare Beer Tasting VIII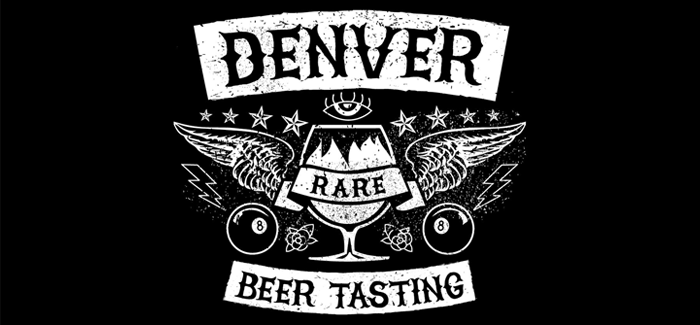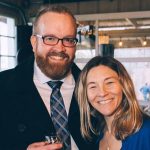 How do you one-up the Great American Beer Festival? Get outta here! That was a trick question. But if one beer tasting comes anywhere close, it's the annual Denver Rare Beer Tasting.
In its eighth sold-out year, the Denver Rare Beer Tasting (DRBT8) represents a collection of America's leading craft brewers pouring their most exotic and vintage brews during the week of the Great American Beer Festival. Check out this list of breweries and rare beers from the first seven years.
Baller, right? Hold up. It gets better. These brewers donate their amazing beers to support the efforts of Pints for Prostates, a grassroots campaign founded in 2008 by prostate cancer survivor and beer-word slayer Rick Lyke. This campaign raises awareness among men about the importance of regular health screenings and early detection of prostate cancer by making appearances at beer events, social networking and pro bono advertising.
"Why do we do this? Men are 33 percent more likely to develop prostate cancer during their lifetime than women are to be diagnosed with breast cancer. Pints for Prostates reaches men through the universal language of beer with a message about the importance of early detection."

Rick Lyke, founder of Pints for Prostates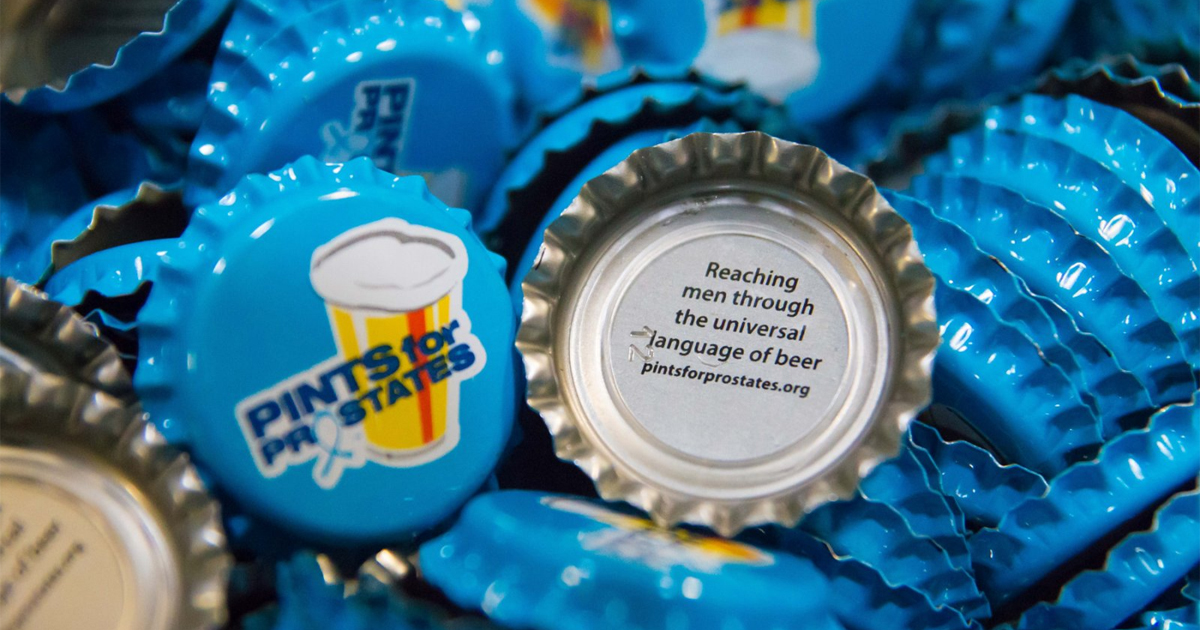 So, it's a ridiculous once-in-a-lifetime collection of rare beer supporting cancer awareness. How could it possibly get any better? By adding some Brewed Food. Brewed Food? WTF is that? Like pairing beer with food? Better.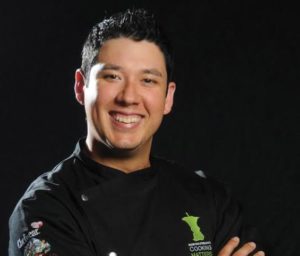 The brainchild of chef and Certified Cicerone, Jensen Cummings, this culinary art utilizes the ingredients and techniques of brewing and brings them into play with chefs' dishes. For example, using beer yeast to create unique food fermentations, and bringing ingredients like hops, wort and spent grain into the mixing bowl.
All right, your head is probably spinning right now. So let's settle down and get to the beer.
Being my first time to GABF, and having heard about Denver's infamous Rare tasting, I just had to attend. So I decided to meet up (for the first time) with the bearded viking, Cory Pelc, to slay this tenacious beast together, as brothers-in-arms. While we didn't taste every beer ('cause let's face it: we would have needed our stomachs pumped), here's rundown of some honorable mentions and crazy characters from DRBT8.
Da Beers
As soon as we entered the McNichols Building, we noticed the closest pouring station was Allagash, and they happened to be pouring Coolship Resurgam, an American Gueuze. No big deal, right? Except for this beer is a blend of one, two and three year old spontaneously fermented beer. All sorts of fruity and funky, finishing tart and clean; a small sample of Heaven in the first few minutes of the tasting.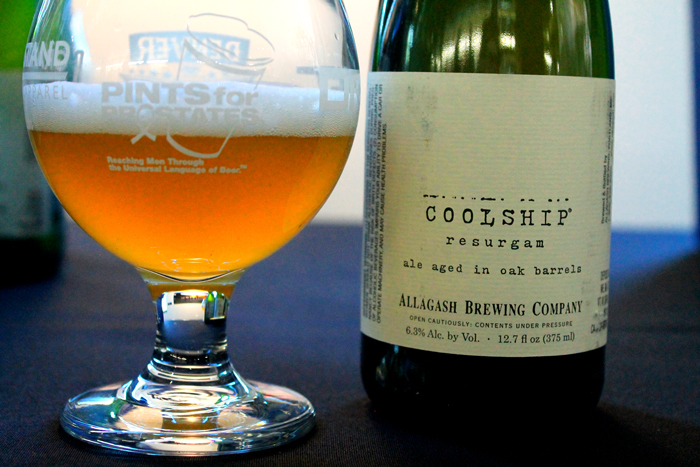 After our first sip, we quickly began to realize we might not be able to find a bad beer in this place. Not a bad problem to have. Onward, warriors…
So, I've never experienced Samuel Adams Utopias before this day. Cory, on the other hand, has. And before I was able to to raise my glass to my lips, Cory spewed out some bullshit like, "… it's essentially an Eisbock, which is a much stronger version of bock made by partially freezing the beer and removing the ice that forms. They may have double Eisbock'd this mofo, since most Eisbocks range is 9-14 percent."
Whatever, dweeb. I started to raise the Utopias Aged on Cherries to my beer hole and immediately caught the first warm waft of ripe dark cherry… and just straight up booze. Whoa. I turned back and glanced at the beer sign and noticed 29% ABV?! Are you guys fucking crazy?
I sipped. Absolutely ridiculous. An overwhelming mouthful of dark fruit, booze, vanilla, more booze and… well, below isn't an out-of-focus image, it's the last thing I saw before blacking out on taste overload. Is this even beer? Am I really here? Is anybody even listening to me? Anyway, next…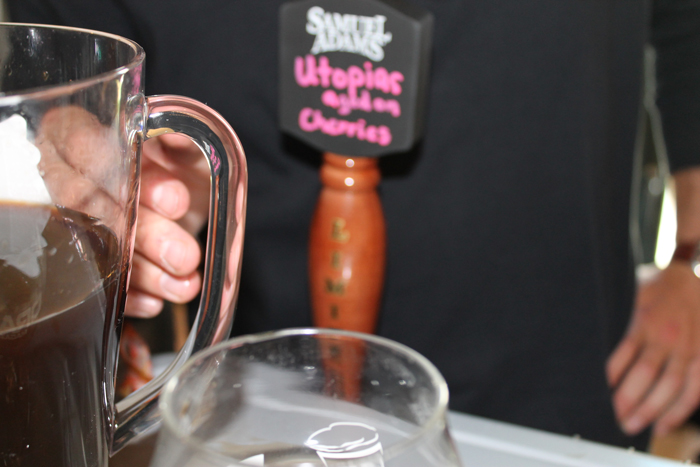 Have you ever had a bière de garde? Pretty good style, amirite? Now barrel age it. Fucking outstanding. Really all the words you'll need to describe Adelbert's Scratchin' Hippo Barrel 106. Let's face it, I'm no James Joyce.
And have you ever had (or heard of) an imperial hefeweizen? Me neither, but you can bet your ass we tried it. Nebraska Brewing's Sallyweiss broke the mold with their award-winning Bavarian-style hefe aged in French oak chardonnay barrels. B-A-N-A-N-A-S! (Insider Gossip: word around the campfire is that Stone Brewing is in the process of creating an Imperial Hefeweizen as well. But, in the words of a great American: if you ain't first, you're last.)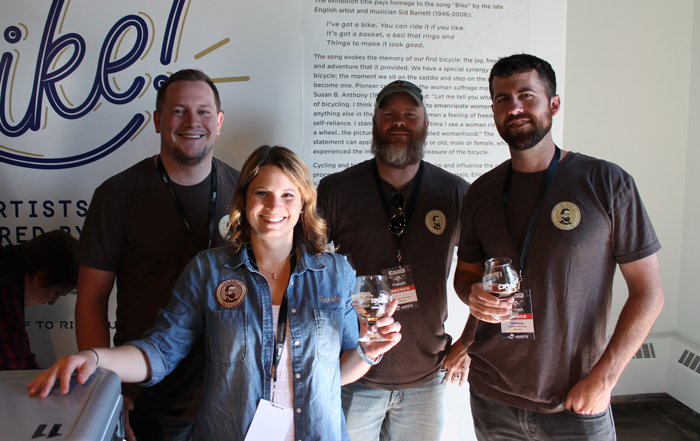 Brewed Food Break
Feeling our buzz quickly sneaking up on us, we decided to be proactive and munch on some of Jensen's Brewed Food. We decided to go the taco route. Why? Because we love tacos, wanna fight about it? We shoveled three different types of meat on our plates, Ratio Beerworks Wort-Glazed Tender Belly Pork, Malted Gochujang Barbecue Chicken and Jester King Aged Hop Ash Braised Beef. A beer meat medley if you will. But you can't have tacos without adding them sides. With very little space left on our trays, we scooped up some C Squared Ciders Red Potatoes, Two Phase Brux Sauerkraut, some Mix-Culture Kimchi and a dollop of Fermented Cherry Sriracha.
But there was so much more. Check out Brewed Food's full 2016 Rare Beer Menu.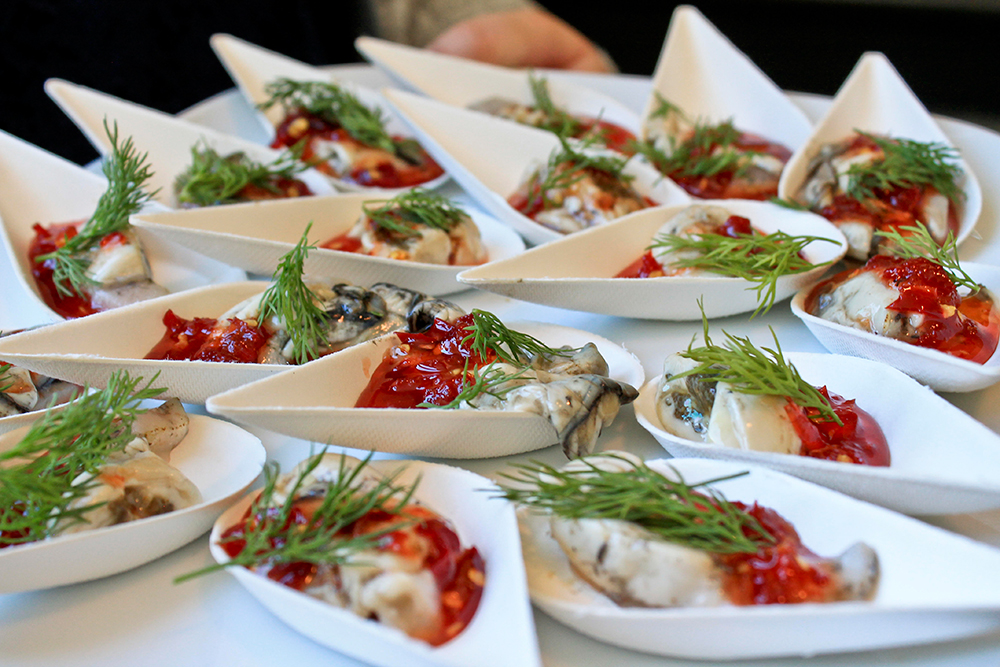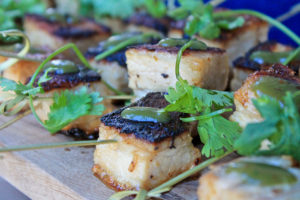 Our mouths still humming from the sriracha, we made our way back to the pour stations. Before we could we bumped into a beer hunter. In fact, THE Beer Hunter a.k.a. Logan Perkins a.k.a. The Beer Thief. For those of you unaware, Logan made his television debut on the pilot of Three Sheets, an international travelogue/pub-crawl television series hosted by Zane Lamprey which aired on Spike. Watch as he basically makes Zane Lamprey his bitch by drinking all of his beer.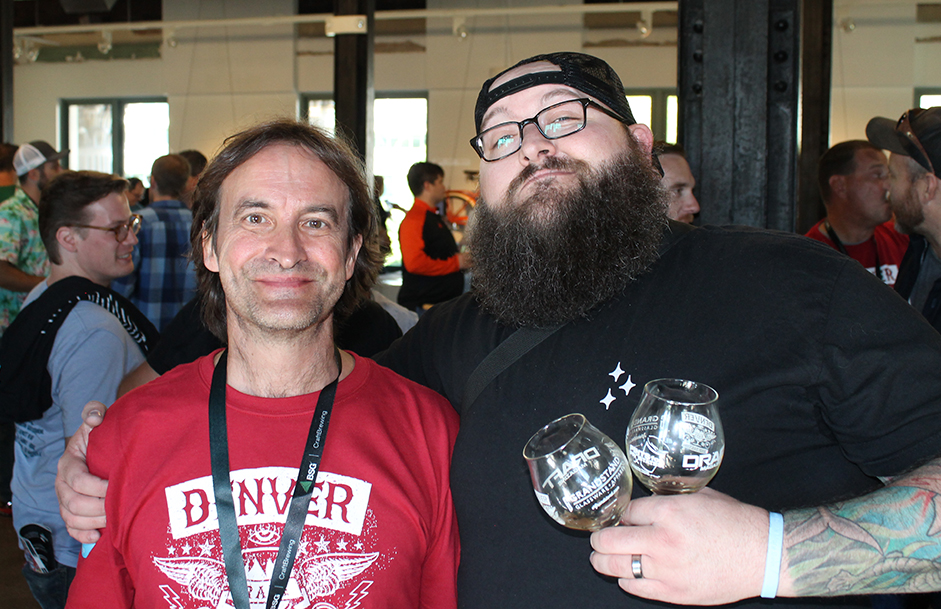 With that delectable sustenance packed in our bellies, we decided it was time to go dark. And by that I mean stouts, porters, barrel aged, chocolate etc. We go big or go home.
Funky Buddha has been on my radar ever since I tried their Sweet Potato Casserole… beer. Yeah, seriously. They made it and it tastes EXACTLY like Thanksgiving. If you're in Florida, find it. Anyway, looking through the Rare pamphlet their beer name quickly caught both of our fancies: Aged Chocwork Orange. So chocolate orange, right? You're damn right. This imperial milk porter is aged in bourbon, then infused with cocoa nibs and real orange peel. Another Funky beer which lives up to its name, no surprise there.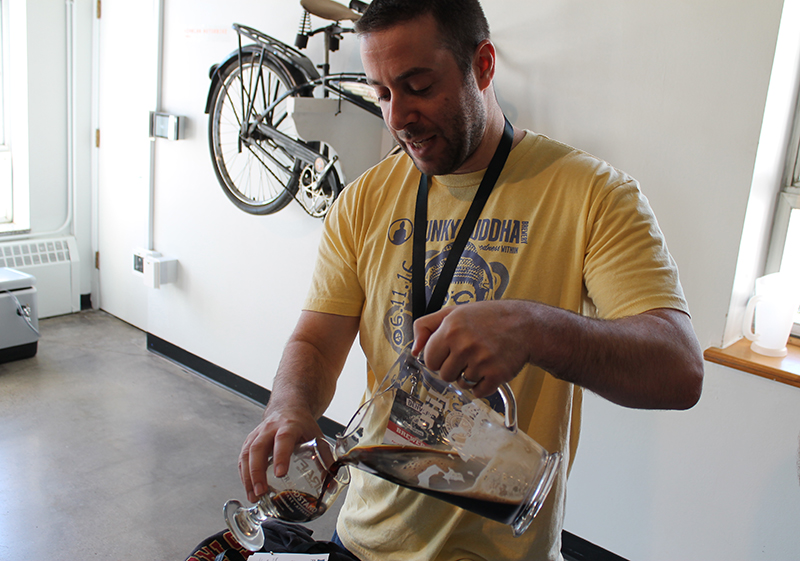 Our other favorite in the dark category include NoDa Brewing's Rum Barrel Aged Double Chocolate Vanilla Bean Monstro Imperial Stout. Whoa! That was a mouthful. Using their imperial stout, Monstro as a base (usually aged in bourbon), they turn this bitch on its ear and age it in rum. That's not all, they double down on the cocoa nibs and vanilla beans. Boom! This was my first barrel-aged anything from NoDa and all I have to say is: keep it up.
Cory then pulls me over to Weldwerks' pour station, where they're pouring two gigantic brews, Coconut Medianoche and Barrel Aged Mexican Achromatic (BAMA). Now I've yet to try any of their beers, so why not start with these behemoths? The BAMA pours a rich, deep motor oil and I could tell right away I'd be chewin' on this bad boy. Have you ever let a piece of Mexican chocolate melt in your mouth? That's basically the back end of this concoction, that is after the cacao, cinnamon, vanilla and bourbon on the front end. So much happening here, it's stupid (and that's a compliment).
Another Whale I had the pleasure of trying for the first time was Duck Duck Gooze from The Lost Abbey. A blend of young and old barrel aged sours danced in my mouth as I tried to savor every last sip. I really didn't want it to end, but I really didn't want to get back in that friggin' line either.
Even more rare (only 200 bottles in existence) was our favorite of the tasting, the Razzmatazz: Remix by Fonta Flora out of Morganton, North Carolina. Fonta Flora made two separate wild ales, one with local black raspberries, one with local red raspberries and, while I'm positive both are equally exceptional, the Razz is a blend of both of these fruity gems. It's like some little bastard kid dumped a box of Nerds into your plain-ass sour beer and BAM! a fruity explosion in your mouth. But I'm not talking fake fruit candy flavor, you definitely get that earthiness from the local fruit used in this blend. It's real AF, and that color… oh my (Fonta Flora, if you happen to be reading this, please send me a bottle STAT. I'll trade you a kidney).
"It was floral. More sweet than sour. Like a fine jam or preserves. I got the last pour and picked up tons of soft fruit. Fruit roll-up but not cloyingly sweet with a slight tartness that kept drawing me back for more."
– Cory Pelc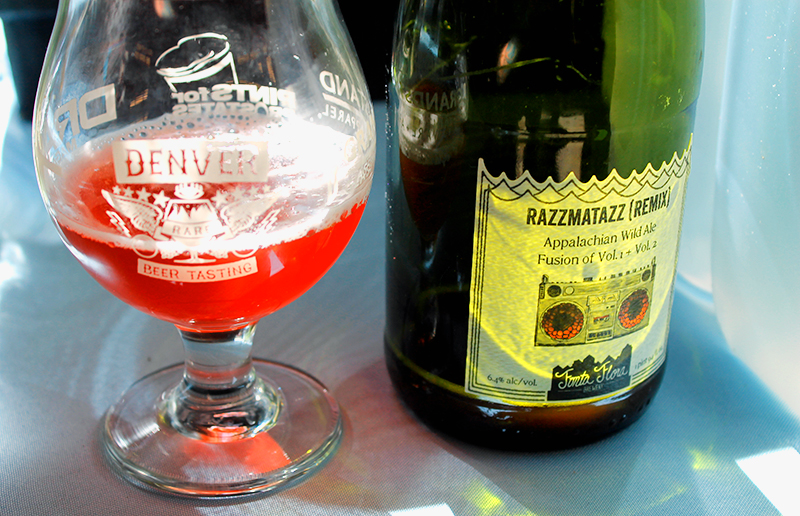 Constructive Criticism
While we have no right criticizing DRBT8, we will anyway. This is our review. Deal with it. Nobody's perfect.
No Mention of Brewed Food
We had NO IDEA that Jensen Cummings and Co would be serving their food at DRBT8… and we even did an event preview! Maybe they were a late edition or maybe we're just drunk, but this is absolutely a bigger selling point for this tasting (as if you needed any more). This food is just as unique as the beer, not to mention mind-blowingly delicious.
"Yeah, We Only Have XL T-Shirts Left"
Really? Your core demographic are slim-fit Abercrombie and Fitch models? No, it's mainly real big dudes, like ourselves, who used to put those dorks' heads in toilets back in high school. Well, not really, but I bet you guys still have a shit-ton of XS, S and M's left. You do. Buy bigger shirts. Now my old man, who drinks only Canadian Club, is going to have a kick ass Denver Rare T-shirt. Sweet.
Wrap It Up Already, Man
Obviously, Rare blows away any beer tasting I've ever been to (other than the main event I was in town for). This was quality over quantity, both in the product and those pouring it. Most of the servers were the brewers themselves, and some even the owners! At DRBT8 you get to hear it from the source, why they created the beer, how it came to fruition, what's happening within the brewery, their plans for the future, stop talking and just fill my glass already… but seriously, fill it up more. This stuff is delicious.
---