No Comments
Merging Brewing Ingredients and Techniques Into Cooking: A Recap of Brewed Food Cincinnati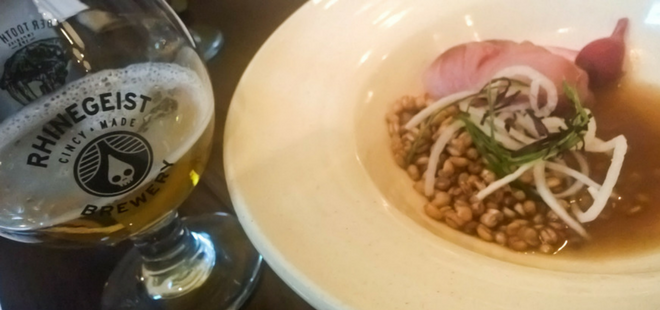 Chances are you enjoy beer; that's why you clicked through to read this. And I would bet that you prefer good beer, I mean really good beer. You focus on hunting down rare beers and are always on the hunt for brews that contain new ingredients and push the boundaries of what you think craft beer can be.
But what about food? Do you pursue food with the same passion? For me, I focus a lot of attention on what I drink but not nearly as much on expanding my culinary world. That's where Brewed Food aims to change our culture.
What Is Brewed Food?
Brewed Food is focused on educating their guests on how craft beer is the inspiration for new ingredients and innovative cooking techniques. They do this by conducting experiences in multiple cities throughout the year. These events  bring together Denver Chef & Certified Cicerone Jensen Cummings with a restaurant and brewery in each city they visit.
A complete meal is prepared with brewing ingredients and techniques being a primary element throughout. They believe that the next culinary evolution will include integrating elements of brewing into cooking. So in many ways; this not a food and beer event but rather a brewing and cooking event.
---
Why Brewed Food Cincinnati?
Brewed Food is going to four cities this year; one is Cincinnati. When I heard about this event was coming to Cincinnati, I was all in. Craft beer paired with food is always intriguing but this was promising something even better. It was taking the classic idea of food and beer paring to the next level. But I wasn't prepared for how amazing this event would be.
But why did they pick the Queen City? It actually happened by chance when the Founder of Brewed Food, Jensen Cummings, met a few guys from Rhinegeist Brewery at GABF. They hit it off and started to make a plan. Rhinegeist recommended Jose Salazar as a Cincinnati chef that was doing some great work.  In addition, Brewed Food brought in New Belgium Brewing to help showcase a wide range of beers and flavors.
---
The Collaborators in Cincinnati
About Salazar Restaurant: Located in the Over-the-Rhine neighborhood of Cincinnati. The restaurant is built with our community in mind and our menu and atmosphere reflect the neighborhood- a mix of old and new. Chef Jose Salazar celebrates the changing of the seasons with a farm inspired menu that's, creative and refined, yet, playful and approachable. Salazar is the kind of restaurant that you could pop in, grab a seat at our comfortable bar, a drink and a quick bite, or you could hang out and sample the diversity offered up by our kitchen. We promise to treat you as family and will do our best to make your experience a fun and tasty one.
About Rhinegeist Brewery: Our name, Rhinegeist, translates to "Ghost of the Rhine" and refers to our place in the historic Over-the-Rhine Brewery District in Cincinnati. Built within the skeleton of the old Moerlein bottling plant (1895), we brew batches of beer that sing with flavor
About  New Belgium Brewing: New Belgium Brewing, makers of Fat Tire Belgian Style Ale and a host of award-winning beers, is recognized as one of Outside Magazine's Best Places to Work and one of the Wall Street Journal's Best Small Businesses. The 100% employee-owned brewery is a Platinum-level Bicycle Friendly Business as designated by the League of American Bicyclists, and one of World Blu's most democratic U.S. businesses, as well as a Certified B Corp.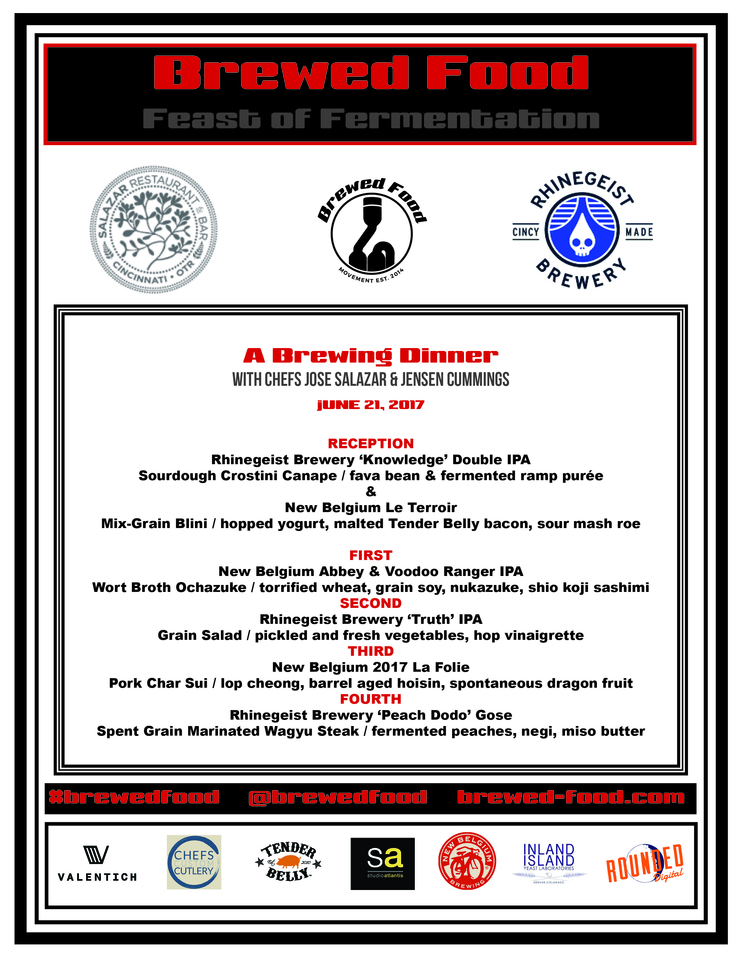 The Food
The food and craft beer is what this event is all about. Making the brewing and cooking process merge is the real passion that drives all of this which means that Jensen Cummings must find the right brewery and local chef to partner with. It's no doubt that they found that in Cincinnati.
Cummings said this about collaborating with Jose Salazar, "Working with a talent like Jose Salazar and being able to inspire teach him how to apply some of our techniques is a true honor! He was able to imagine places to take our applications that I never would have. This is collaboration in it's truest form. It is everything I created Brewed Food to be."
And while I would love to breakdown each and every course, there are simply not enough words available. Every course was full of flavor, fresh and makes me want to dine at Salazar's every night of th week. There were specific moments that really exemplified what this experience was all about.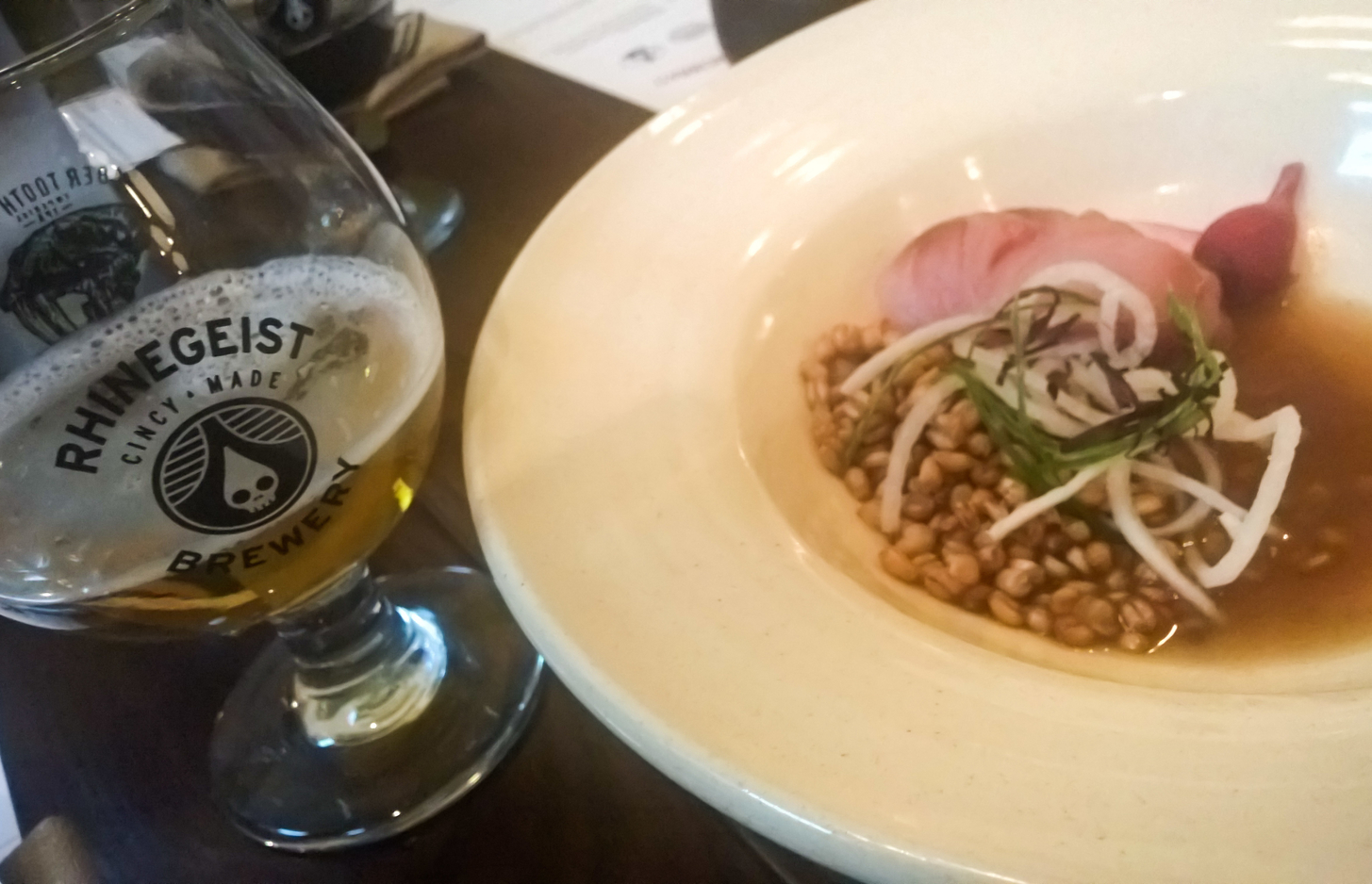 My Favorite Courses
The first course provided two different style beers paired with a single dish. The goal was to open up the palates and minds of the guests to realize how the beer played off of the food. New Belgium 1554 Black Lager and Voodoo 8 Hop Pale Ale were the two beers provided. Most of the guests around me admitted that they typically preferred pale ales over lagers. However, the vast majority preferred the black lager with the dish which was a Grain-Soy Broth Ochazuke featuring nukadoko radish, brett fermented chiles and shio koji sashimi. It's amazing how the beer really allowed the depth of flavor and heat from the chiles to dominate without disrupting it.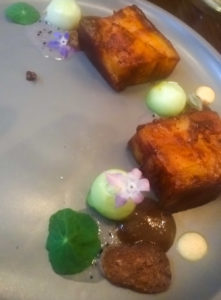 The third course was by far my favorite and a turning point for many of the guests that were not accustomed to sour ales. This course paired Pork Char Siu with New Belgium's 2017 La Folie Sour Brown Ale. I really enjoy sour beers so I had a feeling this would be a treat. But as they served the beer, many immediately said they did not like it. This changed dramatically once the pork dish was placed in front of them. The fatty pork was the perfect pairing for the sour notes of the beer. And to my surprise, those that originally did not like the La Folie were now saying that it was the perfect beer for the dish. They got the connection between the cooking and brewing.
---
The Experience
The food and beer were the starts of this event but there is also something to be said about the atmosphere of a venue. Salazar was an ideal venue to experience a heightened dining event.
Located in Over-The-Rhine (OTR), this restaurant is a great example of why this area is seeing a rebirth. The space was set up with two large tables and a bar area. Everyone was sitting close to each other to encourage discussion and sharing of ideas.
Everyone that executed the event was professional and engaging. My only hope is that Brewed Food returns to Cincinnati again in 2018.
---
Wrap Up
This was the third stop on a four-city tour. Seattle, Atlanta and Cincinnati are now in the past with Louisville ending this great tour on June 25. I can only imagine that each stop has been just as good as Cincinnati but with their own unique twist.
If you get the chance to attend a Brewed Food event, do it! But also consider attending other beer and food pairing events. Supporting these types of events are important to the craft beer industry and help everyone elevate their culinary knowledge.
---