No Comments
Roundtable Discussion: Thanksgiving Beer Traditions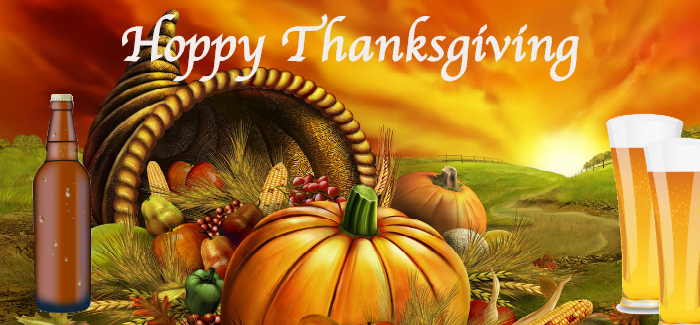 When I think of November, I think of Thanksgiving. It's an amazing holiday with family and food that every American can celebrate. It also has stereotypical traditions such as overeating before the leaner winter, Turkey, Football and Beer in the afternoon on the couch, or Football outdoors depending on how early winter shows up. In my house we start cooking everything from scratch starting two days before and are too tired to watch any football. With Thanksgiving coming up, I wanted to know the traditions of craft beer aficionados. And I wanted ideas for what to cook, eat and drink this year.
"Thanksgiving is coming up in a few weeks and that stereotypically involves turkey, stuffing, getting stuffed, football and of course beer. What's your Thanksgiving ritual? Do you drink beer with turkey dinner or the game afterwards? Any Thanksgiving recipes using beer?"
___
Beer during the meal is best because afterward, I may be too full to enjoy beer during the game. 
Our favorite beer dish is cranberry sauce. There are so many variations you can play with and tweak too. We love to use peach lambic in our Cranberry sauce. Fresh tart cranberries, cane sugar and honey marry perfectly with luscious peach in a harmonious dish that pleases fans of sweet or sour.  — Cory
We have a couple of bottles we have been saving up FOR thanksgiving. So, beer drinking is a must. (Preferably, all day.) As for beer dishes, I always make a devilish mac and cheese, and last year I tried making an Pale Ale mac and cheese. It was predictably awesome.  — Nate
Thanksgiving day, beer is definitely consumed and for most of the day. I agree with Cory's sentiments that I generally "front-load" my beer drinking. I normally have a problem with over eating, so its especially problematic on Thanksgiving and am WAY to full to enjoy beer during the game. The day after Thanksgiving often includes cooking with beer, since its the kid's day to cook and I love cooking with beer. Generally Friday doesn't include leftovers, so it really depends on what the main dinner is. I sautéd Mexican Durado in Goose Island Sophie and few years back and then made a saison reduction sauce for fish tacos. It was delicious. I've had success using brown ale's and porters in homemade gravy and mixing belgian quad in with yams and sweet potatoes. Making a belgian quad syrup by reducing beer with sugar and drizzling it over roasted root vegetables of any kind is always a hit for Thanksgiving day too. Has anyone tried making a beer can turkey? — Phillip
Phil, can I come to your house for thanksgiving? — Laura
I second that. – Kat