2 Comments
Savor Kentucky: A Celebration of the Commonwealth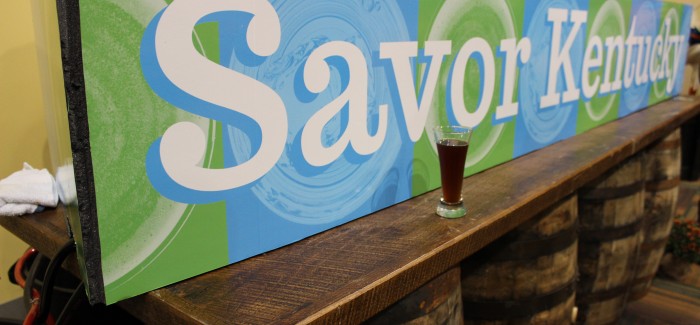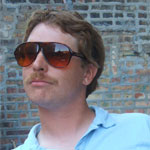 On the weekend of November 1-2, the Horse Capitol of the World, Lexington, Kentucky, played host to the Alltech National Equestrian Games. This event attracts horse aficionados from all over the country to our quaint city to share in our first-class horse facilities, our hospitality, and our culture. But there was more than horses on display this weekend at the Kentucky Horse Park, as Alltech introduced patrons to the tastes of Kentucky with  an exhibition of Kentucky foods, bourbons, and craft beers, aptly named Savor Kentucky.
Like many craft beer festivals we were greeted with a five-ounce tasting glass, and a stack of wooden tokens to use in exchange for glass full of beer or 1/3 shot of bourbon (high potential for sloppiness). Unlike many craft beer festivals, all food samples were complimentary (and paired with a suggested beer).  And to top it all off, for three wooden tokens you could sit in the Sensory Lounge and do a beer or bourbon tasting with one of the Alltech master brewers or distillers. (Unfortunately, I did not get a chance to be sense-ored.)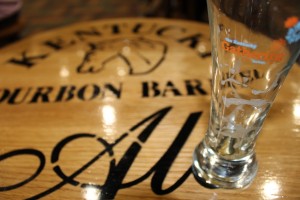 The booths of Kentucky craft breweries lined the periphery of the room for this first ever look (or taste, rather) into the ever-expanding palate of Kentucky beer, while a circular bourbon bar graced provided a focal point for the room and a hub for weary (read: drunken or bored) travelers attending the horse show. Bar-b-que, mac n' cheese, corn pudding, beer cheese grits, ham and bean soup, and sweet treats (many of the bourbon variety) provided the sustenance for the tasters. Tables and stools make of wood from old bourbon barrels were scattered about the room, always within an earshot of the live music stage.
I had two nights to experiment, so I started at the one-off booth. All of the brewers brought two staple beers for their actual booths and one special beer for this station. These ran the gamut from seasonal (Kentucky Ale's "Pumpkin Ale") to experimental (Apocalypse's "Watermelon Crack") and everything in between. 
The second day, I set out to try at least one beer from all of the different brewers, and try to get a few words in with each of them. Here is a recap of my favorites from each brewery: 1) Lexington Brewing – Kentucky Bourbon Barrel Stout; 2) Bluegrass Brewing Company – BBC IPA; 3) Blue Stallion – Oktoberfest; 4) Against the Grain – Kentucky Ryed Chiquen; 5) Apocalypse – Hoptoberfest; 6) Falls City – APA single hopped with Citra; 7) Country Boy – Trailhead (hoppy) Wheat; 8) Cumberland Brews – Roasted Pumpkin Ale. There was some bourbon mixed in there too.
Instead of a traditional approach to interviewing these different upstart (and established) breweries, I decided to ask some non-tradition type questions: 1) What is your favorite ingredient with which to brew? And why? 2) What did you grow up drinking, and how did you transition to craft beer? 3) What is your favorite Kentucky tradition?  Here is how they answered. (NOTE: The audio on my camera did not work, and thus I am paraphrasing their comments to me from what I remember, and what I was able to lip read from the video file. #professionaljournalism)
Apocalypse Brew Works (Louisville, KY, Leah Dienes)
1) Black pepper – in their "Fallout Dust"; watermelon – in their "Watermelon Crack" fruit beer, which lives up to its motto that "Once you go crack you won't go back."
2) Natural Light, but started home brewing about 25 years ago. They love the experimentation that goes into home brewing, and describe themselves as "home brewers gone wild."
3) The Kentucky Derby.
Cumberland  Brewery (Louisville, KY, Cameron Finnis)
1) [I honestly do not remember his answer to this question, but he was really well spoken and knew his stuff. Just imagine he said some ingredient that blew your mind.] 
2) Having a father who was English, I was introduced to good beer at an early age. I grew up drinking a lot of English-style beers.
3) Having a mint Julep at Churchill Downs on a perfect sunny day.
Country Boy Brewing (Lexington, KY, Daniel "DH" Harrison)
1) I am going to be cliche and say hops. Galaxy hops, our new "Trailhead Wheat" is single-hopped with Galaxy hops.
2) First six-pack was a $2.99 High Life six-pack on Spring Break in Florida. Did the college thing, and drank Bud Light and those type of beers. Then it was Boston Lager (Sam Adams) and Sierra Nevada. I also did the wheat beer thing with Blue Moons and Franzaskaners, using those to get more experimental with my tastes. Then my tastes just exploded…I always wanted to try something different, even if I didn't like it.
3) Derby. And I will expand upon that…I have never been to the Derby. (As a self admitted gambler) I love going to Derby parties with friends, love the camaraderie, watching it on the big screen, and having a big party is the best.
Falls City Beer (Louisville, KY, Drew Johnson)
1) Hops. Amarillo, citra, been experimenting with some New Zealand Hops.
2) Sam Smith, Newcastle, used to decorate his dorm wall with six pack holders. Liked to try something new every trip to the store.
3) DERBY.
Against the Grain (Louisville, KY, Sam Cruz)
1) Grain (laughing and gesturing toward the Against the Grain backdrop).
2) My first beer was the Beast (Milwaukee's Best Light). We had access (inserted that it was not legal access) to lots of this. Then one day I was hanging out with my neighbor (participating in another illegal activity that is now legal in Colorado), and I saw all of this equipment in his garage, and I asked what is all this, and he told me I am brewing beer (gestures that his head exploded). From that point forward I knew what I wanted to do. I was seventeen and I have been home brewing ever since.
3) I am not from Kentucky, so I don't know. I like to get together with a bunch of people and drink beer.
These brewers all know their stuff, and give me nothing but good vibes for the future of our craft beer industry. Alltech were fantastic hosts, as I have known since attending some of the World Equestrian Games in 2010. The food was delicious (and free), the bourbon was bountiful (and strong), and the beer was proof that Kentucky (Lexington and Louisville, specifically) has become a beer destination. Because of its size, "savor" is the perfect name for this event: take your time, hit every booth, and enjoy all the flavors this state has to offer. While it did showcase Kentucky's awesome breweries, this even was about more than just beer. Savor Kentucky allowed visitors to experience all that the Commonwealth has to offer the taste buds. In the future, I see this being an event that can grow exponentially, inviting more bourbon and food people, as well as any new breweries.
Events like this reaffirm my love for the Bluegrass State, and it is fun to celebrate it with and reveal it to those who have never experienced what Kentucky is really all about these days: horses, bourbon, and now…beer. If can just find a way to make work some of these craft beers into our biggest tradition of the Kentucky Derby…I think my idea of the Mint Brew-lup could be huge.