No Comments
Deep Ellum Brewing – Deep Ellum IPA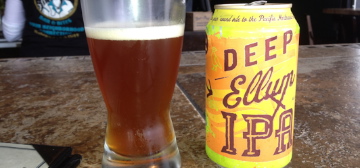 ABV: 7.0%
IBU: 70
I don't know if you've ever been to Dallas, but if you ever find yourself in this fair city, make sure to grab yourself one of Deep Ellum's beers. Last weekend, I was in Dallas for approximately 40 hours for a wedding, and not only did I stumble across this beer, but I also stumbled across the neighborhood of Deep Ellum and the brewery itself (despite the fact that we didn't know it was the brewery's anniversary.)
I first came across this beer at a little bar with a handful of outside bar seats in the middle of the Bishop Arts District, which made me quite impressed with a city I never thought I'd be impressed with. And, as soon as I requested something local, the bartender asked where we were from. When we said Nashville, she just about lost her brains, seeing as she'd lived there for the past 30 years and had just moved to Dallas mere months ago.
It was the beginning of a beautiful friendship. When we tried to head to the brewery a couple hours later, we stumbled upon a rowdy anniversary party that required tickets for a glass and entry, so we wandered around empty handed before stumbling across another bar in the middle of this historic and very-much-gentrifying neighborhood.
Oh, and the beer! An IPA?! for ME?! Shocking. I would buy this beer anytime I wanted an IPA mostly because of the can (which is a great design and screaming with color). But, it also just happens to be a damn good IPA stuffed with all kinds of great American hops. It's all citrusy and floral and smells just like you want an IPA to smell. I had it from a can and on draft and was impressed with the lonestar state's brewing capabilities. It's definitely a bitter IPA, so for those who haven't quite made the foray into IPA-world, it's probably not the one to start with. Plus, any beer you drink after one of these will likely taste like water—so be careful. When you pack this much flavor into one beer, you're setting yourself up for a little bit of disappointment when you switch gears.
So, next time you're in Texas, find yourself a Deep Ellum IPA, and feel free to send a six pack to Nashville.