No Comments
Ecliptic Brewing Showcase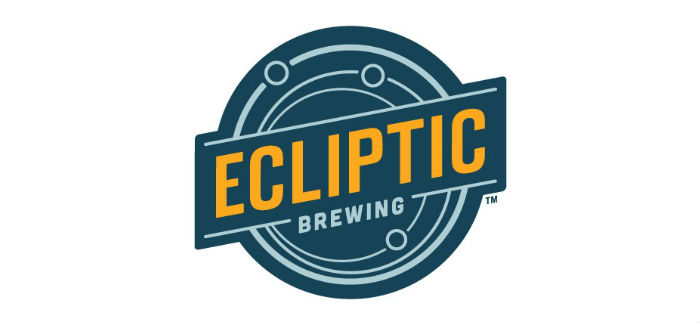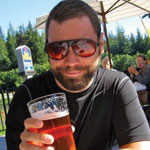 A few months ago, North Portland rejoiced as Ecliptic Brewing opened its doors and its taps.  Adjacent to the ultra-hip and well-travelled Mississippi neighborhood in an remodeled old warehouse that used to host raves as late as the mid 2000s, Ecliptic has transformed the old unused space into a bustling brew pub with an exquisite food menu that can easily keep up with the seemingly requisite gastro-pub fare of Portland.
Though the brewery may be new, beer geeks around Oregon and America will recognize owner and brewmaster John Harris as one of the pioneers of the West Coast craft brewing scene. Formerly employed by McMenamins, Deschutes and most recently Full Sail for the past 2 decades, Harris finally has a brewery to call his own.  This is the guy who created 4 well known craft beer standards for Deschutes: Mirror Pond Pale Ale, Black Butte Porter, Obsidian Stout, and Jubeable Winter Ale; in other words, a legend.  I header over to Ecliptic to sample the 5 beers currently on tap and found that Harris is still up to his old tricks and has created some extremely drinkable and well-balanced beers, all of which get their names from stars.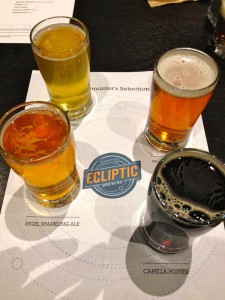 Tasting Notes: Flight and a Pint
Brewmaster's Selection Flight:
Spica Hefepils: 5.5% ABV, 38 IBUs, 13.0 P Gravity (Pic: Top Left)
Unfiltered pale yellow color.  Heavy banana aroma with some clove hints.  Dry mouthfeel. Taste begins with sweet malt and yeast and the Sterling hops subtly interweave into the finish into a spicy crispness.  The subtle complexity in this Kellerbier is a prime example of how to balance a beer.  Favorite in the flight!
Rigel Sparkling Ale: 5.8% ABV, 31 IBUs, 13.0 P Gravity (Pic: Bottom Left)
Brewed with 1% with Riesling Juice added.  Deep golden orange color.  Very sweet aroma of malt and white grape.  Smooth mouthfeel that trails off into a dryness on the first sip, but remains extremely soft and smooth throughout the remainder or this 4oz pour.  Not much hop flavor, as the white grape and blended malt sweetness overpower the flavor.  This beer may have the smoothest mouthfeel profile of any beer that I have ever had.
Procyon Pale Ale: 5.9% ABV, 60 IBUs, 12.8 P Gravity (Pic: Top Right)
Single Cascade hop pale with Crystal and Munich malts.  Glowing light orange color.  Light hop aroma.  Dirty, spicy and earthy hop flavor without much citrus.  Sticky mouthfeel.  Hops linger amongst the clean malt.
Capella Porter: 5.2% ABV, 39 IBUs, 14.5 P Gravity (Pic: Bottom Right)
Multi-hop porter (Nugget, Chinook, Centennial, Cascade).  Dark brown color.  Sweet chocolate-dominated aroma.  Sweet vanilla, chocolate and coffee flavor that finishes with a bitter hoppy dryness.  Similar to the Spica hefepils in that it is subtly complex.  Runner up in the flight.
Pint: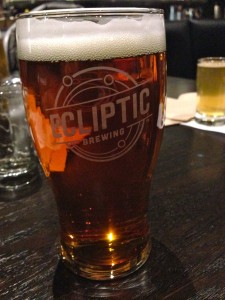 Arcturus IPA: 7.4% ABV, 75 IBUs, 16.2 P Gravity
Classic 4 C-Hop NW IPA (Cascade, Columbus, Centennial, Chinook).  Deep orange color.  Light hop aroma.  Very crisp mouthfeel.  The hops are blended well (Centennial tends to take over some of these C-hop IPAs).  Nice safe IPA.
http://www.fullsailbrewing.com/
http://www.deschutesbrewery.com/
http://www.mcmenamins.com/Breweries