No Comments
PorchDrinking's Weekly Denver Beer Beat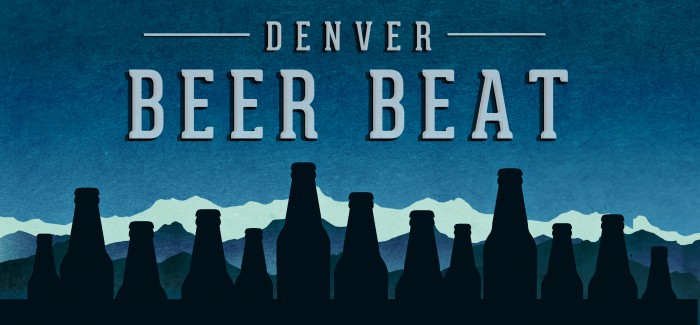 Well, welcome to the end of 2013. I am not even going to mention your inevitable hangover; you are already well aware of that being part of your day tomorrow. Here are some events to check out this week. Let's raise our barleypops to 2013, the year to come and may eternity find us in as good company as this!
Each week we will be bringing you regional coverage of your favorite beer events happening in your area. Welcome to the Denver Beer Beat. Did we miss something? Let us know!
Tuesday, December 31st, 2013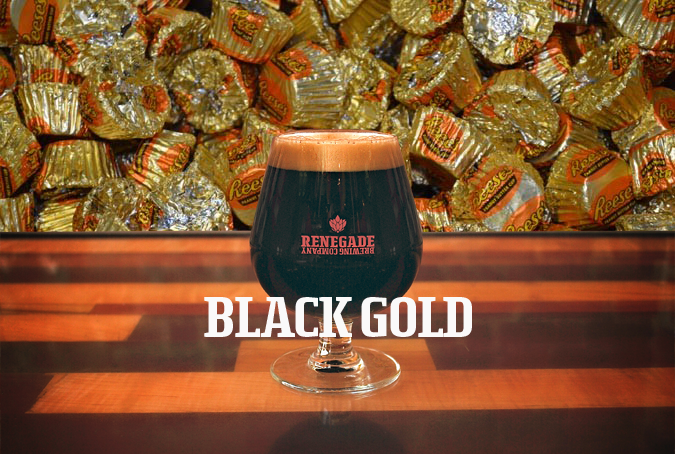 Renegade Brewing (Denver, CO) – 20 lbs of peanut butter cups, 20 lbs of powdered peanut butter, 1 awesome poor of goodness. Black Gold, Imperial Peanut Butter Cup Stout, is released today at 6 PM!
Our Mutual Friend Malt & Brew (Denver, CO) – The taproom is open late tonight for New Years Eve! Spend the end of 2013 and the beginning of 2014 with the crew at OMFB.
Great Divide Brewing Company (Denver, CO) – The Tap Room is open late tonight night for New Year's Eve, with a special toast of LASSO IPA at midnight. Bring in the New Year with a new beer! Also returning to the tap are returning ramparts, Espresso Yeti and Orabelle!
River North (Denver, CO) – No Wayward Wednesday this week, as they're closed for New Year's Day. Instead, they'll tap Whiskey Barrel J. Marie at 3pm today! Happy New Year!

Black Shirt Brewery (Denver, CO) – The boys in black will be hosting their New Year's Eve at BSB: A Black Shirt Affair. They will be open New Year's Eve – from 5-9 pm – pouring delicious red ales and listening to good music. No pretension, no cover charge, no bullshit! Just great people having a great time. They hope to see you out and about tomorrow.
Denver Beer Co (Denver, CO) – New Beers Party! Come celebrate the New Year with the fine folks in Confluence. Denver Beer Company is going to celebrate the New Year by drinking their favorite beers of 2013 and beyond. Come ring in 2014 with the Barrel Room Collection beers in the Barrel Room while a DJ plays your favorite tunes! Let's start 2014 with a Barrel Aged bang! They will also host the normal (free firkin at midnight) New Year's shenanigans in the taproom.
TRVE Brewing (Denver) – The brewery will be summoning the New Year from 7pm to 12:30am on New Years Eve. El Brian and Kris Wolf will be spinning the metals.
Loveland Aleworks (Loveland, CO) – New Year, new beer! Their winter Imperial IPA is being released today on cask!
West Flanders Brewing Co. (Boulder, CO) – Come in for New Years Eve dinner before the ball drops. Chef Tony has some amazing creations ready to bring in 2014.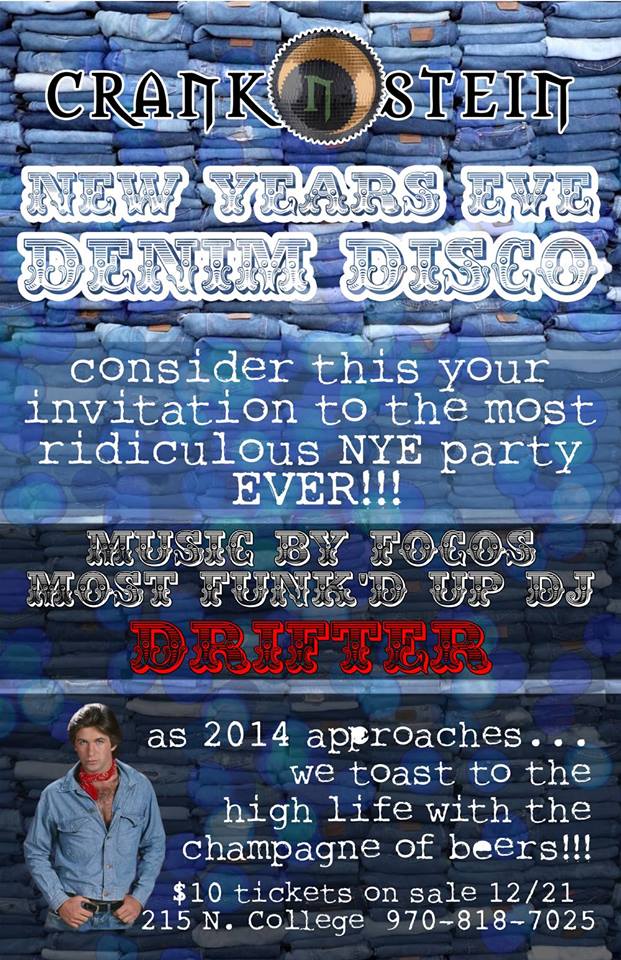 Cranknstein (Fort Collins, CO) – Strut your stuff in your best denim and dance your way into 2014! They have FoCo's most Funk'd DJ Drifter providing the tunes and they will be toasting the New Year with the Champagne of Beers. Not to mention tapping a few very special beers including 2013 La Folie! You won't want to miss the ridiculousness!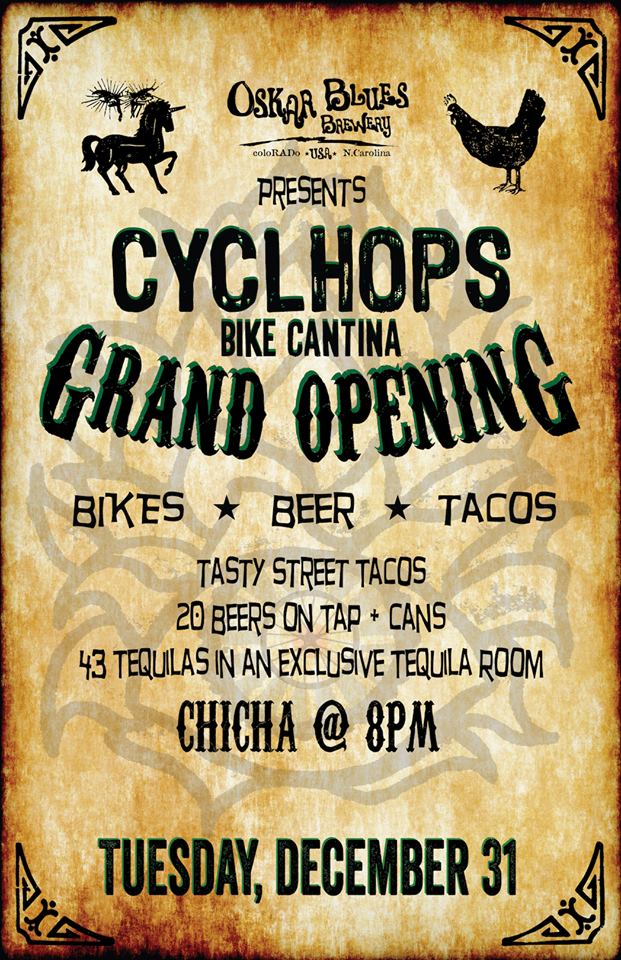 Cyclhops (Longmont, CO) – Many of you Ft Collins folk have already been and experienced the epicness that is CyclHOPS. But even if you haven't stopped in yet, you aren't too late, the GRAND OPENING is tonight featuring live music AND more of their awesome Mexican street taco inspired food that has been added to the menu! Get in and enjoy the coolest new spot in Longmont for New Years!
Star Bar (Denver) – Swing by Star Bar for $4 craft can specials and a toast of the bubbly on the house at midnight! They'll stay open until 1:30am. The Switchyard Social Club will be providing the live tuneage.

Rackhouse Pub (Denver) –As is the traditional style for the Rackhouse Pub, they don't do things small. Big burgers, big sandwiches, and big beers are just some of the things they do big. As such, they're making New Year's Eve a big deal around Denver. Like a REALLY BIG DEAL. They've partnered with the venerable Avery Brewing Company to do a tap takeover. So come in the night of December 31, and bring your girlfriend, wife, mother-in-law, friends, enemies, or people you just meet on the street. It's gonna be special. The event will be one for the ages with over 25 beers on the Tap Takeover including beers from their Holy Trinity of Ales, The Dictator Series, and The Demon Ales.
Bull & Bush Brewery (Denver) – The Bull & Bush Brewery New Year's Eve Tradition continues with Carney Snacks, a Champagne Toast, Party Favors, the usual shenanigans and hijinx! Wear your best Vegas outfit and rock out to Torpedo Vegas! Music to begin around 9:30.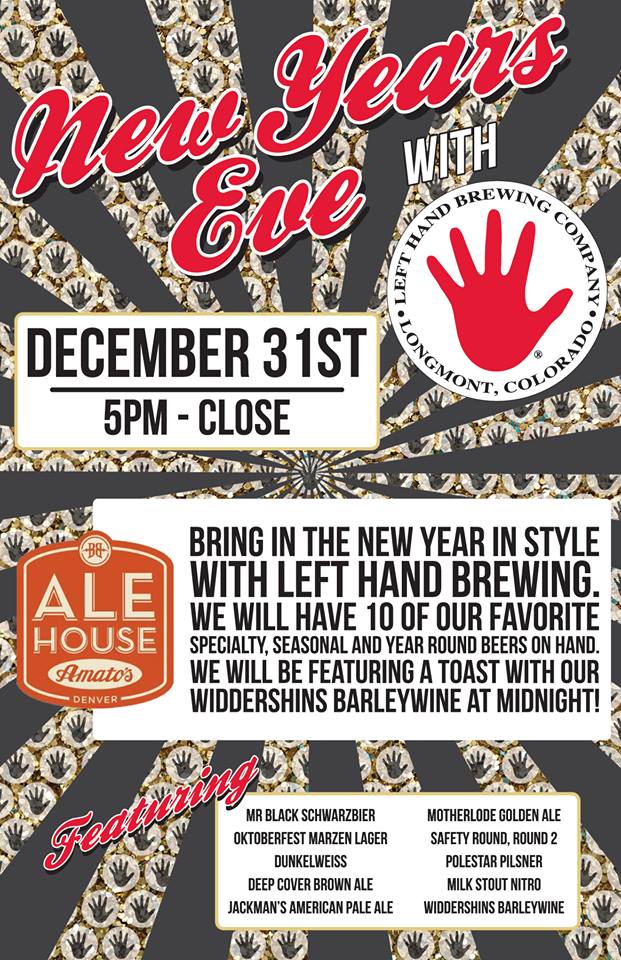 Ale House at Amato's (Denver) – Celebrate New Year's Eve with Left Hand Brewing. Party will begin at 5p. There will be 10 specialty, seasonal and year round beers on tap. They will feature a toast with their returning barleypop of goodness, Widdershins Barleywine, at Midnight. Other beers on tap will include: Mr. Black Schwarzbier, Oktoberfest Marzen, Dunkelweiss, Depp Cover Brown Ale, Jackman's American pale Ale, Motherlode Golden Ale, Safety Round – Round 2, Polestar Pilsner, and Milk Stout Nitro.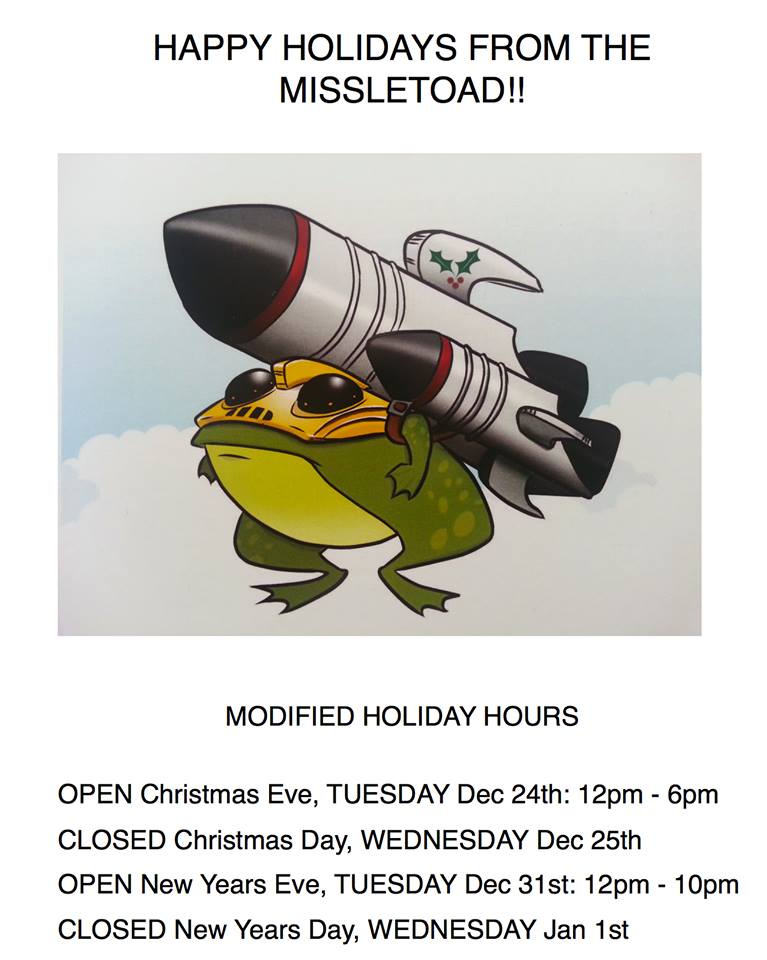 Mountain Toad Brewing (Golden) – The folks at Mountain Toad will be open on New Years Eve to accommodate your beer desires – cheers! Perfect time to get a growler fill for the New Year.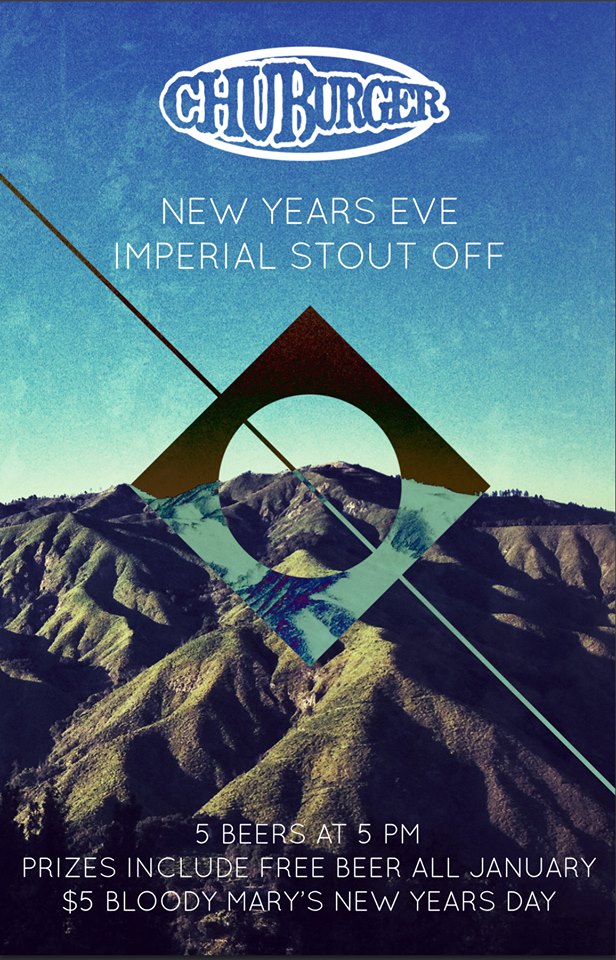 CHUBurger (Longmont) – They're getting close to our second beer showdown, the Stout Off! They have some super-mega-awesome beers for you to judge, so stop in to CHUBurger on New Years Eve, drink some stouts, have a burger, and enter for your chance to win FREE BEER FOR A MONTH!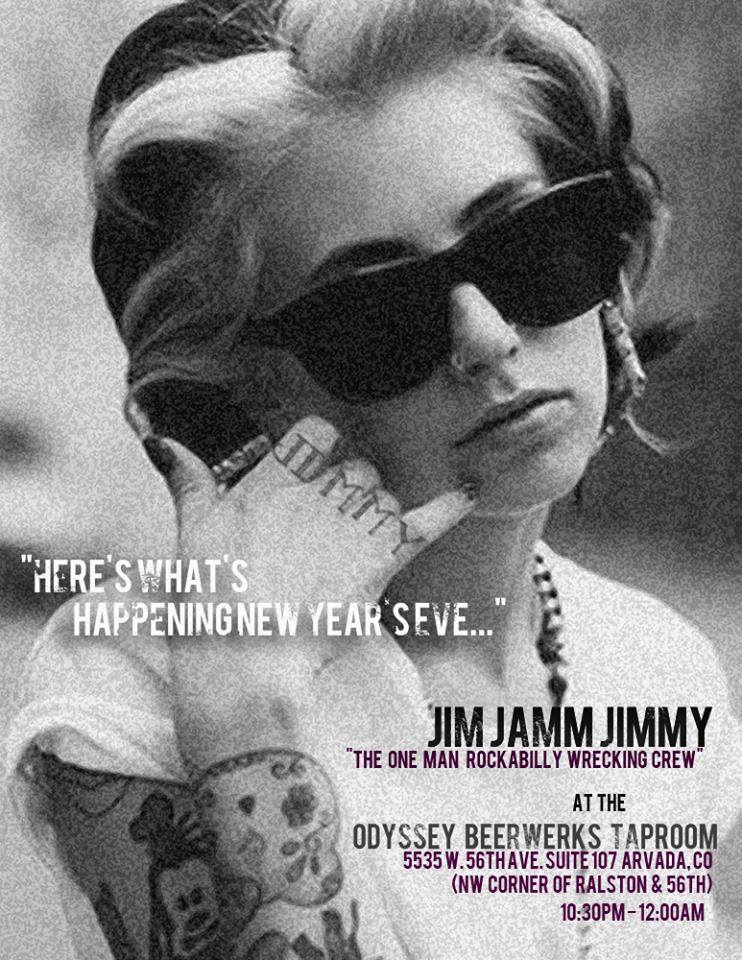 Odyssey Beerwerks (Arvada) – New Years Eve: Odyssey will be open until 1:00am New Years eve/morning, crashing into the new year with Jim Jam Jimmy!!
Wednesday, January 1st, 2014
Cannonball Creek (Golden, CO) – We will be closed on New Years Eve, but open at noon on Wednesday January 1st! Come join us for some quality beer. Cap'n Crabby will be providing the eats.

Tommyknocker Brewery (Idaho Springs) – Just a handful of minutes outside of Denver Metro is the little town of Idaho Springs. And they crank out some awesome suds. The brewery just released their schedule of new beer releases coming up in the first half of 2014. On January 1st they will release one of my favorite beers from TK, the Legend Olde Oaked Brown Ale (10% ABV, 70 IBUs). They age this big brown ale on Hungarian oak. Shit is legit. Check it out!
Yak & Yeti Restaurant & Brewpub (Arvada) – They'll be open on New Years Day from 11AM until 8PM.  Climb in for the lunch buffet or just swill some beers after you've had your holiday meal.
Saturday, January 4th, 2014
Saint Patricks Brewing Company (Englewood, CO) – They will be open Saturdays starting this week, from 2-9 p.m.! And don't forget the ping pong tourney this Saturday! (starts at 3 p.m.)
Funkwerks (Fort Collins, CO) – Last week, they packaged their newest beer, Brett Trois. The beer is a 100% Brettanomyces Belgian ale. This Saturday, January 4th, they will be having an exclusive taproom release! Starting at noon, a free half glass of Brett Trois will be given out until the first kegs kicks. Mark your calendars and clear your schedule, you will want to check out this new beer!
Boulder Beer (Boulder, CO) – You heard correctly: They're giving away beer. On Saturday, 1/4/14, They're giving a free beer to everyone over 21 that would like one! Noon-1:30. Be there!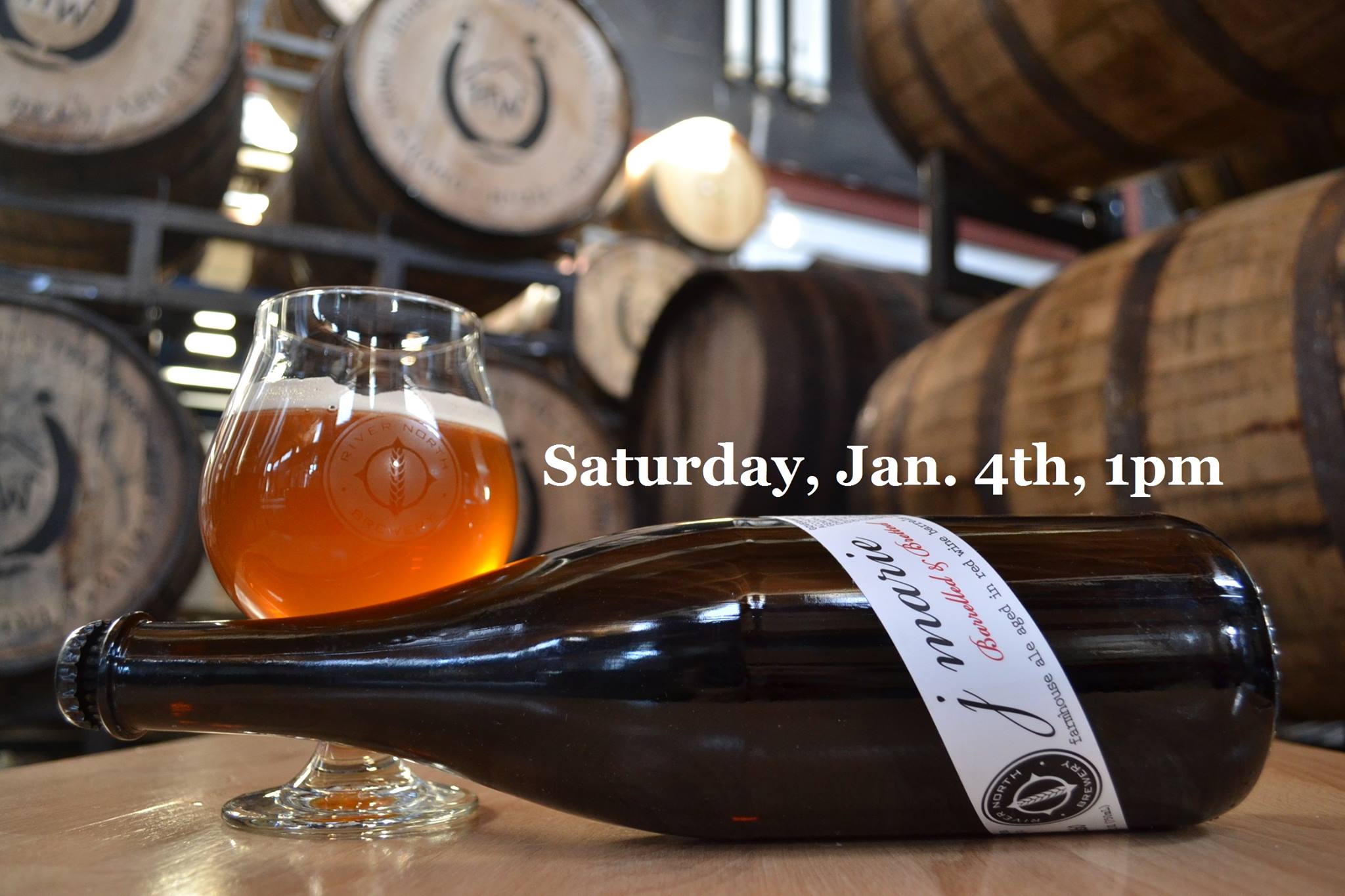 River North Brewery (Denver, CO) –  The folks at River North will be hosting their JMB&B Release Party to help kick off 2014 in style. This version of J. Marie was fermented with our usual farmhouse yeast, then aged in red wine barrels with Brettanomyces for a full year. Rustic yet elegant, this beer is a beautiful marriage of farmhouse esters, red wine finesse and Brett funk. This will be one of their most limited beers to date; they have less than 30 cases for both taproom supply and distribution. During the release party, however, they'll keep it flowing on tap. While delicious now, this beer will age nicely in the bottle, adding complexity as time passes.
Tuesday, January 7th, 2013
Hops & Pie (Denver) – Tuesday Night 23, 2 topping 18″ pizza and 2 drafts for 23$ Bucks!! Come and get it from 5-close!!
Wednesday, January 8th, 2014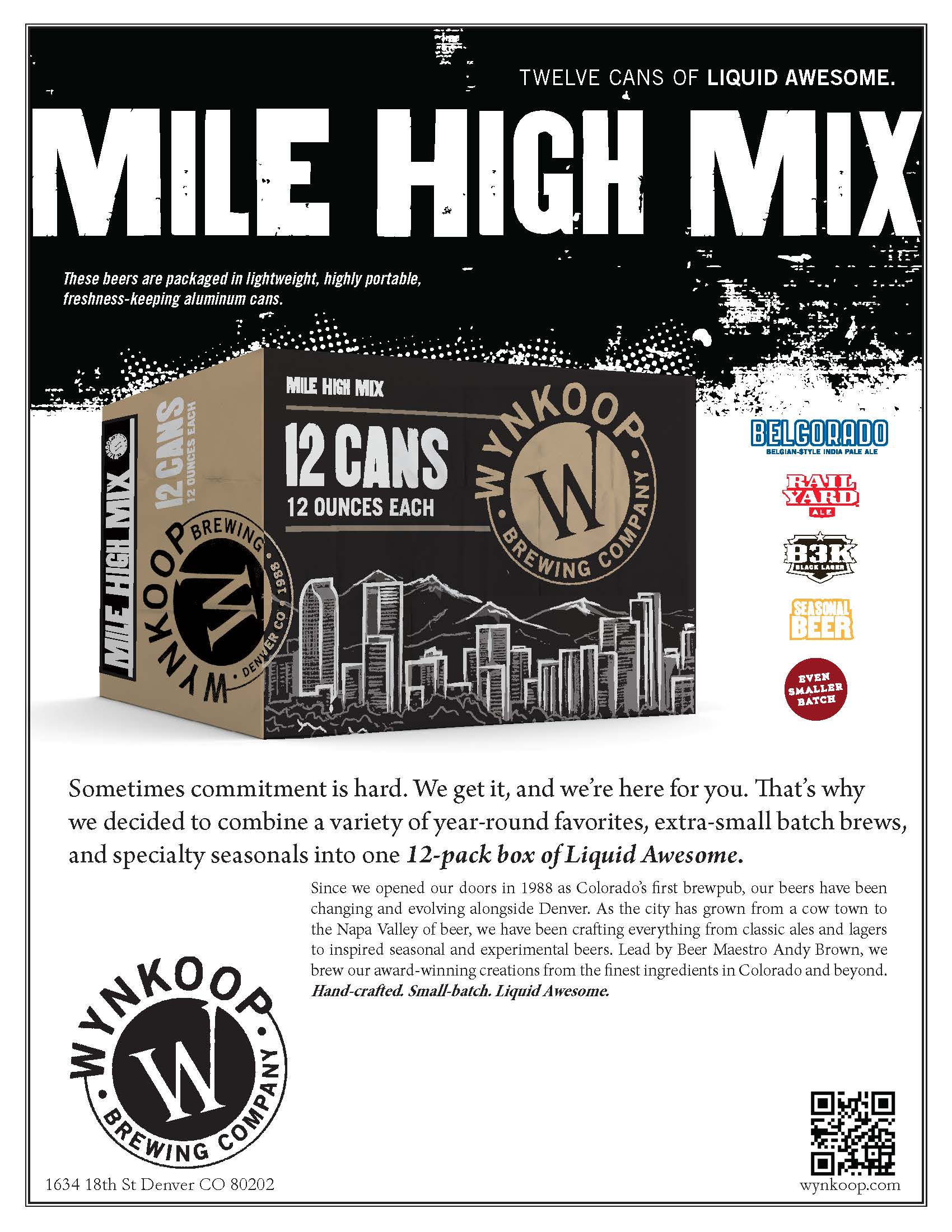 Wynkoop Brewing Co (Denver) – On Wednesday, January 8th from 6pm to 11pm, Wynkoop will be celebrating the release of their new 'Mile High Mix' 12-pack (cans) box with a thank you party for all of their accounts/suppliers/loyal press. The 'Mile High Mixer' is an invite-only industry event, but they are releasing a limited amount of VIP tickets to the public. If hanging out with a bunch of beer buyers, bar managers, and industry folk while drinking beer, listening to live music, and eating food sounds like your scene, then snag up your ticket before someone else does! Click here to try to get yours. The 12-pack will feature: Belgorado, Rail Yard Ale, B3K Black Lager, a seasonal beer and an Even Smaller Batch beer. Look for Cowtown Milk Stout coming in cans this January!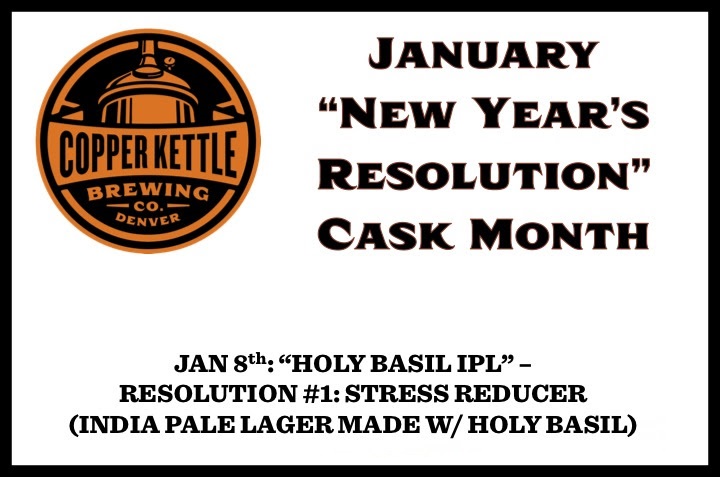 Copper Kettle Brewing Co. (Denver, CO) – January is "New Year's Resolution" Cask Month, so they will be tapping a different cask every Wednesday in hopes of checking off those New Year's resolutions for 2014! NEW YEAR'S RESOLUTION #1: Reduce Stress – An India Pale Lager made with the stress reducing herb holy basil, adding a light scent of mint and cloves. Firkin Wednesdays! Join the CKBC folks for a different rotating cask every single Wednesday!  Starting at 3 PM when they open the doors! Once it's gone, it's gone! Ckrepes with sweet and savory crepes will slang the mouth morsels to help you edge that buzz at @ 4:30 PM.