No Comments
PorchDrinking's Weekly Denver Beer Beat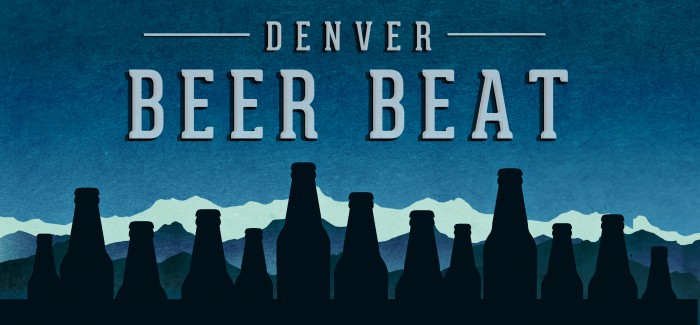 Hopefully your valedictory toast to the end of 2013 was most excellent, dudes and dudettes. With breweries coming back into the full swing of production and pouring delicious barley pops for all you malt junkies and hop heads, we are mad stoked to provide you with the Denver happenings for the week. Welcome to this week's Denver Beer Beat. Did we miss an event; let us know.
Wednesday, January 8, 2014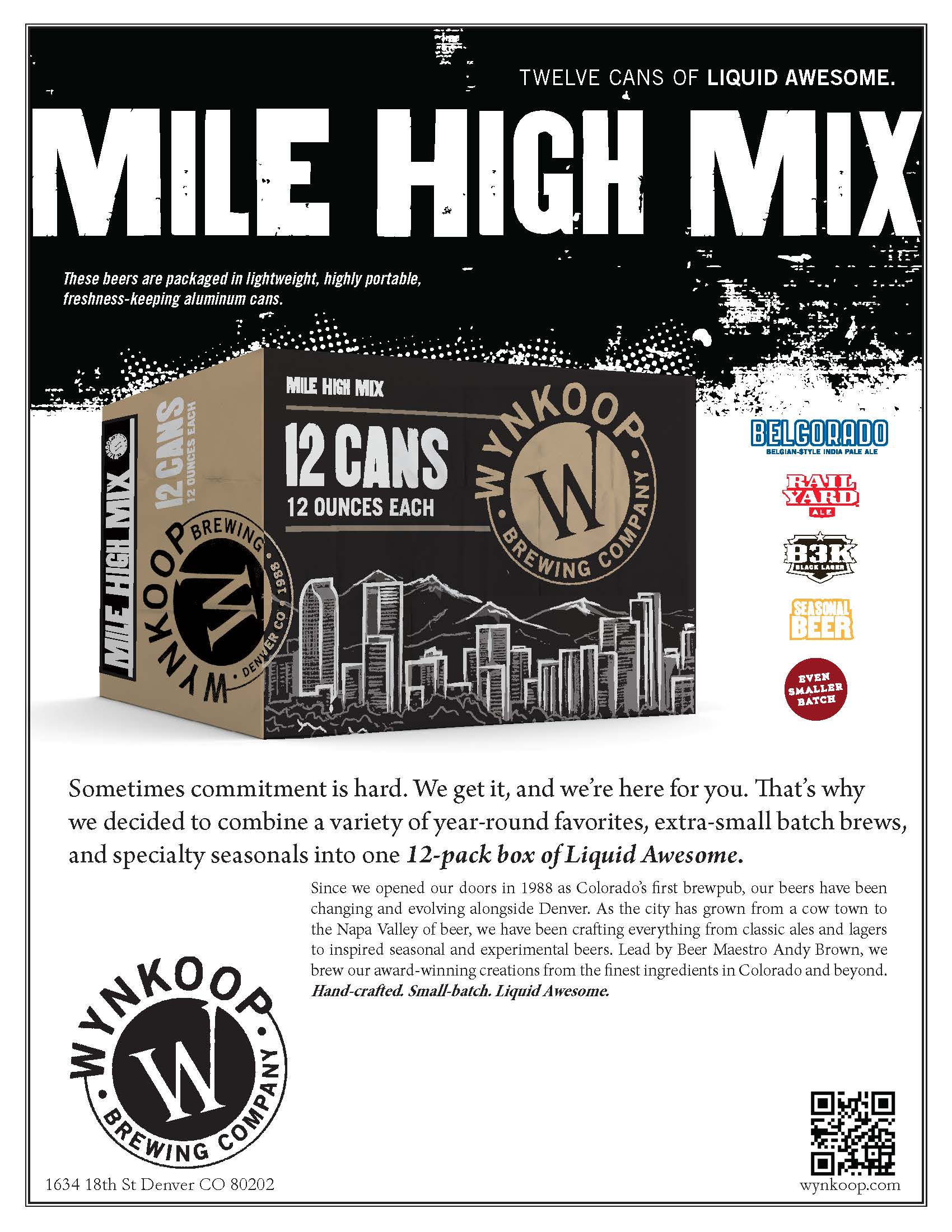 Wynkoop Brewing Co (Denver, CO) – On Wednesday, January 8th from 6pm to 11pm, Wynkoop will be celebrating the release of their new 'Mile High Mix' 12-pack (cans) box with a thank you party for all of their accounts/suppliers/loyal press. The 'Mile High Mixer' is an invite-only industry event, but they are releasing a limited amount of VIP tickets to the public. If hanging out with a bunch of beer buyers, bar managers, and industry folk while drinking beer, listening to live music, and eating food sounds like your scene, then snag up your ticket before someone else does! Click here to try to get yours. The 12-pack will feature: Belgorado, Rail Yard Ale, B3K Black Lager, a seasonal beer and an Even Smaller Batch beer. Look for Cowtown Milk Stout coming in cans this January!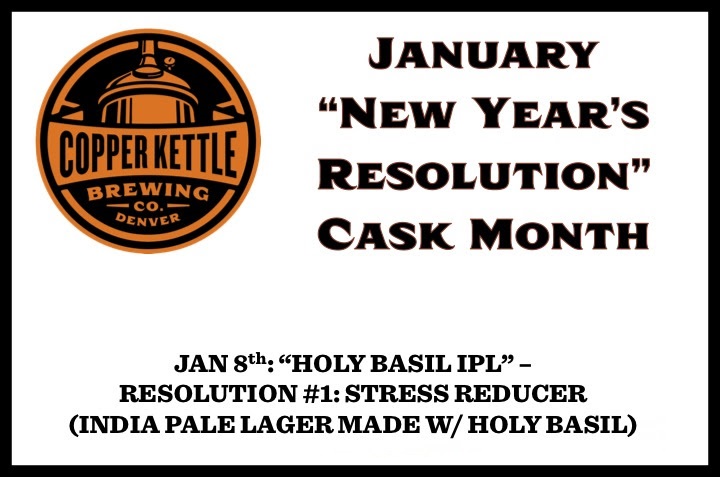 Copper Kettle Brewing Co. (Denver, CO) – January is "New Year's Resolution" Cask Month, so they will be tapping a different cask every Wednesday in hopes of checking off those New Year's resolutions for 2014! NEW YEAR'S RESOLUTION #1: Reduce Stress – An India Pale Lager made with the stress reducing herb holy basil, adding a light scent of mint and cloves. Firkin Wednesdays! Join the CKBC folks for a different rotating cask every single Wednesday!  Starting at 3 PM when they open the doors! Once it's gone, it's gone! Ckrepes with sweet and savory crepes will slang the mouth morsels to help you edge that buzz at @ 4:30 PM.
High Hops Brewery (Windsor, CO) – Tomorrow for their Wednesday Firkin, High Hops will be tapping a Strawbanero Honey Ale. It was brewed with their popular Habanero Honey and a hint of strawberry added. It taps at 5pm January 8th. It you want an extra hit of hops in any of High Hops beers, consider ordering a "Hop Shot" – this week's fresh hops are Nugget hops.
Black Bottle Brewery (Ft. Collins, CO) – Fans of Black Bottle's Hipster IPA take note. Tomorrow, January 8th they will be tapping some "Mosaic Hipster", their Hipster IPA made with just Mosaic hops. In addition, they will be offering half off growler fills on Wednesday also.
Station 26 Brewing (Denver, CO) – Brewing 15 barrels of Belgian-American Pale, tapping two new beers (Red IPA and Brown), and welcoming a new food truck – East Coast Joe's Food Truck
Grist Brewing Company (Highlands Ranch, CO) – Good news Grist fans… Their brand new, super roasty, nicely bitter Morocha Hoppy Stout will be released today at 4pm! 83 IBU, 6.9 ABV, 40+ SRM.
Crooked Stave Artisan Beer Project (Denver, CO) – A quick FB message from CSABP: Our good friend Cory King, Head Brewer of Perennial Artisan Ales will be in town this week! He'll be doing a little Colorado tour and tapping some awesome beers along the way. Go see him at Star Bar Wednesday night, and Tap and Handle Thursday.
Also, say hi to our Crooked Stave Artisans sales team while you're there! Cheers!
River North (Denver, CO) – For today's Wayward Wednesday small-batch release, they'll tap American-style Avarice. More akin to a traditional Imperial Stout, this version is slightly sweeter than the original, but still with that lingering bitterness you've come to love. First pour at 3pm today…see you then!
West Flanders Brewing Co. (Boulder, CO) – Today we will have a new batch of St. Marks Dubbel. You may notice that the St. Mark's tastes different. That's because they used a different yeast; the yeast they used for the Obsfucation Trippel. Go try it out, let them know how you like it!
Hops & Pie (Denver, CO)- Artisan Sando Of The Week: Porchetta, Gruyere Potato Gratin, Sauteed Chard & Citrus Gremolata on House Roll.
Strange Brewing Company (Denver, CO) – We now are hosting cheese-making classes with Jackie Rebideau. Watch for discounts on Living Social, Denver Daily Deals and Deal Chicken. Their first class will be Wed, Jan 8th at  6 pm  until 8pm
Thursday, January 9, 2014

Fourteenth Annual Big Beers, Belgians and Barleywines Festival (Vail, CO) – The festival takes place in Vail from January 9-11, 2014. Grab tickets here! A couple of quick notices that were just announced other than the festival details are as follows:
-Left Hand Pint Night at Garfinkel's on Thursday night
-Rare Belgian Beer Tasting at Red Mountain Grill on Friday starting at 4pm.
-Yeti Night with Great Divide at the Vail Ale House on Friday night starting at 6pm.
-Dogfish Head Sausage Night at Bol on Friday from 8 – 10pm.

Post Brewing (Lafayette, CO) – The Post Brewing, the long-anticipated new chicken-and-beer joint in Lafayette is scheduled to open today at 4 p.m. Owned by the Big Red F group and run by one of its chefs, the Post also boasts brewmaster Bryan Selders, formerly of Dogfish Head.
Station 26 Brewing Co (Denver, CO) – Coming on Thursday, January 9th, Station 26 will begin its Firkin Thursday program. For their first firkin, they will be tapping a Coffee Red IPA. This IPA was brewed with Colombian coffee beans (beans from Novo Coffee), Barbed Wire Reef slinging wild game brats and burgers out front. Next week's firkin will be a red IPA with chipotle chilis and cocao nibs. The firkin will tap at 4pm and go until around 8:30pm.
Friday, January 10, 2014
Kokopelli Beer Company (Westminster) – Did you miss their soft opening last night? Their official Grand Opening is going to be on Friday, January 10th at 8931 Harlan Street in Westminster, CO just across from the future Westminster Mall renovation. They are a small brew pub and will offer not only handcrafted ales but also artisan pizzas.
Rockyard Brewing (Castle Rock, CO) – Coming up on Friday, January 10th you'll be able to buy their limited Bourbon Barrel Stout, an oatmeal stout aged in bourbon barrels, in liquor stores around Castle Rock and wherever Rockyard brews are sold. This limited draft is also available in their pub too for the time being.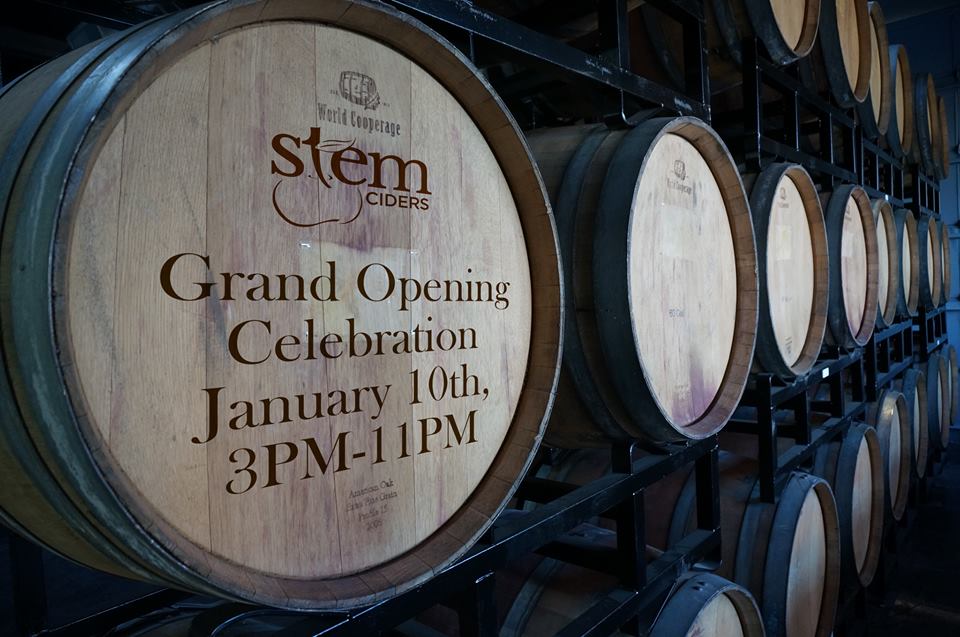 Stem's Ciders (Denver, CO) Stem's is a new cidery opening up in Denver. Their Grand Opening Celebration is this Friday from 3-11pm. They'll have two food trucks, Kuechos and Crock Spot, LLC slangin' delicious eats and Lineage Music Project playing bluegrass from 7-10pm. Bring your dancing shoes cause they'll have plenty of room to get your groove on. Stay tuned…they will be announcing three of our ciders that will be available at the Grand Opening soon. See you there!
Saturday, January 11, 2014
Parry's Pizza (Highlands Ranch, CO) – During January Happy Hours, get half off Every Beer.  Happy Hour at all Parry's locations means you get half off every beer (w/ the exception of Parry's Pints) for the entire month of January. Happy hour is 3pm – 6pm, Monday – Friday.
Strange Brewing Company (Denver, CO) – Join the Strange crew on Jan 11th for live music by Ted Loughry at 6 pm.
Sunday, January 12, 2014
Strange Brewing Company (Denver, CO) – IT'S BRONCO TIME!!!! Broncos vs. Chargers  2:40 pmStop in before the game to enjoy the pre-party (we open 3 hours before on Sunday home game days) or stay and enjoy watching the game with the crowd at the brewery!  Good Luck Broncos!
Tuesday, January 14, 2014
Hops & Pie (Denver) – Tuesday Night 23, 2 topping 18″ pizza and 2 drafts for 23$ Bucks!! Come and get it from 5-close!!
Crooked Stave Artisan Beer Project (Denver, CO) – Get ready for another bottle release event! on Tuesday, January 14th) at 5pm, Crooked Stave will begin selling bottles of Nightmare on Brett. Bottles are being sold at $12 each with a 6 bottle limit (CASH ONLY). I would advise you to jump on these. This is a highly coveted (link) beer.  At 6:00pm they will be tapping their final keg of HOP SAVANT GALAXY! That's what's up!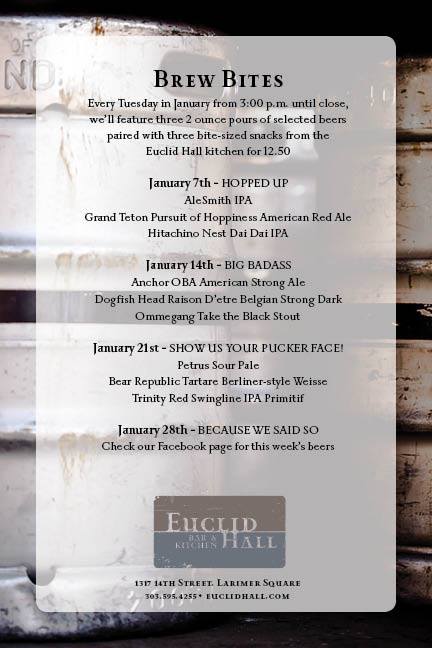 Euclid Hall (Denver, CO) – January is Beer Month at Euclid Hall. Although we're known to worship beer all year long, January will be a special month of beer celebration with special tappings and our weekly BrewBites every Tuesday from 3 p.m. until close. Check out the schedule above.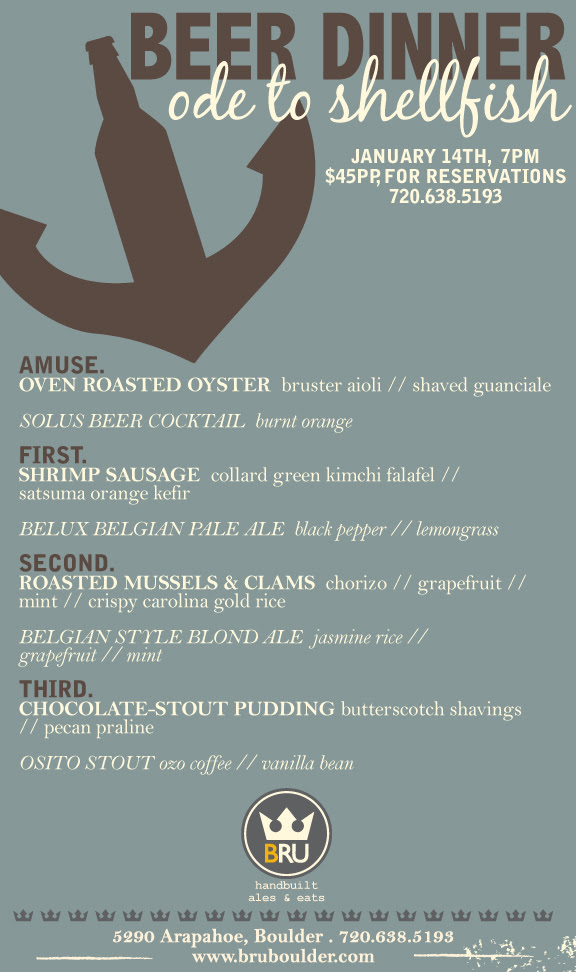 Bru Handbuilt Ales & Eats (Boulder, CO) – Join us for our first Beer Dinner of the year, Ode to Shellfish on January 14th at 7pm. Reservations are limited, call 720.638.5193.