No Comments
Bell's Hopslam: The Greatest Beer You May Not Be Able to Find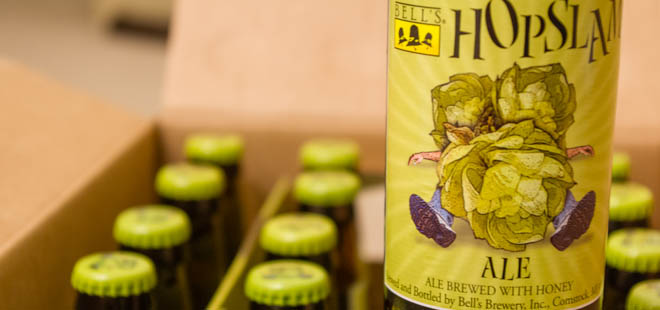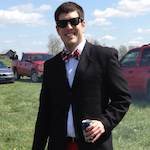 Bell's Hopslam
ABV: 10%
IBU: 90+
Sometimes, the chase is all the fun. Anyone who has watched a sappy rom-com knows how this plays out – the pursuit becomes the fun becomes the commitment, and then the waffling suitor gets cold feet. No sooner than he can regret it, Logan Marshall-Green swoops in and before you know it, Hide & Seek is playing in slow-mo.  But what do you do when the object of your affection is no vexing vixen but a soapy seductress, a hoppy harlot, or a malty matron? We're not talking about the 4:30 thoughts of a 5 o'clock cold one, this is serious: this is some Captain Ahab shit, and Bell's Hopslam is my white whale.
My search began with a phone call to my sister in Michigan. I got the low-low from the Twittersphere: distribution in Michigan was to begin the week of 1/13. Knowing the trickle to Ohio distributors would take at least a week, this was my chance to get my hands on a 6-pack a full week before the Ohio masses. I asked her to stop by a liquor store on her way home from work and pick me up a 6-pack – I got a frustrated call around 8PM: "What the heck is this stuff? I've been to 4 different liquor stores and have only managed to find a single bottle". I should have expected as much. Your average Michigander is a beer aficionado with impeccable taste. I'll have to try domestically, in Ohio. I called off the search and began to plan my dragnet of the Cincinnati area the following week.
---
The wait was painful, but I gritted my teeth and made it through. I had the day off of work for Martin Luther King Jr. day, and decided to start my search across the river at The Party Source, every thirsty man's panacea. I should have called. Kentucky distribution was a week out. I should have immediately gone to Ohio and done a door-to-door search for Hopslam, but instead, I went home and moped.
My search resumed two days later, on a bitterly cold evening. I was determined to brave the elements and find Hopslam, at any cost. Two Kroger marketplaces, a Whole Foods, and an hour later, I was still empty handed and all but defeated. The drill was the same in each store: I scrambled to the beer section and searched high and low. The telltale apple green cardboard was nowhere in sight. I'd double check, then flag down an employee.  They were apologetic, but confirmed that the coffers were bare.
My last salvo was a small restaurant that has a small wine shop attached. Surely they have beer too, right? It paid off. Right inside the entrance, on a shelf higher than Everest, were 3 six packs of sweet ambrosia itself. I put my bid in on all 3. No dice. A limit of one per customer…and I thought this was Amurrika! Rather than getting belligerent and insisting that US commerce secretary Penny Prizker was a near and dear friend of mine, I took my treasure, forked over the $22 toll to Elysia and retreated to my truck.
---
Over the next week, I continued the search for my next fix. I went to the seedy side of town, looked under overpasses and over underpasses; I went to a Speedway and despite having a speleologist in tow, was unable to locate any Hopslam, even in the deepest depths of their "Beer Cave". My search was not without reward. Success came in dribs and drabs. A 1 bottle limit here, a 3 bottle limit there – a Bevador Fridge stocked with Hopslam (at a king's ransom) at a local Burger restaurant (ok, let's not kid ourselves – it was Terry's Turf Club, home the best burger south of Santa's workshop). Then, the breakthrough.
I called The Party Source again on another bitterly cold Monday. They were getting sick of my calls at this point. I had taken up accents in an ill-fated attempt to hide my shame. My Irish-Kentucy fusian accent sounds as bad on the phone as it does in the preceding pixels. After as many rejections as a bartender at a Mormon wedding – I was shocked to hear a brusque and road worn voice "yes, it hit the floor a couple hours ago, 1 case per customer". Click.  My eyes went wide and my accelerator hit the floor. The streetlights went into Star Trek mode as my truck went airborne, a la Dukes of Hazard at the crest of the bridge crossing the river. I made it, AmEx in tow. As I entered the sliding doors, it was there. Hiding behind the counter, in plain sight. And then it was over, 2 cases left, one of them in my hands. Victory.
---
And there you have it. This was it, my prize in hand, my fate better than the ill-fated souls of the Pequod and my white whale in tow. I can now have my first taste without worrying about where my next Hopslam would come from.
Epilogue
But how does it taste? It's good. Almost too good. Normally things this good have dire health consequences…well, much more dire health consequences than a little ethanol.  The pour is perfect, with a creamy and thick foam, like a cappuccino before the espresso. The nose, even better – like being inside a diving helmet full of hops. The same hardcore, floral notes of your typical IIPA, but with the bitter, chlorophyll smell of fresh cut grass, and the sweet, malty notes of a beer that trumpets out the fact that it's chock full of honey. Then, the first taste brings 10 million volts of hops to the tip of your tongue.  Fireworks spreading out to the back of your palate. Waves of sweetness take over, but it's subtle because the floral, honey sweetness and the floral notes of the hops are so entwined, they blend together. The sweetness and hoppiness tumble through your mouth together and bust apart on the back of your tongue, meeting together with a touch of yeast that adds, dare I say, an umami flavor. As the sweetness fades and the bitter hops are allowed to take back over, you remember why the beer is called Hopslam.
And there it is. We've searched high and low. The unobtainable was pursued and had. The chase is over, but my interest is not waning – that 1st Hopslam may taste the sweetest, but the other 23 are just as hoppy and delicious. Well done Bell's.