No Comments
Evil Twin Brewing Freudian Slip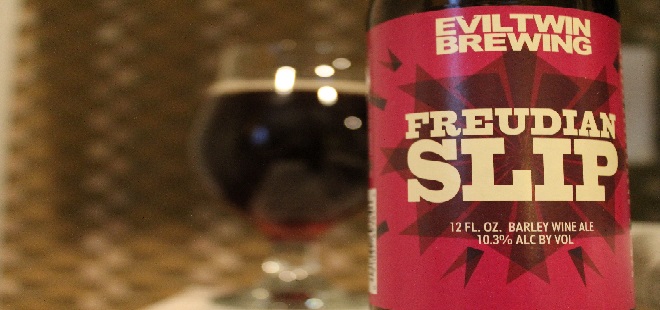 Evil Twin Brewing – Freudian Slip
ABV: 10.3%
IBU: ??? People still tabulate this bullshit?! Stop Analysing things, Sigmund!
A Freudian slip, also called parapraxis, is an error in speech, memory, or physical action that is interpreted as occurring due to the interference of an unconscious ("dynamically repressed") subdued wish, conflict, or train of thought guided by the super-ego and the rules of correct behavior. They reveal a "source outside the speech". The concept is thus part of classical psychoanalysis.
Blah, blah, blah . . . Outside of psychoanalysis, Freudian Slip, should only refer to a beer made with no mistake, no error, no subdued wishes, no conflicts, no trains of thought derailed . . . And if my super-ego wants to delve into a delicious American Barleywine like Freudian Slip, so be it!
Did you also at some point in your life get seduced by promising words like 'probably (not) the best in the world', 'it (doesn't really) work(s) every time' etc. This American Barleywine says it how it is. It's intense, attention seekingly hoppy and definitely your kind of beer. A beer with a big ego, drive and a huge thirst for recognition.
The folks at Evil Twin rolled out a lip smacking barleywine that has rich flavors of caramel, cashews, almonds, and pear brandy notes, atop red currants, brown butter, and cigar box flavors. I'm wanting to compare it to brandy or cognac.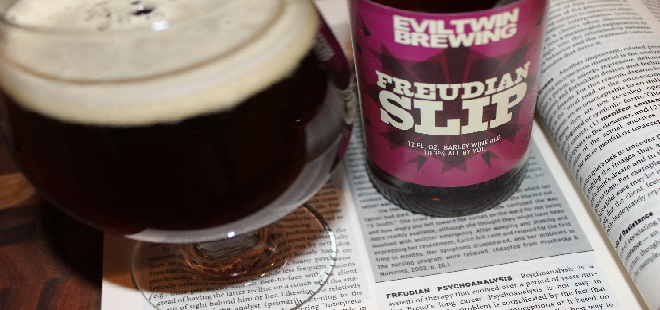 First taste reveals a very good beer with nice malt, dark fruit, and sugar flavors with bourbon essence. On the finish, I am picking up strong wheat, vanilla, honey, grapes, dark fruit and cream.
Overall, Molasses, mixed nuts, roasted grains, coffee, dark chocolate, orange peel, Brandied cherries, and black currants make this interesting and powerful and utterly delicious!