No Comments
Cochon 555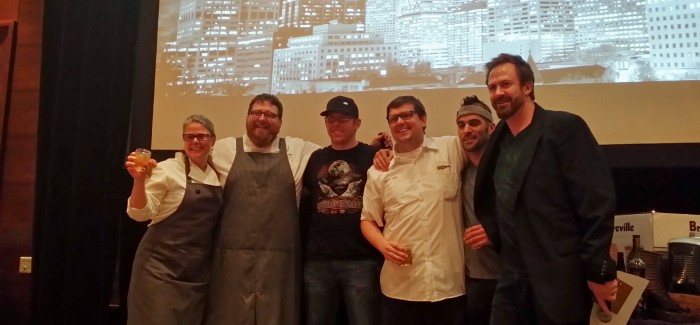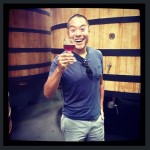 "Since moving to Colorado from Kentucky, which is often referred to as a 'border state', but is still decidedly southern, like others before me, I've experienced noticeable lifestyle changes. Moving out here can promote stronger ties to the outdoors, building passions for craft beer,and healthier dining options. Don't get me wrong, I still harken back to my southern roots, but I've also grown to appreciate the likes of quinoa, tofu, seitan, brussel sprouts and yes, even kale.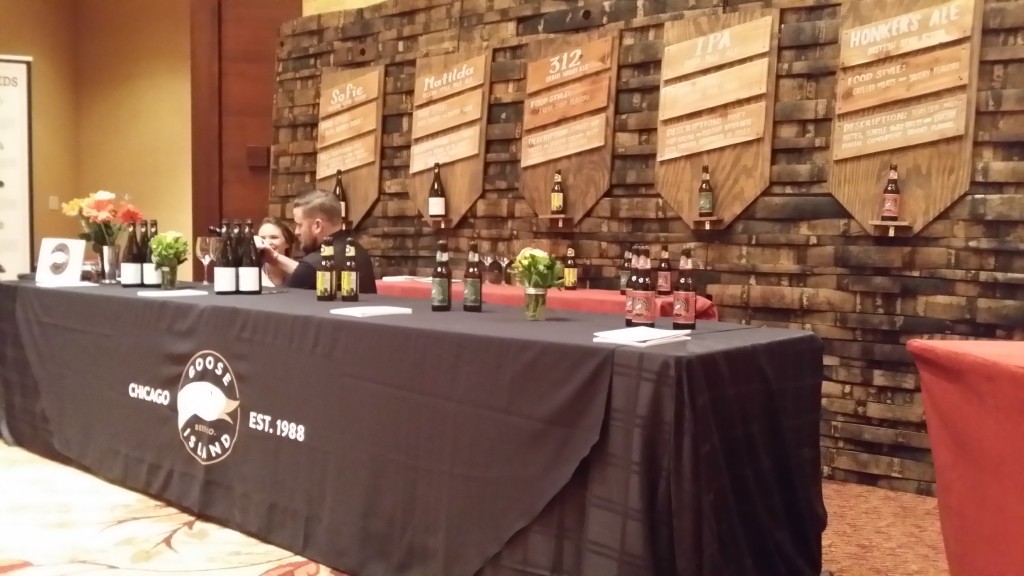 Last week, Porchdrinking.com was invited by Goose Island Brewing Company to cover the Cochon 555 event at the Ritz Carlton Denver, and for day we lost all health conscious hangups and dove head first into pork. Joined by Eric Linder representing Porchdrinking's Beer and Food division on behalf of Alewise, our mission was to explore food and beer pairings provided by Colorado's top local chefs and Goose Island Beer" – Foreword by Tristan Chan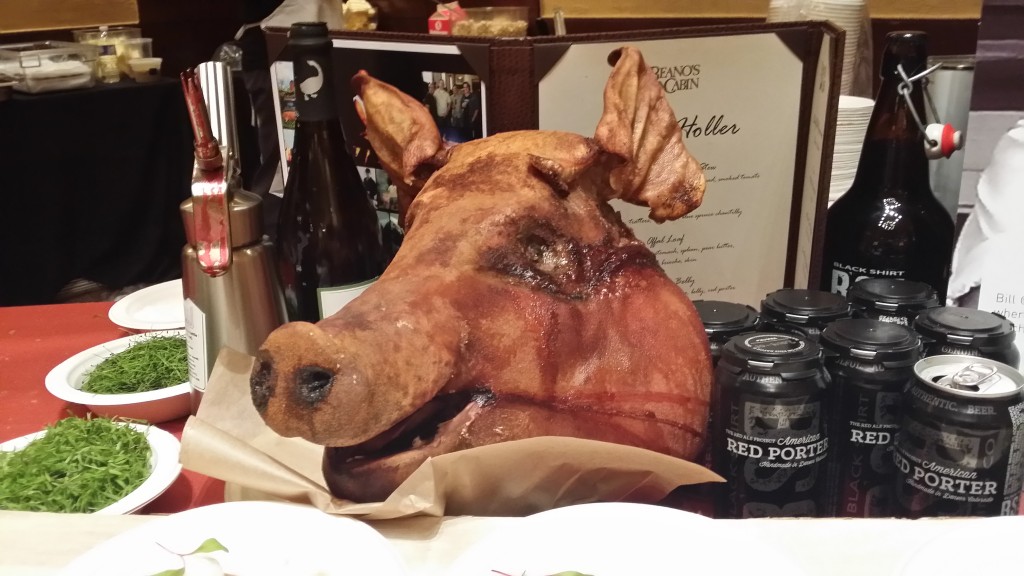 After fighting my way through the Bacon and Beer Festival for the first time last fall, and leaving early because there was no way I was getting another drop/bite in myself, I was determined to fight the good fight. I would pace myself with food and drink, and I would continue to enjoy all there was to offer until the very end.
So I walked in well prepared with an empty stomach, ready to take in all there was to offer at this extravaganza of food and drink from some of the best in the industry.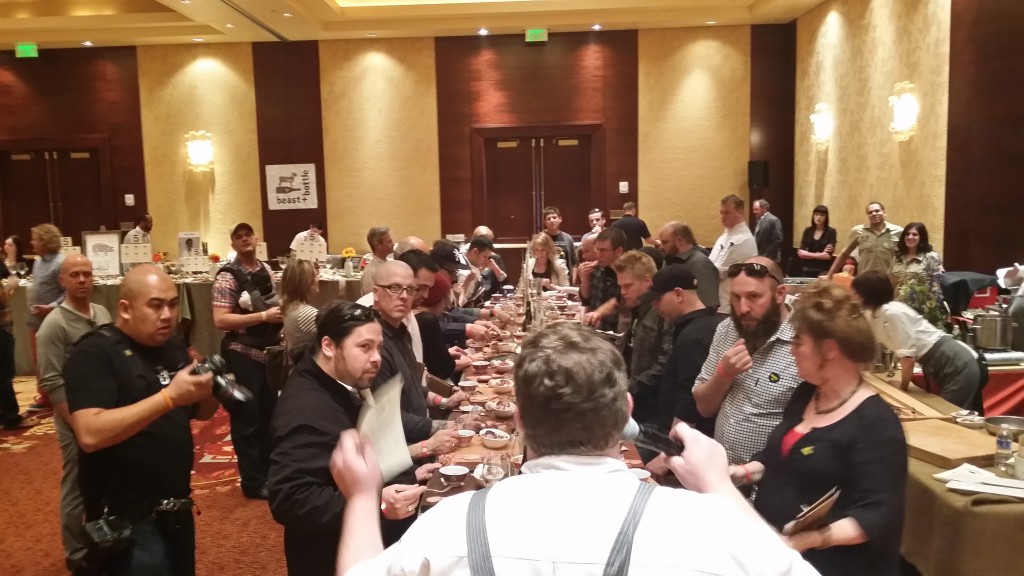 During the judge's session, before the VIP portion of the crowd was to make its way through, the chefs took their turn commanding the attention of the floor. They talked us through the various dishes and preparations, showcasing the skill and artistry used at this temporary house of craft. My anticipation for tasting these wonderful creations grew stronger watching the judges faces glow in amazement at each bite.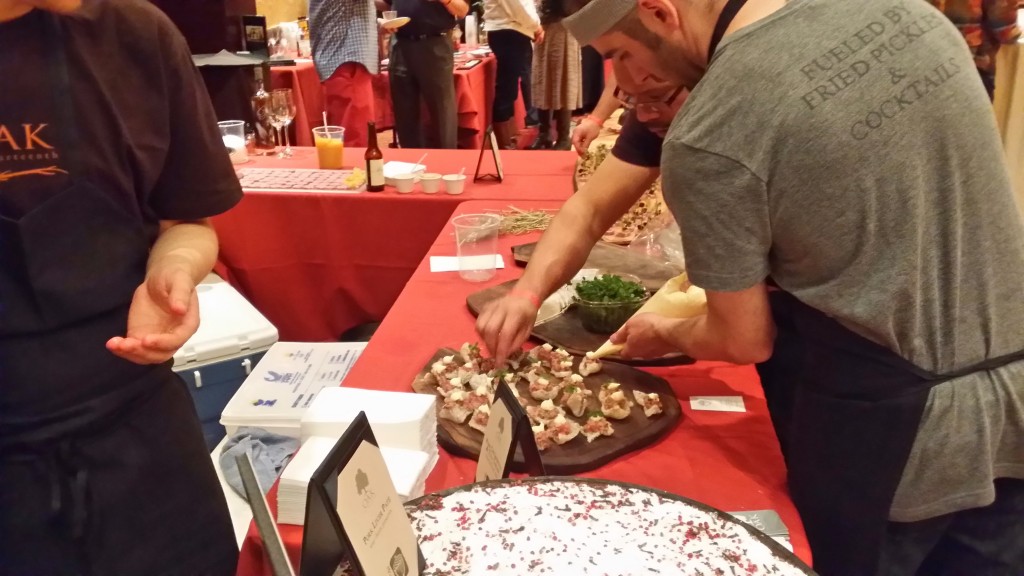 There was a brief period between when the judges finished tasting at chef Paul C. Reilly's Beast + Bottle Booth and when the first wave made their way in. You could feel the tension in the air as all of the chefs and vendors were 'manning their stations' to showcase, for a couple hours, a presentation they had been planning for months.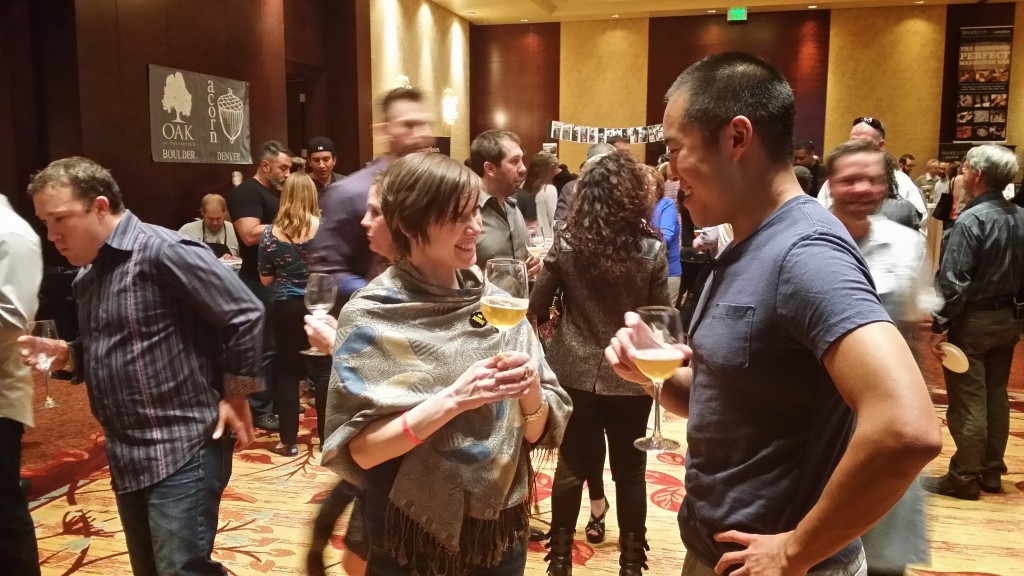 The clock struck four p.m. local time and the doors swung open as guests were finally able to make their way in, to begin enjoying the delectable goodness. The charged up, but scattered energy of the room was perfectly matched by Lyre le Temps "About a Trauma Drum" being played on the PA.
After watching the judges enjoy their spreads, I was ready to start doing the same. Upon arriving at the Goose Island Brewing Company I was greeted by Taylor Kane, Denver resident and part of the team representing Goose Island.
We talked about Denver's thriving craft beer scene, he summed it up, "You can't even go a block without getting somewhere to get a good beer". It's true we are a little spoiled here on the Front Range in Colorado, but this is slowly beginning to happen all over the country. People are rapidly catching on to craft food and drink movement, and recognizing many new and forgotten flavors. Cochon 555 Event is a celebration of that fact.
As we continued to talk, he mentioned one of his favorite pairings, the Goose Island Sofie with and English Cranberry Wensleydale. The "Cranberry notes with the delicate citrus notes of the Sofie… it's like eating a freakin' cheesecake". This immediately triggered the urge to get a glass of 2012 GABF Gold Medal Winning Goose Island English-Style IPA and find our friends from Cured in Boulder to see what kind of Blue cheeses they had available.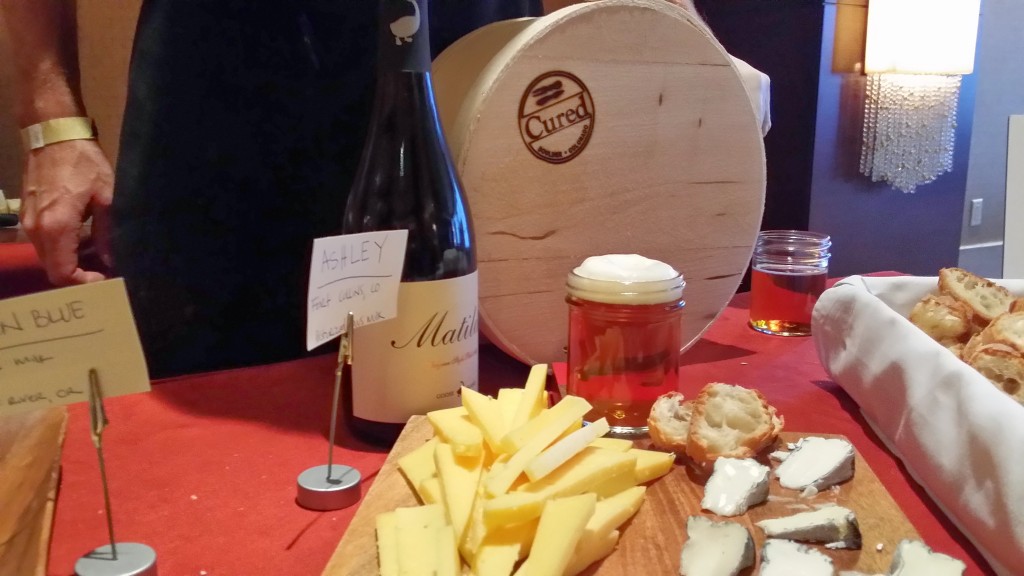 Expecting nothing but success, I found a pairing in the Point Reyes Blue from Point Reyes Farmstead Cheese Company…
After enjoying the Cochon version of an Apertif, it was time time get back to the main room, and I figured there was no way to get into the pool but by jumping in.
A treat from Hudson Valley Fois Gras, crostini topped with a rich creamy assortment including truffled fois gras and a luxardo cherry on top. A delicious partner with the 'Sofie' as the fruity esters were complimented by the cherry while the bright effervescence of the beer is just what was needed for the snack.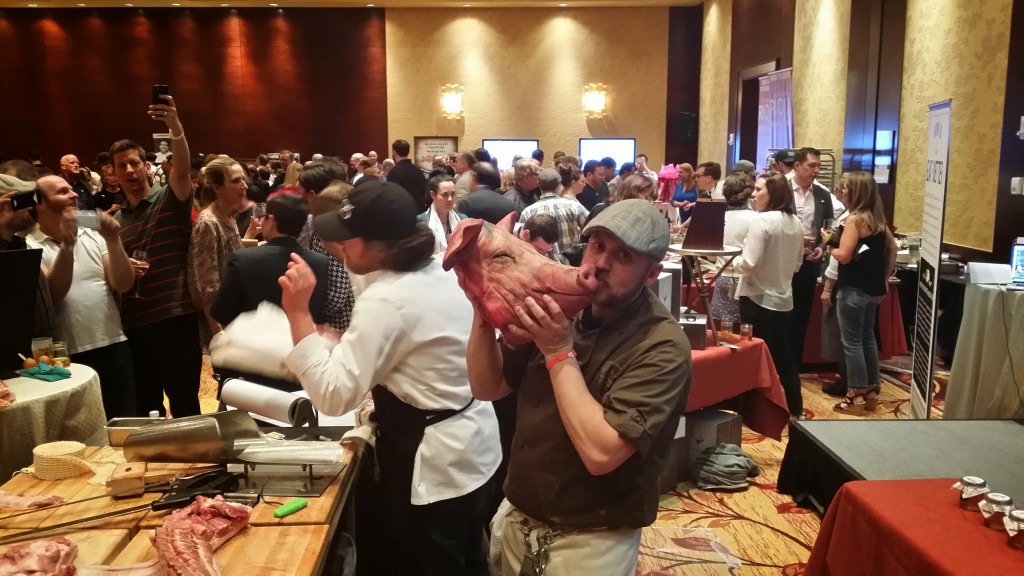 I took my time enjoying this 'open-faced duck liver sandwich' while making my way over to what was the longest line of the day, Old Major. The energy of the crowd was building through the room, especially around chef Justin Brunson's team's table, which caused a line so long it seemed to cover up three other booths.
On the way, I ran into friend, and companion in the food-service industry, Ryan Ravenscroft, who was attending as a patron. We were able to talk about what he was most excited about and he mentioned wanting to experience the "variety of ways that pork can served, whether it's cocktails, dessert, or savory".
One of the aforementioned 'blocked' booths was Breckenridge Distillery, which had a wonderful beer companion in their profile, the Breckenridge Bitters. This found a wonderful friend in the Goose Island English IPA.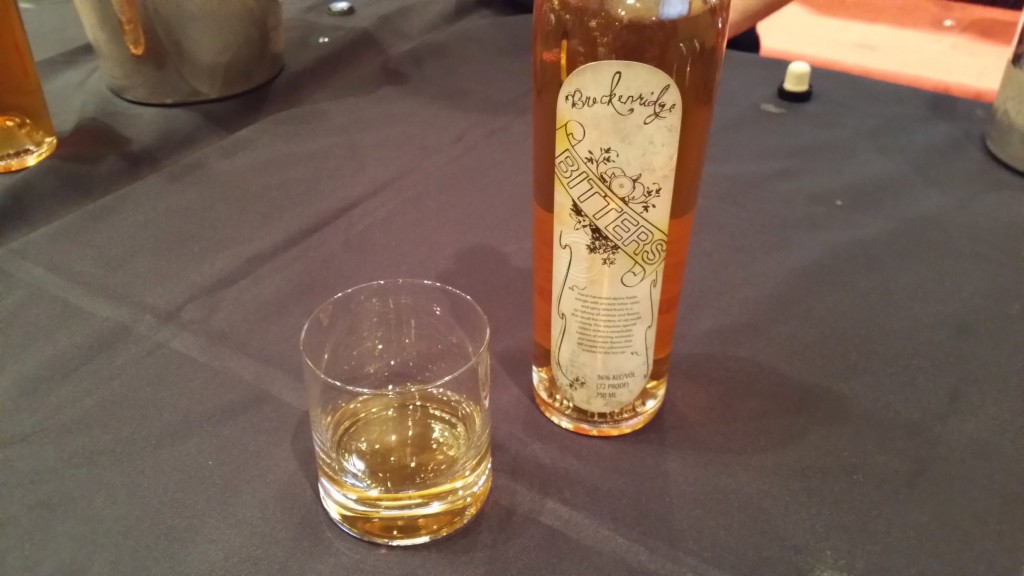 Bryan Nolt, from Breckenridge Distillery mentioned for him it, "rounds out the awkward mid-palate moment of the IPA". The 'shot and a beer' ratio he started me with seemed to bring out these round oaky notes as if I were drinking a barrel-aged IPA while brightening the hops as if they were fresh, though not dry-hopped.
I would continue to enjoy the mixture of the two, while eventually diluting it down to a ratio around a beer with a splash of Bitters. That blend brought out these amazing West-Coast IPA-like qualities, the beer had bright, piney, resinous flavors all highlighted by this ratio. This was definitely something I remembered to take away from the event, as I plan on experimenting with these flavors further in the future.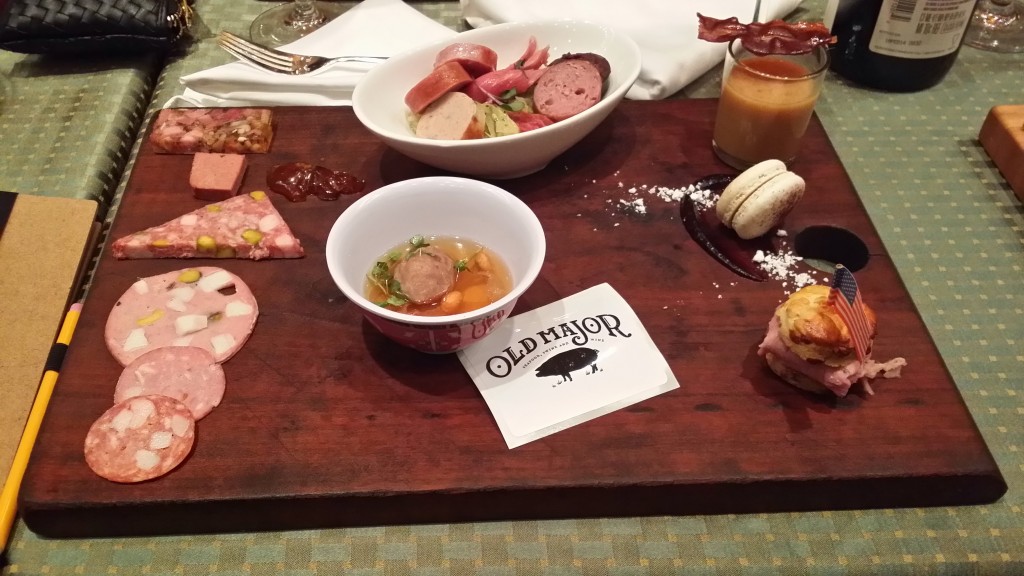 By the time I got to the Old Major table, my mouth was watering at the assortment of Charcuterie, Pho, even a macaroon and bacon-infused whiskey. It became apparent the creativity and originality that was on display at the event matched it's hype.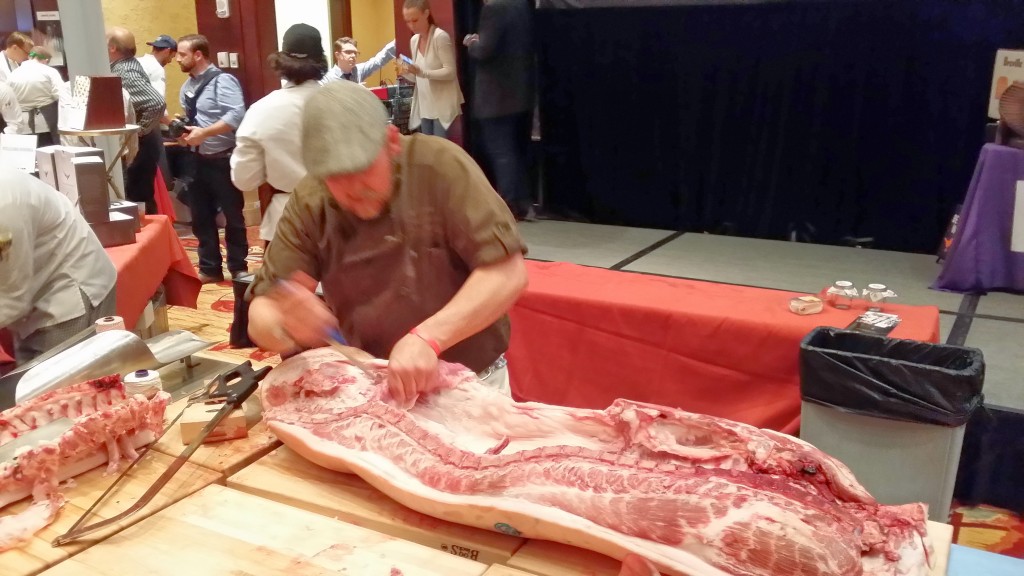 I eventually waded over to the section of cocktail tables that Tristan and I had arranged to meet at throughout the event in between our exploratory culinary endeavors. We began to enjoy and discuss the wide range of flavors and how the interacted with the beer, the multitude of resonances and contrasting elements at work.
Goose Island was successful in providing a balanced profile of beers to match all of the pieces the chefs were bringing to the puzzle. Don't get me wrong I would have loved to see some of the Bourbon County Series there, but if that happened, I probably wouldn't have left the Goose Island booth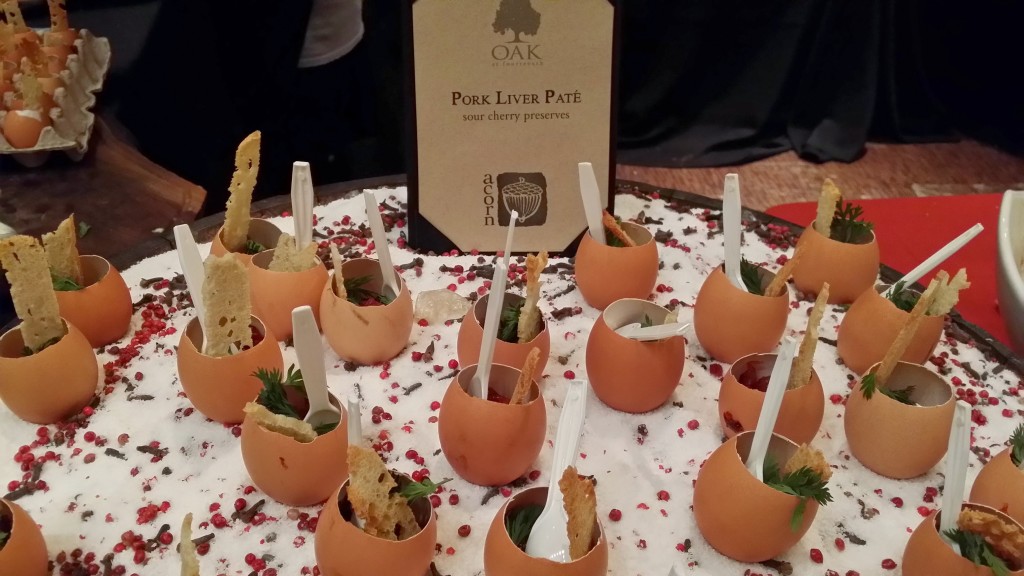 There were highlights at all of the booths including; Tristan's favorite, the Porter braised belly with neck confit on brown butter dumpling from Bill Greenwood of Beano's Cabin, and the pork liver pate from Steve Redzikowski's team at Acorn and Oak at Fourteenth. My personal favorite table though was the Beast + Bottle table from Paul C. Reilly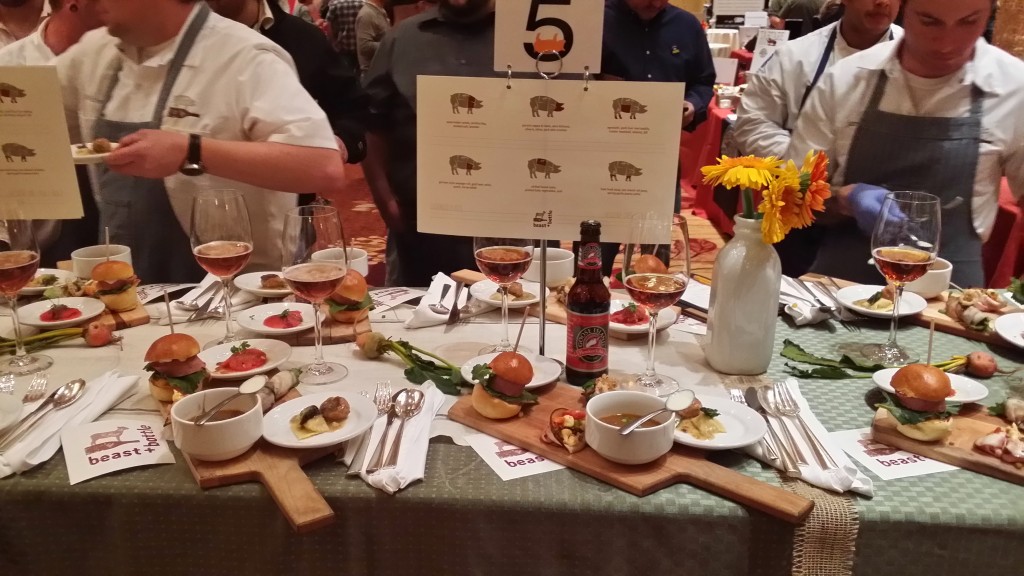 From my favorite dish at the event, the Watermelon ravioli with Carolina BBQ, lavender, and smoked salt to their maple spuma macaroon with bacon vacherin, B+B appealed to my tastes and offered creativity to win me over.
During my meandering through the room, I saw many more familiar faces and waiting in line offered the perfect opportunity to talk more about the event.
As Cochon founder Brady Lowe boasted to the crowd at one point, "We have created social umami, the seventh sense". A wonderful local entity showcasing this 'social umami' and the craft scene in Denver is The Source, a new American marketplace housing amongst others, Meathead. Meathead is a locally and traditionally driven butcher shop and proprietor Kevin Klinger was nice enough to share some thoughts about the event from a butchers perspective.
Although he mentioned being 'potentially a little biased' towards the Acorn team, as they share The Source space with a number of other artisans, he was partial to their spread. I did find it compelling that he felt, even though previous years were maybe a little superior because of their stronger creativity, he wouldn't hesitate to come back. "You can't eat and drink like this for this price anywhere. No doubt."
After the fury of the crowds anxiousness to get their chance at the melange of pork glory the Cochon 555 event brings, as 6:30 rolled around, family meal was announced and the room collectively took a moment to exhale. This was a great experience from a service industry workers perspective, as it was a great feeling watching the chefs fight through the shit just to remember why they were there in the first place, the passion that drives us all.
As the last of the top choices at each of the booths in the event were devoured, I made sure to get back to the Goose Island table for a final chance at Matilda and Sofie before it was too late.
It was at this time that I was able to talk with one of the judges of the event, as they would decide which of these five chefs would get to compete at Grand Cochon.
"It's actually so hard to sit there and judge these chefs that are all incredible, and so amazing at their craft". When talking about Old Major, she mentioned, "Everything was so big and so rich, but so good". When asked about favorites she liked the Oak/Acorn team "They're presentation was amazing and they were a very, very close second".
But in the end there had to be a winner, and her favorite was the Rioja team headed by Chef Jen Jasinski, "There was something about Jen where… it was so diverse, everything was just so… You didn't have a flavor plateau, it was exciting, it was very exciting. The Rioja team also provided what was her favorite dish at the event Jen's Kickass Posole.
It was finally time for the trophies to be handed our, Lowe stepped up to the stage and began by proudly proclaiming that not only was this the second Denver sellout in a row, but the first year that all of the pigs used for the event were from Colorado. He went on to stress the importance of keeping "culture at a premium" and focusing on always staying "hyper-local" in the Cochon events.
I wondered if the judges point of view I got earlier would be resounded by other judges, or there would be another factor that held sway with the majority of judges this afternoon.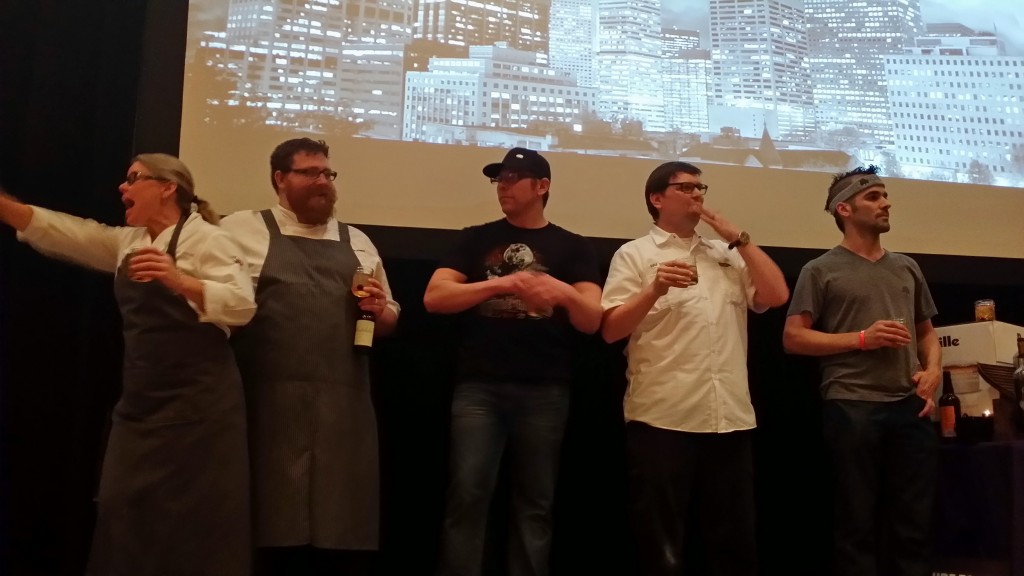 Jen ran to rejoice with her team as they were declared the winners…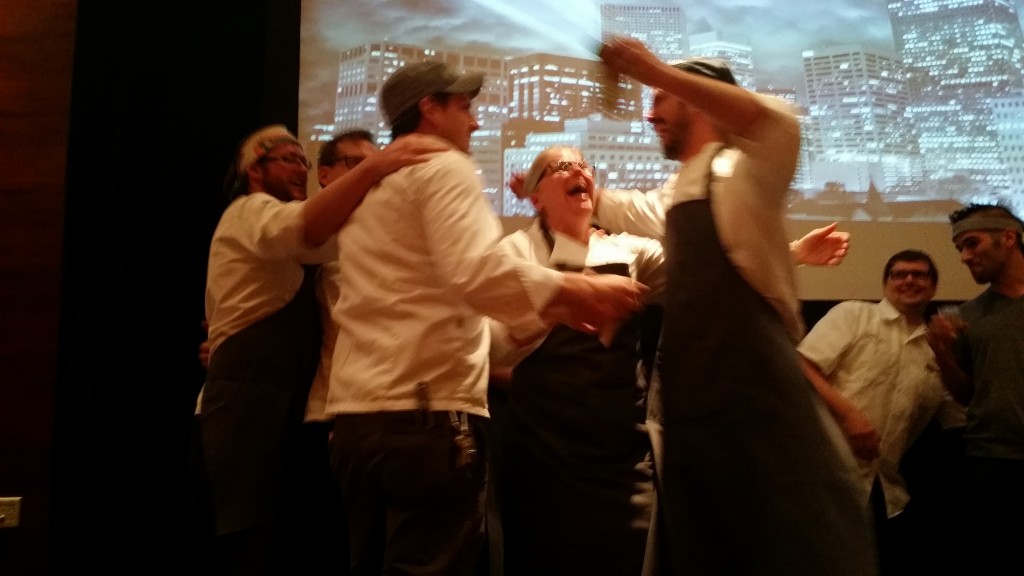 The diversity of Jen's dishes and multitude of flavors must have been just what judges needed to stand out amongst the weight of an afternoon of pork and beer in our case.
The friendly and sometimes familiar faces in this Craft group reminded me of how tight-knit our world is, and more importantly how happy I am to be a part of it. I was fortunate to run into people that reinvigorated my passion for this network that we find ourselves in and remembering that it is the art that brings us together.
Cheers.
Alewise is a Cicerone and Beer Education Co-op founded by Eric Linder and David Bird in Boulder, CO. Our goal is to strengthen the beer community by fueling the knowledge and passion of those involved or interested in joining it by making things more accessible and fun.