No Comments
*Updated 6/25* | The Underground Music Showcase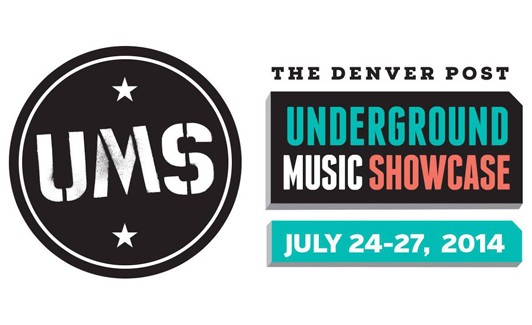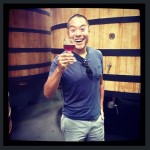 I managed to survive the first night UMS which is a feat in and of itself. So I thought I'd take a moment to recap a few of the shows we saw, provide some pro-tips, and preview some of the acts we're looking forward to tonight.
Pro Tip and Reactions:
Science Partner wins the night– At almost every festival I've gone to, there's been a transformative moment where a band makes your pants tighter due to sheer excitement, melts faces, makes beer rain down from the skies or a combination of all three. That moment for this UMS fest took place on the very first night during the 10 p.m. Science Partner performance at the Skylark. Anchored by killer vocals from Tyler Despres, Maria Kohler (aka Kitty Crimes) and Jess DeNicola as well as equally high energy instrumentals, this band takes several genres and creates a musical soda suicide. This is a can't miss band for the future, and I think has the opportunity to be the next big thing out of Denver.
Bring cash– many of these bars have a $10 minimum and unless you've got several shows there in a row, or carry more plastic than a member of the Screen Actors Guild, then you'll want to just pay in cash for beers.
Tip of the bottle cap to the Skylark– I've walked by the Skylark a number of times, and have always assumed that there was a leather jacket and tattoos dress code requirement but damn have I been missing out. Last night they were slinging the likes of Boulevard Tank 7, Stone Sublimely Self-righteous, Dry Dock Apricot, Trinity 7 Day Saison, Odell Lugene, Great Divide Colette, and Deschutes River Run Pale just to name a few. All-in-all I estimate at least 30 some taps all of which held solid offerings.
Get there early- If there's an act you really want to see, it's likely ever other hipster indie kid on the block is pumped about them too. Shit, our writer Scott Hoffman was pumped to see this heavy metal band at midnight that I could give two turds about and the venue was still waiting in line for The Bruery's Chocolate Rain levels of congestion.
Schomp Mini wins the marketing award– I first saw this done down at SXSW, but for the weekend Schomp Mini is bussing people up and down SoBro between venues with their Minis. Killer marketing move and for those w/o bikes this is a major win.
Have a few backups– Sometimes bands just don't pan out like you think they will. I won't name any names but when a band debuts an entirely different genre of music for the entire show, it's not likely to go over so well. Lesson learned,  be sure to plan on a few backups just in case.
Friday, July 25
6 p.m. Chimney Choir, SoBro Christian Church
7 p.m. Covenhoven – SoBro Christian Church, The Maykit- Irish Rover
8 p.m. Patrick Dethlefs- SoBro Christian Church, Residual Kid- 3 Kings Tavern, Tanlines- Main Stage
9 p.m. The Other Black- Illegal Pete's, The Bell Hours – Gary Lee's, Dragondeer- Skylark Lounge, Fires in France- Moe's BBQ, People Under the Stairs- Main Stage
10 p.m. Roo & The Howl- Irish Rover, Walker Lueken- Skylark, Ian Cooke- So Bro Christian Church
11 p.m. Flashbulb Fires- Illegal Pete's, Mosey West- Irish Rover, Suburban Cowboy- Gary Lee's Motor Club
12 p.m. The Yawpers- Skylark Lounge, Strange Americans- Irish Rover, The Knew- 3 Kings Tavern
1 a.m. The Dirty Few- 3 Kings Tavern

This year's South by Southwest will likely always be the most fun music festival I'll ever attend, but for some reason, I'm kinda just as excited about this weekend's Underground Music Showcase in Denver, CO. They draw several similarities with UMS drawing similarities to the early iterations of the Austin, TX based fest that began as a opportunity for tremendous local acts to gain exposure. What's been happening with UMS is no different. The Colorado music scene for quite some time has been extremely talented and this weekend's festival is the prime example.
The 14th annual UMS kicks off this Thursday evening with 18 official venues and a melange of national and local acts running through Sunday. Passes are still available for the rest of the day for $50 but go up to $75 starting tomorrow so grab yours now!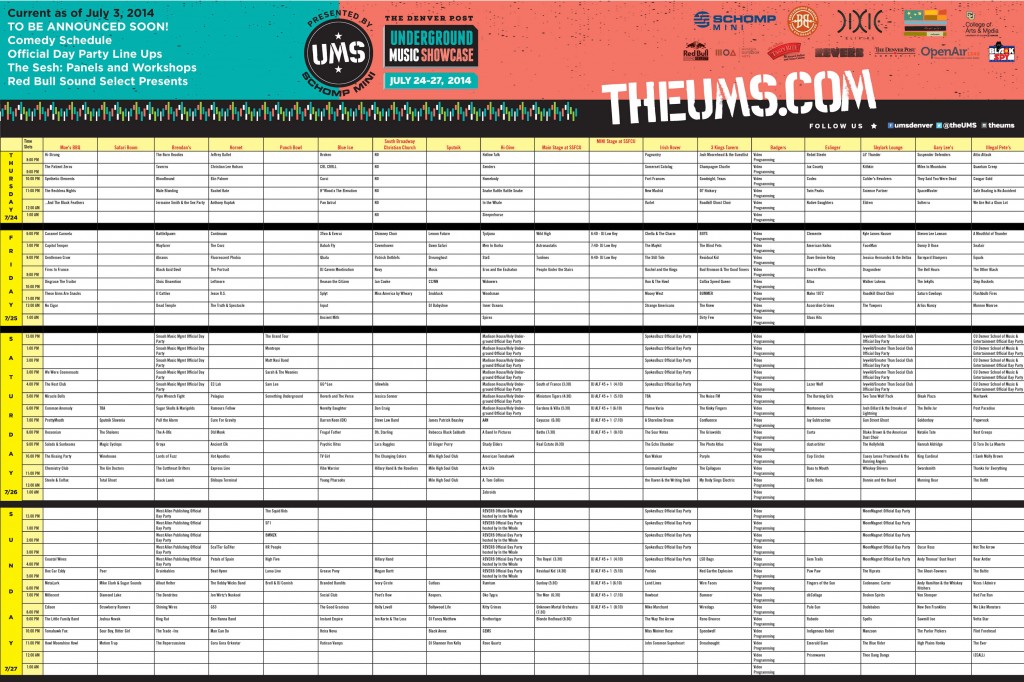 We thought we'd share some of our must-hear picks for the weekend along with a few places to quench your craft beer thirst. Feed yo ears feed yo bellies.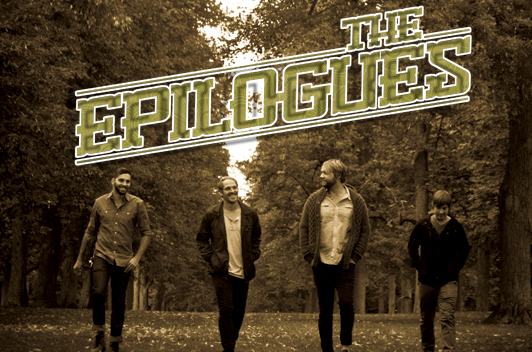 The Epilogues | Saturday, July 26, 11 p.m.  Three Kings Tavern
As I mentioned during my SXSW writeup, this group has become the incumbent representative of the Denver indie rock scene for great reason. Conjuring similar sounds as 90′s staples, The Smashing Pumpkins and the Silversun Pickups, The Epilogues, feed on that same kind of dark, brooding, emotional ride and churns out powerfully dynamic rock pieces.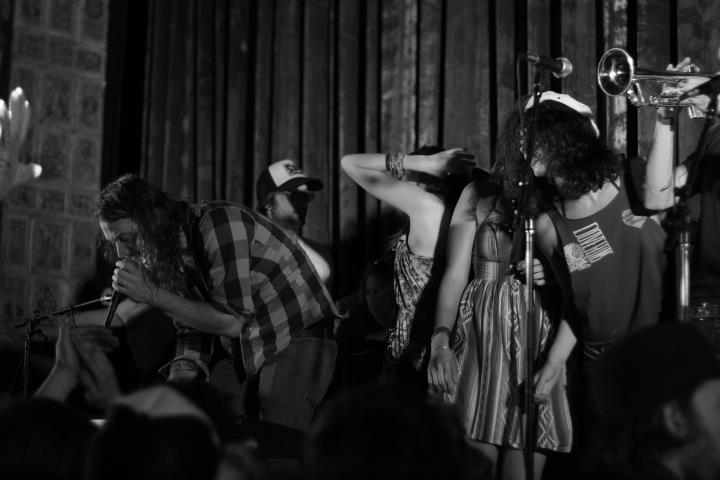 A. tom collins | Saturday, July 26, 12 a.m.  Hi-Dive
Another one of my major SXSW takeaways came from A.Tom Collins. The band is backed by a tremendous brass New Orleans style sound, with Aaron Collins crooning a raw, soulful, almost serpentine vocal performance. Musical genres thrive on trends, just look at the recent popularity of bluegrass/folk. If the general populace can get behind this sound, which I think they will, a. Tom is destined for great things.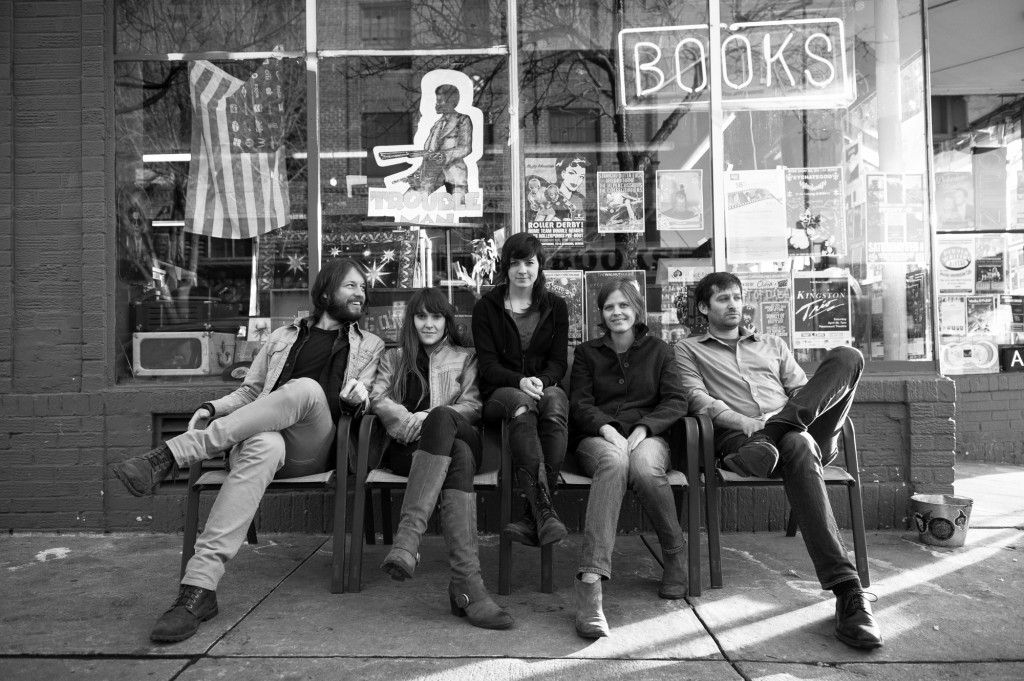 Ark Life | Thursday, July 24 6 p.m. Illegal Pete's UMS Kickoff Party and Saturday, July 26, 11 p.m.  Hi-Dive
In just over a year and a half, Ark Life has become one of Denver's biggest and most successful up-and-coming acts. They bring a familiar western twang which perfectly represents the western influences of this great state. They also exude a folk rock energy to their performances that keep the energy high and feet tapping. I have a feeling they may be the next big act to break out of the Denver scene.
Ark Life from Mountain to Sound on Vimeo.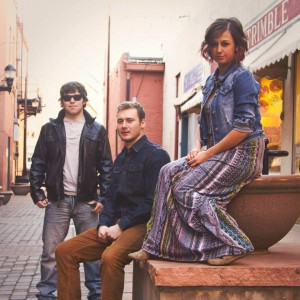 Hailing from Greeley,  this group is one of the newest to hit the Colorado music scene but their poppy folk influences bring a tremendous amount of potential. I was able to catch this band within 2 months of forming and they already brought a tremendous energy and polished sound. Very excited to see their progression as I expect big things for Pandas & People.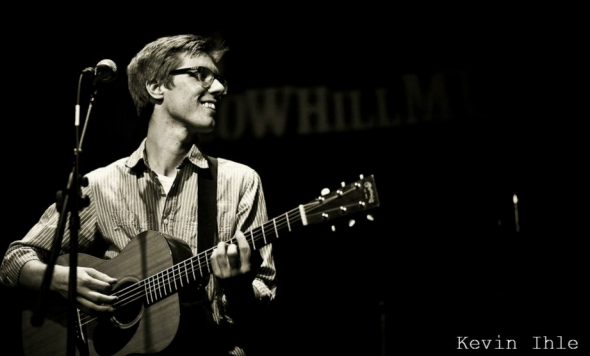 Patrick Dethlefs | Friday, July 25 8 p.m. South Broadway Church
Patrick Dethlefs brings thoughtful almost haunting folk ballads to life in a refreshing aside from the rest of the more boisterous sounds of this weekend. His movingly chill tunes are reminiscent of a Colorado version of Ben Sollee.
Kitty Crimes |  Sunday, July 27 8 p.m. Hi-Dive
Another one of our most anticipated shows of the festival this weekend. This Denver hip hop queen has got SWAG out the ass.  Plus in this track she crushes a Yoga rap.
Gardens & Villas | Saturday, July 26 6 p.m. Main Stage
We saw Gardens & Villa a few months ago at the Larimer Lounge and this national act out of Santa Barbara, CA brought the house down with their dance-y, synth powered tunes. I don't usually gravitate towards that synth electro genre, but their fusion that blends traditional instrumentals and vocals and synth-y sounds was tremendous.
Science Partner | Thursday, July 24 11 p.m. Skylark Lounge
Admittedly I only just happened upon Science Partner during my UMS research but I am most excited to hear them in person. They bring a throwback element to their indie rock sound which is extremely catchy.
Roadkill Ghost Choir | Thursday, July 24 11 p.m. 3 Kings Tavern and Friday, July 25 11p.m. Skylark Lounge
To check out more of our more anticipated artists of this weekend's festival listen to our UMS 2014 Spotify playlist. Just a reminder be sure to get your passes before they run out!
The UMS will stretch all along the South Broadway Region of Denver, so while you're enjoying the great indie tunes, be sure to look out for these outstanding craft beer locales!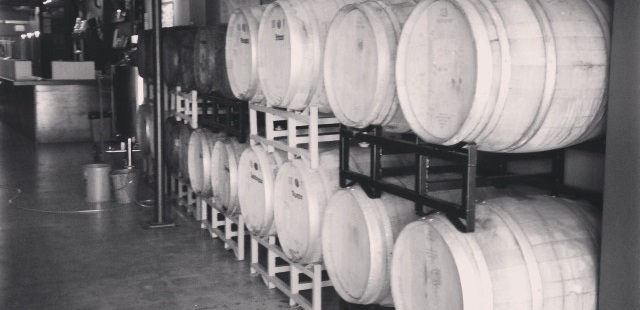 TRVE Brewing- Similar to Ark Life, TRVE is relatively new to the Denver scene, but they've made a tremendous splash in a little over two year's time. The heavy metal themed brewery has already become one of the most proflific producers of sours in the region and boasts a solid core lineup as well. Be sure to keep on the look out for any of their sour barrel aged offerings, which would be the perfect remedy for an anticipated hot weekend.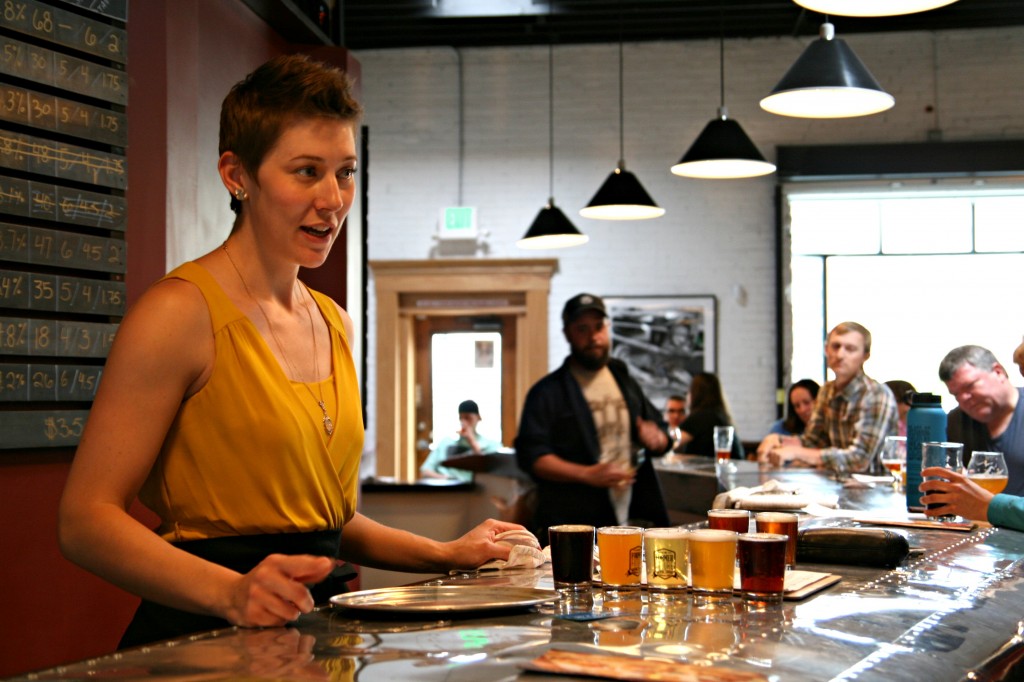 Former Future Brewing– 1290 S Broadway, Denver, CO 80210 – Located on the farthest reaches of South Broadway is another newcomer in Former Future Brewing. This brewery features a little something for everyone ranging from sours, porters, English IPAs, to a big Russian Imperial Stout.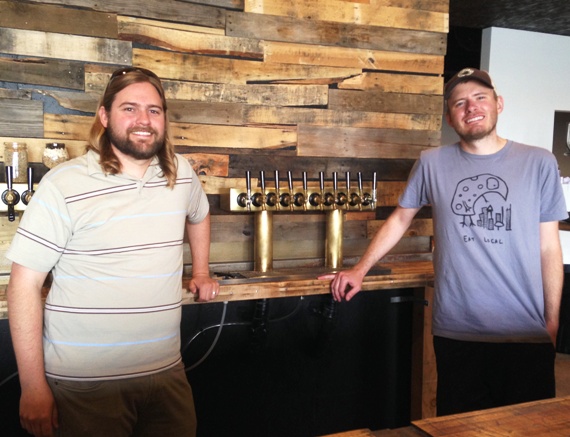 Baere Brewing– 320 Broadway, Denver, CO 80203-  This July marked the opening of Baere Brewing, the most recent craft addition to the SoBro community. At the moment Baere only opens the doors to their 2,400 sq ft tap room from 4 – 10 p.m. on Saturdays, but they'll be pouring 2 new saisons this weekend to help UMSers beat the heat. Baere is committed to supporting the Denver community by sourcing their ingredients from local vendors – so stop by to compliment your locally-crafted music with a locally-crafted beverage.  -Laura Graham
Finley's Pub– 375 S Pearl St, Denver, CO 80209- Finley's Pub is one of those secret neighborhood spots that you're almost afraid to tell too many people about: an Irish pub serving delicious Cajun-influenced food, eight insanely good craft taps, and an equally impressive bottle and can selection. With one of Denver's best burgers and two generous happy hours from 5pm-7pm and 10pm-12am, it's a great place to land before or after a show.  – Chris Day
Historian's Ale House–  24 Broadway #102, Denver, CO 80203- Historians features 40 beers on tap, 30 of which showcasing Colorado craft beers. They house a fantastic rooftop patio and are located right in the heart of the UMS action.
Illegal Pete's South Broadway– 270 S Broadway, Denver, CO 80209- While their taplist may not be as extensive in size, they do feature a number of great Colorado craft beers on the taps they do have available. Pete's is also one of the official UMS venues rockin solid tunes all weekend, they have a beautiful outdoor patio and will keep you nourished with their mission style burritos. As a pro-tip ask for reverse nachos which is all of the fixings of nacho cheese, rice, beans, guac, sour cream in a separate bowl from the chips so you can dip them as you please!
Breckenridge Beer- Breckenridge Brewery is the official sponsor of this year's UMS. They will offer a variety of options both on draft and in cans at the Main Stage!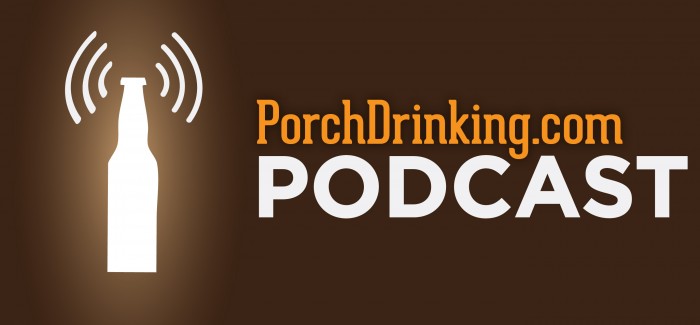 Also be sure to check out the PorchCast we recorded with Chris Heckman of the Epilogues. We chatted about The UMS and how the Epilogues respond to crowds while touring.