No Comments
Ultimate 6er | It's All About The South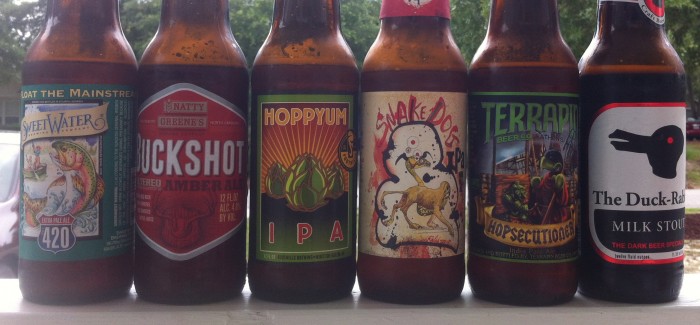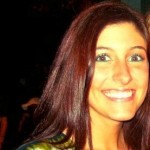 I'm currently on vacation with my family in Oak Island, North Carolina, a seaside town of about 7,000 located just north of the North Carolina/South Carolina border. In the spirit of things, I decided that for this week's Ultimate 6er, I'd concentrate on beers brewed south of the Mason-Dixon line. My choices were limited to what I could find in the mix-and-match section at the local Food Lion, but I think what I came up with is pretty stellar.
---

Atlanta, GA
5.4% ABV | 41 IBU
I'd heard nothing but great things about SweetWater, but living in Ohio, I was never able to get my hands on it. My first SweetWater experience was actually on vacation here last year, and this extra pale ale was the beer. First brewed April 20, 1997, it's a West Coast style pale with an aggressive hop flavor. How aggressive? I used to think the 420 stood for something else…
---

Greensboro, NC
4.8% ABV | 25 IBU
Buckshot is a filtered amber ale, which is probably why I could smell the roasted malts as soon as I poured it, and I could taste them too. Filtering out the leftover yeast and proteins highlights the malt character. Natty Greene's actually uses six different malts to make Buckshot, three of which are Belgian malts, and the Special B roast malt especially gives it that toffee flavor. They balance out the sweetness with mild American aroma hops, making it an extremely sessionable beer.
---

Winston-Salem, NC
6.25% ABV | 78 IBU
If there's one thing I'm finding, it's that these southerners like their hops. Most of these breweries' most popular beers are also their hoppiest. Case in point: Hoppyum, an American India Pale Ale full of Simcoe, Columbus, Centennial and Cascade hops. The Simcoe and Columbus bring out that bitter flavor, while the Centennial and Cascade give it a citrusy nose. It finishes dry, which the brewers argue makes it a great beer to come back to, but I'm honestly not sure how many of these I could drink.
---

Frederick, MD
7.1% ABV | 60 IBU
Imagine that, another pale ale. And it's not the last in this 6er either. Snake Dog is a traditional India Pale Ale using Warrior and Columbus hops and caramel malts. While it does have a notably grapefruit aroma, the hop character is much tamer than that of Hoppyum. It must be the lack of Simcoe hops and the balancing act of the malts. All in all, Snake Dog is a much easier IPA to consume. There's even a quote on the bottle that says, "It snakes down the throat like a faithful friend," and I would have to tend to agree.
---

Athens, GA
7.3% ABV | 71 IBU
See? What did I tell you? This is the last one though, I promise. Brewed with six different hops, this IPA comes close to being the most potent on the list. While it has a higher ABV than Hoppyum, it's IBUs are a little short. Hopsecutioner contains Warrior, Chinook, Centennial, Simcoe, Amarillo and Cascade hops. The Cascade are dry hopped, which may be why this beer doesn't taste as bitter as it sounds like it should. That and the four different malts they use. They say you may lose your hophead over this one, and I think I have.
---

Farmville, NC
5.7% ABV | 55 IBU
Duck-Rabbit calls itself The Dark Beer Specialist, and I can see why. Their Milk Stout is out of this world. It's extremely light for a stout, and I'm not talking about the color. It pours a deep black, but the mouthfeel is comparable to a summer ale. Couple that with its delicious coffee flavor and the subtle sweetness from the unfermentable lactose, and I could drink this beer all day. No wonder it's their number one best seller!
---