No Comments
Hoppin' Frog Brewery | Gangster Frog I.P.A.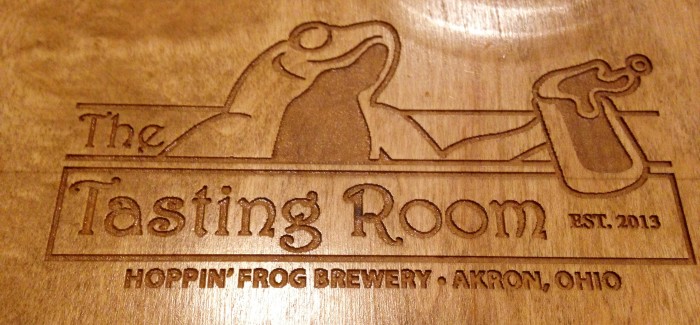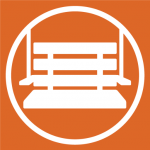 Hoppin' Frog Brewery  – Gangster Frog I.P.A.
American IPA
7.5%  ABV
55 IBU
Being native to the northeast Ohio region, I have come to realize that there is not always a lot to do. Because of that, I find it almost shameful to say that I have never been to Hoppin' Frog Brewery. I love going to small breweries (of course drinking the beer is a perk), but I cannot understand how I have passed this place up some many times. Just the other day, all of this was going through my tiny little brain, and then it hit me…..James Taylor concert at Blossom Theater + needing something to eat and drink prior to the concert = Hoppin' Frog Brewery.
When my fiancée and her family arrived, we walked into the brewery and were pleasantly surprised.  A lovely area graciously greeted us and the hostess followed suit. We grabbed a high top table for four and sat right next to the bar. Suddenly, I was almost overwhelmed but the vast array of beers on the tap list.
Personally, I find that starting with a taster flight is always a safe bet – so that is just what we did. Mean Manalishi Double IPA, Hoppin' to Heaven IPA, Hop Dam, Gangster Frog, and D.O.R.I.S The Destroyer for good measures. All of the beers ended up being great, but the Gangster ended up being my pint of choice to enjoy with dinner.
This cloudy brew poured a typical golden, honey color, with just a small amount of a lacey white head on top. I noted aromas of mango, lime, pineapple, apricot, and some grassy dank to calm it down a bit. As I took my first sip, my taste buds starting screaming at me "yum, fresh hopped for sure, superb, wow, best IPA ever, and give me more please"!! So I listened to them and did just that.
I don't want to ruin this beer for the rest of you, but if you get the chance to try this before it is gone, then enjoy it to the last drop. My only regret is that I could not get a bottle of this or barrel aged D.O.R.I.S the Destroyer to take home with me – maybe next time I'll be better prepared.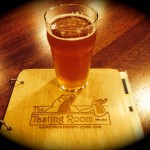 Regardless of what you are drinking at this present moment in time, enjoy it!!