No Comments
Ultimate 6er | Robert Burns Night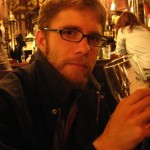 Photo Credit: http://www.robertburns.org.uk
Next Sunday is the late, great Robert Burns's birthday. For those who are not familiar with Burns, he was a well-known Scottish poet from the 18th century, considered the national poet of that fair land. Most people know about one of his many poems titled Auld Lang Syne, a little song we all sing tipsily around the New Year. Apart from that small element of Hogmanay, there are others who commemorate his life and his poetry by celebrating his birthdate every January 25. Robert Burns Night dinners have been popular events for many years now: parties that are not wanting in scotch, bagpipers, poetry readings, haggis, neaps, and tatties. In my experience, festival-goers will most likely find themselves at a brewery where there is a fresh tapping of a scotch ale, or more than one! Therefore, what better way to commemorate our dear friend Robbie than with a few of the best scotch ales out there*? Behold six of them:
ABV: 8.0%
I couldn't not put my favorite beer of all time on this list. It is perfect in every way: not too overpowering, malty with very light hints of coffee and caramel. A perfect introduction to most people in the ways of the scotch ale, and what better way to do it than with an ale directly from the land where the Scotchmen reside?
ABV: 8.5%
My go-to in the winter for many years now. This Founder's beer has a welcoming dark red color, aromas that are even better than what you would get sniffing into a caramel tub at an ice cream shoppe. You also get a nice mix of fruit and smoke here as you await the first sip. That first sip is glorious: a kindness to the taste buds. Sip this warm, not cold. Definitely far from a dirty bastard in the taste department.
ABV: 10%
With another moniker for this beer style, AleSmith's wee heavy is true to its namesake: it's a kick to the teeth when it comes to strength and richness. A deep, deep red like McEwan's ale. Definitely lofty, with delightful hints of smoke and hops, so it is not all sweet and malty. You get what the ABV provides, my friends. So drink carefully with this one.
ABV: 8.0%
Oskar Blues has received a lot of love on here and also elsewhere. For good reason. This ale in particular gets a lot of airplay, and I am shamelessly going to give Old Chub a little more. It is smooth and dark and perfect for a chilly midwinter's evening. The lacing is ridiculously perfect, especially if you go and get it from a nitro tap. In a can, it's just as wonderful and a nice midpoint to our scotch ale exploration.
ABV: 12%
Another wee heavy, local to my own stomping grounds. Aged in bourbon barrels, so the deviation from a tried and true Scotch ale, at least in my books, is a bit problematic. I, however, cannot take this off as it has the same rich, smooth taste that is common in most of these ales. It holds enough devilish sweetness to let you know that this ain't no gulping libation. Butterscotch and vanilla prowls around with every sip, not to mention the bourbon. If it weren't for the fact that this is a variety pack of six different beers, I would have had another Wulver to rest in spot number six. Alas, that would be cheating, right?
6. Cornerstone Brewing's Rowan
ABV: 8.3%
I'm still going to cheat a tiny bit here. Here I have another local beer, but this time from a brewery that does not bottle it. Another reason for you to sidle over to the Cleveland area and enjoy some of the many breweries in this great city. The Rowan is spectacular: highly reminiscent of McEwan's. Beautiful amber color, malty, lacing less than Old Chub but still evenly parallel. Perfect each year I try it out. Hopefully, there will be Robert Burns supper at the Berea location this year. There was a brief break last year in the event, but it might still be possible to celebrate the poet with many others. And also slink back a couple Rowans.
With that being said, and if you want to fit an actual beer bottle or can into your carrier, I would substitute the Rowan with Great Divide's Claymore Scotch Ale.
*Note: most of these beers are in the American style of scotch ale, though the McEwan's import is definitely from across the pond.