No Comments
Puff and A Pour | Oliva Cappuccino Nub Café & Oskar Blues BA Ten Fidy
It's been a long time coming but FINALLY we have dedicated some of our 'free' time to talking about one of our guiltiest of pleasures, cigars AND beer. The Puff and a Pour series will showcase world-class cigars paired up with some of the finest craft brews. We aren't professionals (we kind of are) and so much like our devotion to all things craft, it will be geared towards being fun and educational first and foremost. For our first entry into the series, we take a torch to the Cappuccino Nub Café from Oliva and pop the top on the Barrel Aged Ten Fidy from Oskar Blues.
The Puff
Oliva makes great old world cigars that taste great and burn with the best of them but the next phase of cigar is here for these folks; they call it the Nub is here… and it's far different than anyone would have ever imagined. The Nub was designed to widen the appeal of showcase new world ideas as the Nub is a new line of coffee-infused, handmade cigar that is billed as 'The Ultimate Coffee Experience.' There are 6 sizes, 3 flavors, all different coffee styles, all out-and-out tasty. Although Nub Café comes available in 3 delicious options; cappuccino, espresso and machhhiato, we sampled the Cappuccino Nub with its golden Connecticut shade wrapper. It promises to be a smooth and creamy smoke with notes of vanilla bean and sweet cedar.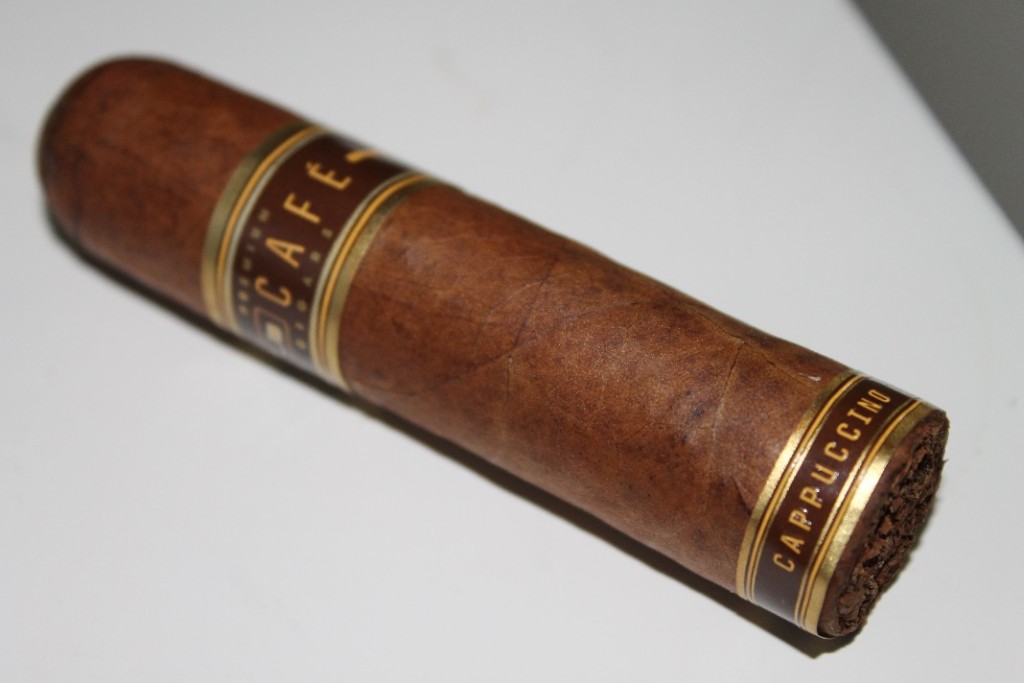 The decadent NUB Cafe Cappuccino is loaded with tones of sweet vanilla and espresso giving it a smooth, creamy coffee flavor. This innovative blend from Oliva perfectly complements a cappuccino with a pinch of sugar. If you're a true coffee lover, you won't be disappointed with the Oliva family's first venture into the world of infused cigars.
The NUB Café Cappuccino 354 is a perky 3 ¾" x 54 cigar that has at its thick core plush Dominican filler tobaccos which are stuffed into a binder leaf from the Dominican Republic. Surrounding it all is a gorgeous Connecticut Shade wrapper leaf that completes the 35 to 45 minute smoke. An ideal smoking time for the colder months of the year.
Once the NUB Café Cappuccino is underway, robust columns of sultry smoke exude with a pleasurable nose of cedar, espresso and café au lait. A broad swatch of vanilla bean coalesces on the tongue and lips on the aftertaste. The finish is smooth, filling and milky.
The NUB Café Cappuccino is a perfect companion to a morning coffee but we would rather have a stout with it and the Nub is ideal for any cigar enthusiast, regardless of their level of experience or taste.
The Pour
Our kith and kin over at Oskar Blues need no introduction. They have been canning goodness for the last decade and a half. Their newest offering comes in their signature 'stovepipe' 19.2oz cans and although they already provide this in the taproom on draft, is just now coming to cans. The Barrel Aged Ten Fidy is a brooding, 'can'tankerous imperial stout that pours like molasses in Antarctica. This viscous stout has a malt bill that is muy fuerte and leaves a dry, lingering finish in it's original iteration. This new Barrel-Aged version shows off its vanillin muscles while remaining balanced with sweet caramel tones covered in milk chocolaty goodness. The enormous roast profile blends with an eye-popping coffee, chocolate, and toasted coconut character, which combine to provide a other-worldly hearty & robust experience.
BA Ten Fidy takes the OG Ten Fidy and lovingly ages it in bourbon barrels. This process exposes the beer to the barrel and the result is beautiful chocolate, espresso and vanilla-bourbon aromas that hold your nose hostage. Rich dark chocolate truffle, bourbon and espresso create a dangerously smooth and incredibly drinkable barrel aged Stout.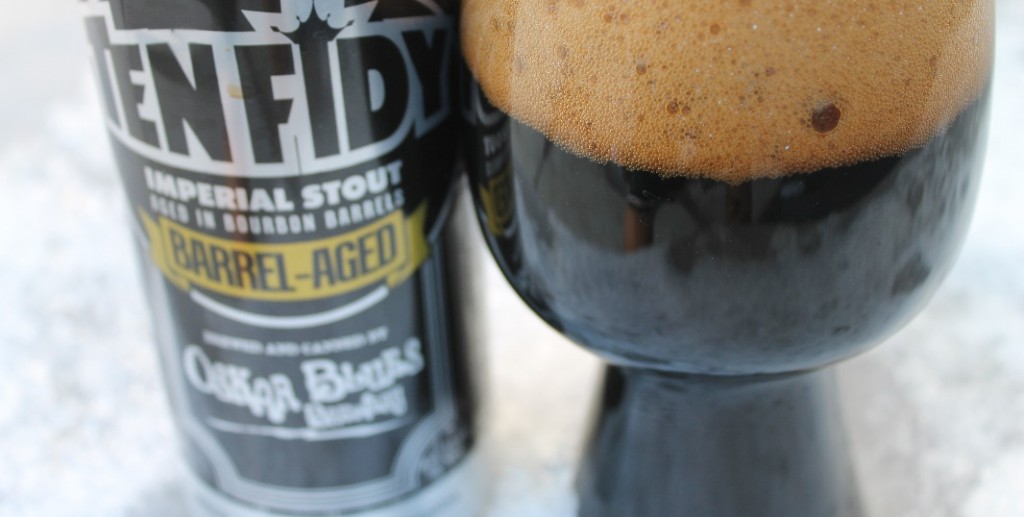 The Puff and A Pour Paired
This omnipotent pairing is great. We aren't here to squeeze lemon juice in your eye. We are fucking serious. The marriage of sweet vanillins from the BA Ten Fidy swirl in tide with the plumes of sweet smoke from the NUB. While the roastiness from the BA Ten Fidy can be a bit of a vituperative assault of bitterness, the coffee tones of the stick beat that quality into a most-gulpable quaff. The sweetness from the wrapper on the cigar lingers on the lips and sharpen the coconut vibrancy in the stout. Although stouts this large should be savored over an hour-to-two-hour span, we can not help but keep coming back. The draw of the cigar is robust, almost hearty and pillows of smoke roll over the tongue. A quick drink and then exhalation of the smoke reveals a great amount of booziness. There she is. That big barrel of oak comes out of hiding and she is bringing caramel, and soft vanilla. Tobacco leaf in the bourbon shines through or maybe that is the cigar. Fuck. I'm not sure about that. ANYWAY, the best part of this pairing is that the puff and the pour are finishing up around the same time. This is a quick 19.2oz of velvety drink and a brisk toke of smoke. About 40-45 minutes if you are sipping and savoring.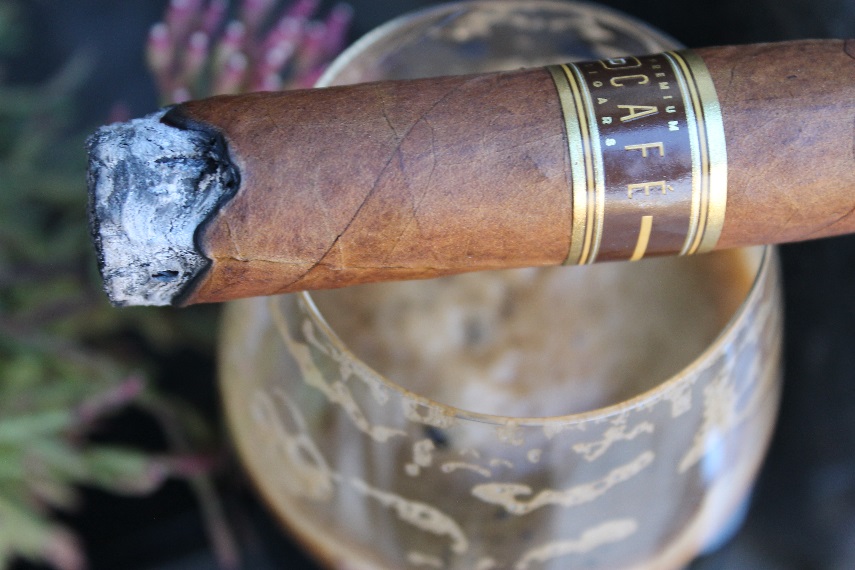 And while we try to carry a prowess of making tacit endorsements and making pairings and showcases of our own volition, we have to throw a bone to our friends over at Cigars City – not to be confused with the brewery, Cigar City (also amazing folks to keep in your hip pocket/beer cellar), for helping provide the stogie for the Puff portion of this pairing. If you are looking for smokes, they got em.
We won't be dissuaded if you don't like this pairing but we will be the first to tell you we told you so when you recognize the decadence and utopia in this match up of NUB and BA Ten Fidy.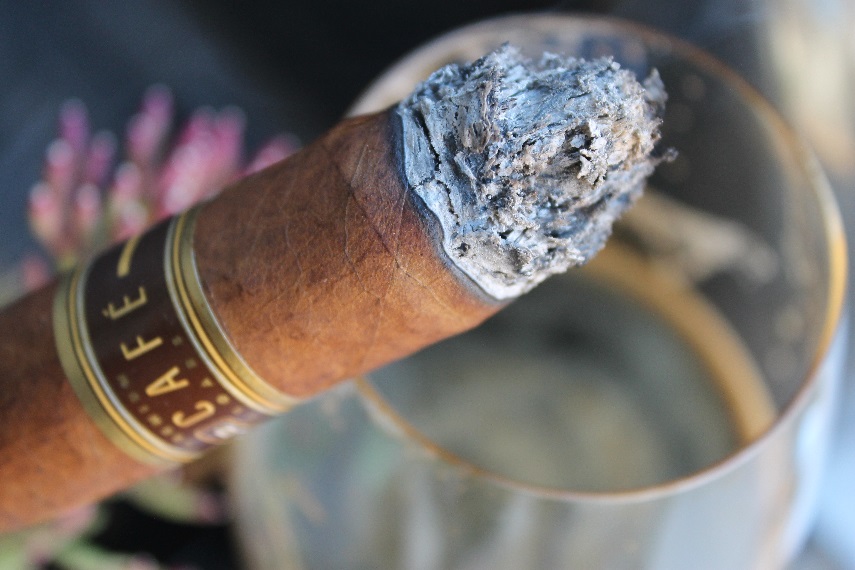 Until the next Puff and a Pour, let the grey clouds billow and the suds flow into perpetuity.
Cory Pelc is the Denver Editor for PorchDrinking.com. Follow him on Instagram and Untappd: @haveabeeraboutit. On Twitter, you can follow along at @haveabeerboutit.
---