No Comments
Boulevard Brewing Co. | Hibiscus Gose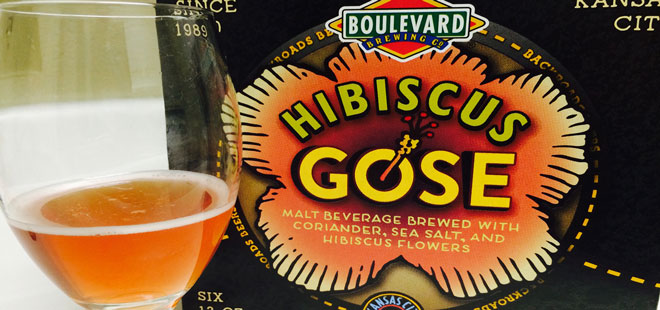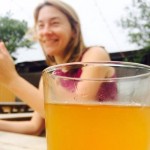 I have a secret. I can't stop buying Boulevard's Hibiscus Gose. My hands keep grabbing the cardboard box the sixer comes in. I've bought three so far. I can't control it. Hey, Boulevard, why don't I just direct deposit part of my paycheck to you?
Hibiscus Gose is the latest in a line of absolutely stellar Goses from American craft breweries: Westbrook Gose, Anderson Valley's The Kimme, The Yink and The Holy Gose, and Stillwater's Gose Gone Wild, which uses Westbrook's Gose as a base, just to name a few.
When you pour Boulevard's take on the Gose into a glass, the first thing you'll notice is the pink hue, very similar to the color on the bottle's label and the recyclable 6-pack cardboard packaging. The beer has a thin, white, effervescent head, which fizzles and pops a little as it settles.
The nose brings sea salt and a hint of floral, which I think helps round out the sauerkraut-like smell I get from some of the other Goses.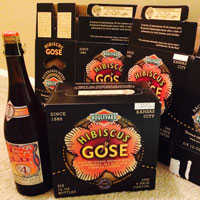 When it hits your tongue, you taste the salty tang first. Then the hibiscus comes in quickly to round out the flavor just enough so you don't feel like you wolfed down a pack of Sour Patch Kids at the movies. It's a little bubbly, too, then closes with a crisp, refreshing finish, with a slight tingle of the tangy bubbles dancing on your tastebuds.
Coming in at a truly sessionable 4.2 percent ABV, I know the Hibiscus Gose will go into my rotation for those noon and early afternoon college football games, when I want a few beers, but nothing that's going to knock me out.
What a win for Boulevard Brewing Co. and Gose fans. Seriously, just take my paycheck, Boulevard. I don't need to pay rent. I can live in the house I will ultimately construct from all the recycled cardboard boxes which used to hold the Hibiscus Gose. Hmmm. Maybe the wired cork ties from the eight bottles of Love Child #4 I bought in May 2014 — and triumphantly lugged by myself down Atlanta's Peachtree Road — will come in handy during construction. But that's for a different post…