No Comments
The Hourglass Brewery | Schizandra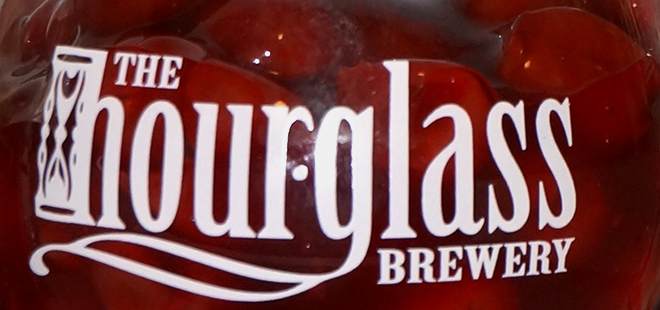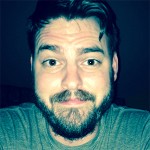 The Hourglass Brewery (Longwood, FL) debuted their limited bottle selection May 16 with the brewery's first bottle release of Schizandra. This is the first beer bottled by Sky Conley and Brett Mason's brewery. Hourglass Brewery has been open and operating at capacity since they started in 2012. This year marks another milestone for Conley, Mason and the rest of the brewery family with this and many other changes at the brewery.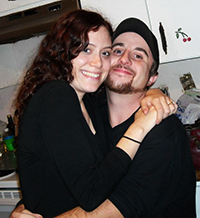 It has taken me a while to get this one finished and up on the site for a couple reasons. The most notable is Hourglass Brewery was my late best friend's favorite brewery and first choice to go for a beer. He hung out there every chance he had. Tragically, Brandon passed away, very unexpectedly, last August. He left behind a wife, son and plethora of family and friends that love him dearly. I know Brandon would have been delighted to know he was mentioned in an article about beer, especially a beer from his favorite brewery! He would have been right there in line with me waiting to get a bottle of Hourglass Brewery's Schizandra. So, I packed my bags and made the drive from South Carolina to Florida, for the first time since the funeral.
This is the first time Hourglass has bottled a beer for distribution. Until recently, the brewery filled 32oz. howlers from their taproom for all off-premise consumption. Conley and Mason, co-owners of Hourglass Brewery, hand picked Schizandra to debut their bottle selection. This is a Belgian Quad ale packed full of flavor and flexes a mean ABV at 10.5%. It was brewed and then aged in Bourbon barrels atop cherries and schisandra berries for 3 months. The result is a magnificent combination of aromas and flavors.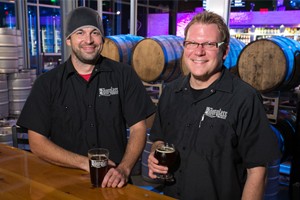 You are not alone if you are scratching your head right now. This was the first time that I had heard of schisandra berries as well. It is a berry, native to East Asia, that is commonly used for medicinal purposes. The Chinese name for it translates to "five flavor fruit" because the berry is known for its combination of sweet, salty, sour, spicy, and bitter flavors.
When asked why they chose this brew, Conley said it was an easy choice. This has always been his favorite beer; not just his favorite beer that they've brewed, but all-time. Most brewers, when asked what their favorite beer is, will name a beer from some other brewery that inspires them. It was refreshing to see the excitement and pride in Conley's reply.
I have been to a few bottle releases and if you don't have that sucker preordered, when possible, it is very likely it will run out before you get there. So, I joined 360 other excited beer hunters and preordered my bottle online. Hourglass only prepared 1100 bottles of the Schizandra on the brewery's newly added bottling line, a robust 4btl bottling system. You read that right; I said a 4 bottle system that the brewery used to bottle 1100 bottles by hand (see the time-lapse below.) This must have been excruciatingly tedious for the brew staff that spent 14 hours bottling Schizandra after dedicating 6 hours to labeling the bottles. To provide some perspective, New Belgium Brewing's canning line cans 360 cans per minute. That equates to 432,000 cans in the time it took to hand-bottle Schizandra!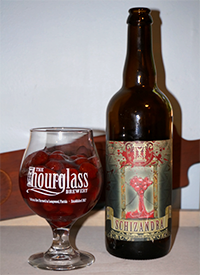 The label was designed in house by Hourglass staff employee and artist, Jeremy Gonzalez. An elegant and raw design of an hourglass containing cherries, vice sand, beautifully pouring time and flavor, alludes to the process of brewing this ale. Gonzalez could not have better expressed the essence of Schizandra any other way.
As for the ale inside, that is the other reason it took some time to get this review up. I wanted to share Schizandra with as many friends as possible. That didn't happen until this past weekend, when 12 of us got together to enjoy a large selection of Florida brewed craft beers that I brought back form my trip down to the brewery. We, of course, saved Schizandra for last. There had been many cheers and exalting of beers throughout the night, but Schizandra was only one of two to really strike the crowd. The other was another Hourglass Brewery beer, Plantation Grove, an orange/pineapple Berliner Weisse. The room filled with whoa's and wow's as the guests took their sips of Schizandra.
"It is like a wine in a beer."
"It tastes like an old monastery full of monks."
"Jack Daniels and a monastery got in a fight [and this happened]."
"It is sweet at first and tart going down."
"It [tastes] like a cherry cordial."
It was decadent and luxurious like a cherry cordial was poured into my glass. The Quad poured a rich burgundy color and smelled sweet of spices and cherries. The mouthful was like a soft velvety robe caressing the taste buds. The flavor was heavy and sweet with a malty grouping of plums, raisins, toffee and vanilla with oak influences giving way to a mixture of subtle chocolates, caramel and tart cherry flavors carried by the bourbon.
I love a lot of the beers coming out of Hourglass Brewery, and would have had a hard time picking the right one for bottling. Conley and Mason made a great choice in choosing the Schizandra to be their first bottled brew. A limited amount of the 1100 bottled were scheduled to hit shelves this month in local specialty shops only. There may still be a few available in Hourglass Brewery's taproom. As for future bottling, Hourglass Brewery is working on a collaboration brew with Bowigenes Beer Co. in Casselberry, FL. A variety of other brands by Hourglass Brewery are kept on tap at the brewery where 32oz and, as of this month, 64oz growlers can be filled. A new location, expansion, first bottling, limited local distribution and legalization of 64oz. growlers in Florida will make 2015 a milestone year for the Hourglass family. Congratulations guys!
---