No Comments
Santa's Cookies & Milk Stout Release from The Open Bottle & Hailstorm Brewing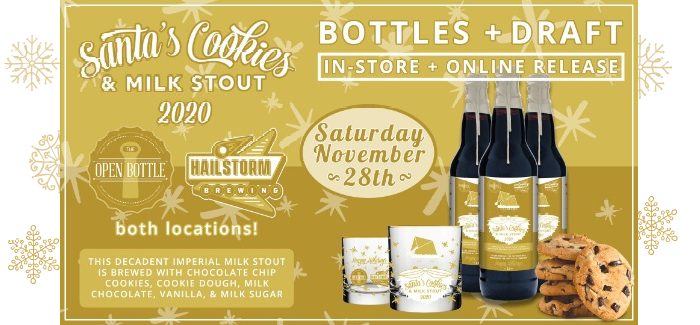 Forget golden rings. On the fifth year of holiday collaboration, The Open Bottle and Hailstorm Brewing gave to us, Santa's Cookies & Milk Stout. And, it's adorned in gold labeling, with a special glass to match. The stout is decadent, creamy, full-bodied and somehow still crushable; a real holiday treat. Yet, the real gift goes to Tinley Wish because a portion of sales aids the south-suburban Chicago organization that gives aid to needy families.
Though it is a pastry stout by definition, one should not think the beer is a sugary treat. In fact, the chocolate richness almost presents itself as savory. But, when combined with the beer's gorgeous, silky, creamy mouthfeel — one can't help but conjure up images of late-night milk and cookies. This is all about the cookie. And why not? The beer is brewed with chocolate chip cookies, cookie dough, milk chocolate, vanilla and milk sugar. Again, though, before you think it's going to taste like bad frosting or chocolate, think again: it's beautifully constructed and balanced.
"This was a fun beer to brew," said Steve Miller, Hailstorm head brewer.
"The Open Bottle Co-owners, Patrick and Julie Bisch] are involved in every step of the process when we brew collabs and for this one Julie's palate came in particularly helpful honing in on the cookie dough profile. We really wanted to focus on taste and aroma of a baked cookie, not just sweet chocolate. I think we nailed it and I hope Santa and his elves agree."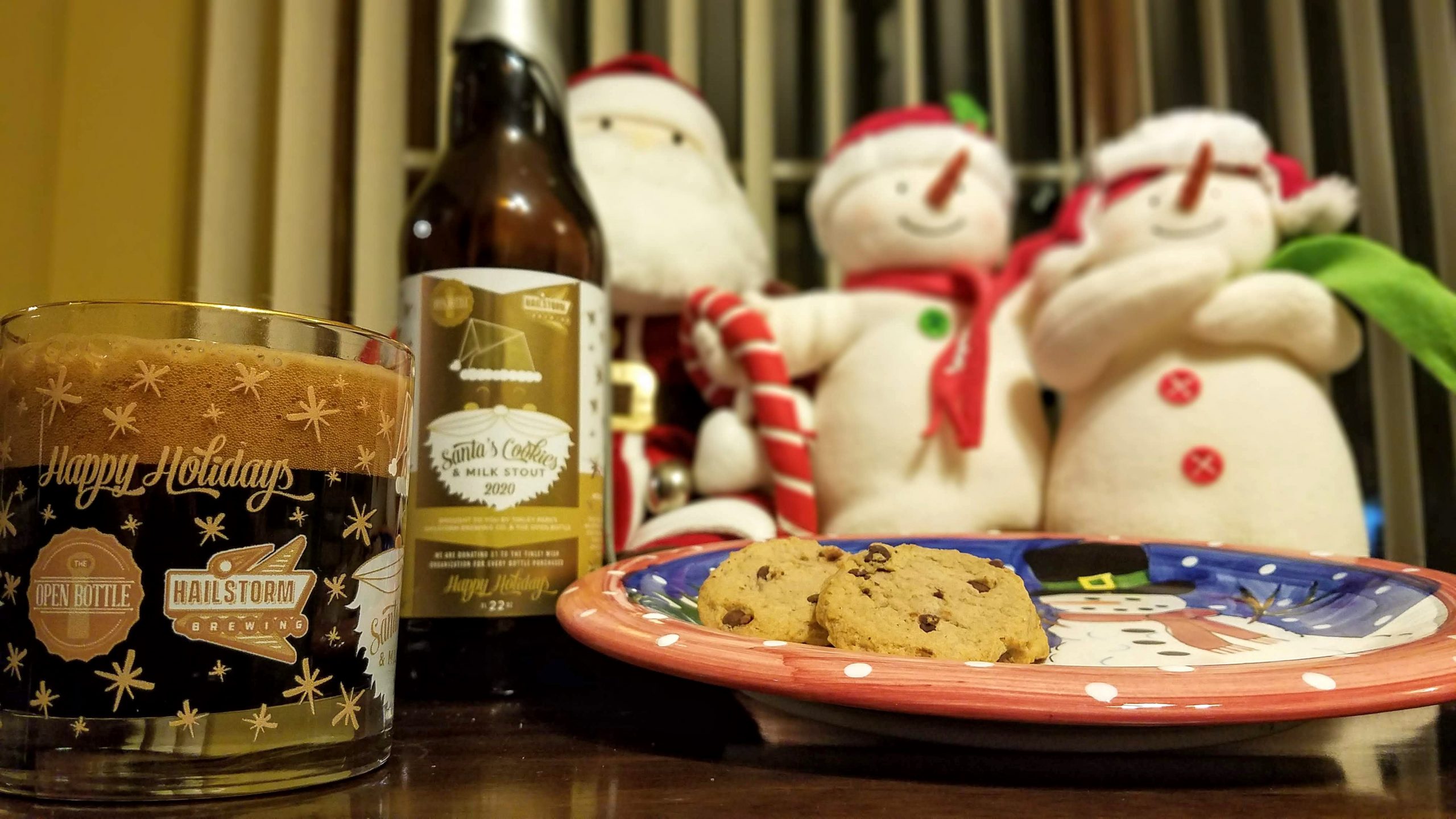 As we wrote in last year's review… one dollar of every bottle helps support the Tinley Wish foundation. Patrick Bisch, co-founder/owner of The Open Bottle bottle store and taproom said:
"Tinley Wish uses the money it raises to help families in Tinley Park. Every year, members of the Tinley Wish Committee collect and choose nominations who are most in need of assistance. The only requirement is that the receiver must live in Tinley Park. Then they choose a day to present the donation to the families – with fire trucks, police cars and the community in tow. It's a really creative approach to helping those in need and a perfect fit for what we're doing with Santa's Cookies & Milk Stout."
But as Bisch reminded us this year, the in-person aspect is largely in hiatus. Still, that's not stopping the organization from aiding those who need it.
The collaboration, now in its fifth year, comes in a 22oz bottle dipped in wax ($14.99) and can be purchased with an ornate glass adorned in gold artwork ($10.00). One can enjoy Santa's Cookies & Milk Stout on draft at both locations or purchase it online.
Did this writer pair it with chocolate chip cookies? Yes. What about vanilla wafers? You bet. It works. Do it. Have fun. It's 2020; you have nothing better to do. So, drink exceptional beer in a beautiful glass, and eat some cookies. Even Santa would appreciate that!
---