No Comments
Santa's Cookies & Milk Stout helps Chicago-area families in need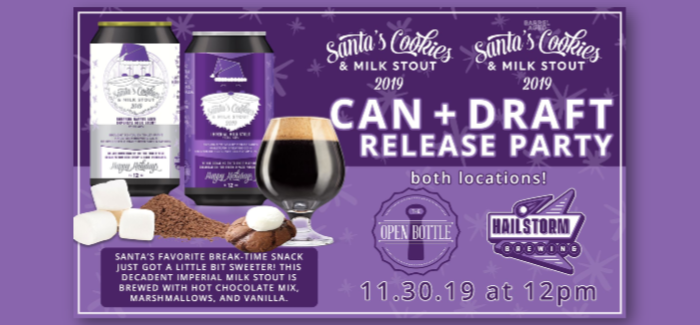 The fourth annual release of Santa's Cookies Imperial Milk (and Cookie) Stout, a collaborative effort by Hailstorm Brewing and The Open Bottle in Tinley Park (Chicago), arrives November 30. Since its first release in 2016, Santa's Cookies popularity has grown and expanded to include variants, which is good news because part of the proceeds of the beer goes towards the Tinley Wish Foundation, who help local, needy families.
One can first purchase the beer at the release party, starting at noon on Saturday, November 30, at both The Open Bottle (7101 W. 183rd Street) and Hailstorm Brewing (8060 W. 186th Street).
New for 2019, Santa's Cookies comes in cans instead of the wax-sealed bottles. Bisch noted, "You'll be getting four single-servings (12oz cans) for the same price as previous years' 22oz bottles ($14.99), which is more than twice the amount of beer for the same price!"
Each year, the Imperial Milk Stout remains the same. However, "every year, we add adjunct to mimic a fun cookie," explained Hailstorm Brewing assistant head brewer, Steve Miller.
This year's Santa's Cookies draws inspiration from hot chocolate and cookies with ingredients comprised of hot chocolate mix, vanilla and marshmallows. And, for those that want a boozier, more adult-style cookie, there's a Bourbon Barrel Aged (BBA) version, too, aged eight months in Buffalo Trace Barrels.
In fact, "starting this year and moving forward, we plan to always release a non-barrel aged version and a barrel-aged version of that year's beer," said Patrick Bisch, who along with his wife Julia, founded and manage The Open Bottle.
The Barrel-Aged version will be available on draft and 4-pack cans ($38.99.)
https://www.instagram.com/p/B4yXGaRFGzN/
The Open Bottle provided PorchDrinking with samples:
The Imperial Milk & Cookies Stout
The base milk stout indeed looks and tastes like an adult version of a hot chocolate, yet is nowhere near an overly sweet sugar bomb. One notices plenty of vanilla, but instead of super-sweet chocolate, it more closely resembles dark chocolate with bitterness at the end that results in terrific balance. The body is thick and creamy and is exceptionally smooth. In short, the milk stout is outstanding — a superb beer.
Bourbon Barrel-Aged Variant
The BBA ultimately tastes a bit sweeter than the non-BBA stout, with flavors resembling black licorice. In fact, it reminded me a bit of a finely-made liqueur. It also reminds one of a dessert soaked in whiskey with complex characters and just a hint of booziness. I suppose it might be tough to detect the milk & cookies character in the BBA, but there's certainly no lack of flavor in the barreled version. Enjoying it after dinner in January is the way to go with the BBA Santa's Cookies.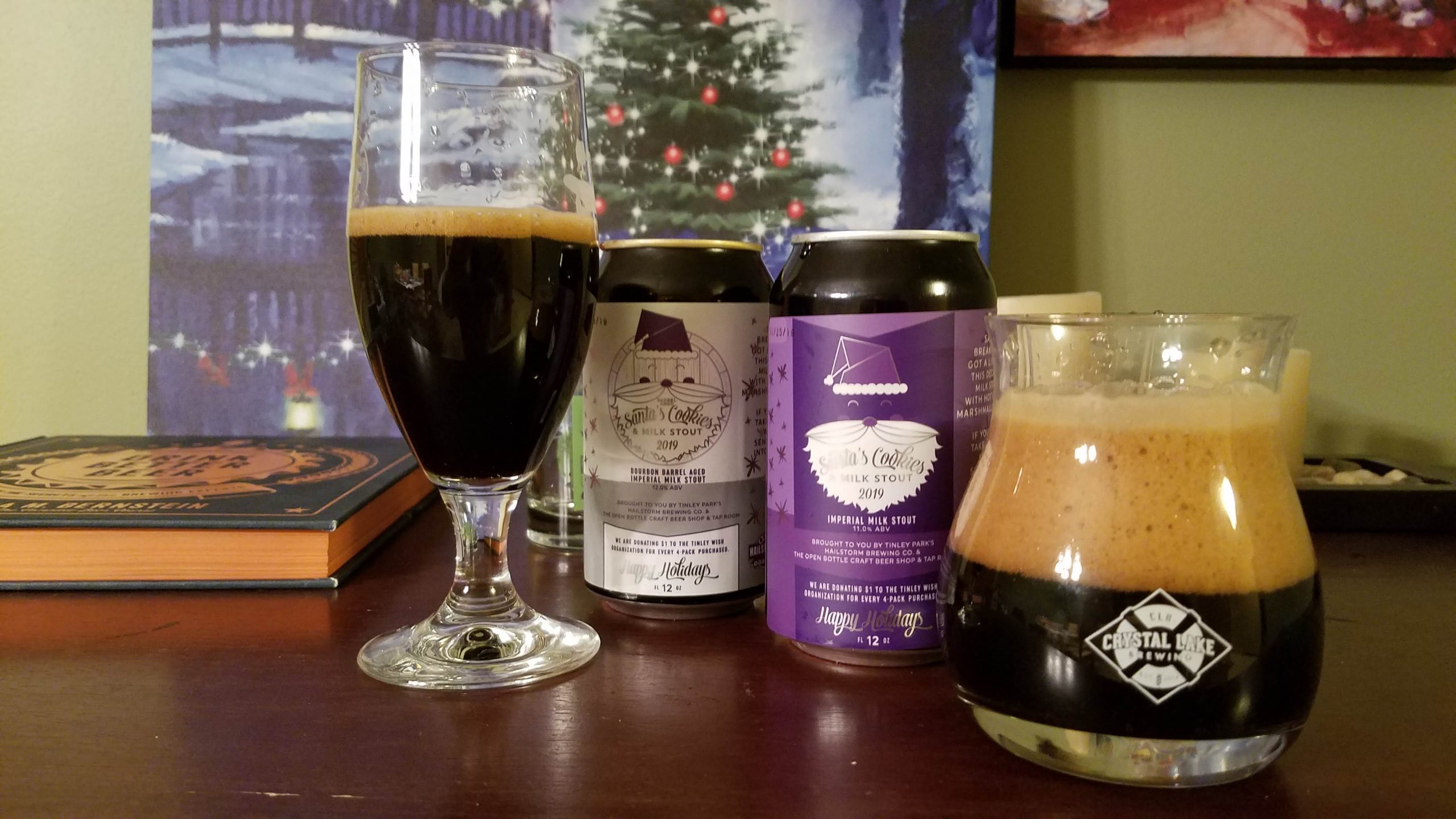 In addition to the two cans, "there will be special surprise casks at both locations," said Miller (dates TBA).
The increasing popularity of the annual holiday collaboration is no small feat when one considers the ever-expanding wealth of November BBA and special-beer releases within the Chicagoland market. But just as the beer has grown more popular, the two craft businesses have evolved into the craft beer heavyweights of the southern suburbs.
Hailstorm possesses three Great American Beer Festival medals: two silvers for its Maibock and a gold for its IPA, which at the time (in 2017) remained the most entered category before NEIPAs took over that designation. Moreover, the regular releases of its Vlad Russian Imperial Stout continue to be an exceptionally coveted beer.
Meanwhile, The Open Bottle opened in Tinley Park in 2015 at a time when craft-focused bottle shapes remained few and far between in the Chicago area, notably in the suburbs. However, it's now a prime location for numerous beer events, home to a slew of beer collaborations, and annually exists as a prime location for which to try the latest, exclusive Goose Island Bourbon County offerings.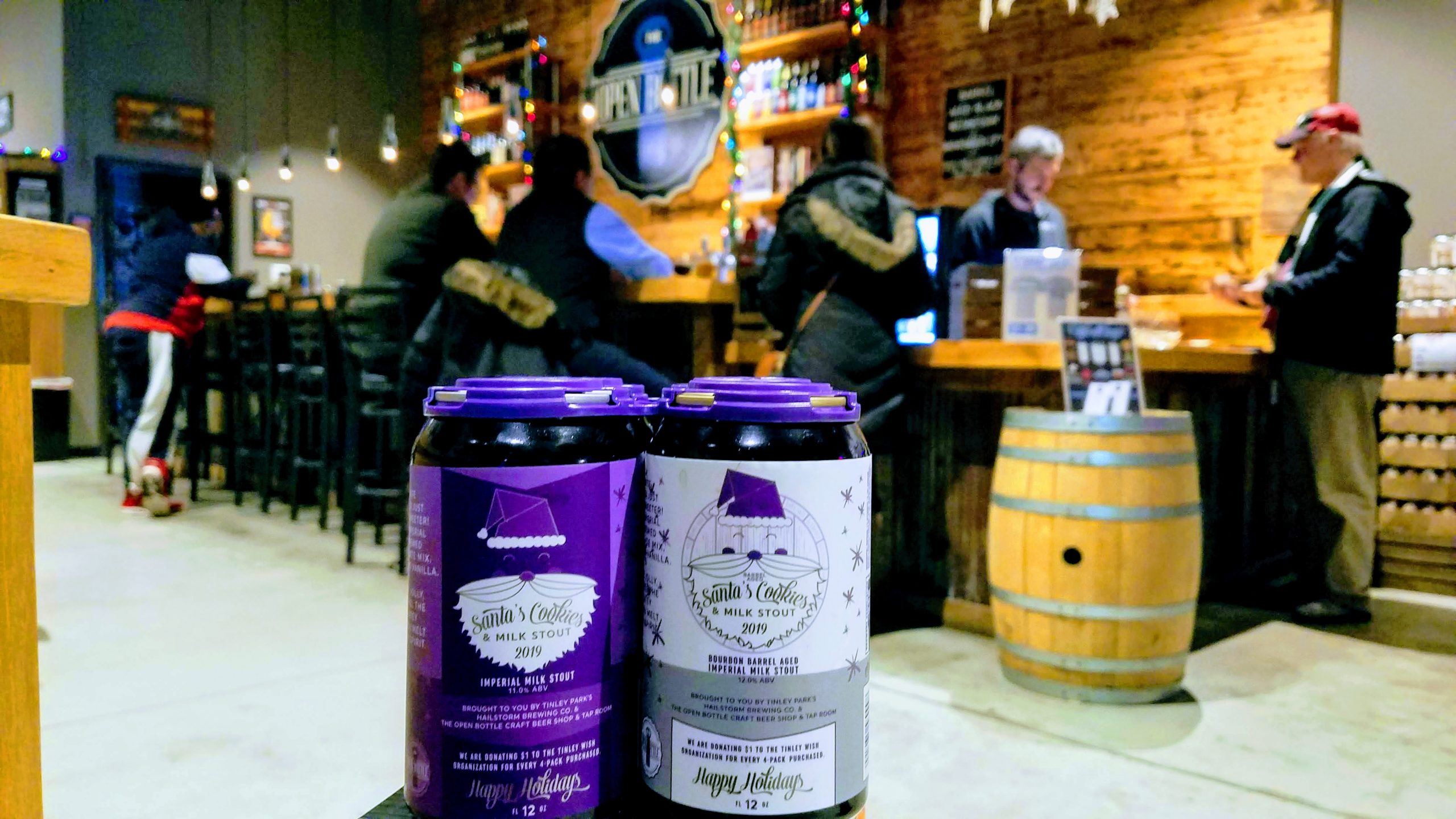 "We believe in supporting breweries who want to support us, many of which we call friends, and it's really about treating people with respect and not just a means to an end to a rare beer or expanding your bottom line," said Bisch.
Miller added: "Being in Tinley Park, we have always had a close relationship [with] The Open Bottle. Patrick and Julia are great friends, and our businesses partner together well. Over the years, we have brewed a dozen beers together, and we really enjoy having fun with them."
He added, "Brandon [Brandbury, Hailstorm co-founder and head brewer] and I also hang out at The Open Bottle regularly after work. It's great to see them grow and thrive, and we love being a part of that."
That relationship served as the basis for Santa's Cookies.
"I'm sure it sounds cliche, but the idea started because we wanted to give back to our local community during the holidays," said Bisch. "That's why we chose a Tinley Park charity, Tinley Wish, and not a national charity…The idea behind the beer is a super local collaboration that gives back to the super local community."
"Tinley Wish uses the money it raises to help families in Tinley Park. Every year, members of the Tinley Wish Committee collect and choose nominations who are most in need of assistance. The only requirement is that the receiver must live in Tinley Park. Then they choose a day to present the donation to the families – with fire trucks, police cars and the community in tow. It's a really creative approach to helping those in need and a perfect fit for what we're doing with Santa's Cookies & Milk Stout." 
And now it has grown into more than just a beer that supports a community, but also a increasingly popular beer. "We knew it would gain traction because the concept is very relatable to everyone who's ever enjoyed a Christmas cookie during the holidays (everyone)," Bisch explained. "It's also a very timely release that goes on sale during our busiest season. We knew people would love it, but we didn't ever think it would've gained as much traction as it has."
"We're so happy the fans love it as much as we do!"
---