No Comments
Creature Comforts Brewing Co. Kicks Off "Get Comfortable" Campaign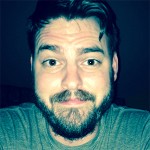 Athens, Georgia – Creature Comforts Brewing Co. will launch their highly successful Get Comfortable campaign on November 16, 2016. The five month-long Get Comfortable campaign is led by the small brewery to help fight hunger, homelessness and poverty in our community of Athens, Georgia, where the poverty rate ranks fifth throughout the United States. This is a laborious and incredibly rewarding effort centered around one of the craft brewery's founding core pillars – community – first organized back in 2014.
For the third year in a row, Creature Comforts Brewing Co. has consulted with United Way of North East Georgia to select five non-profit organizations among 200 applicants to partner with for this year's Get Comfortable. Action Ministries, The Ark, Athens Community Council on Aging, Athens Homeless Shelter and Sparrows Nest were the five non-profit organizations chosen. Like last year, several local for-profit businesses have also partnered with Creature Comforts to assist through on-site promotions, special events and promoted specialty branded Get Comfortable beers. Among those are Your Pie, Sons of Sawdust, Condor Chocolates and a number of other local restaurants and bars.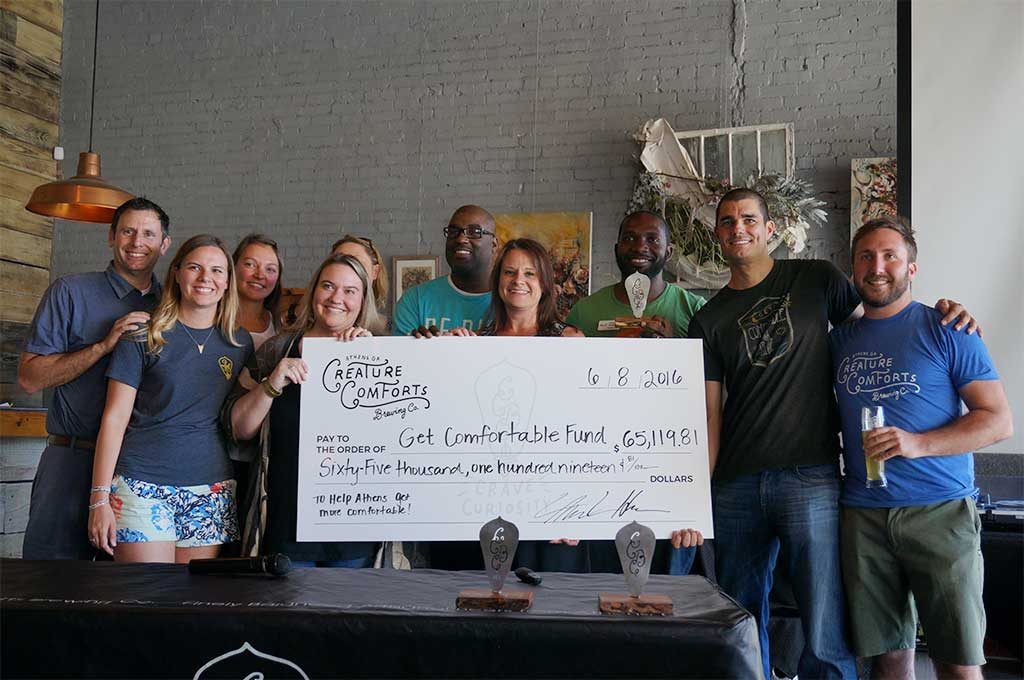 Creature Comforts far surpassed its $50,000 goal, raising more than $65,000 last year. As was said by CEO and co-founder, Chris Herron, at the 2015/2016 Get Comfortable Wrap-Up Tour last spring, the brewery staff fully intended on going bigger this year. With a goal of $100,000 this time, this ambitious team will have their work cut out for them, but their drive and authentic care and love for their community will be all the fuel Creature Comforts needs to pull it off.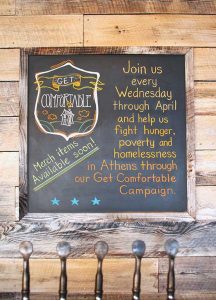 Every Wednesday, the brewery will host "community days" by transforming typical brewery tours into "Get Comfortable" tours, providing tour guests with on-­site volunteer opportunities to help hand-make household and shelter items, hygiene and cleaning kits, and more for those in need. Once a month the brewery will host one of the five non-profit organizations to spotlight their cause and how locals can help. One-hundred percent of Wednesday tour profits go to benefit the campaign fund. The brewery also will brew limited edition Get Comfortable branded beers during this season, with all the profits from those beers being donated to the fund. Additionally, a variety of Get Comfortable merchandise is available for sale with 100 percent of profits benefiting the cause. Guests that bring donations to the brewery will receive $2 off a Wednesday tour.
"We knew before we ever opened our doors that we wanted any community that we operated in to be better as a result of us being there," said Herron. "We have been provided with a unique opportunity through the brewery to have a platform from which to speak to a large audience of people. We have always felt like it is our responsibility to use that platform for something more than selling beer. Whether that is encouraging people to crave curiosity so they can find their passion, or helping drive awareness, increase engagement and provide support to the non‐profits tackling the challenges of our community, we just feel it is the best way for us to use our voice."
For more information about the Get Comfortable campaign, visit www.getcomfortableathens.com. For more information about Creature Comforts Brewing Company, visit www.creaturecomfortsbeer.com. 
---