No Comments
Event Recap | Dogfish Head Ancient Ales Beer Dinner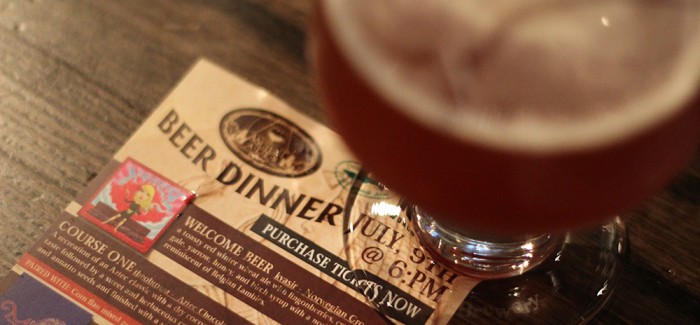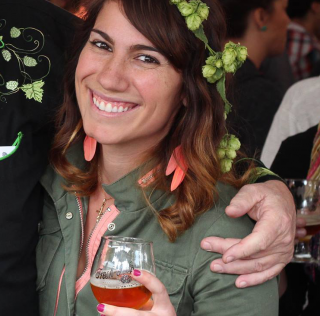 July 9 Dogfish Head and World of Beer LoDo hosted a night of Ancient Ales and dinner pairings. Head Chef, Nathan Hebert, indulged those in attendance with a four-course spread to pair with five of Dogfish Head's unique ancient beers. Being a history major, I was intrigued and excited to learn more about these ancient pairings, many of which featured long forgotten recipes and ingredients. I've included some historical facts (courtesy of Dogfish Head) along the way to make this fun!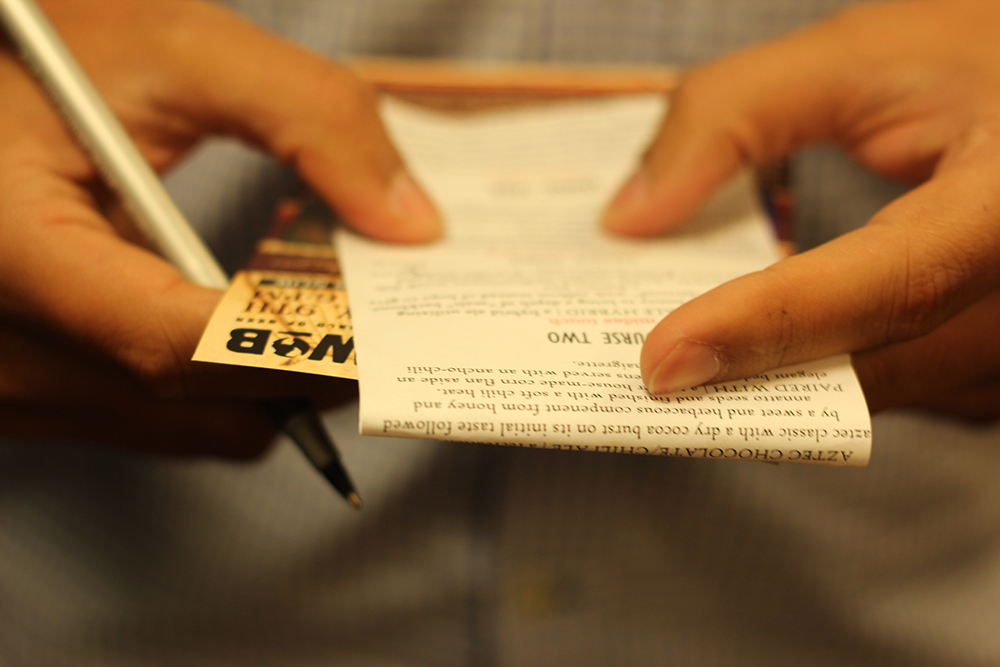 Welcome Beer
I was greeted with Dogfish Head's Kvasir (va-seer). At 10%, this wheat ale was the perfect beginning to the meal. I definitely noticed the light tart note, the honey and fruit flavors, and the slight toasty, coffee finish.
Historical Fact: "The recipe for Kvasir was developed with the help of chemical, botanical and pollen evidence taken from a 3,500‐year‐old Danish drinking vessel. The analysis pointed to the ingredients used in this unique brew: wheat, lingonberries, cranberries, myrica gale, yarrow, honey and birch syrup." – See more here.
Course One
Chef's first dish was Corn Flan over a bed of Mixed Greens, dressed in Ancho chili vinaigrette. I'm not typically a fan of flan, but it was a unique combination of textures. Paired with this course was Dogfish Head's Aztec Chocolate/Chili Ale, Theobroma. My guess is that Chef kept this course neutral so it wouldn't overpower the burst of flavors in the Aztec inspired ale. The chili flavors are subtle in this beer and don't hit you until the finish.
Course Two
Chef's next dish was a Mediterranean style roasted Monk Fish with Root Vegetables. Being of Mediterranean decent, I recognized some of the European spices Chef chose to utilize in this dish. Dogfish Head's first ale in the Ancient Series, Midas Touch, was paired with this dish.
Historical Fact: This sweet yet dry beer is made with ingredients found in 2,700-year-old drinking vessels from the tomb of King Midas."- See more here.
Course Three
The third dish Chef brought out was Roasted Quail atop Barley Risotto and Beer Braised Fennel. Having had quail once before, I was looking forward to this dish. I found it unique that they paired this dish with Dogfish Head's Birra Etrusca Bronze, an Italian hybrid Ale. I would have expected more of an Italian-style dish pairing. Though I will say, the honey flavors in the beer complimented the barley risotto.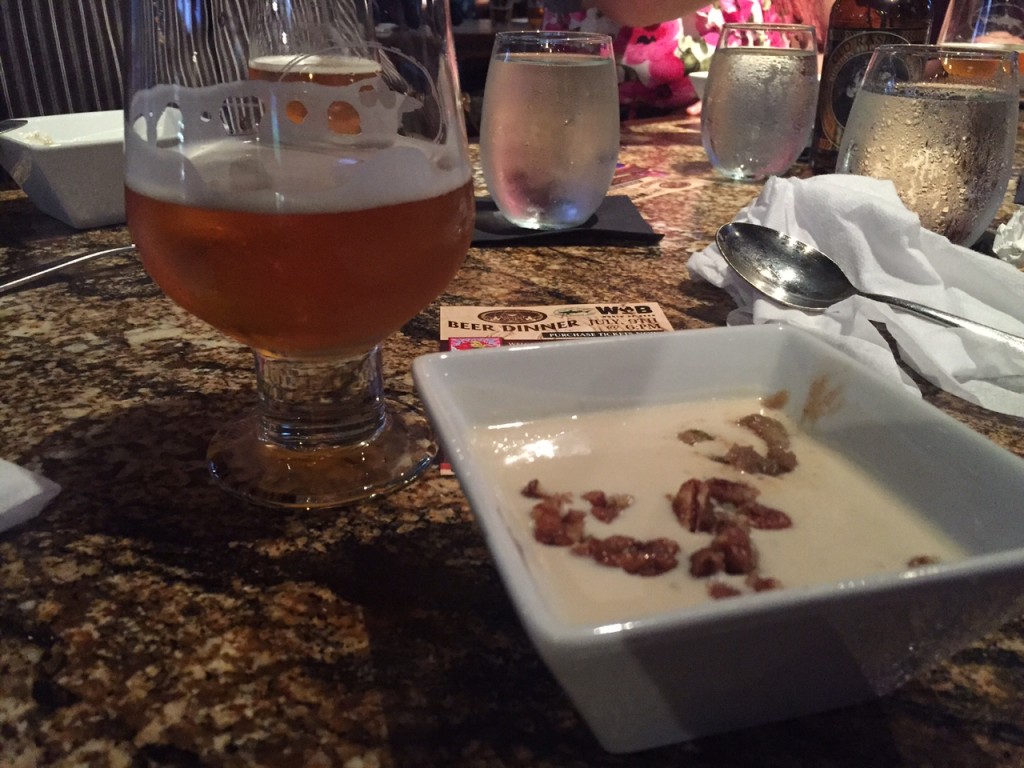 Course Four
The final dish was Chef's dessert plate: Rice Pudding with candied pears and dry chestnut crumbles. Delicious in flavor, the pudding was a bit watery in texture; not something I'm used to. Though the candied pears were delicious. Dogfish Head's Chateau Jiahu, was paired with this sweet treat.
Historical Fact: "Preserved pottery jars found in the Neolithic village of Jiahu, in Henan province, have revealed that a mixed fermented beverage of rice, honey and fruit was being produced that long ago, right around the same time that barley beer and grape wine were beginning to be made in the Middle East!" – See more here.
Check out the video below for a taste of the action:
My favorite dish and beer of the evening was… drumroll please… the roasted quail and Theobroma. The quail and risotto were cooked to perfection and I loved the uniqueness of various flavors on my palate while drinking Theobroma.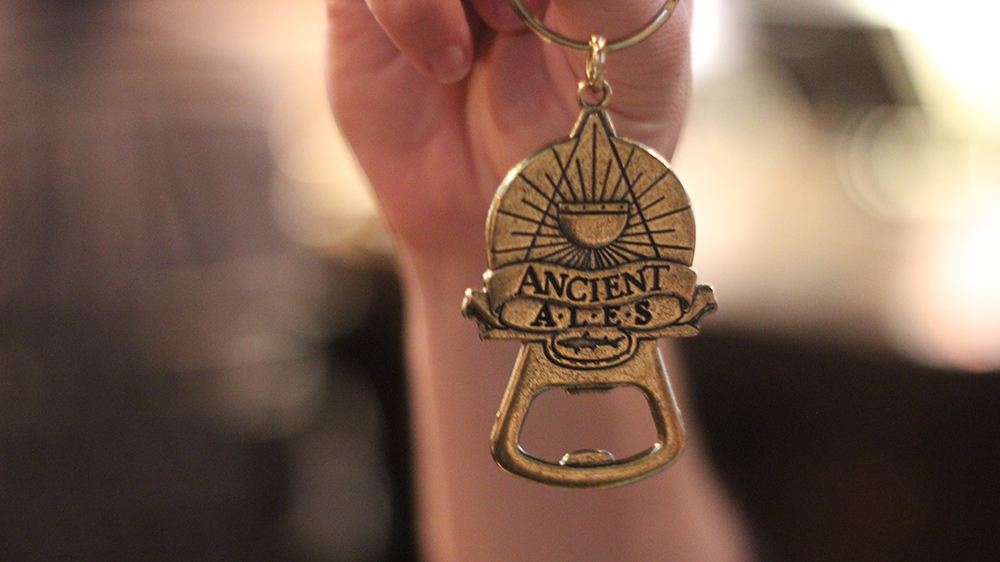 Pairing beer with food not only changes your perspective on a beer, but it releases new flavors you never knew could exist. For my birthday, I visited Dogfish Head and enjoyed most of the beers included on this menu. However, World of Beer LoDo did a tremendous job pairing these unique rarely used combination of flavors with more modern take on foods creating a special experience for any beer lover. Bon Appétit!
Enjoy this post? Like Craft Beer? Please consider sharing this post with friends! Also follow us on Twitter at @PorchDrinkingCO or on Facebook.
---