No Comments
Brewery Showcase | Goldspot Brewing Company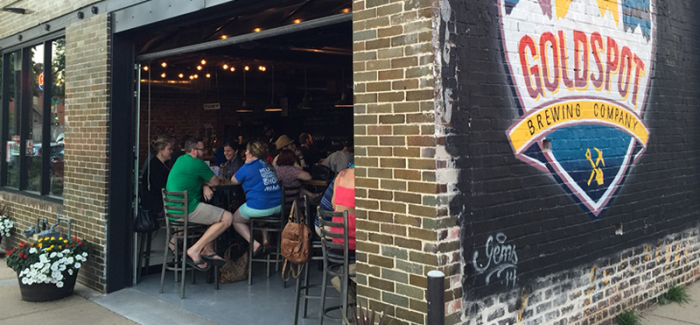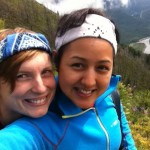 Address:
4970 Lowell Blvd, Denver, CO 80221
Hours of Operation:
Mon: 3 – 8pm
Tue – Thu: 3 – 10pm
Fri: 3 – 11pm
Sat: 12 – 10pm
Sun: 12 – 8pm
Like a half-consumed beer bottle jolted the wrong way, the Denver beer scene is currently gushing over-excitedly with an abundance of frothy beer. But Denverites welcome the continuous surge; the mass influx of breweries has increased depth and complexity in an already vibrant beer culture. Among the metro-area newcomers is Goldspot Brewing Company which opened in February 2015 on 4970 Lowell Boulevard in Berkeley, near Regis University. It's owned and operated by brewers Matt Hughes and Alex Sward.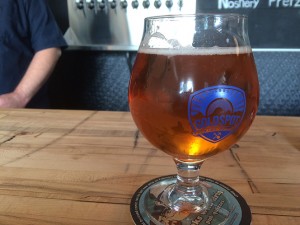 Matt moved to Denver from Texas in 2005 and a year later found himself attending Great American Beer Festival. The festival blew his mind and opened his world up to craft beer. After GABF, he began home brewing and looking for ways to incorporate beer into his job as a risk manager. He began working at Wynkoop Brewing in 2009; several brilliant workers manned the brewhouse during that era (some of which have gone on to be connected to Denver-region breweries such as Ratio Beerworks and Wonderland Brewing), and they were able to impart super valuable knowledge to him. In the beginning, Matt worked in Wynkoop's cellar but only two months later was running the brew house on certain days. In that first year he soaked up everything he could and learned the deep intricacies of running a successful brewery. After his stint at Wynkoop, he went back to his job as risk manager, this time with a focus on brewery clientele. Breweries such as TRVE Brewing were among his first customers and later ironically ended up being some of his Goldspot's largest inspirations. During this time Matt's brewing buddy Alex continued to pester him about opening up their own place – eventually, Matt realized opening a brewery was all he wanted to do. It took about two and a half years from their plan's fruition to the day the two first rolled open the brewery doors.
Matt is the kind of brewer who loves to talk, vocalizing a passion for beer that also shines through his eclectic tap lineup. His all time favorite beer to brew is the Black River Imperial Stout; if he has it his way this beer will always be up on the board. Goldspot also has two IPA's: a red IPA and their top seller the Cutter IPA, a beer with a bright complex citrus nose and body with a pleasant bite on the finish. Currently, Goldspot also offers a hefewiesen, hoppy wheat, breakfast porter, Belgian table beer, kolsch and a grissette on draft. Normally, grisettes are similar to a sessionable saisons. Historically, saisons were made for the farmers and grisettes were made for the miners. However, Goldspot brewed their goriest at 8% ABV with a mix of brettanomyces which gives it a pleasant funky, barnyard complexity. Goldspot has harnessed the feel of a cozy local bar; loads of natural light illuminates the brewery filled with comfortable tables, garage doors and a friendly staff. As Ryan the taproom manager put it: "We want to make craft beer approachable in the neighborhood without only making approachable beer."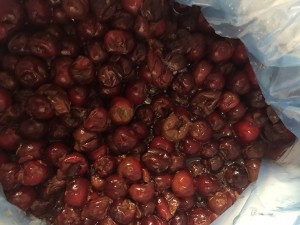 All of Goldspot's beers are very drinkable but also have great depth because Matt continuously tries new recipes and styles while maintaining variety quality. He caters to everyone at the bar, from someone just getting into craft beer to the pickiest beer snob. For example, a popular beer on tap is the Julia's Blessing Kolsch, a tasty session beer that Matt concocted at the request of Julia, his wife. Many of the beers Matt was brewing were bigger, high-ABV beers; Julia wanted something a person of smaller stature could drink multiples of, preferably under 5% ABV. The Kolsch that resulted came out light, flavorful and delicious. Some of that awesome flavor comes from local yeast; Goldspot almost exclusively uses yeast from Denver-based company Inland Island which produces wonderful, bubbly results during fermentation. In recent news, Goldspot will soon be expanding to an outdoor patio to accompany some of the new, exciting brews on the way. A tart cherry version of their Kolsch is also fermenting, and Matt plans to start on a series of brett beers in the near future.
Ryan and Matt want to take the time and have the conversations with customers in order to serve them the perfect beer. Matt's joy for beer is evident the whole time he talks to you. As he puts it: "Mashing in at the ass crack of dawn is the best feeling in the world!" If you haven't checked this place out please do. You will not be disappointed.
---