No Comments
Brewery Showcase | LowDown Brewery + Kitchen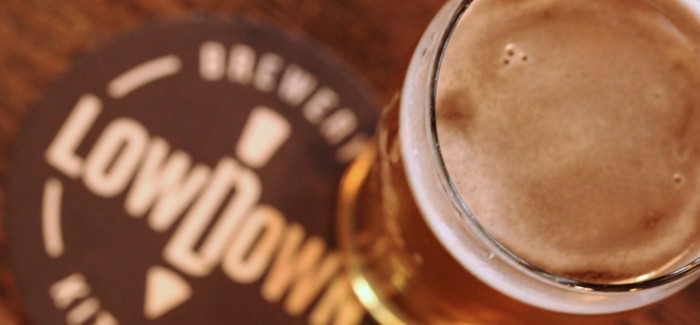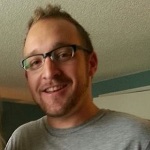 Header photo by: Desiree Duzich
800 Lincoln St., Denver, CO 80203
(720) 524-8065
Capacity: 7 Barrel Brewhouse
Open Date: February, 2014
Hours of Operation:
Sunday-Thursday 11am-11pm

Friday-Saturday 11am-12am
*There is free parking just north side of the building.
When facing a challenge, the best answer is often the simplest. When Scott O'Hearn and Phil Phifer found the perfect place to open a brewery in Denver's Golden Triangle, they knew they'd have to find success early.  With more than 20 combined years of experience brewing, the answer to succeed with LowDown was right in front of them.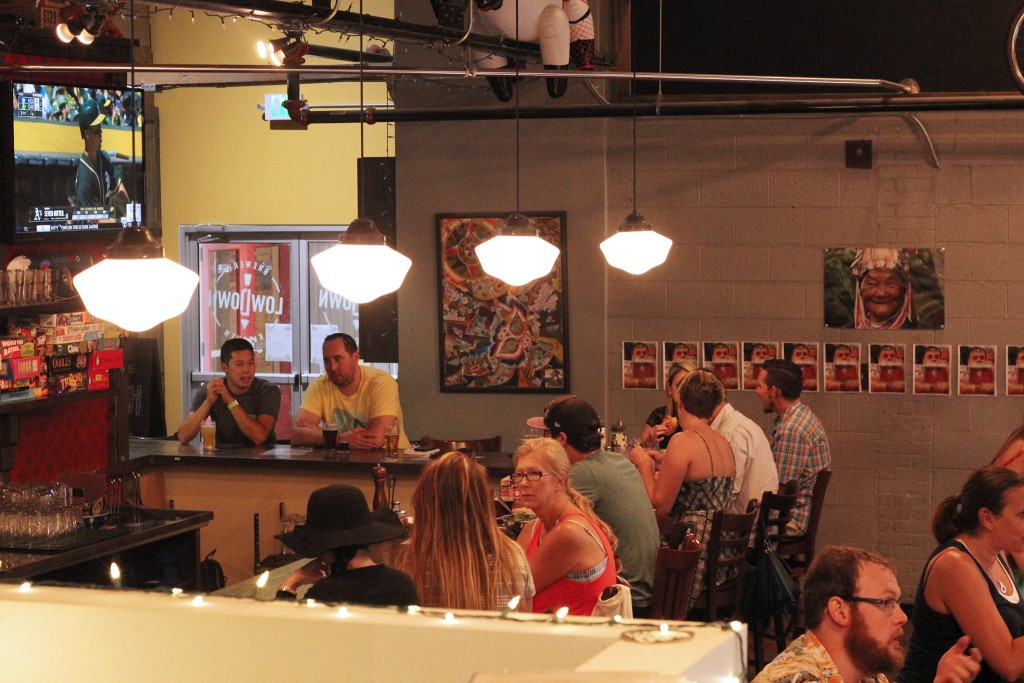 "We decided that the best way to hit the ground running was to make our best recipes we've been perfecting for years," says co-founder and co-head brewer Phil Phifer. These recipes run the gamut of beer styles, ranging from a full-flavor pilsner to a heavy and complex barrel aged imperial stout, but all are uniform in their quality.
LowDown opened its doors in February 2014 in the former MapsCo building at the corner of Lincoln and Eighth. The space combines a large open space for mingling with the homely feel of a neighborhood brewery. A majority of the seating at LowDown is community tables, which increases the aura of community.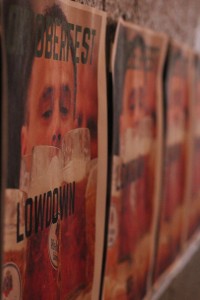 The pièce de résistance of the brewpub is the expansive back patio. The patio has multiple picnic tables, umbrellas for shade, artificial turf, and yard games, which will remind you of a kickass backyard barbecue. LowDown's patio can seat 50 and is the perfect place to share one of their brews with a group of friends of any size.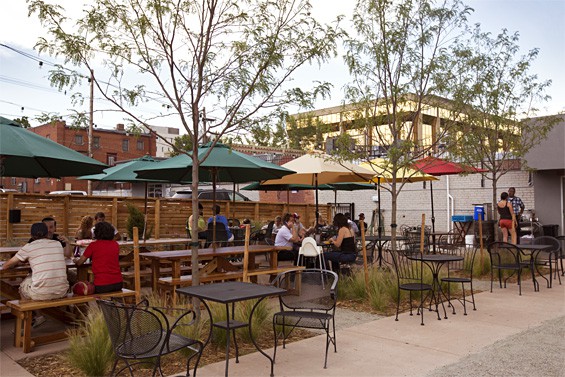 Phil and Scott met years ago when Scott was in charge of Phil's brewmaster training at Rock Bottom in South Denver. "After a couple years brewing together, we knew we made a great team and we were going to open our own place" said Scott. Phil says that he and Scott play on each other's strengths and push each other to make each other better.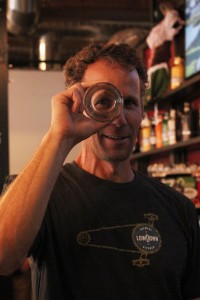 Whether you live in the Golden Triangle/Capital Hill area or not, one trip to LowDown will easily become your new neighborhood brewpub. It is perfect for everything from an after work happy hour to Football Sunday or a weekend day in the sun. No matter what you're looking for in a brewery, the answer is simple: LowDown
What's on Tap
You can always choose at least 8 LowDown beers on tap including the Patio Pounding Pilz, White Ale, Selfish Pale Ale, Low Down IPA and Lonely Sheep. The remaining 3 taps usually include a Belgian strong, a malty amber and a dark beer. Here is a quick preview of a few of my favorites:
Lowdown IPA, 6.9% ABV
Lots of tropical flavors in this IPA with a distinct wave of grapefruit and hints of tangerine. The hops also give it a refreshing pine spice. This beer defies logic by being both hoppily bitter and sweet at the same time. It is really unique and really good.
Lonely Sheep Scottish Ale, 5.4% ABV
A really sweet Scottish ale that isn't too smokey. It has a smooth caramelly malt and and a hint of chocolate from the roast. The low ABV and easy finish make this a great beer to have a couple of.
Sinister Saison, 8.4% ABV
This peppercorn saison is probably my favorite beer that Lowdown offers. I think of it as the Waldo of beers: You can't always find it, but when you do you cheer and feel accomplished. The peppercorn gives this beer a bright spiciness that matches with the ginger, honey and apricot flavors. You can taste the booziness of the beer, but it never stops me from ordering a second one.
Dirty Shame Black IPA, 7% ABV
I had to try this beer for its name alone. Lowdown Dirty Shame is one of the hoppiest Black IPAs I've had. This beer has a medium body that is surprisingly light. The roasty malts blend well with the heavy dose of hops, leaving you with tons of flavor without filling you up too quickly.
Selfish Pale Ale: 5.0% ABV
This light and refreshing American Pale Ale got its name because the brewers initially thought that it would not be popular even though they both loved it. Luckily their selfish reasons for making the beer paid off for everyone as the Amarillo and Citra hops give it tropical flavors like pineapple, grapefruit and lemon instead of a hoppy bitterness.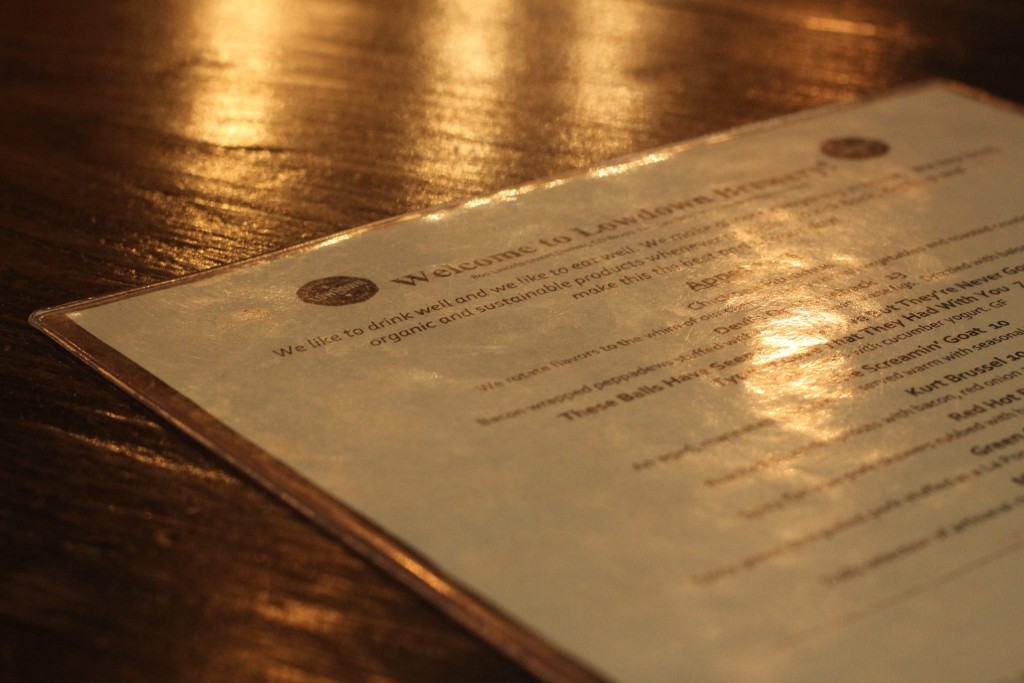 In The Kitchen
Executive Chef Dylan Zwart's creations will make you quickly forget that you are eating in a brewpub. The menu features made-from-scratch salads, sandwiches, pizzas and more. The food focuses on ingredients that are local, sustainable, and organic, which is why the menu changes seasonally. On top of the regular lunch and dinner offering, LowDown also features a limited, but killer brunch.
Upcoming Event
On September 19, LowDown is hosting an Oktoberfest party featuring a live Polka band on the patio. They will also tap their incredible Oktoberfest beer, which pairs well with the German sausage plates specially available at the event. The Oktoberfest party will host a stein-hoisting competition with prizes awarded to the winners.
During Great American Beer Festival, LowDown will host 3 Floyds Brewery with 4 different beers on tap starting Thursday September 24 at 5:00pm until the kegs are gone. There will be 2 kegs of Alpha King (American Pale Ale), Zombie Dust (American Pale Ale), Gumballhead (American Pale Wheat Ale) and Battle Priest (Brett IPA), alongside LowDown's beers.
Check out their current beers on tap on the LowDown website, as well as the seasonal menu. Visit the brewery to see what beers are on deck.
---