No Comments
PorchDrinking's 2nd Interview with Adam Cayton-Holland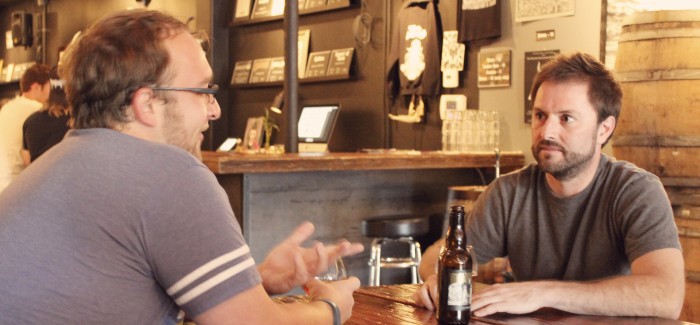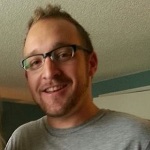 Almost exactly one year ago, I was lucky enough to interview Adam Cayton-Holland, an up-and-coming Denver comedian on the brink of greatness. In that year, Adam has blown up. Adam's comedy group, The Grawlix (which includes fellow Denver comedians Ben Roy and Andrew Orvedahl), was named to Variety's list of Top 10 comedians to watch. The Grawlix also wrote and star in an original comedy series coming to truTV in a few months. Those Who Can't hilariously explores the trials and tribulations of immature high school teachers.
Adam is back in Denver for the time being and will headline the upcoming Offensively Delicious Craft Beer Comedy Show also starring Sam Tallent, Andy Juett, and Kyle Kinane on September 23 at Oriental Theater in Denver. He took some time to update me on the exciting developments in his life.
A lot has changed in a year. Those Who Can't just finished shooting in LA. How has that change in scenery been?
Well I'm home now but I actually liked LA more than ever before on this trip. Usually when I go to LA it's only for a few days and it's all busy busy busy – shows and meetings and what not. And while I was busier than ever before this go round, our days were ridiculous, I was still free on the weekends to explore a little bit. Get to the beach. Get to a few of the cool spots within an hour or two of LA. My fiance and I rented a cute spot in Echo Park on top of a hill which ruled. Our neighborhood felt more like San Fran to me than LA.
What do you enjoy most about LA?
I like exploring it. It's one of those cities that you could spend your whole life trying to get to figure out and never pull it off. I love the comedy scene there as well. You get to do shows where these legends drop in and that is always fun. I did a show with Emo Phillips the other night. Did another with Sarah Silverman. They're just showcase shows or whatever but it really makes you be on your game when your in the company of greatness.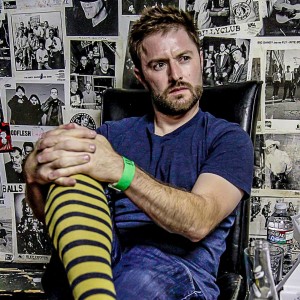 What did you miss most about Denver?
Everything. This city rules. I would just watch the scenery turn greener on plane flights home. I missed the Baker neighborhood. I missed watching the insane development going on and lamenting all the things that are being forgotten, torn down or replaced by ugly, insipid mixed-use condo buildings. I missed Illegal Pete's and TRVE sour beers. I missed the insane sense of pride here. I missed driving around the neighborhoods of Denver on a summer night. Nothing better than that.
Did you have a chance to check out LA's beer scene? What did you think?
Not as much as I would have liked. Mostly just at restaurants with good selections on tap. A few of them have Almanac, though that's a San Fran beer. That's become one of my favorites.
Were there any new breweries in Denver that you were excited to check out once you came back
Ratio Beerworks. I've been there once but excited to get back.
The show had a long, strange journey to truTV. Can you talk about how it came to be?
Such a long circuitous story, I'll try to give you the Cliff's Notes: Amazon gets into original programming and release six original shows in early 2013. All of them have huge budgets except for micro-budget Those Who Can't, made in Denver by relative unknowns the Grawlix. Those Who Can't does the best of any of their shows, with regard to viewer feedback. Amazon pays us to write six more scripts. We're excited thinking the show is going to get picked up! Then it does not. The plug gets pulled. The Grawlix cries. Then in 2014 truTV decides they're rebranding and getting into the comedy game. Someone at tru saw Those Who Can't and decides to resurrect it from the dead. We write a new pilot, film said pilot at Van Nuys High School in California (it's where they shot Fast Times at Ridgemont High, but we pretended it was Denver, Colorado), they tested that pilot, off the strength of that pilot we got picked up for a full season! Which we just finished production on. Ten episodes. It will air in February of 2016.
There are a lot of guest stars on the show, like Sarah Michelle Gellar and Michael Madsen. What was your favorite part about working with that kind of star power?
Honestly just knowing that those types of people wanted to do our show and were responding to what we were writing and the world we created really gave us a confidence boost. We're all pretty unknown in the grand scheme of things, and not the most experienced actors, but every guest star who came to set was pretty ego-free and excited to work on our show and deferred to us as the creators of it so it was really, really cool. Bobcat Goldthwait directed the last two episodes of the season and he was a blast to work with. So effortlessly talented. He was probably my favorite star to work with. I consider him a friend now. The whole things was nuts. Can't wait for people to see it.
You participated in the Offensively Delicious event last year. With it being such a unique event that focuses on both comedy and craft beer, how was it different than your traditional standup show?
Honestly it wasn't all that different from a regular show, besides the "open mic" from the brewery reps up front. That's a good thing. It was just a good crowd excited for comedy.
What are you looking forward to most about being a big part of Offensively Delicious this year?
This year I'm looking forward to the fact that I can partake in more of the beers. Last year I had an early flight the next morning which was just goddamn foolish. This year, I'm all in.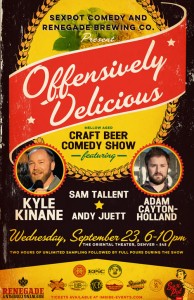 You can find Adam on Twitter (@CaytonHolland) or on his website, http://adamisfreakingoutrightnow.com, which has his most updated tour schedule and also hosts his podcast My Dining Room Table. Tickets for Offensively Delicious are $45 and available at http://www.imbibe-events.com/event/offensively-delicious-a-craft-beer-comedy-show/
---