No Comments
Listermann Brewing Co. | Shamrock Shake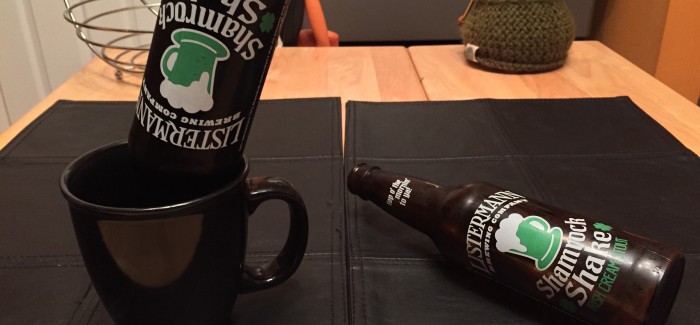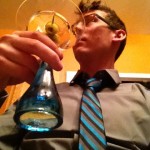 ABV: 5.5% | IBU 20
"Top o' the mornin' to ya!" is how Listermann Brewing Co.'s Irish Cream Stout, Shamrock Shake, greets its lucky consumers. A magical brew that's appearance is as rare as following a leprechaun down a rainbow and finding a pot of gold. Well, maybe not that rare, but it is a brew that is only released on celebratory occasions, such as ½ St. Paddy's Day!
On September 17, Listermann Brewing realized that it was 6 month's away from St. Patrick's Day, and what better way to celebrate the occasion than to not only whip up a batch of their famous Shamrock Shake, but to bottle it for the first time so lucky patrons can stow away some to enjoy for the next 6 months until the beers triumphant return on St. Patrick's Day.
Shamrock Shake lives up to its title. It's smooth, creamy, slightly boozy with hints of vanilla, almond, and coffee. An Irish Cream Stout that will pair perfectly with your bacon and eggs and all of your morning activities, right up until your post-breakfast nap. With a mid-range ABV around 5.5%, it is the perfect starter beverage for your day of Irish activities. Shamrock Shake pairs perfectly with Irish favorites such as McNickels, Fisty Kisses, and Blarney Ball! More lovable Irish drinking games that you've ever heard of can be found here, on RVANews. Now I don't know who came up with these, but my god, make sure you play them close to an emergency room, especially if you do a round of Collin Farrell vs. Liam Neeson.
Now that you have the rest of your afternoon planned with exciting games, let's get back to enjoying this beer while we still have all of our teeth. The Shake pours a rich dark color with a light coffee foam head. The nose has powerful notes of Irish cream. Not too powerful though, as there are rich hints of vanilla and coffee that follow. Shamrock Shake has a super smooth mouthfeel with creamy lactose and velvety malt flavors that go down easy and savory. There is a bit of booziness to the profile, even though the ABV is low, which is a trademark I really admire about this brew. However, my favorite attribute of Listermann's Shamrock Shake is that it will not morph into toxic waste after being left at room temperature for more than five minutes, unlike a certain conglomerate food company's shake.
Shamrock Shake is worthy of chasing a leprechaun down a rainbow. You may not have tangible gold at the end, but you will have liquid gold, in your mouth, enticing your senses with delicious Irish cream flavors. Now that the leprechaun has once again gone back into hiding, plotting the next lucky occasion for its return, we can always look forward to Shamrock Shake's appearance on St. Paddy's Day. So stock up when you see it, and always enjoy within the best company!
https://instagram.com/p/7sWCxHIwQi
---