No Comments
Georgia's SweetWater Brewing Plans West Coast Expansion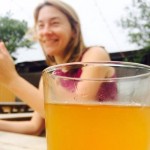 Atlanta's SweetWater Brewing Company is staking its claim on the West Coast, putting a twist on the whole craft breweries moving east trend.
SweetWater announced Thursday it had taken its first "tangible step" toward opening a second location in the Western U.S., and possibly a third location in the country's midsection.
"Our focus on making a quality liquid and building a strong brand has created an incredible inertia. And while we're continuing to develop the East Coast, it's time for us to simultaneously start looking to the West," SweetWater founder Freddy Bensch said in a news release.
Although there was no solid word from SweetWater where the West Coast brewery would ultimately be built, Brewbound reports California has been mentioned as a strong possibility.
Hey folks out West, you thirsty? We're westbound & down https://t.co/a06gLMnU5H pic.twitter.com/DHDaaTexq2

— SweetWater Brewery (@sweetwaterbrew) November 5, 2015
(MORE: 7 Reasons Rain Can't Stop the SweetWater 420 Fest)
The brewery has purchased equipment from the now-closed Pyramid Brewery in Berkeley, California. The sale included a fully automated, four vessel, 130 barrel brewhouse, inclusive of three silos and over 31 fermentation and brite beer tanks.
"We like to make and drink fantastic beer, contribute in meaningful ways in the communities we're in, and have a good time doing it all. That fits in well with the West Coast vibe," Bensch says.
The announcement to head west is just the latest in the 18-year-old brewery's dizzying cross-country roll out in the last year, extending its reach far out of the Southeast, entering markets that include New York, New Jersey and Pennsylvania — in fact, just landing in Philly this week.
https://instagram.com/p/9rxyT4Dqhf/
SweetWater ranks 18th on the Brewers Association Top 50 Craft Brewing Companies based on sales by volume in 2014, making it the largest in the South. Even when you throw all U.S. brewing companies into the mix, the brewery comes in No. 24.
---