5 Comments
The Story Behind 2015 Goose Island BCBS Rare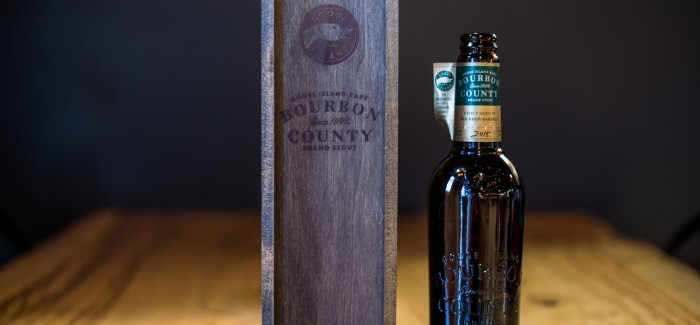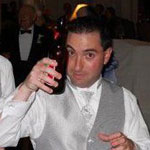 Goose Island's first Bourbon County Brand Stout Rare beer was released in 2010 and was aged in 23-year old Pappy Van Winkle bourbon barrels. It was a beer that would never be replicated again. Making such a refined beer was hard enough, but trying to find barrels from such a sought after vintage of bourbon would be nearly impossible. Even the brewers at Goose Island didn't think they would ever undertake a project of that magnitude again – that all changed when Heaven Hill Distillery called two years ago.
The Kentucky distillery had come across 35-year old white oak barrels that they didn't even know still existed. For barrels to go unaccounted for like they did in this situation was unheard of in the business.
"They are not purposely losing very old barrels," Goose Island Brewmaster Jared Jankoski said. "It's even rarer than original (BCBS) Rare because these barrels shouldn't have been lost. They don't want to lose barrels. That's a lot of money they lost."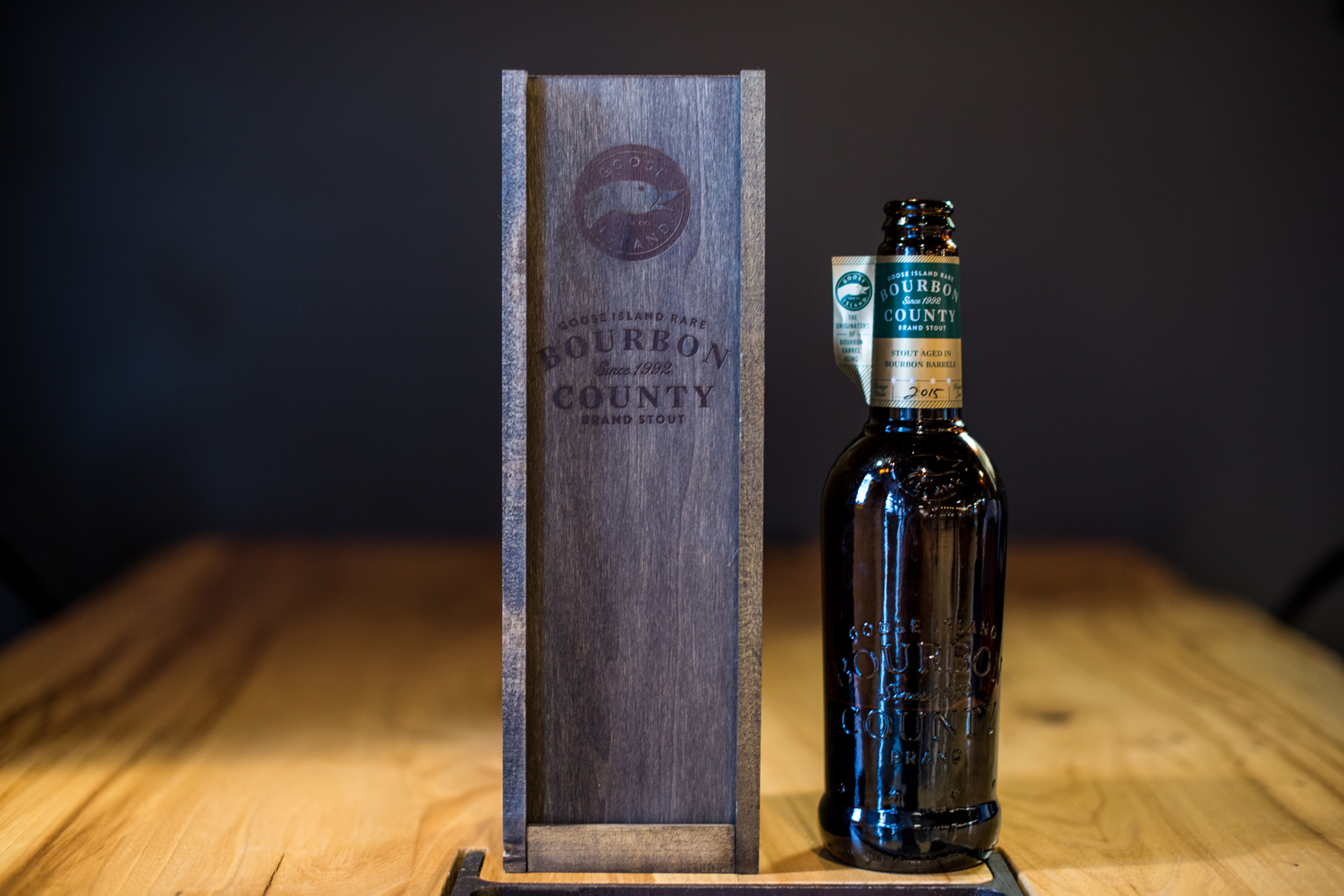 When the barrels were discovered, The folks at Heaven Hill gave Goose Island the call for an offer they couldn't refuse. It was a no-brainer for Jankoski.
"Buy! Buy! Buy! That was my only reaction," he said. "Just buy them. Everybody was really really excited. I'm very flattered that they thought about us when they found these barrels."
"Heaven Hill didn't have a use for these barrels," said Mike Smith, Associate Brand Manager for Bourbon County Stout. "To find these barrels and give them a second life and let people try the nuances that were in there is a once in a lifetime project."
The barrels arrived in Chicago and then there was really no plan. No one had ever worked with barrels this old before – there was no precedent on what to do. So they decided to fill the barrels with 2013 BCBS and stored them away in the Goose Island barrel warehouse.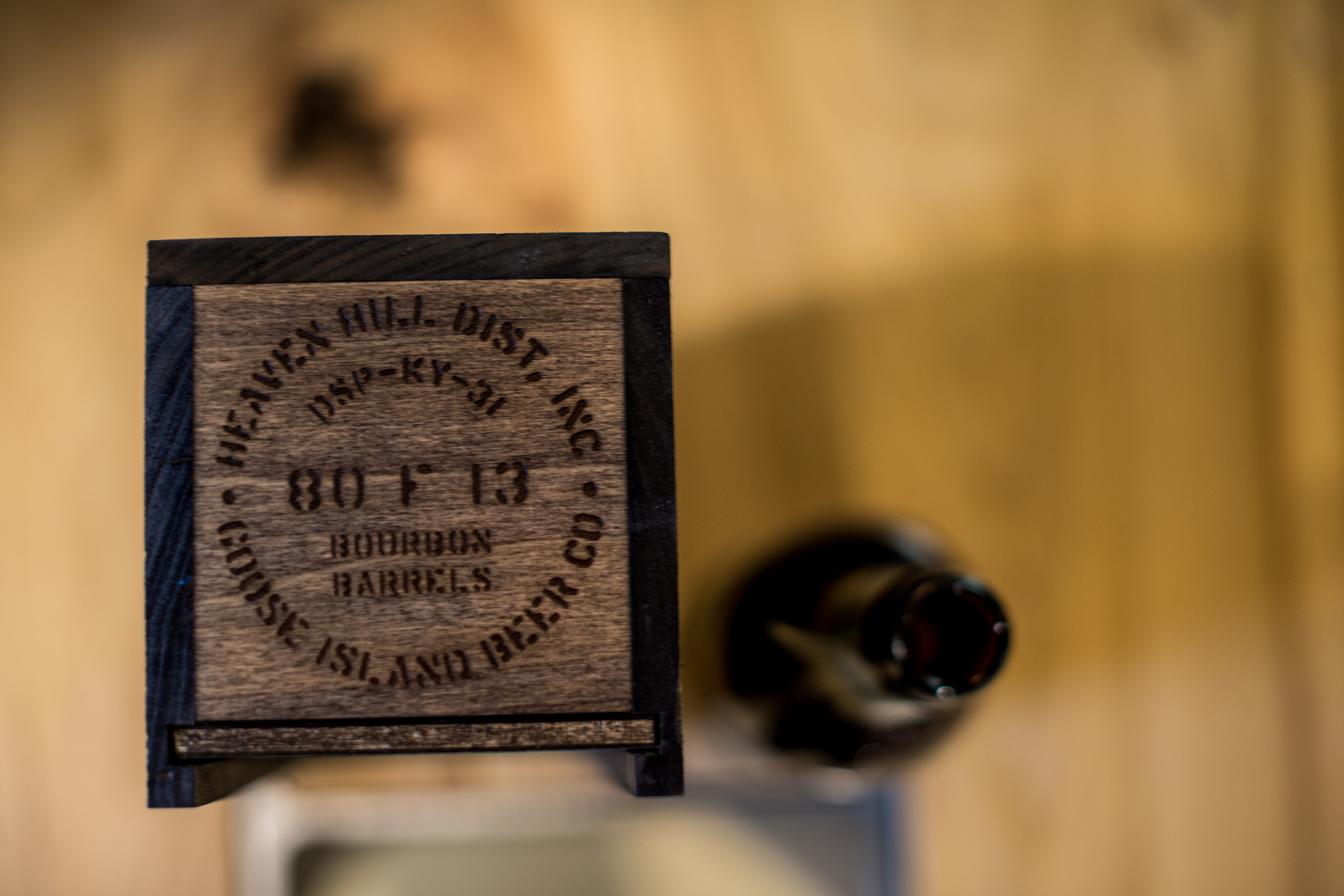 "When you have barrels this old you have a bunch of overdeveloped characteristics and you don't know how they're going to play out in the aging process," Jankoski said. "It's interesting that you can sit on it and contemplate the complexities."
After the barrels were filled, the brewers went onto work on other projects, almost forgetting about the 35-year old barrels in the warehouse. It was until overa year later that Goose Island knew they had created something truly special.
"We didn't ramp up the rare hype, even internally, until 14-16 months into the barrel-aging process when we knew we had something on our hands," Jankoski said. "This beer could have gone in ways that wouldn't have made it as remarkable as it is. We were all very excited with the way it turned out."
At the two-year mark, the beer had completed the aging process. The process that had begun with so much uncertainty had been deemed a complete success.
"We're just releasing this now and seeing the fruits of our labor," Jankoski said. "I think people were reveling in the complexity of it. You just sit and enjoy it – reflect on it. From our end it's a long process. You know it's going to be a long process when you start it. When you see everything that goes into it from the raw materials to the finished product there's a lot of appreciation for the beer."
BCBS Rare starts with a noticeable alcohol smell, but ends up being an incredibly smooth beer. The heat you smell doesn't translate into the taste. One would never guess that Rare possesses a 14.8% ABV.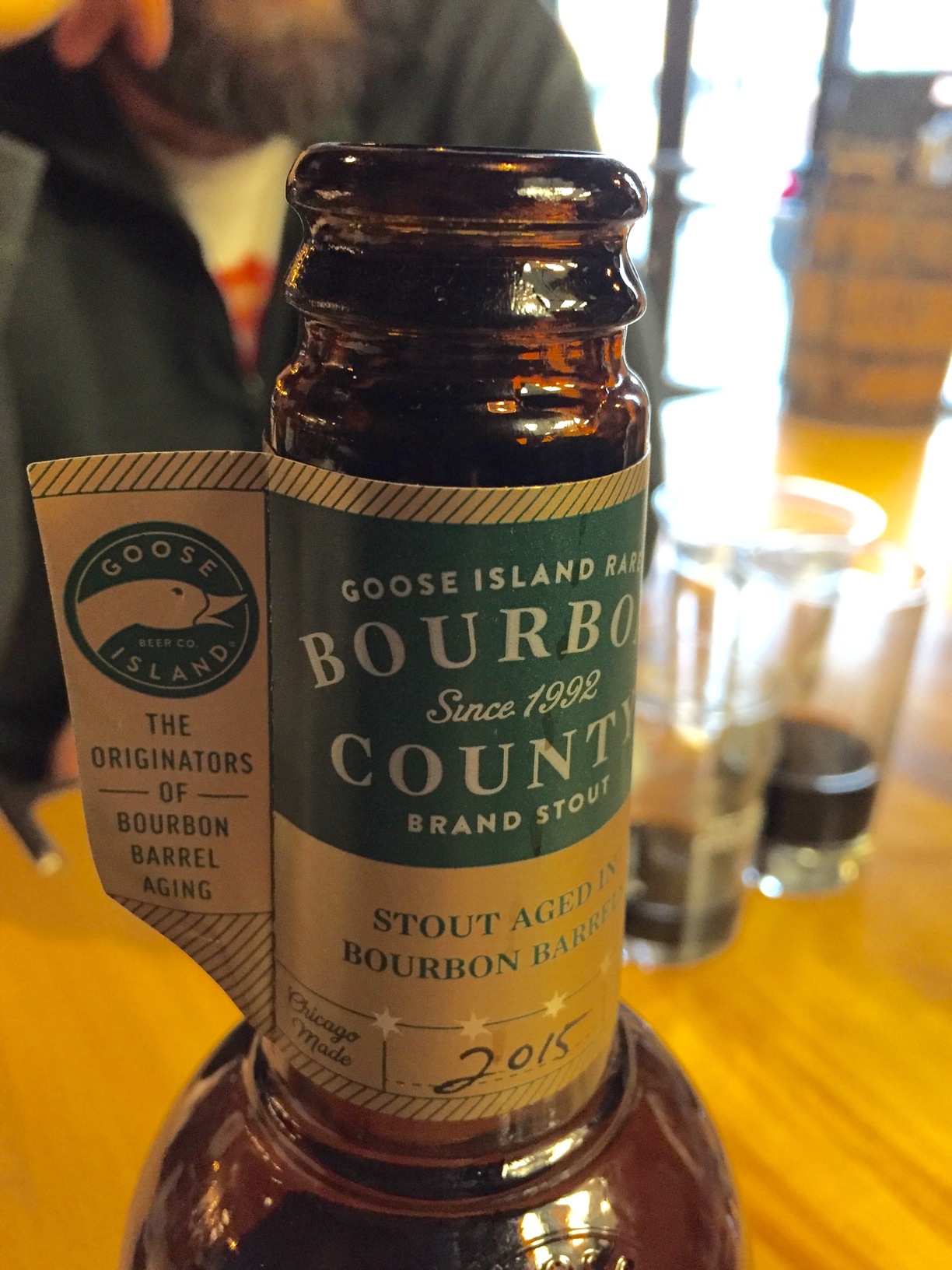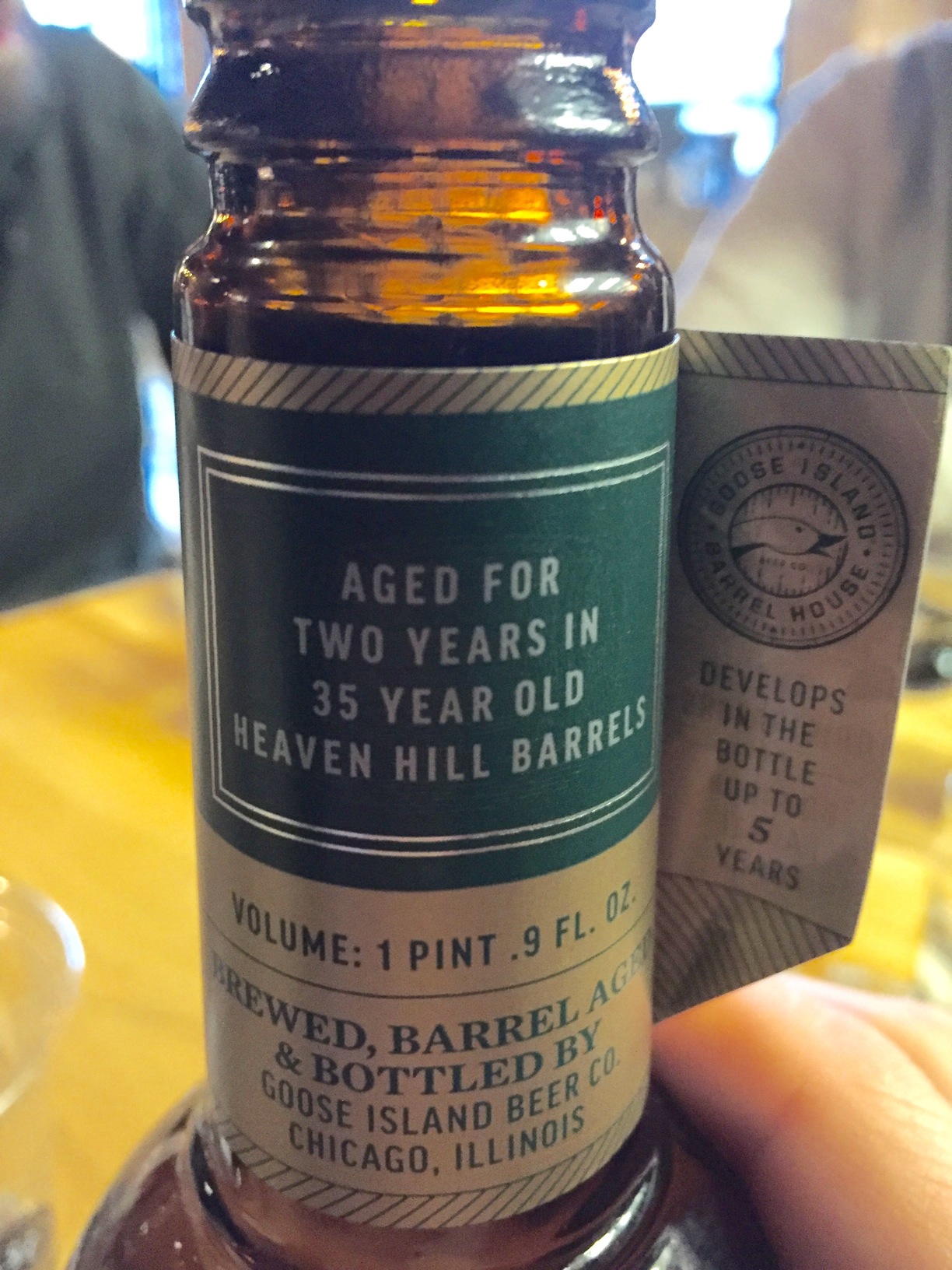 "I think it's a very fine and unique aroma," Jankoski said. "It's very pungent. You get a lot of complex whisky and barrel notes. One of the things I like is how nicely the whisky attributes came through. They are pleasant and I'm really not a whisky guy."
While the beer is already aged for consumption now, Jankoski said he can't wait to try it in a couple of years.
"Looking forward a number of years I think it's going to be a fun beer to taste in the future," he said. I think some of the elements will soften. You'll get a rounder, softer and sweeter beer. It will mature probably the same way the first rare matured."
The beer will be released for the first time at a ticket-only sold out event on November 13th at the Goose Island Tap Room and Barrel House. After that it will go on sale with the rest of the BCBS beers on Black Friday. On Rare Day Goose Island will be selling the bottles for $60 each. They hope retailers will follow suit with pricing but they know it's something they can't control.
While some have called the price high for a bottle of beer, Smith said there was a lot of thought into the higher price point.
"We want to get this style of beer into a market where wine, bourbon and other spirits are," Smith said. "No one hesitates spending $150-$200 for a bottle of wine or bourbon. Why can't beer be the same way? We want people to know that it's not an everyday beer. If you don't want to pay that price then you don't have to. But if you see the value in it and you want to share it with your friends and loved ones then we can't wait for you to try it. We want to push this boundary and make sure that beer can be in this category."
Jankoski hopes people truly appreciate how rare a beer like this is.
"We want to make sure we are giving people something worth their time, worth their money and worth their effort," he said. "I'm not ever expecting to experience something like this again. Seeing a beer aged for two years in 35-year old barrels…I just don't see that ever happening again – I mean it could, but it wasn't even supposed to happen again (after Rare 2010)."
Yesterday we published a guide for any attendees who won tickets to Rare Day, and later this week we'll have a full showcase on every beer in the 2015 BCBS series. Check back tomorrow for more!
Mike Zoller is the Chicago editor for PorchDrinking.com. Follow him on Instagram: @chicagobeerand on Twitter: @porchdrinkchi.
---