No Comments
Brewery Showcase | Vision Quest Brewery (Boulder, CO)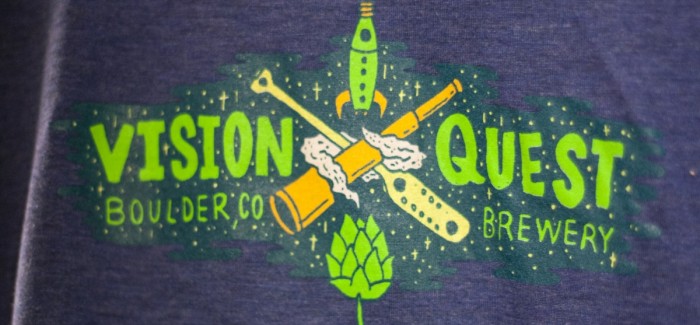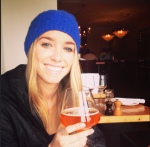 All photos by: Kyle Oglvie
Location:
2510 47th Street Unit A2
Boulder, CO 80301
(303) 578-0041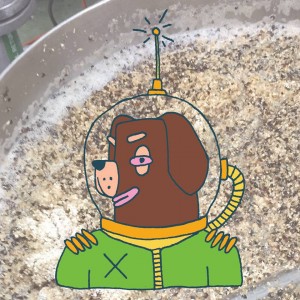 Capacity: 1.5 Barrel Brewhouse
Grand Opening Hours of Operation:
• Friday 4-11pm
• Saturday 3-11pm
Brewery Hours of Operation:
• Monday and Tuesday – Closed
• Wednesday-Friday 4pm – 9pm
• Saturday 4pm – 10pm
• Sunday 4pm – 9pm
Boulder Fermentation Supply Hours of Operation:
• Monday-Friday 11am – 7pm
• Saturday and Sunday 10am – 6pm
"A Guy Walks into a Homebrew Store… "
Sure, you've heard the start of some joke proceed, "A guy walks into a bar … " but what if instead it went, "A guy walks into a homebrew store… and found a brewery in the back!!!" This is no joke, my friends. It's simply Boulder's latest microbrewery, Vision Quest.
The name Vision Quest alludes to someone practicing their survival skills while in an adventure state amid the vast wilderness. With the brewery's funky logo in mind, on your expedition, you might need a telescope, an oar paddle, and probably a rocket ship. Oh, and you might come across a dog of the Puggle variety in a spacesuit holding a bottle of beer. That's all pretty out there, but it's kind of fitting, because as Head Brewer Greg Foley says, "Let the freak flag fly!" Thus, a lot of VQ's beers are out there with unique adjuncts and converging styles, and that's what's going to set it apart from Boulder's burgeoning beer scene.

Each of Vision Quest's founding employees offers a unique perspective and personality to the operation. Greg Kallfa, is the technical, electronically-minded one of the trio. He incorporated open source brewing automation system, BrewTroller into their operations. He is also a musician in Technicolor Tone Factory, playing keys and vocals. (Pro-tip: TTF will be playing on Saturday night at 10pm this Opening Weekend). Co-owner Adam Kandle, has worked for Shine and Southern Sun, which has given him the lay of land in terms of the Boulder beer scene and is ready to push the boundaries of craft beer. Head Brewer Greg Foley, is a homebrew wunderkind, who dedicated 2 years of his life to brewing 200 different beers. Foley has been working on a house Lacto blend that is 10-12 generations old, which you'll will find in some of the Grand Opening Weekend beers. Each Vision Quest staff member has their own favorite type of beer ingredient. Greg F. ("Other Greg") is the Brett and sour guy; Adam is inclined towards herb and spice adjuncts; and Greg K. ("Pork Chop") is a genetically-thinking kind of guy and is attracted to the different kinds of yeasts.
Now, let's talk about this unique business merger. One of VQ's co-owners, Adam Kandle attended this year's Homebrewer Conference in San Diego, where the event's attendees contemplated the homebrew shop-brewery business model. This dual commercial operation, similar to that of Dry Dock and The BrewHut's union in Denver, incorporates both a place where aspiring homebrewers can envision their own recipes, while simultaneously being offered meticulously crafted finished product. Three dudes and two businesses, that is what Vision Quest is all about. Other similar models include Fort Collins' Equinox Brewing, which also started off attached to a beer supply store, and Windsor's High Hops also brews onsite of their homebrew retail outlet. Now it's Boulder's turn to have a go at this type of interconnected beer establishment.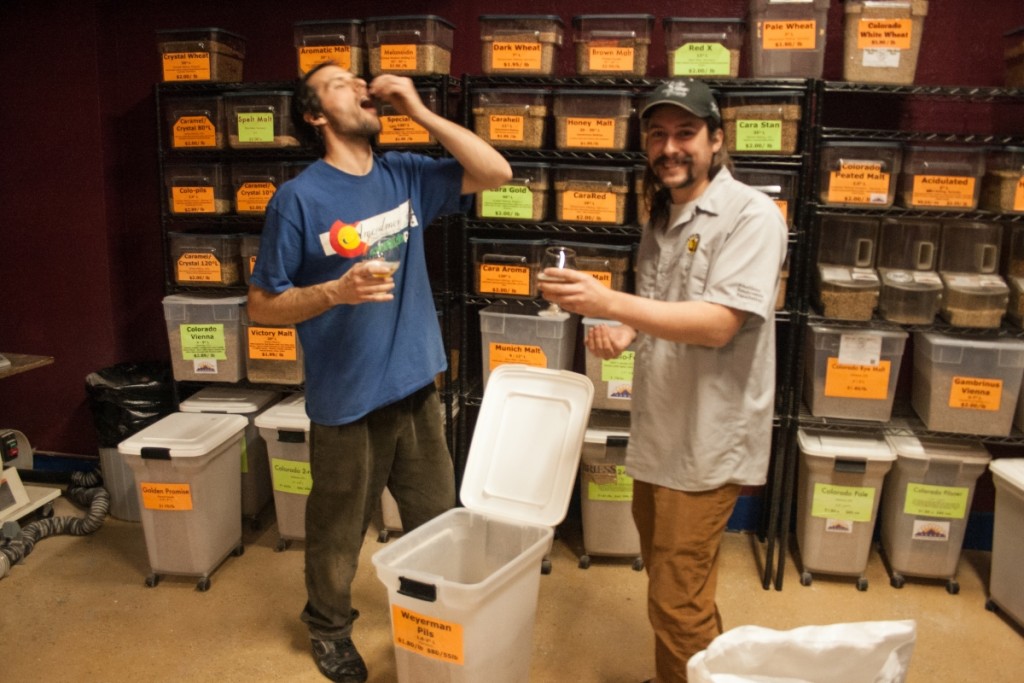 Vision Quest's brewers don't have to look far when it comes to finding ingredients for their beers. The brewery is the outcrop of its adjoining business, Boulder Fermentation Supply. Vision Quest is having its Grand Opening this weekend in East Boulder starting TODAY!
Boulder's only homebrew shop just recently celebrated it's two year anniversary. Kallfa and Foley are former employees of the now-defunct Hop 2 It Homebrew of Central Boulder. When that business closed, the pair decided to open their own store. They knew Boulder could handle a beer shop that does things a little differently. Boulder Fermentation Supply offers many items to help aspiring Boulder-area beverage makers with their beer, mead, braggot, sake, kombucha, jun, water and milk kefir, kvass, ginger beer, gluten free beers. Moreover, they also have ingredients for cheese making, wine making, kraut, pickling, and other fermented foods.
Just like Boulder Fermentation Supply, Vision Quest has a strong emphasis on local ingredients. They used ingredients from Niwot Hops and Colorado Malting Company. Moreover, the homebrew shop aspires to engage more with the local community and offers classes on cheese making, soda, and probiotics like sauerkraut and kombucha.
Walking up towards the beer offerings, you'll notice the brewery's ultimate locally-sourced feature: the Cottonwood bar. This beautiful wooden bar was once a glorious tree from Sunshine Canyon, west of Boulder. Look a little closer and you'll notice that within the inside of the tree are little carved out nooks for crushed up hops, malted sunflower seeds, coriander, millet, Irish moss, and sorghum – all brewing ingredients. It's an artistic masterpiece and you get to drink beer off of it!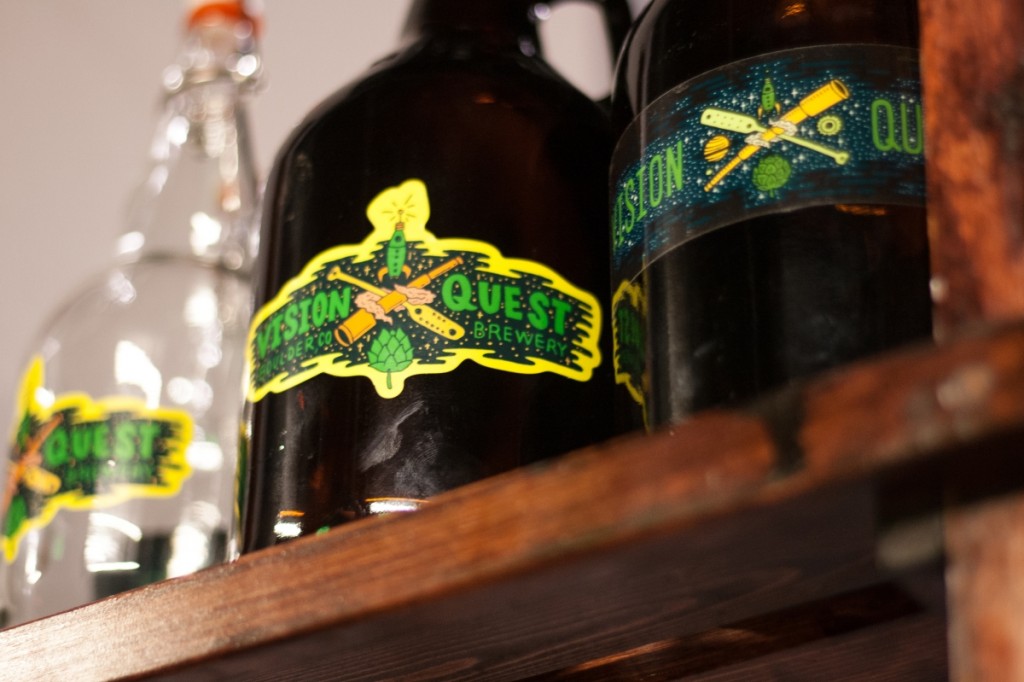 This Friday and Saturday when Vision Quest officially opens, they'll kick things off with their flagship beers IPA, Gingerbread Stout, Saison Nanuk, House Lager, Milk Stout and Buck Wild (a reduced gluten English mild). Throughout the course of the weekend, 28 or so beers will be making an appearance. This is because, as Greg Foley said VQ doesn't want you to come away with just liking a few beers, but instead gravitating towards all of their "beers across the board, like daaaaamnnn!"
Located on 47th Street in Boulder, the immediate industrial area that Vision Quest is located within has every kind of business, from a climbing shoe repair shop to a kombucha business. The neighborhood that Vision Quest is operating has really grown over the last five years in terms of craft beverages. You've got BRU and J. Wells breweries to the south, Upslope's new Flatiron park and Wild Woods to the east, Sanitas, Boulder Beer and two new micro-distilleries Altitude and Deviance to the west, and Redstone Meadery, J&L Distilling and 303 Vodka a stone's throw away. Talk about a hotspot for adult libations.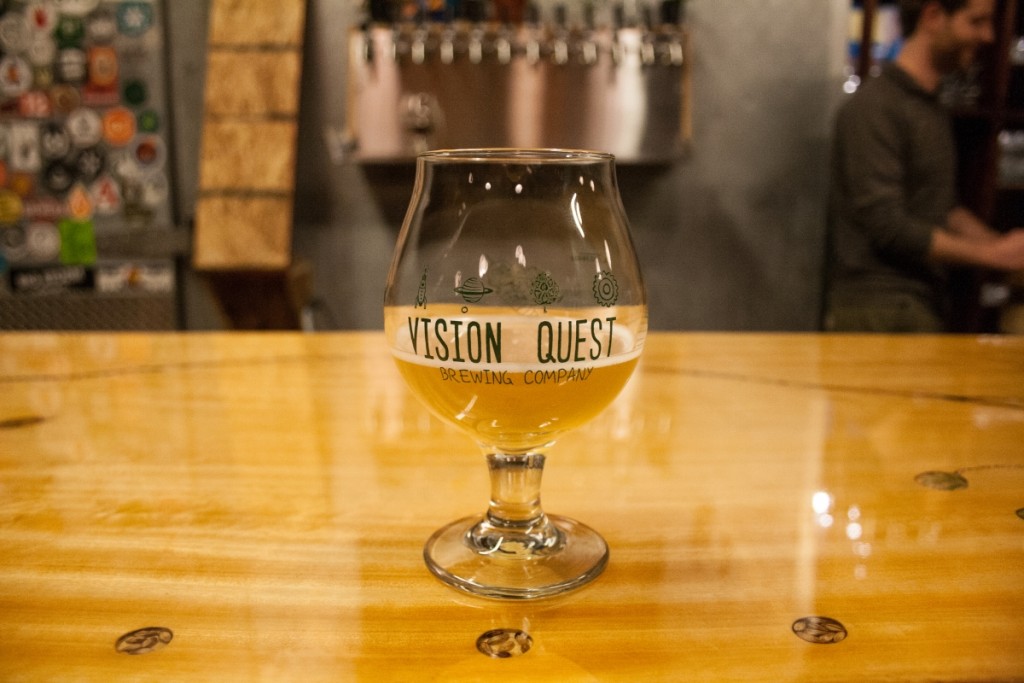 Here is the line up for the Grand Opening:

[Most of VQ's beers have a not-of-this planet, astronomical names]
• House Lager (5.5% Golden Munich Helles made from a house lager blend)
• Leo (5.5% Bohemian Pilsner brewed with German yeast and Czech Saaz hops)
• Inland Saison (7% Saison made with a special Denver-made saison strain with subtle strawberry esters).
• Chumlumzumbo (7.5% American IPA with 5 hop varieties)
• Buckwheat Mild (4.9% Dark Milk with chocolate and gluten reduced locally-sourced buckwheat)
• donLon Porter (5.4% British Porter with brown and chocolate malts)
• Milk Stout (6.3% Milk Stout brewed with dark malts and Lactose Milk Sugar)
• Gingerbread Stout (6.5% Stout with molasses and fresh ginger)
• Double Chocolate Stout (6.3% Chocolate Stout with cocoa nips)
• Nitro Tamarind and Coffee Stout (6.3% with Sumatra Coffee aged on tamarind puree)
• Norwegian Milky Way (5.9% American Pale Ale made with a far-reaching Norwegian yeast strain plus Simcoe, Amarillo, & Chinook)
• Milky Way Galaxy (A Hazy 5.9% American Pale Ale brewed with Galaxy and Columbus hops)
• Milky Way Citra (A Hazy 5.9% American Pale Ale brewed with Citra and Columbus hops)
• Passionfruit Mango Milky Way*** (5.9% American Pale Ale hopped with Galaxy aged on top of a duet of mango and passionfruit purees)
• Mocha Porter* (5.4% English Porter aged on whole Ozo coffee beans and cacao nibs)
• Nova (3.9% Berliner Weiss soured with the house Lacto blend and dry hopped with Pacific Jade and Mandaria Bavaria hops)
• Tropic Nova* (4.3% Berliner Weiss aged on top of passionfruit and mango puree)
"The Lab Beers" – Small Batch Experimentation
• Falling Star (4.7% Cream Ale brewed with flaked corn and Vienna malt, light and grainy)
• Dry Hopped Falling Star (4.7% Dry Hopped Cream Ale, dry hopped with Topaz and Cascade)
• Nebula (6.6% Dry Hopped Saison hopped Nelson Sauvin, Hallertau Blanc, and Topaz hops that is spritzy and light)
• Saazacca (6.6% Dry Hopped Saison hopped heavily with Azzaca and conditioned with Brettanomyces, notes of pineapple and guava)
• Starship* (10% Belgian Golden Ale brewed with Belgian Pilsner malt and white wine muscat juice)
• Starship MPP (10% Belgian Golden Ale brewed with Belgian Pilsner malt and white wine muscat juice, then dry hopped with Nelson Sauvin hops with subtle pear notes)
• Space Jam* (6% Dark Sour Ale with VQ's house Lacto strain and aged on raspberries)
• Cosmos (6.3% American Pale Ale brewed with Munich malts and Citra)
• Dry Cosmos (6.3% American Pale Ale brewed with Munich malts and dry hopped with Sorachi Ace and Citra with extra notes of coconut and lemon)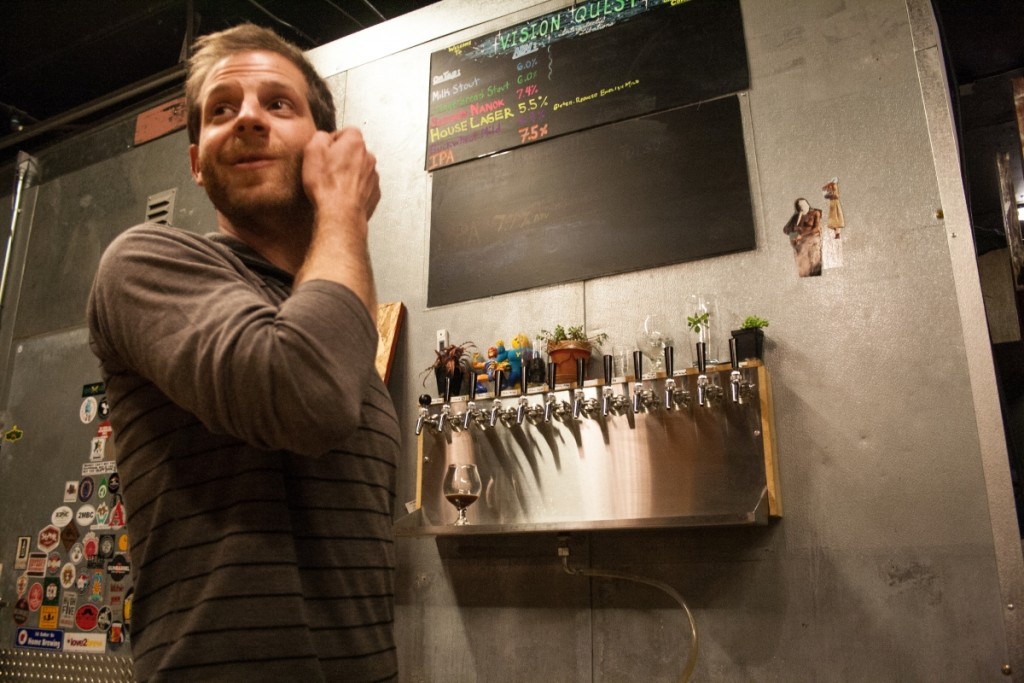 In terms of food, The Stand will be dishing out the eats today (Friday) and Farm + Smoke will be serving you the goodness on Saturday. The brewery's in-house baby grand piano with feature three different people throwing down on the keys over the course of the weekend.
At Vision Quest, you will be sure to experience your own personal pursuit of pints a 'plenty. In essence, Vision Quest is a creative pipeline for a whole new perception on how to successfully partner two beer-centric businesses. You may even be inspired to walk over to the homebrew shop and brainstorm a new beer for you to brew yourself. This is a brewery opening you don't want to miss!
* My Go-to Picks
*** My favorite beer from Vision Quest that I tried, it is juicy and absolutely mesmerizing
---