No Comments
Brewery Showcase | Nighthawk Brewery
The story of Nighthawk Brewery is that of a community built entirely by hand, from the ground up. The owners, Ethan & Nikki Hall, have had their hands in as much of the process as possible — from tearing down drywall to jackhammering floor drains. Everything about their space had to be completely reimagined. Their 7BBL system wasn't even originally created for brewing! It's actually dairy equipment modified to run off the high-voltage 3-phase heating elements. "It's very challenging to use, but just like any other craft — it's the craftsman and not the tool that makes the final product so excellent," Ethan said. Their head brewer, Dan Moore, can handle anything the former heifer-mobile throws his way.
Speaking of the head brewer, the rest of Nighthawk's team is just as impressive. Their entire staff was handpicked by the owners, and they are the best of the best. Each person has an exceptional skillset and passion to match. According to Ethan, "The true spirit of Nighthawk is our personality and passion."
This is obvious If you've ever visited the brewery, which is located in Broomfield, Colorado. The front room boasts a huge bar and cozy seating with fun art on the walls. The back room is much larger and has all the games you could ever want including foosball, ping pong and a plethora of video games. With that much space, it's no surprise their Geeks Who Drink trivia night fills up with dedicated diehards and first timers alike. Bring your friends, your kids and even your dogs to hang out — visiting Nighthawk is like going to your buddies' house where everyone is friendly and the beer is good.
Like most new breweries, Nighthawk's story begins in a garage. Six years ago, a few friends came together to try home brewing for the first time in Ethan Hall's garage on Nighthawk Circle. The feeling of being among friends remained undiluted, even as the hobby grew into a business.
Nighthawk Brewery will see a lot of expansion in 2016 including additional fermenters, a new patio, and more barrel-aged and sour brewskis. They are also planning on building a pizza kitchen, so keep your eyes peeled for that as well. Until then, guests are welcome to bring in their own food, order from whichever food truck is parked outside (see their calendar here,) or they can ask one of the bartenders for the binder of nearby delivery menus.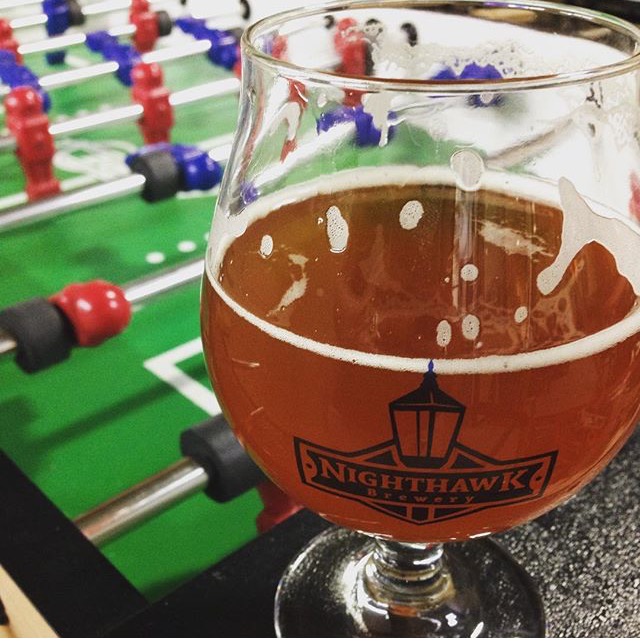 Every time I visit, I like to get a flight so that I can try what's new and also taste my tried-and-true favorites. Their Gullible Grapefruit IPA and Big Pimpkin pumpkin beer are my personal go-to's. With a clear, light orange/yellow color, the Grapefruit IPA looks like an easy-drinking beer from the onset. It's got a lot of citrus on the nose, which is more prevalent in the aroma than in the flavor. Gullible Grapefruit is a lighter IPA with a long-lasting, hoppy finish.
The Big Pimpkin Ale is a funky one. It's sweet, tart, orange-y flavor keeps you (or at least me) going back for more! There aren't any hops in this beer — which makes it a little strange that a hophead like myself enjoys it so much. Big Pimpkin has English and German malts, plus a little Lactobacillus to really pack in the acidity.
You should definitely go to this brewery if: you like playing foosball, ping pong or arcade games, you like experimental sours, or you like bringing your entire family along for a pint — kids and dogs are welcome!
Location
2780 Industrial Lane
Broomfield, CO 80020
Hours
Monday 3-8pm
Tues/Wed 3-9pm
Thursday 3-10pm
Fri/Sat 11am-11pm
Sunday 11am-8pm
Be sure to follow Nighthawk Brewery on social media so that you can stay up to date on all of their awesome happy hour deals and events!
https://www.instagram.com/p/BCn7QZChi3h/?taken-by=nighthawkbeer
---