No Comments
Starr Hill Brewery | Lemon-Lime King of Hop IPA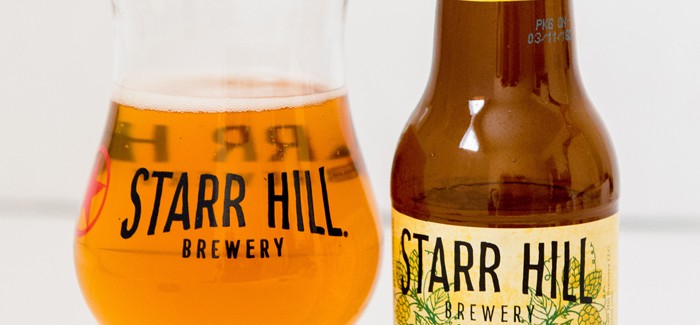 ABV: 7.5% | IBU: 50
Here in Virginia the trees are beginning to bloom, bright yellow daffodils line the sidewalks and roadways, and warmer temperatures have started luring us outside off of our blanket-covered, couch-sitting butts. Spring has finally sprung! In my house, springtime begins with an annual retirement of our porters and stouts, making way for the refreshing, citrusy beers that are perfect for porch drinking! To celebrate the beginning of spring, Starr Hill Brewery out of Crozet, Virginia is releasing one of the best IPA packs I've seen in quite some time — the Four Kings IPA Pack. In this twelve-pack sampler you'll find different variants of their King of Hop Imperial IPA  which include a grapefruit, habanero, and lemon-lime version alongside the original. With Citra hops providing a strong citrus characteristic to the base of the IPA, the fruit and spicy variants bring a new level of complexity to the beer.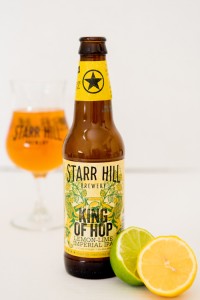 The Starr Hill Brewery Lemon-Lime King of Hop IPA seemed like the best choice from the pack to toast the official beginning of spring! The aroma of this IPA is filled with bright lemony citrus notes, with just a hint of hoppy pine. Close your eyes, and you might think someone is zesting fresh lemons right beside you! It smells that fruity and fresh. Before your first taste, you can tell this IPA is going to be quite refreshing on your palate.
With your first sip, both lemon and lime flavors hit your tongue up front. Moderate bitterness follows with some resin and pine notes. Other citrus and tropical fruit flavors, along with the lemon-lime notes, linger on the finish. I found the bright citrus flavors to stay with you throughout every drink of this beer from beginning to end. Letting the beer come to room temperature resulted in a sweetening of the flavors to where they not only intensified a bit in the beer, but also gave more of a candied lemon-lime taste.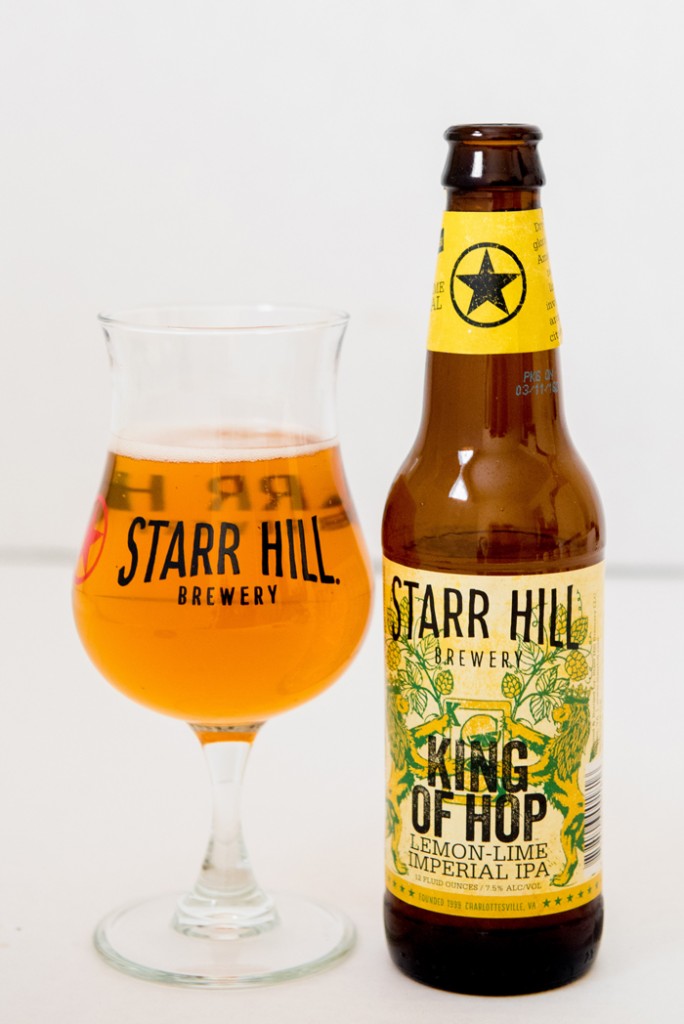 This limited edition twelve-pack is truly a labor of love. Starr Hill used both fresh lemon and lime zest in this beer, and during a visit to the brewery earlier this month we got a chance to see where all of the magic happens. During our tour we talked with Starr Hill's QA Manager, Jason Porter, about the brewery's commitment to using local, fresh ingredients in their beers at all times. We also saw where staff and brewers sat for hours zesting lemon after lemon and lime after lime! I believe their hard work paid off as I have enjoyed every single beer, with the lemon-lime version of the King of Hop being my favorite. You'll be able to find this mixed case of beers starting the first week of April. You can use their handy-dandy beer finder to see if Starr Hill is available near you. Cheers to spring!
https://www.instagram.com/p/BDinngQIJFF/?taken-by=starrhillbrewery
---