No Comments
Ultimate 6er | Road Trip Regional Edition: Mountain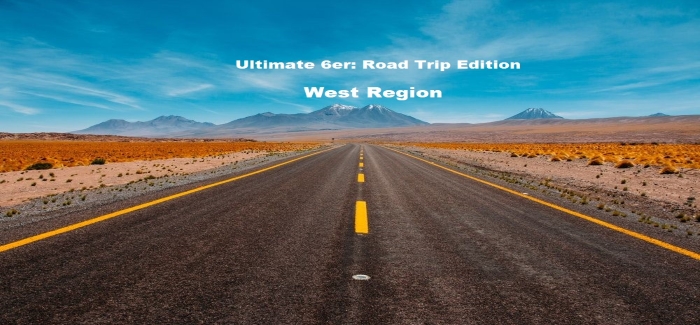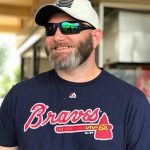 Join us as we road trip across the United States in what is to be a follow up article to the Craft Beer Across America article. In that article we explored a craft beer from every state (excluding districts and territories) to showcase some of the unknown, or lesser-known craftier beers that the U.S. craft beer scene has to offer. While that article focused mainly on the beers, this article focuses on specific breweries from a region we think would be fun to visit. We're going to sprinkle in a couple of bigger craft breweries in each six-brewery regional section just to help spread the word for some of the not-so-big breweries in the mix.
This is by no means a "best of" brewery list. We just wanted to highlight some breweries that brew excellent beer and have great environments and to possibly fine out more about what they do other than brew beer. Please join us as we start our road trip with the Mountain Region which includes Colorado, Idaho, Montana, Utah and Wyoming.
What exactly is an Upslope you might ask? Meteorologically speaking, it's a front range-covering, water-table-filling, snow-dumping weather pattern that anyone with bindings and a roof rack would die for. "Beerologically" speaking, per Upslope Brewing, it's carbonated gold!
Upslope Brewing Company  was conceived from the minds of founders Matt Cutter, Henry Wood and Dany Page in 2008. It was then when they each left their homes in their respective parts of the world to move to Boulder, Colorado to turn their beer-brewing love affair into a reality. After many years of perfecting their craft, they've successfully created a lineup of quality craft beer that "tastes as good poured from a tap as they do pulled out of a fishing vest." While we've not pulled one of their beers from a fishing vest, we have pulled some from our fridge and we can attest to the quality of their beer.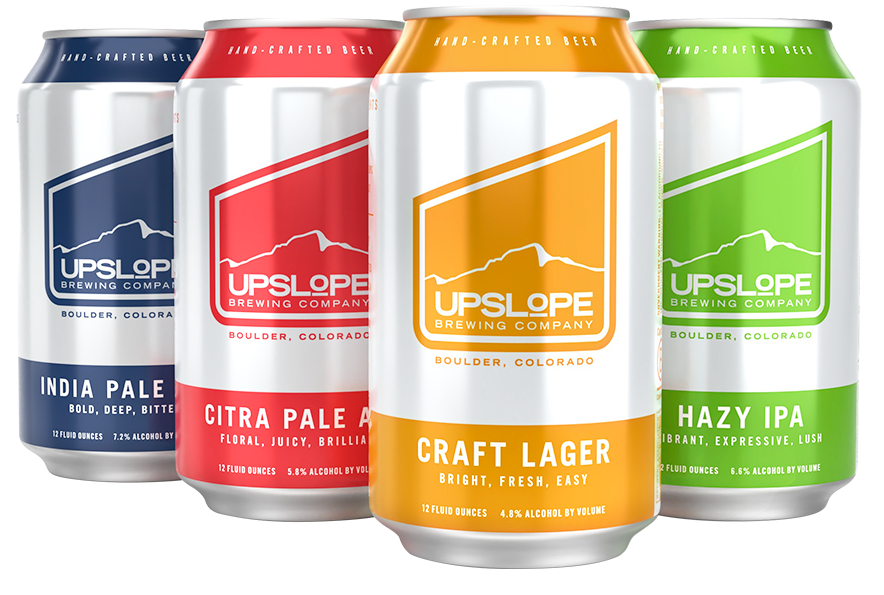 While we enjoyed each of the beers we tried from Upslope, our favorite by just a snowflake was their Rocky Mountain Kolsch. We here at PorchDrinking thoroughly enjoy all styles of beer, but a well-brewed Kolsch is always hard to beat. We know it's not the most popular style of beer out there, but there's just something so refreshing about a clean Kolsch. Their Rocky Mountain Kolsch is brewed with Colorado sage and honey, with the addition of Mosaic and Lemondrop hops. What you get is a very bright, citrusy beer with a nice lemon characteristic and some very subtle earthy notes. The perfect beer to pair with just about anything. It's one of their year-round offerings so it's always readily available for you to try, and we suggest that you do just that, go give it a try, along with the other beers in their lineup.
We asked Katie Ferguson, the social media and Digital Marketing Coordinator for Upslope, what makes Upslope stand out amongst the other breweries in the area. Katie noted that their location in Boulder definitely has some perks for those looking to enjoy an après-outdoor adventure beer, whether it be hiking, biking, climbing and everything in between! With beautiful views of the Flatirons and the Continental Divide off in the distance, it's tough to beat. They also host a slew of great events at the brewery, such as the Upslope Get Down music event, their annual anniversary and a Summer Concert Series. Katie notes that even if they don't have an event going on, there are 29 different delicious beers, seltzers and cocktails on tap to enjoy every day of the week.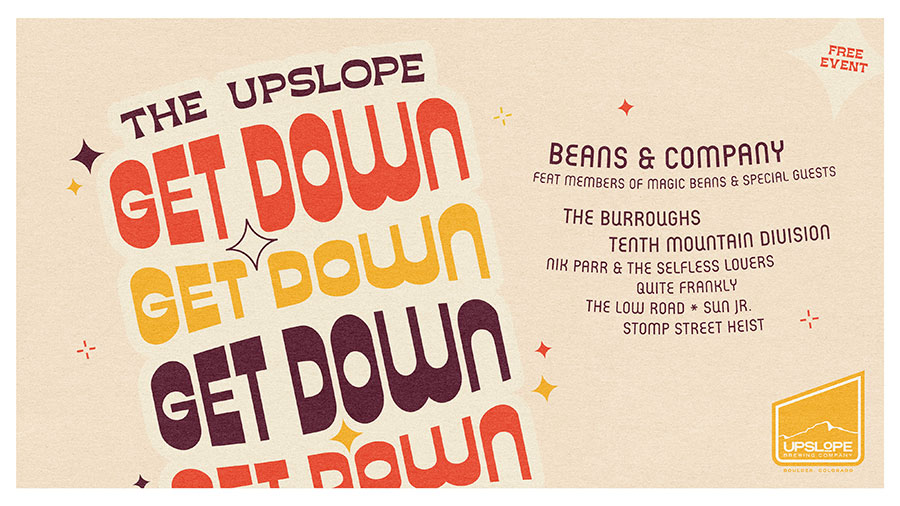 Aside from brewing delicious craft beer, seltzers and cocktails, Upslope is also very active in the community. They have major partnerships with The Conservation Alliance, Thorne Nature Experience, Leave No Trace, Trout Unlimited and their 1% for Rivers Campaign with their Craft Lager. Additionally, they just launched their Pints for the People program which is a quarterly partnership with local nonprofits that promotes inclusion and equity in the outdoor and craft beer industries. Each organization brews a beer with Upslope to be released in the taproom, and part of the beer proceeds in the taproom go back to the organization to bring awareness to a good cause. All these efforts are a part of their B Corp certification, and they are integral to their company values.
At the end of the day, Upslope hopes to keep improving their impact on their employees, their community and the environment. Relying heavily on external frameworks provided by B Lab, the nonprofit that certifies B Corporations, and Crafted for All, an organization dedicated to helping craft beverages companies build equity, inclusion and justice into their operations. Upslope believes they've set meaningful, long-term goals in those areas.
---
Westbound & Down Brewing Co., which is located in beautiful Idaho Springs, Colorado, is a brewing company dedicated to adventure, beer, food and experience. They got their start when some good friends decided to make a pact to share their pursuit of better food and drink with the rest of the world. Today, they are a family-run business with deep Colorado roots that aims to infuse the spirit of the West in every keg, bottle, meal and moment.
Brewing beer is a form of art for Westbound. Each element leads to the unique taste of their beers. They pride themselves in making great beer and keeping the process and overall experience very approachable. Westbound is known for their West Coast style IPA, Lagers, Barrel-Aged Imperial Stouts, Barleywine, mixed-culture Saisons and Sours.

Their beers are all non-filtered, relying on the natural process of fermentation to clarify and enhance each flavor. Carbonating stones are used to produce the bubbles, but this is carefully monitored to retain the intended character of the beer. The water used in the brewing process is 100% pure Clear Creek County, Colorado snowmelt and rain runoff that's filtered on site to remove unwanted chlorine and metals. Hand selected malted barley, hops and yeast strains are used to create brews meant to please the senses of sight, smell and tastes.
Eric Schmidt, the Director of Marketing for Westbound & Down, notes that when visiting Westbound brewpubs, you'll immediately notice their commitment to quality, "It spills over into everything we do, from our modern brewpub design to our award-winning beers, inspired menus and exceptional hospitality", said Eric.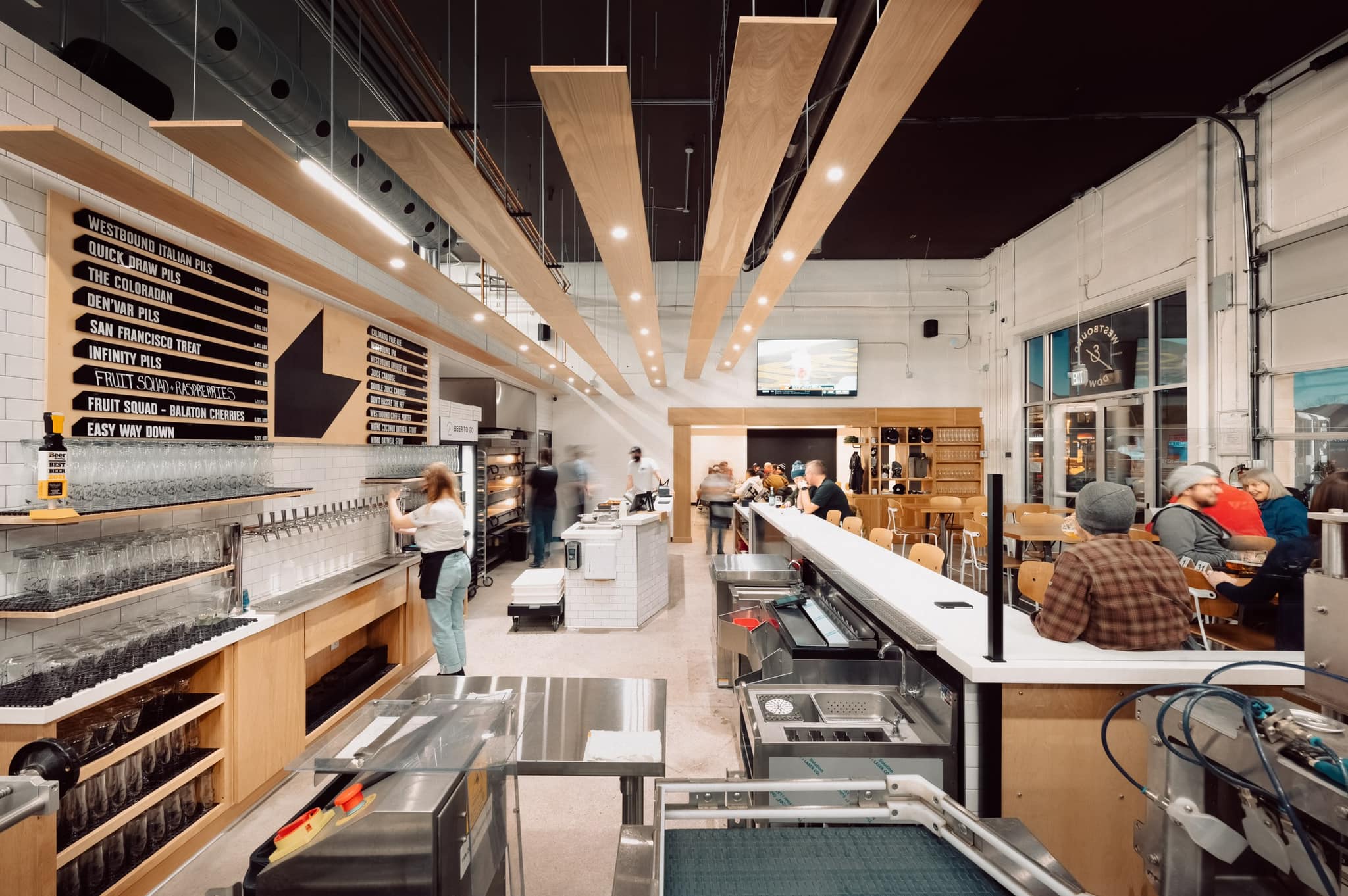 Their commitment to quality really does show up in the form of exceptional flavor in their beers. While all the beer we tried from them were delicious, we happened to fall in love with their West Coast IPA called Spirit of the West. Spirit of the West has all the characteristics of a tremendous West Coast style IPA. Overall, it's very smooth, with some fruity notes, and just the right amount of bitterness that you would expect in a West Coast IPA. We could go on and on about this beer and could use even more adjectives to describe it, but that would be overkill, something this beer is not. It's just that darn good!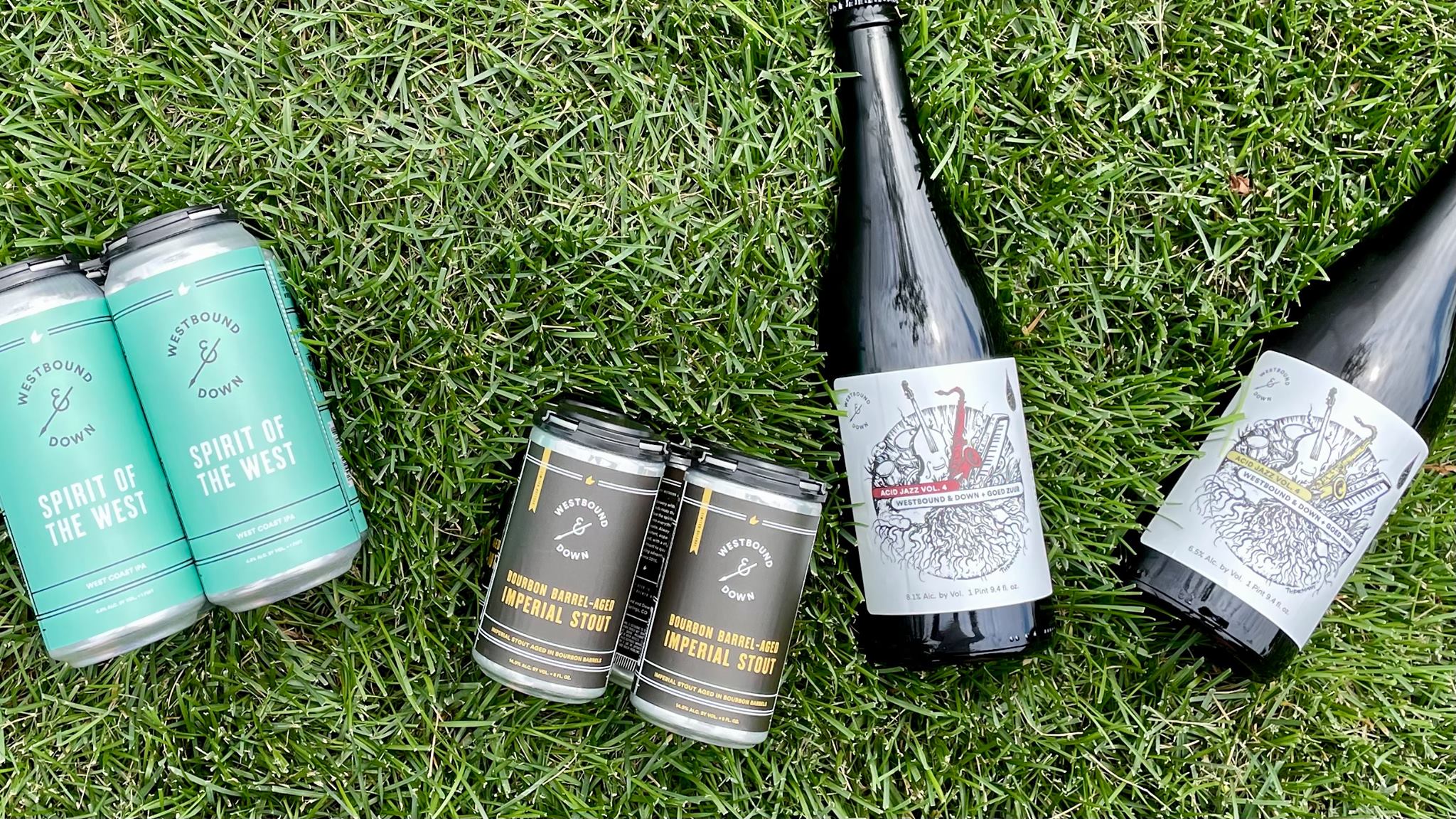 Not to be outdone by their beer though, Westbound & Down is very active in their community. In May of 2020 they launched True West, an evolving charitable series that's centered around giving back to their community and organizations whose mission they align with. Since launching the series, they've helped to promote and contribute to the following organizations: Foundation 1023, NAACP Legal Defense and Educational Fund, Community Foundation Boulder and many more. You can read more about this series here: Westbound & Down Charity Series
Westbound & Down wants to be able to continue to grow without chasing trends, sacrificing quality or losing their authenticity. The hope is to remain down their path of creating great spaces to enjoy complex beers and great food to pair with them.
---
Mother Earth Brew Co. was originally founded in North San Diego County (Vista, CA) in 2010 by Daniel and Jon Love and Kamron Khannakhjavani. Like many brewery beginnings, it was a business that was formed from a hobby. They set out to establish themselves in the fastest growing and most highly competitive craft beer city in the world. To say they accomplished their goals would be an understatement. Growth propelled them to look for an additional location outside of California. In 2015, led by President and CEO Daniel Love, they began the development of a new, state-of-the-art 40,000 sq. ft. production facility in Nampa, Idaho located near the state capital of Boise.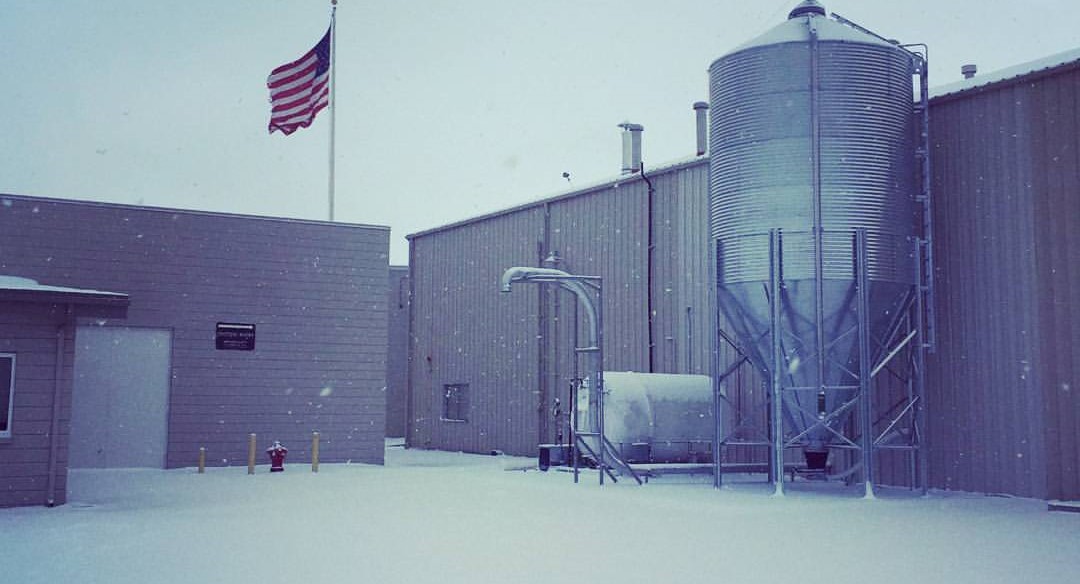 The new brewery location features a 40 bbl multi-vessel Mueller brewhouse, and the capacity to produce over 100k bbls per year. Mother Earth Nampa went on-line in August of 2016 and through continuous upgrades and expansion rapidly became the largest brewery in the state of Idaho. Mother Earth Nampa is their second regional headquarters, and they support most of the company's growth and produces beer for all markets outside of Southern California.
We were lucky enough to explore a few different offerings from Mother Earth Brew Co. and we thoroughly enjoyed each one of their beers. Having to pick a favorite beer is like having to pick a favorite child to us, but somebody must do it! Our favorite from them was their "Cali Creamsicle", an Orange Vanilla Cream Ale. This really puts you in mind of the childhood or adult classic treat, the orange creamsicle. Mother Earth states it best when they say "You don't have to chase down the ice cream man" to grab this one, but you will have to show somebody your ID!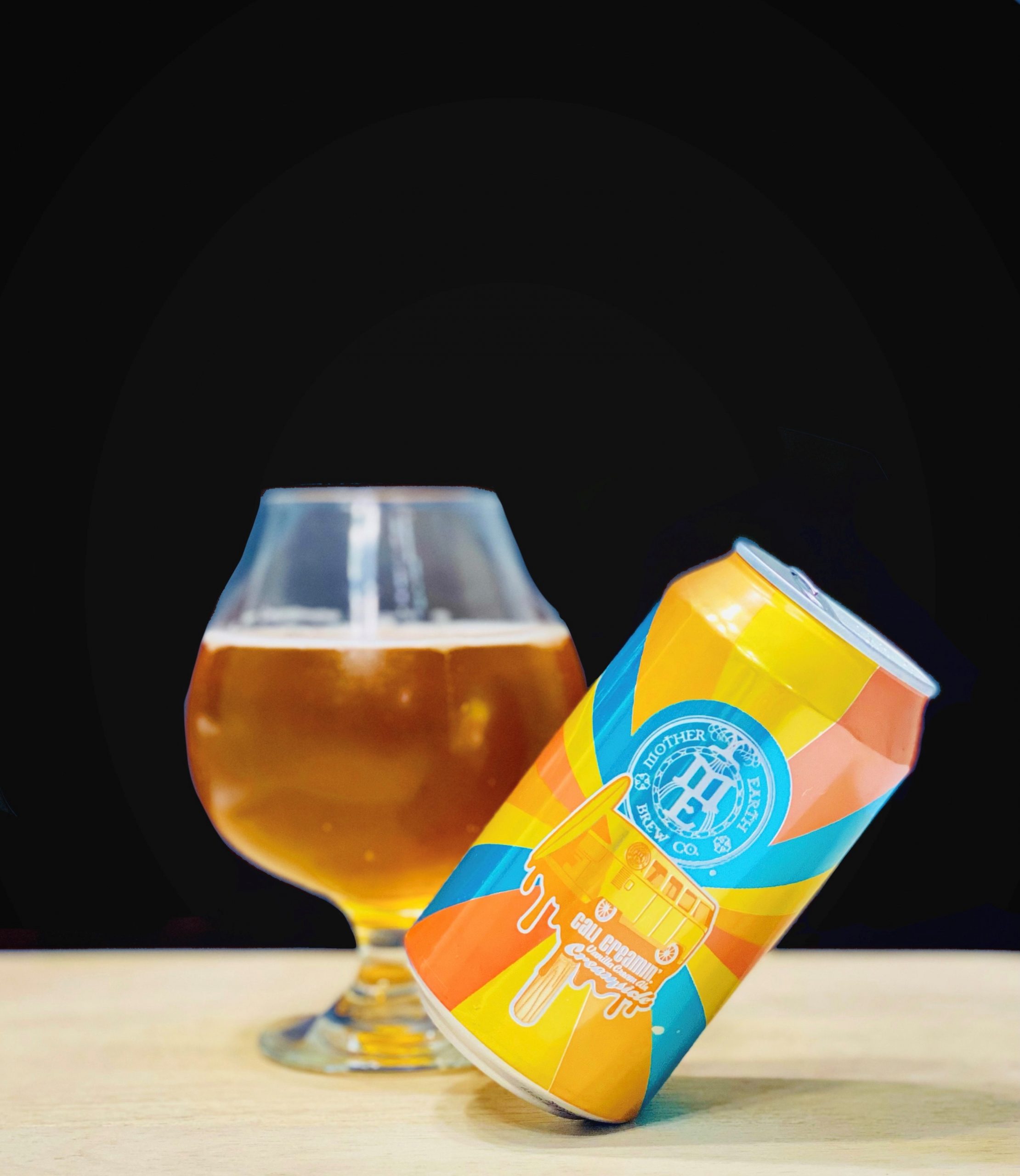 This really is an adult version of the orange creamsicle ice cream. It has a creamy mouthfeel from the addition of lactose, and the orange flavors shine bright from front to back. The tangy citrus notes provide just enough tartness to balance out the sweet flavor profile. Overall, this was a very enjoyable beer and quite refreshing!
A beer we couldn't try from them, but we think you should try from them is their "Forgotten Trail Ale". A portion of every case sold goes to support the conservation of Idaho parks' trail systems. Buying this beer supports this cause by helping to make vast improvements to Idaho's non-motorized trail system which is an endangered resource that's in need of care to stay open and accessible. Forgotten Trail Ale is boxed in eco-friendly packaging out of thermally pulped wood that leaves a smaller carbon footprint per ton with no added chemicals.
Mother Earth supports their Idaho Trails system not only through donations from the proceeds of Forgotten Trail, but through raising awareness, acting as park stewards and taking care of their trail systems. This is something we can all get behind!
---
Map Brewing Company sits nestled at the foothills of the Bridger Mountains in Bozeman, Montana. They opened in 2015 and have been offering up award-winning beers, stellar service, world class views and delicious made from scratch, locally sourced food ever since.
We had the pleasure of speaking with Loy Maierhauser, the "Administrator of Many Things" at Map Brewing and she's also an Advanced Cicerone! So yeah, she knows her stuff! We asked Loy what makes Map Brewing stand out amongst the other breweries in the area. Loy was very humble in her response and stated that "Although I'm biased, but I think we have some of the best beer in town". Loy was quick to also point out that there are quite a few other breweries in town and they're all pretty great!
Map also has great food, and they incorporate as many local ingredients as possible (including many recipes that feature their beers). Loy said that she thinks the main draw for people is the brewery space itself. They have a beautiful patio that overlooks the Bridger Mountain range. Loy remarked that "A sunset here with a beer in hand is an unparalleled experience!"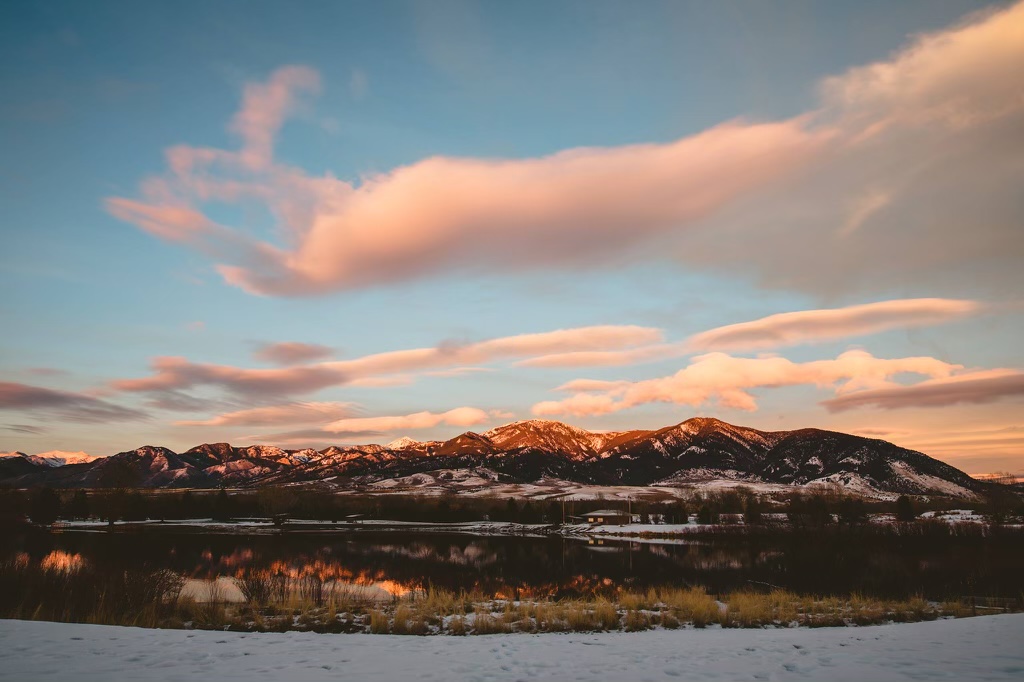 Their most popular beer is their Midas Crush, a West Coast style IPA. They're also known for their Party! Mexican Lager as well. Map offers a wide variety of beers with their ever-rotating taps, just to keep it fresh! Our favorite from Map that we tried was their beer called Strange Cattle, a New England Style IPA. This beer was bursting at the seam with huge tropical notes and stone fruit. Pungent fruit forward flavors at the front of the palate that transitioned into a soft, yet slightly bitter back end that left you wanting more from this "Blissful Bovine" that is Strange Cattle! If you want hazy, then this is the beer you need to seek out if you are in their area, it will surprise you.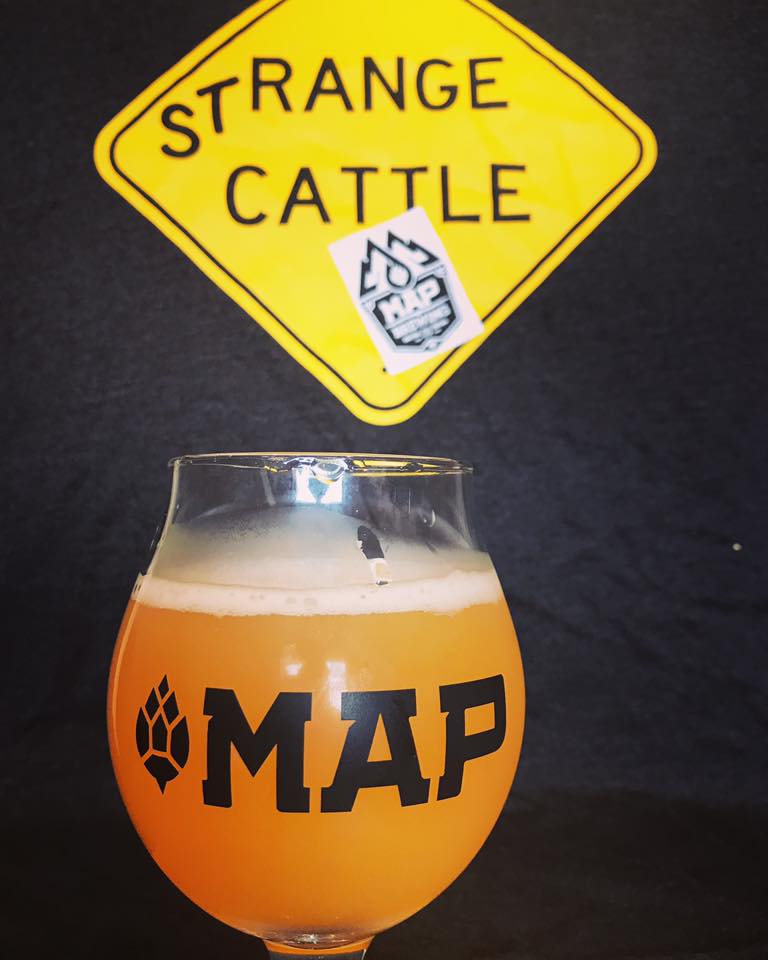 Beyond the delicious beer, Map is very active in their community as well. Each month they partner with a different local non-profit and donate a portion of their sales to the work they do in their community. In addition, each year they contribute over ten thousand dollars' worth of beer, swag and donations to different organizations and fundraisers. They also partner with local non-profits to create special beers they use as fundraisers. They host a number of community events in their space; however this had decreased a bit due to Covid, but they are slowly bringing more of these types of events back.
Locally sourced ingredients are something that's also very important to Map Brewing as well. They're actually a Craft Malt Certified Brewery and over ninety percent of all of the malt they use is local, Montana grown barley, that is also malted by craft maltsters in the state. They're working on incorporating more local hops into their brews as well, as that industry is just starting to take off in their area. In addition, in their kitchen, they use as much local food as they can. Their bread products are all from Montana, as well as all the beef they use in their burgers. Cool fact, they get their brats from a butcher shop just down the road and the use Map beer to make them!
We asked Loy what Map wants to achieve as a brewery and she had this to say, "Our goals are to take care of our people, to grow at a comfortable and manageable rate, and to continually improve our practice in every department.  These things are ongoing goals that we're always trying to achieve, but I'd say that over the last couple of years, these things have been our priority.  I like to think that we are currently doing these things, but that's not to say we can't continue to do better!"
---
What happens when you combine a home brewer/entrepreneur with a chef/restaurateur? You get the start of a beautiful friendship and the beginnings of a craft brewery called Roadhouse Brewing Co.! That's exactly what happened when the paths of Colby Cox (home brewer+entrepreneur) and Gavin Fine (chef+restaurateur) crossed sometime in 2012. Both of them had two things they wanted to accomplish. They wanted the food to complement the beer, and the beer to complement the food. I think it's safe to say they've accomplished their mission, as people keep coming back for the food and the beer!
The brewery is Roadhouse's full production facility with a 30 barrel brewhouse, canning line and barrel room. They have a small taproom on-site with 10 rotating taps of their latest and greatest creations.
At Roadhouse, they strive to capture the soul of Jackson Hole with every beer they produce. Living deep isn't just a dream, it's a passionate pursuit everyday. Roadhouse says that for those lucky enough to call Jackson Hole home, and for those that are just visiting, there is a common thread that binds those together. A desire to satisfy your primal adventurous spirit!
The beer we chose for this article is their Hazy IPA called The Walrus. The Walrus is a Hazy IPA brewed with peaches and tangerine, and both of those play a huge role in the flavor profile of this beer. Very crisp, clean and smooth with peach coming in softly on the front and the tangerine rounding out the sip on the back-end. It's very bright and juicy, with hints of tartness that are supplied by the fruit. None of the flavors overpower the others, so it's quite refreshing and easily drinkable, but at 8.3% ABV, you had better be careful because it can creep up on you! This beer is one to always have around if you find it available in your area.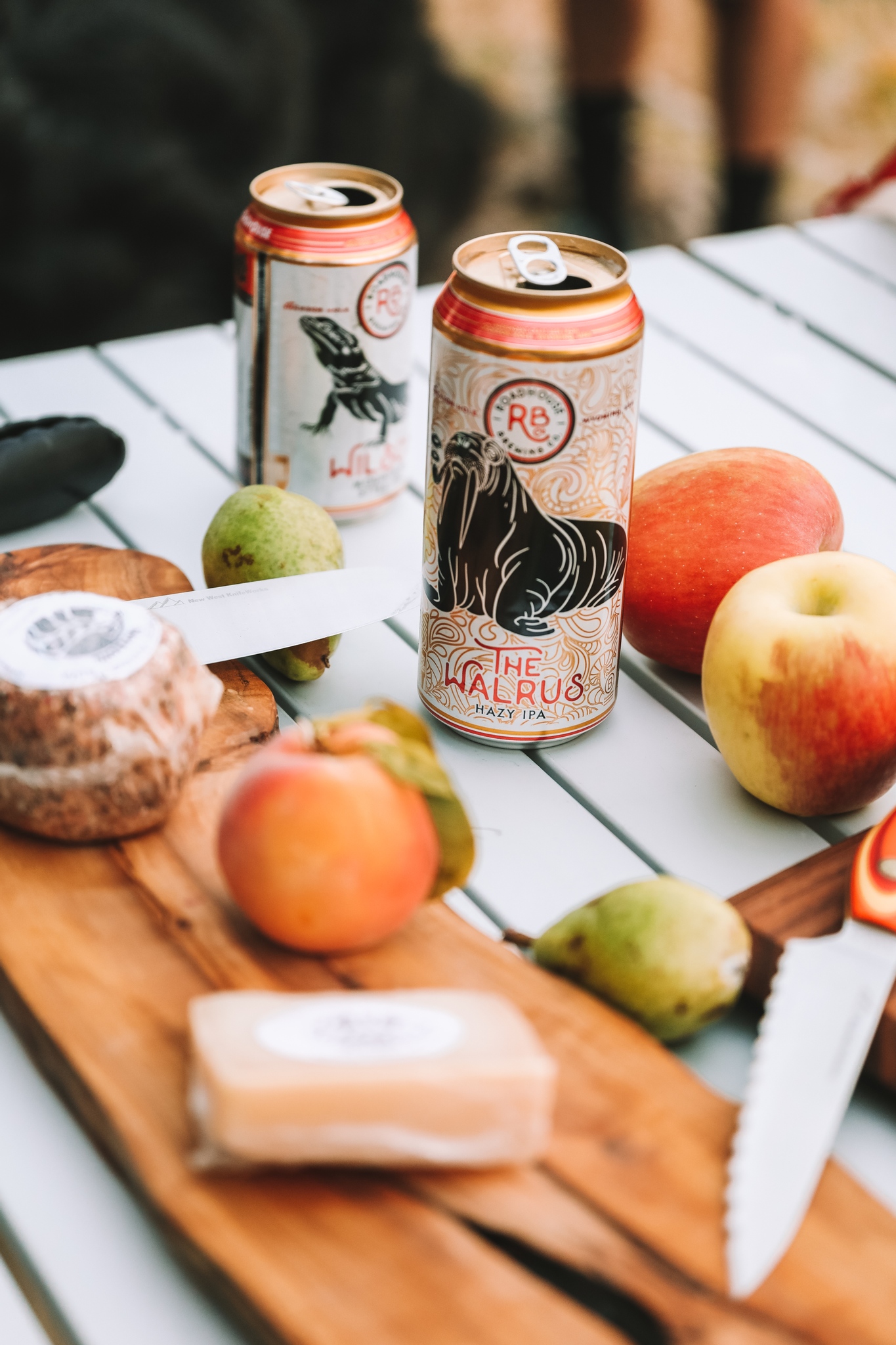 At Roadhouse, their mission is to capture the soul of Jackson Hole in every beer they produce. To them, living deep isn't just a dream, it's a passionate pursuit everyday. It's that passion that also leads them to deepen their commitment to Jackson and their community. By building their brewery there, they wanted to nurture their commitment to helping out the local community and to keep Jackson what it is. Roadhouse is committed to supporting the noble work of search and rescue and that's why they have aligned with the Teton County Search and Rescue Organization (TCSAR).
Roadhouse Brewery is proud to support both the rescue missions of TCSAR and work to help educate citizens about safety in the backcountry. They also recognize the sacrifice and dedication of the hard working TCSAR volunteers who work countless hours to rescue people in our their area every year. Without the support from folks like Roadhouse, the TCSAR wouldn't be able to do nearly as much as they do each year to provide help.
So if you find yourself in the area, do yourself a favor and go visit them and have a delicious craft beer, nice meal and enjoy the scenery!
---
Level Crossing Brewing Company out of Salt Lake City, UT has a very interesting history, with some family tradition wrapped into it. We were lucky enough to have a conversation with Founder and CEO, Mark Medura where he told us all about Level Crossing Brewing Company. We hope you find their story as interesting as we do!
Mark's background was actually in the Whisky industry, where he worked for a little over ten years. After leaving that industry, Mark explained he still had a passion for beer and hospitality. Mark explained that he was fortunate of to be able to choose his own path after selling the distillery and that's how Level Crossing was born.
The name Level Crossing comes from an old expression from where a railroad track would meet a dirt road and it would make a level crossing to get over the track. Mark grew up near one in Pennsylvania and he explained that it was always the meeting place for family reunions and get togethers, and he holds special memories from that time in his life. When coming up with the name for Level Crossing, Mark said he wanted something that was meaningful and symbolic and what better name than Level Crossing because it's a place where people can come together and meet up and have a great time, which is what he wanted his brewery to be for people.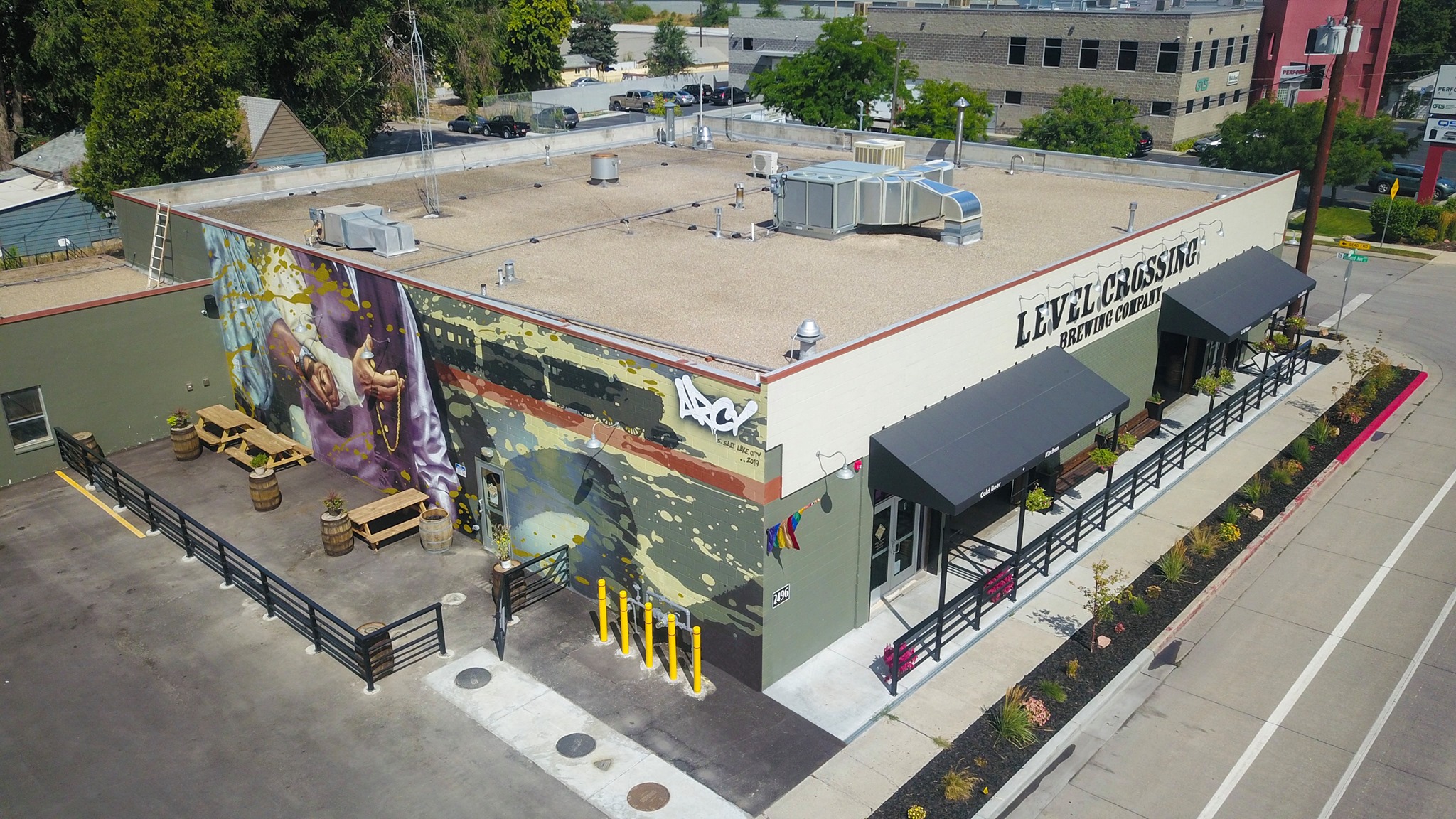 There's also a red feather in their logo that represents a family tradition that Mark's grandmother would always leave an empty place setting at the dinner table just in case somebody ever needed a spot. Whether that be a long lost relative, a weary traveler or whatever the case may be, she always wanted to have an open space for anybody that wanted to join. This is symbolic for Mark as he wanted to incorporate that into the brewery as there's always a place for you at Level Crossing. Mark also explained that even though a brewery is considered a casual hangout place, it doesn't mean they can't try to wow you with great service. Customer service may be somewhat of a lost art, but Mark wants to make sure they are still incorporating excellent customer service once you set foot into Level Crossing.
Mark said that although Level Crossing has a diverse catalog of beer styles, they're more of an American Ale company that's mostly known for their Ales and IPAs. We were able to sample a few styles from Level Crossing and while they were all really good beers, our favorite from the group was their New England style Pale Ale called In The Pines. This beer boasts flavors of orange and citrus and is so smooth. The citrus comes at you from the beginning and then gives way to a hint of orange flavor on the back and finishes with a little bit of zest to cap it off. While it's not technically a session beer, it's a 5% ABV beer that you can really sip on and enjoy.
Like many crafter breweries, Level Crossing uses their beer to help give back to the community as well. One such project is they brew a beer call Rock On Lager. Level Crossing partnered with a local organization called Salt Lake Academy of Music or SLAM for short. This is an organization that provides quality instruments and education to local SLC kids. They donated $1 per pint sold and the brewery to SLAM. To go along with this, Mark explained that he's a big music fan and they actually converted an old flatbed pickup truck into a stage!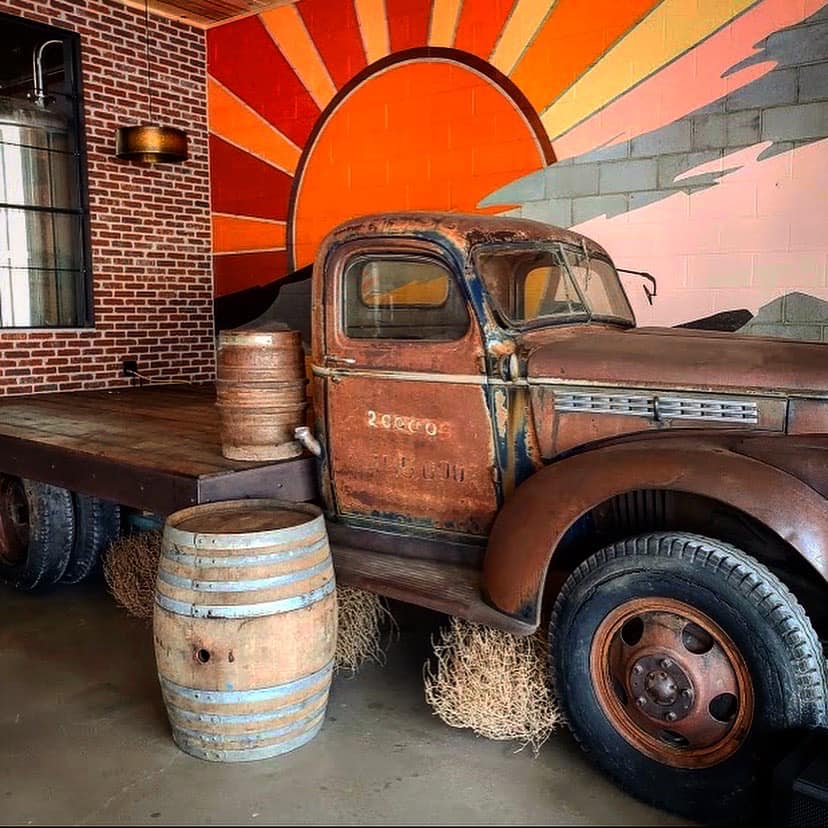 Level Crossing also partners with local artists in the area to paint murals they have on the outside of their building, just to keep it local and try to support the local art scene in their community. Speaking of art, if you notice the mural on the wall behind the stage truck, it was actually painted by a lady that was the co-designer of the Beatles Sgt. Pepper album cover! Talk about something very cool and unique. Don't just take our word, or Mark's word for it though, go check out Level Crossing for yourself!
---