15 Comments
Craft Beer Across America | 50 Beers From 50 States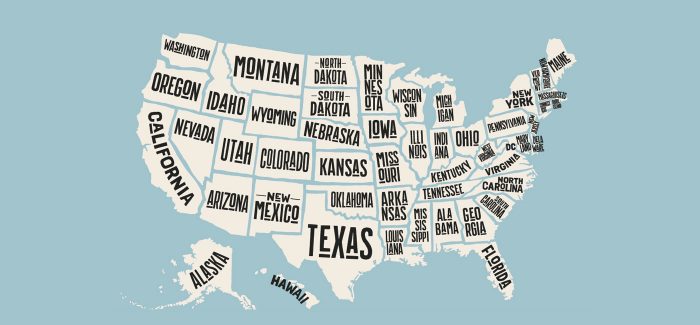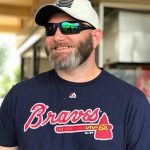 The United States of America, the epitome of freedom, the land of "milk and honey," or in the case of this article, the land of milk, honey, hops, grain, yeast, water, rice, fruit and whatever other ingredients or adjuncts a brewer wants to use to make craft beer. With nearly 9,000 thousand craft breweries spread out across this great nation, the options to wet one's craft beer whistle in this country seem to be endless. We are very fortunate to have these choices readily available to us here and that's why we wanted to explore what the micro craft breweries across America have to offer.
We started doing our research for this project towards the end of September of this year and we've garnered a craft beer from a micro-brewery from each state to really show what's out there for those who wish to seek great craft beer. Chances are that unless you live near these breweries or have visited the area the brewery is in, you've likely not heard of most of them. We wanted to highlight the smaller, lesser-known craft breweries that don't always get the attention that most of the larger craft breweries receive. Many of these breweries have distribution, even if it's just distributed to a small, local market. Obviously, the craft brewery scene is very small in some states, so there are a few breweries on this list that provided a crowler to sample instead of a canned or bottled product that gets distributed regularly.
Jump to your state:
This article is not a "best of" list. We find it hard to do an article saying something is the best because one person's palate is different from the next persons. This list simply highlights a craft beer from a micro-brewery from that state that was chosen by the brewery as a beer that they felt best represented their brewery. So please join us and read on to find out what brewery and beer represented your state!
ALABAMA
Birmingham, AL
If you're not familiar with one of the South's hidden micro brewery gems, let us introduce you to TrimTab Brewing. They have been pumping out exciting beers since 2013 and they are literally just getting started. TrimTab Brewing is known for their IPA's, experimental Stouts and their tongue tingling Fruited Sours.
A little about the brewery, a trimtab is a small piece of equipment on ships and aircrafts. It's the small rudder attached to the larger rudder. While it doesn't look like much, or like it's capable of being an important piece, it's actually what guides the ship. TrimTab Brewing took on this meaning and created their namesake. From the TribTab website it says "We each have the ability to make huge lasting impacts on this world, most notably with small things in our reach." As if to say, no matter how small of an impact you think you might have, it goes well beyond that and we are all way more important than we think.
The beer we're featuring for TrimTab is called Martin Denny Complex. It's an Imperial Sour with Passionfruit, Peach and Vanilla. Named for piano player and composer Martin Denny, who was known for taking his style of lounge music and rearranging popular songs and original songs that celebrate tiki culture.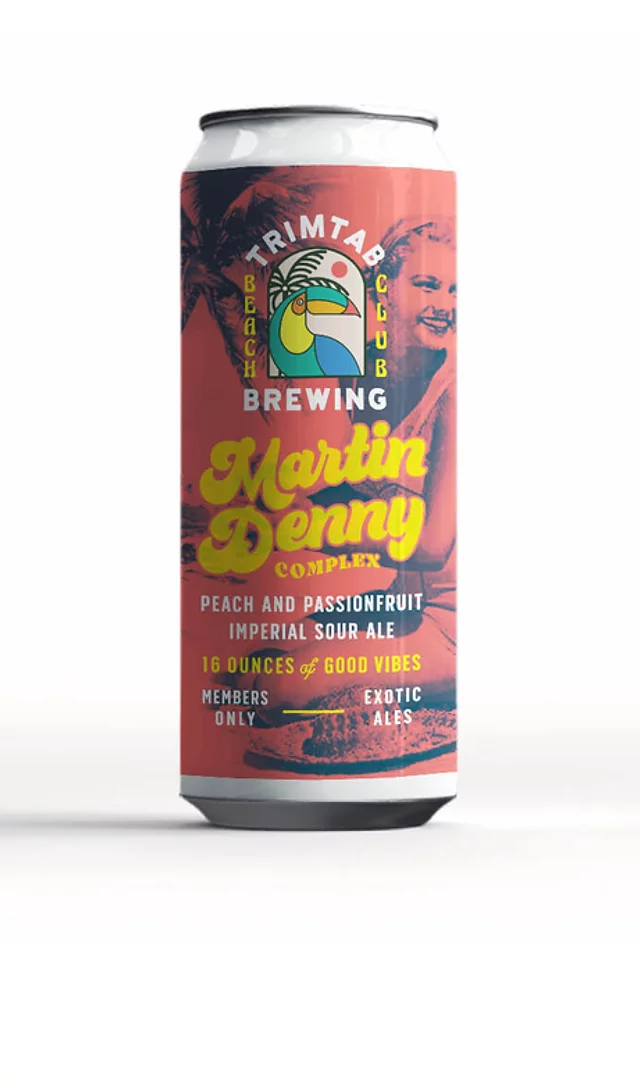 This beer does just that, it really puts you in mind of being on a beach somewhere listening to the waves roll in. When you crack it open you get the smell of fruity, sour candy. The first sip produces lingering tartness up front with a nice peach flavor on the back end with the tartness lingering through to the finish. There's a slight hint of vanilla about mid-way through that really sets the tone for the style of beer. The touch of vanilla may be small, but it balances the candy sweetness and tartness and it starts to remind you of a Tiki drink!
ALASKA
Anchorage, AK
Picture yourself in Alaska, immersing yourself in the exhilarating natural beauty that the state has to offer. Sure, it's known for being very cold in Alaska, but the state has so much to offer and you can always get used to the cold or put more clothing on! One of those things they have to offer is in the form of 49th State Brewing. Their Anchorage location is located right on the water near the Gulf of Alaska. Even though beer is typically drank cold, and the weather there is cold, the picture below really makes us want to go there and enjoy a pint.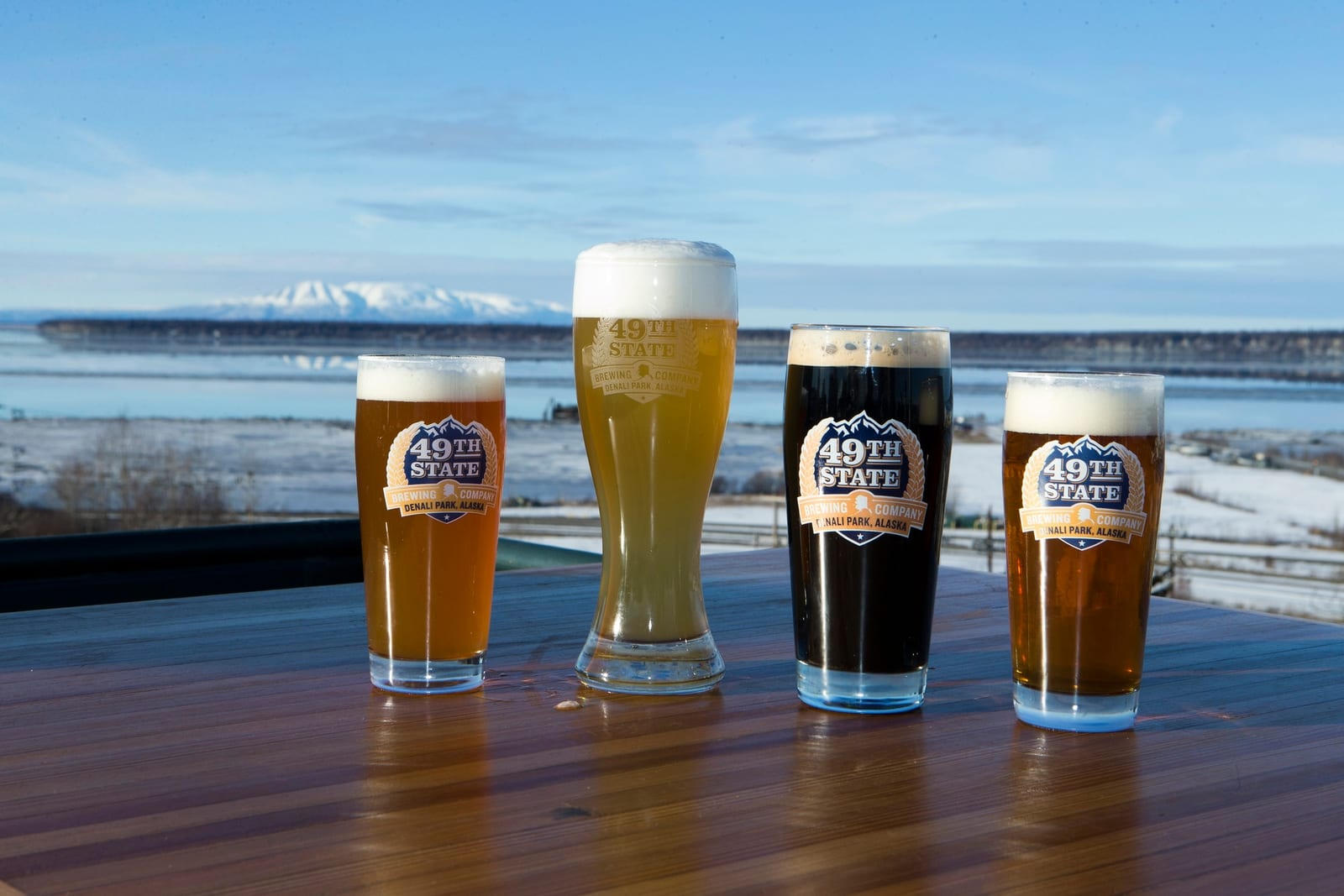 49th State Brewing prides themselves on being a place for community. To have a place where anybody can come and hang out and have a delicious craft beer and enjoy some of the finest food in the area. The servers at 49th State Brewing are all Cicerone Certified and they provide the proper glassware for the varying beer styles they offer.
We're featuring Alaska 8 Star Lager from 49th State Brewing for this article. Alaska 8 Star is a Helles style Lager brewed with pure glacial water.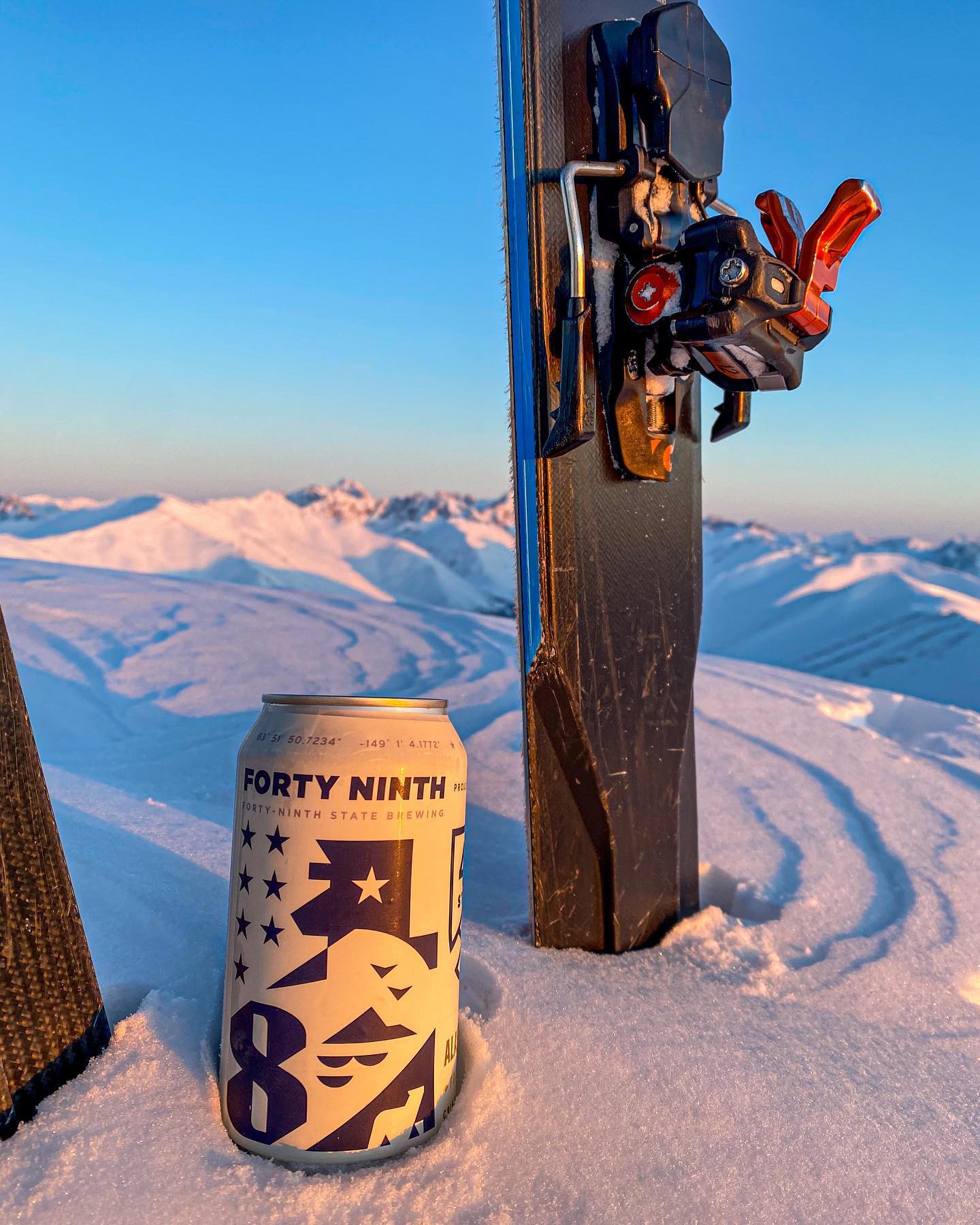 This is a light bodied lager with a tremendous amount of flavor. It's smooth, crisp and very clean tasting, which we know can be very hard to pull off in a Lager. Alaska 8 Star is an extremely crushable Lager, and weighing in a 4.9% ABV you could knock a few back without having to worry about it. You could drink these all day while cutting grass on a hot summer day, or even while blowing snow. In either scenario this beer wouldn't let you down!
ARIZONA
Williams, AZ
While the Grand Canyon Brewing Company might not be famous nationwide yet, where it's located is considered to be an iconic location. Grand Canyon Brewing Company rests right off the famous Route 66 in Williams, AZ. At one point in time, Route 66 used to be called "Main Street of America" because it traversed across the South and Midwest and was lined with cafes, gas stations and numerous tourist attractions. We might not be enamored with Route 66 like we used to be as a country, but that shouldn't stop you from wanted to take a drive and do some exploring. While you're out there, stop in and pay a visit to Grand Canyon Brewing Company.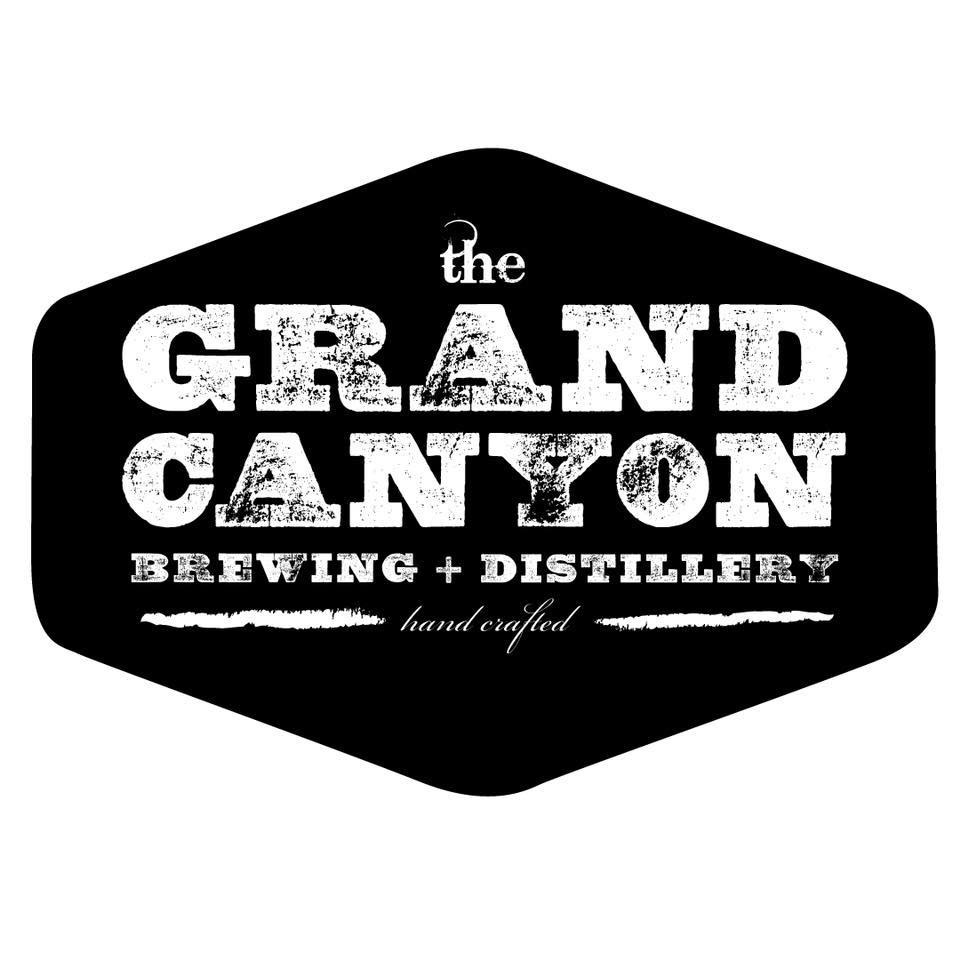 The beer we're featuring for this article is their Prickly Pear Wheat Ale. When you open the can you get a nice whiff of the pear and some fruit coming right at you. This is a good indicator of what is to come for your palate next. First sip brings a very well balanced Wheat beer flavor that's enhanced by a subtle sweetness that's imparted by the prickly pear that it's brewed with. We think this Wheat beer would be an excellent base beer and then they add the prickly pear to the mix and it takes it to the top. It's a very well-balanced beer that's not too much or too little of anything. We find the flavor profile for this beer is just right and would be a perfect match for the heat out in Arizona, or anywhere for that matter. From Grand Canyon Brewing Company, "Native to our beloved home state, the prickly pear imparts a delicate sweetness to our award winning wheat ale, to create a crisp and flavorful brew."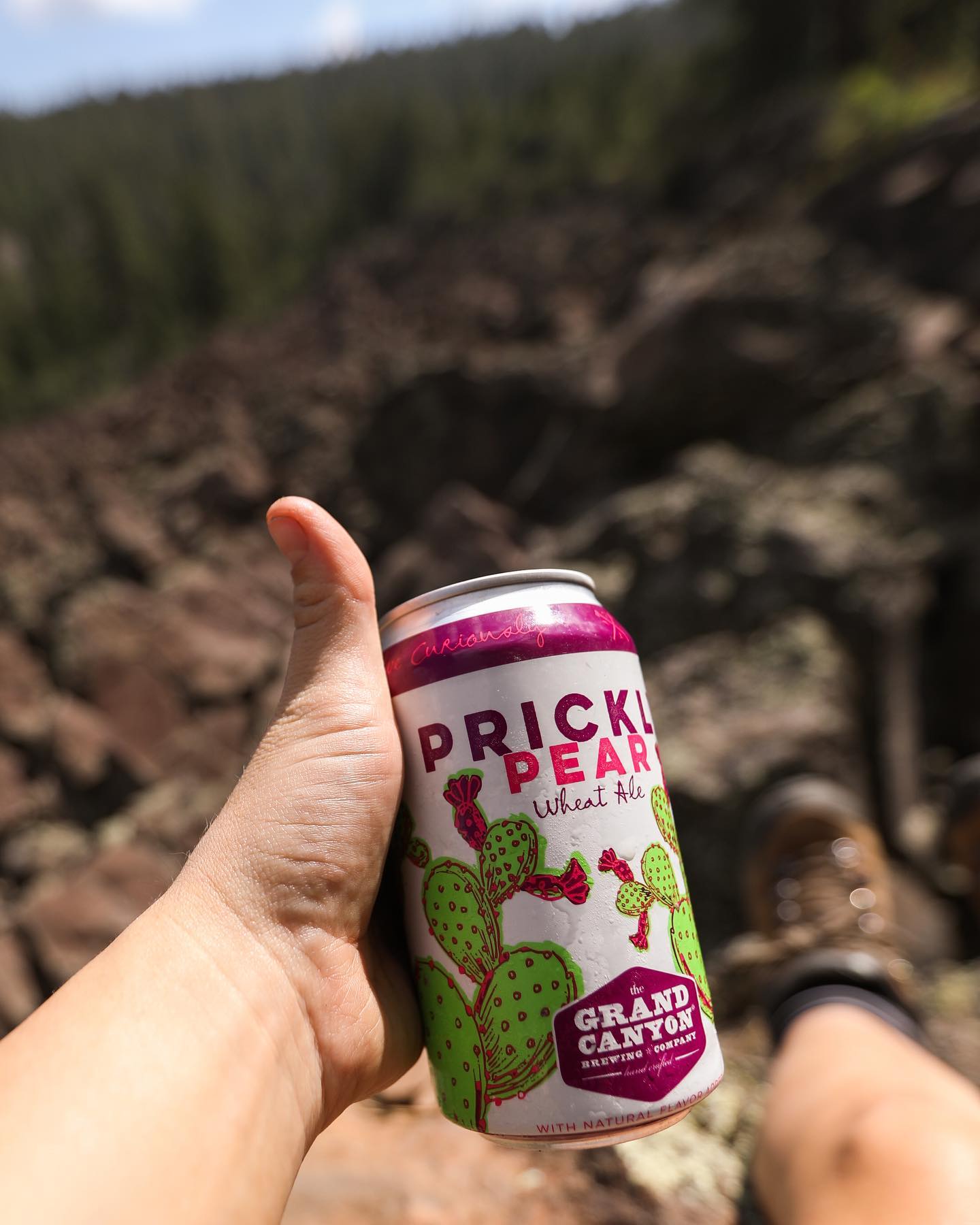 We think Grand Canyon Brewing Company has brewed an exceptional beer and the taste and quality that they are going for is spot on. Coming in at 4.9% you could have a few of these without feeling like you're overdoing it any time of the year, especially in the summer months. If you come across this beer give it a try, or any of their beers for that matter, you won't be disappointed.
ARKANSAS
Fayetteville, AR
What an intriguing name for a brewery, Fossil Cove. As with everything though, there is a specific reason behind the naming of this Fayetteville based brewery. Fossil Cove Brewing is situated just south of Beaver Lake, which just happens to be where they source their water as well. One of the coves of the lake is nicknamed Fossil Cove, for the fossil laden cove on the shoreline of Beaver Lake.
Fossil Cove has really taken the fossil and dinosaur theme and ran with it. From their merchandise and glassware, to their can art designs which all feature a dinosaur or prehistoric theme. If you're a fan of unique can or label designs, you'll love the artwork that seems to jump out at you on these Fossil Cove brews.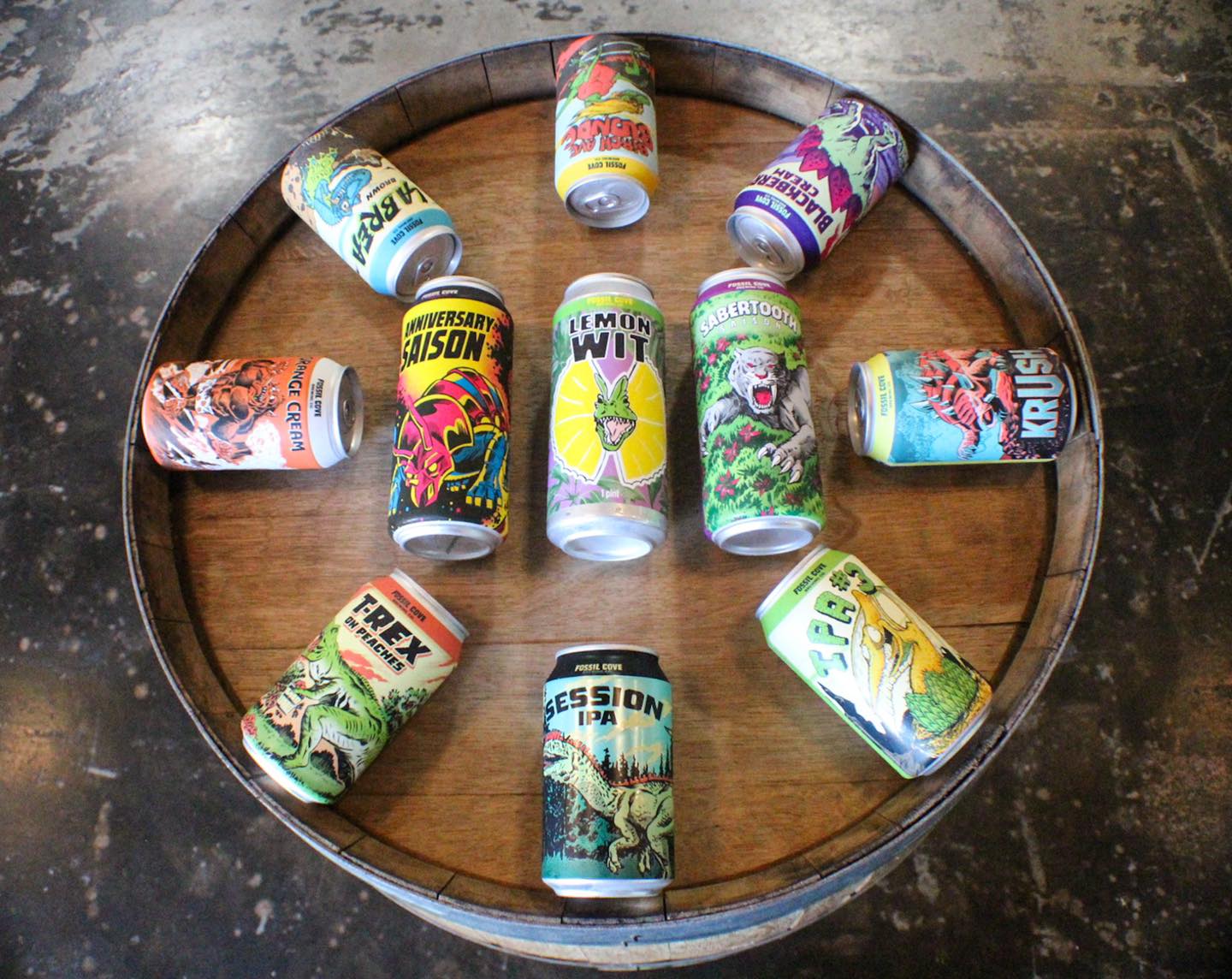 The beer we're featuring from Fossil Cove for this article is their Blackberry Cream Ale. As you could guess by the name of the beer, it's a cream ale, but it's brewed with lactose sugar and blackberries. This beer is a real treat in a can, one that's brewed with just the right amount of ingredients. The flavor profile is a simple one. We get a slight sweetness that comes at you first, followed by the tartness that the blackberries evoke and the finish is a hint of the blackberry flavor. With this being a cream ale, it's just as advertised. Super smooth with a nice creamy mouthfeel that puts you in mind of a blackberry cobbler.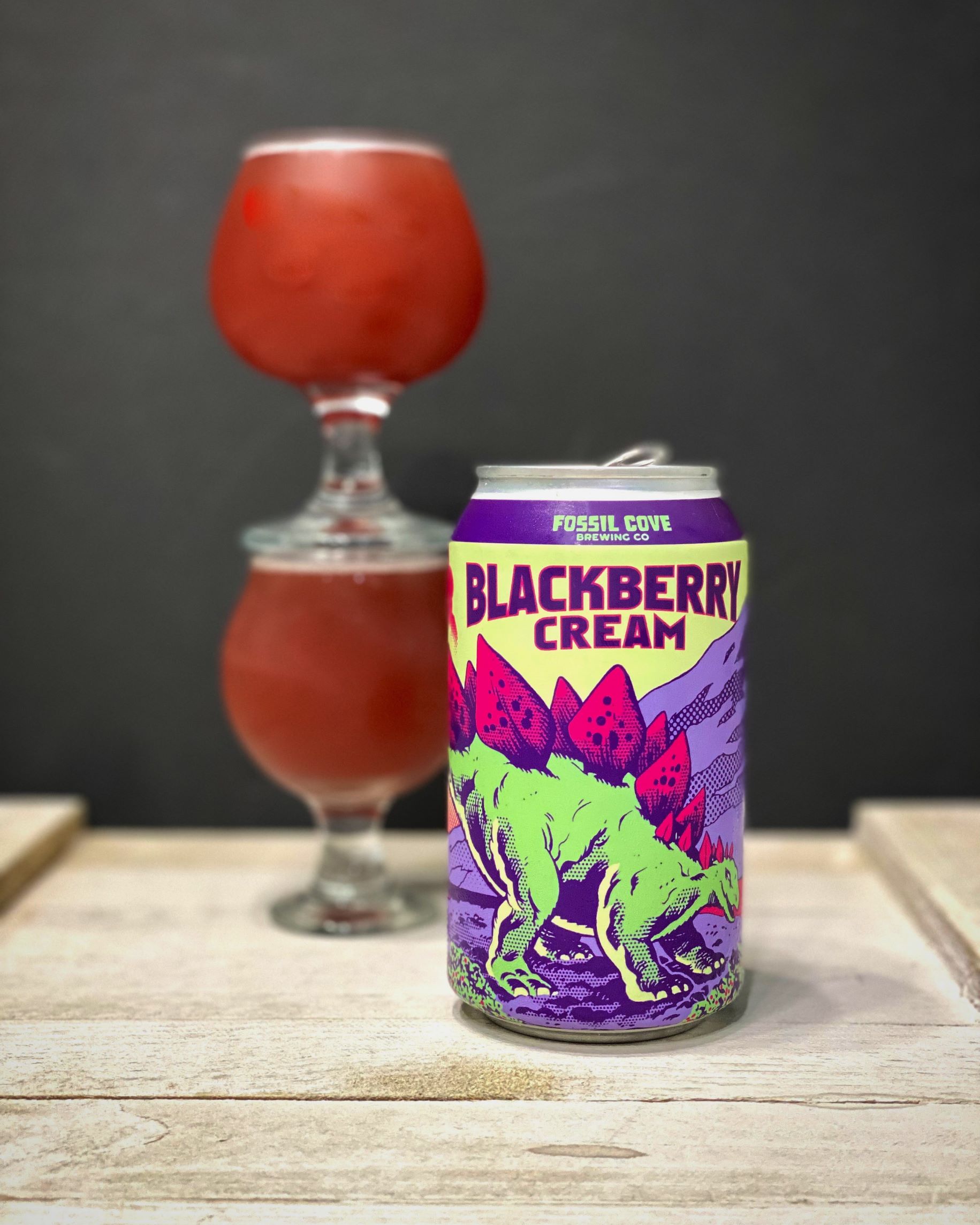 While the dinosaur on the can art might be extinct, you can find this beer at the brewery as it's one of their year round offerings. For a style that's not often talked about, the Cream Ale, they really brought this one to life and packed it full of flavor. Make no bones about it, if you're near Fayetteville you need to try this beer!
CALIFORNIA
San Marcos, CA
The state of California has more craft breweries than any other state in the nation. It's home to over 1100 craft breweries as of March 2021. With that many craft breweries in a specific state, how do you choose just one brewery and one beer from that brewery to be featured in an article like this? We feel as though Wild Barrel just kind of fell into our lap. Again, this isn't an article crowning something the best, we know that everyone's opinions and palates for that matter, differ all across the board.
We had previously heard a podcast episode of Beer Guys Radio that featured Wild Barrel Brewing and their co-founder Bill Sysak, or "Dr. BIll" as he's known in the craft beer world. We enjoyed that podcast and what Dr. Bill had to say so much that it stuck with us. Once it was time to choose a brewery for California, it was a no-brainer to reach out to Wild Barrel. As we expected, Dr. Bill was a pleasure to talk with and was very professional and friendly to boot.
The beer we're featuring for this article is called Vice Watermelon Apricot, a Berliner Weisse brewed with Watermelons and Apricots.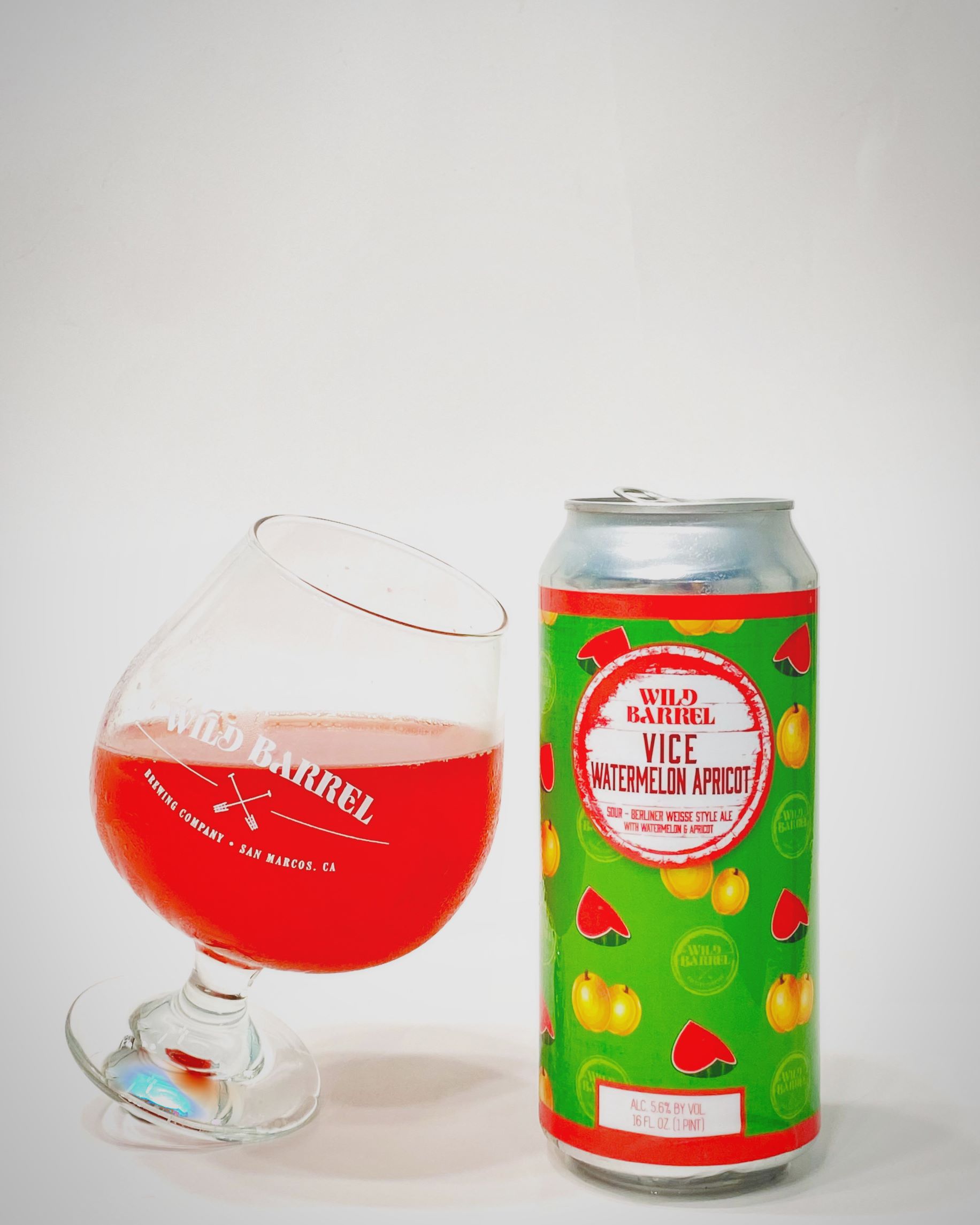 What a treat this beer was to drink! It was like drinking a Jolly Rancher in a can. Pungent flavors of watermelon dominate the profile on this beer. Not to be outdone by the watermelon though, the apricot plays a nice supporting role to the watermelon and adds a nice hint of tartness and bright fruit flavor that the sip finishes with. These two flavors balance each other out extremely well without overdoing it on either profile. Even if you're not a fan of watermelon, we think you would still thoroughly enjoy what this beer has to offer, or any of their beers for that matter. At the end of the day we were like a kid in a candy store with this beer, and we think you would be too!
COLORADO
Golden, CO
Colorado is another state that's rich in craft breweries as well. Colorado finds itself being called home to over 400 craft breweries. One of those craft breweries is Coda Brewing located in Golden, CO. Coda is known for their Fruit Beers, Sours, Saisons and IPAs. Coda's founder, Luke Smith's goal is to provide uniquely hand crafted ales and lagers for craft beer enthusiasts.
The beer we're featuring for this article is their SO GO Hazy IPA. SO GO is brewed with Blanc and Mosaic hops and weighs in at 6.9% ABV.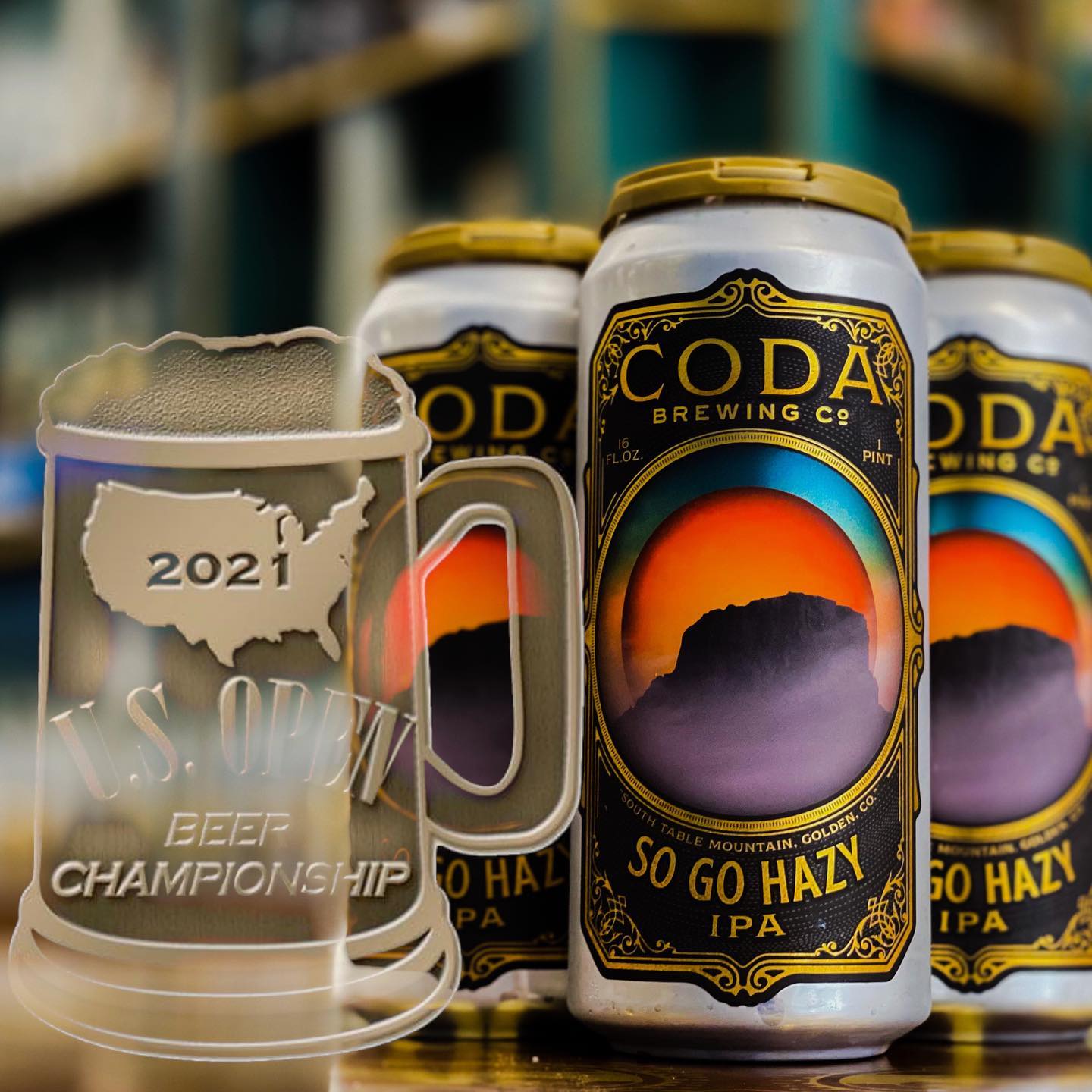 SO GO won a Gold Medal at the 2021 U.S. Open Beer Championship in the category of Juicy or Hazy Strong Pale Ale. We can easily see why this beer is a Gold Medal winner too. Upon opening the beer, you get a very pleasant nose of Tangerine that tells you what you are about to get into.
SO GO is an extremely smooth drinking beer that makes your tastes buds do a little dance! Orange and Tangerine hug the palate throughout the sip that transitions into a softy pillow like mouthfeel. The flavors really stay around for a while too, they don't just dissipate quickly as the sip ends. We think SO GO is a beer worth writing home about, and especially writing home to tell the family that you just won a Gold Medal. Don't just take our word for it though, if you find yourself out in Golden, stop by CODA Brewing and try it and their other beer elixers. We'll leave you with the CODA Brewing motto that we're quite fond of, "Ale's what cures you."
CONNECTICUT
East Hartford, CT
The next stop on our craft beer journey across America takes us to Connecticut, specifically East Hartford, Connecticut where we get a little history lesson from East Hartford Brewing.
East Hartford Brewing operates out of a very historical building that was originally built back in 1911 that served as the Burnside Ice Co. That building burnt down in 1930, but was rebuilt to continue to serve the New England area. Fast forward to the 1960's when the Burnside Ice Co. needed a way to cool off their new ice machinery. They ended up drilling a deep well and they used water straight from the source, which turned out to be a gold mine for them. They ended up installing self serve water spigots in the front of the building for folks to enjoy their water at a low cost. This eventually led them to develop relationships with local home brewers who explained to them that their water was perfect for brewing beer.
In November of 2000 Old Burnside Brewing Company opened their doors where they operated that brewery for 18 years. One of their staple beers was called Ten Penny Ale, which became a favorite of the local community and across most of New England.
A short time after it's closure, the building became what is now East Hartford Brewing Group. The East Hartford Brewing Group wanted to pay homage to the Old Burnside Brewery so they brought back the original Ten Penny Ale under their name.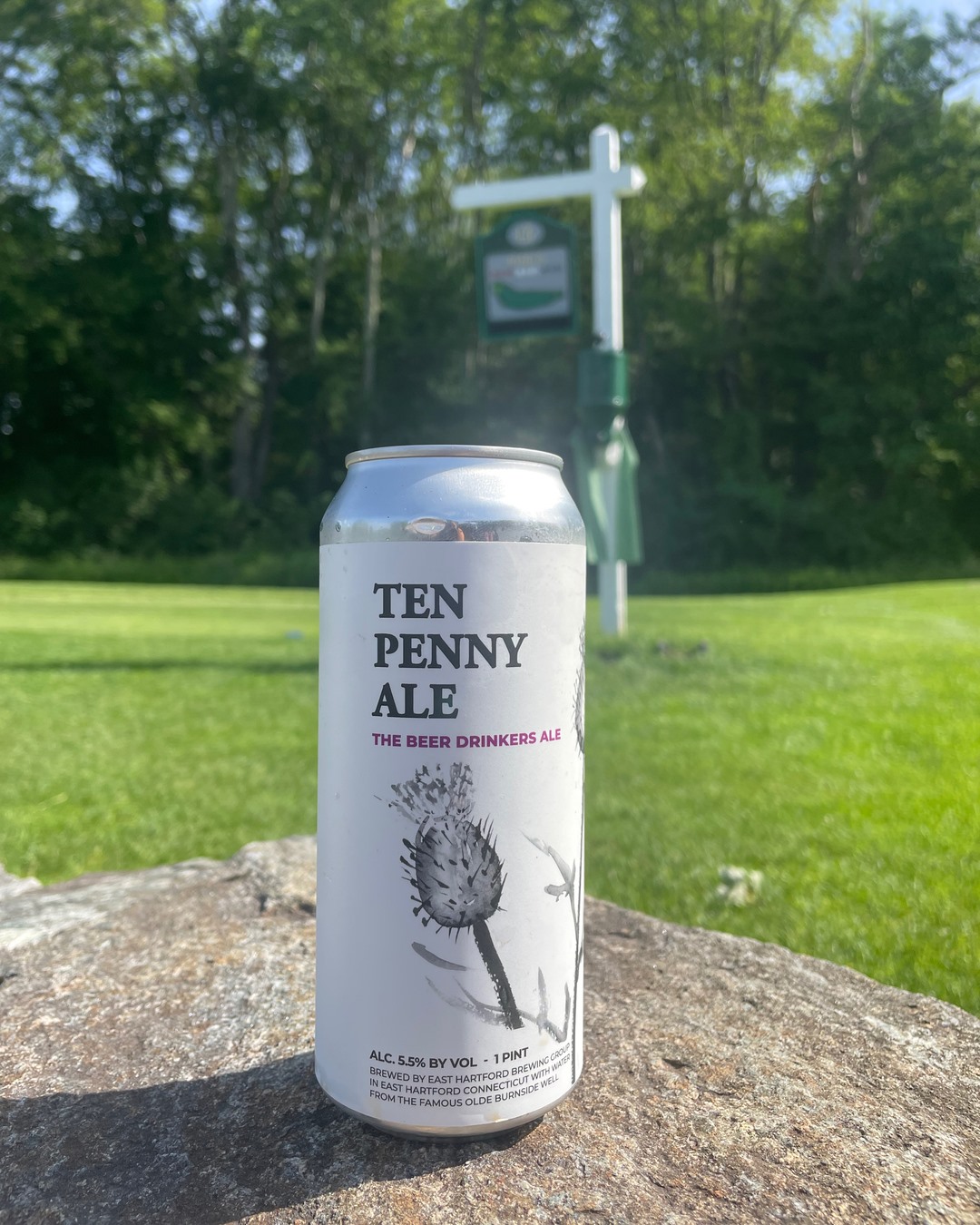 Ten Penny Ale, or "The Beer Drinkers Ale" is it's referred to, is an extraordinary Scottish Ale. This is an often overlooked style in today's world, but after drinking this beer, we feel like you won't soon forget it. The profile of this beer is smooth, crisp and clean, with a touch of that malty sweet backbone that drives the flavor home. This really is a beer drinkers ale, a beer that you can just sit down with and enjoy the rich flavors that it provides. East Hartford Brewing did an exceptional job on this beer and although we never tried the original, we feel like it would make the Old Burnside Brewery very proud!
DELAWARE
Rehoboth Beach, DE
Located on the beautiful Rehoboth Beach on the coast of Delaware, Thompson Island Brewing Company welcomes you in and invites you to come by for a visit and have a little, or a lot of fun at their brewery. Thompson Island Brewing Company is named after an island in the Rehoboth Bay and according to them, it's reminiscent of a beach picnic and bonfire of your childhood growing up in that area.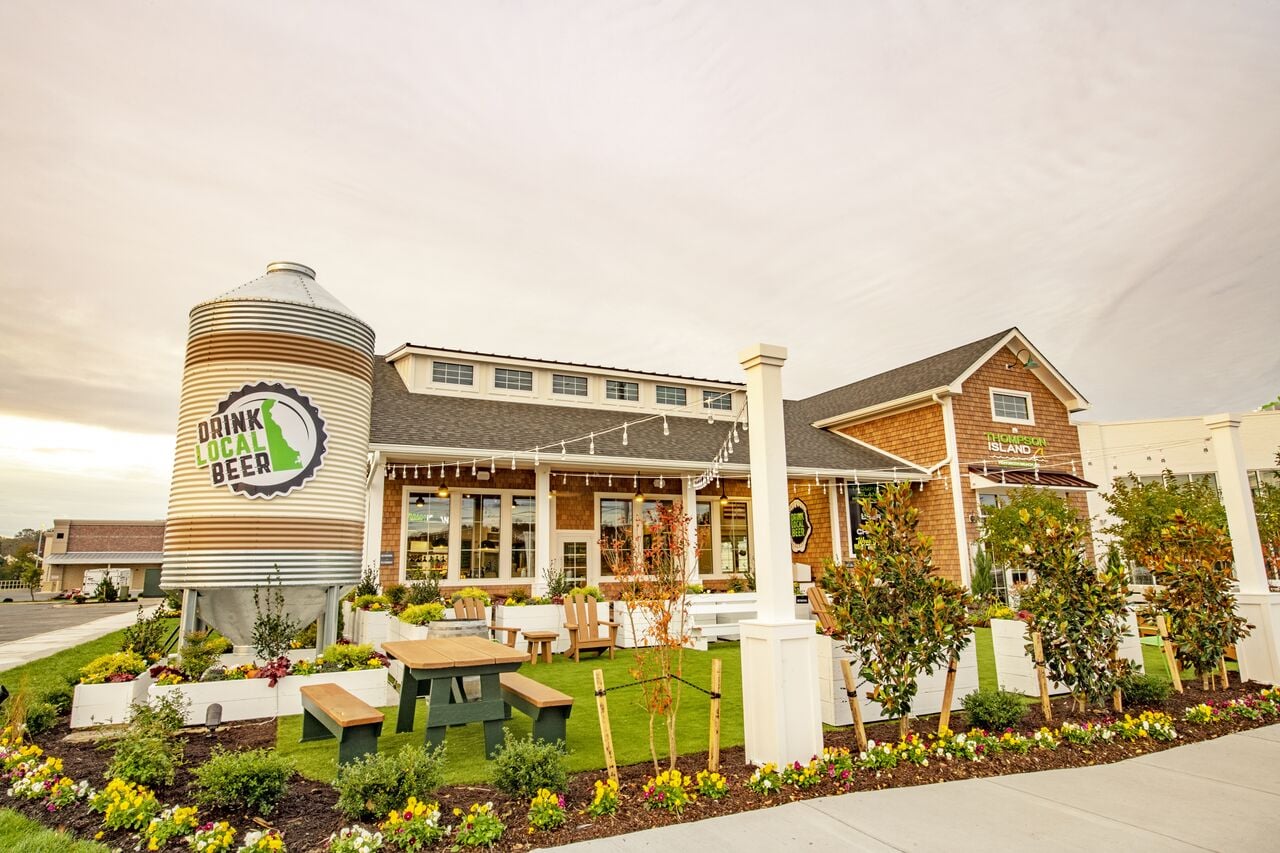 Thompson Island Brewing Company is a very inviting and laid back atmosphere. They are located next door to their sister restaurant Bluecoast Seafood Grill + Raw Bar which features a dining room, porch, bar and a beer garden with ping-pong and bocce ball. With an overall experience like this, accompanied by their stellar craft beer lineup, you'd be hard pressed to find a better place to relax and enjoy your time.
For this article, we are featuring their Thompson Island IPA. This is their signature beer and their "go to" IPA.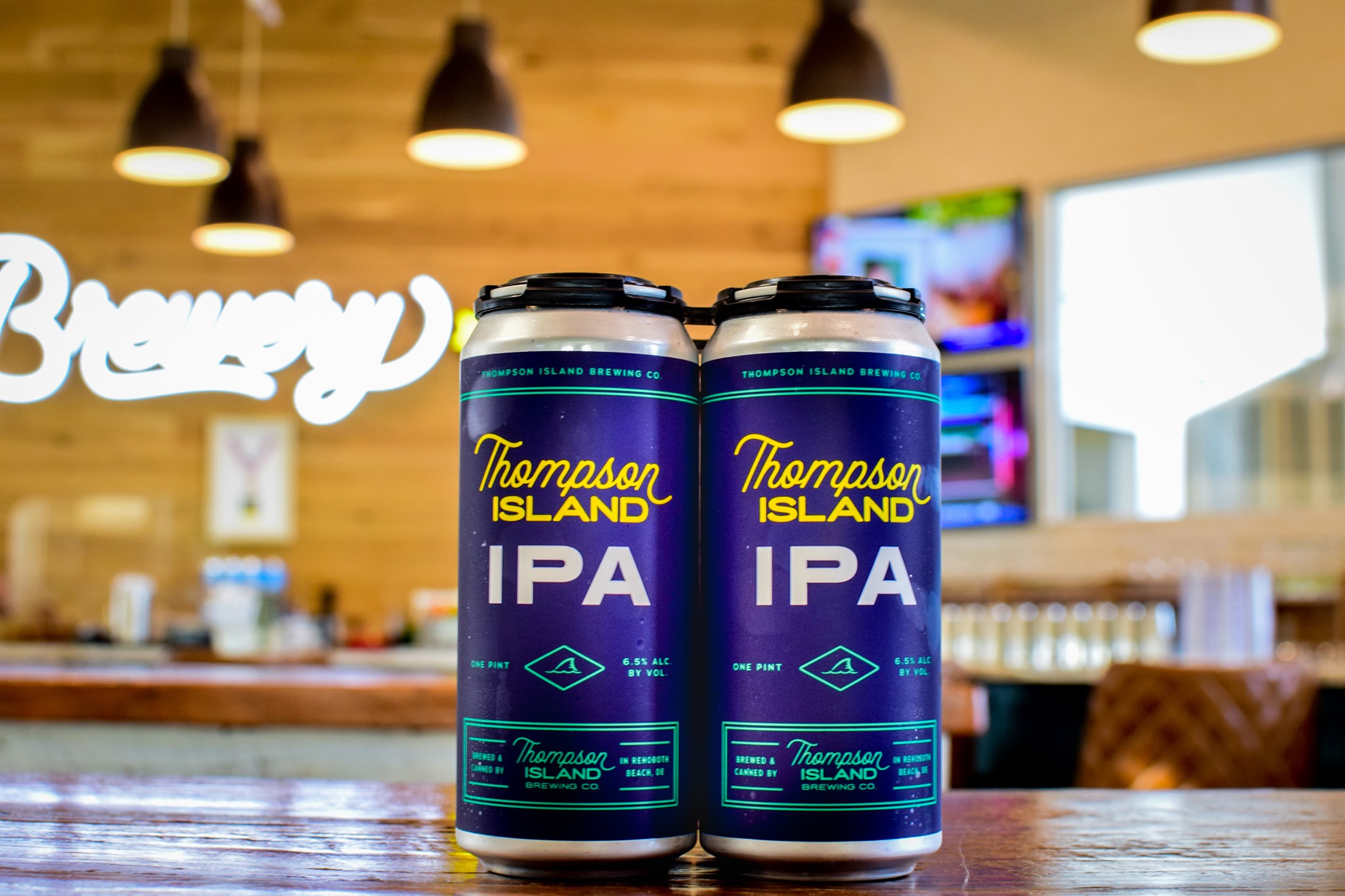 It's a very well-balanced beer, not overly sweet with a nice hop bite that finishes with a hint of citrus and some dank goodness. It finishes with a slight resinous note and lingers for just a brief moment. It's  brewed with a small amount of English Crystal Malt that give it a bit of a toffee note. This is a real palate pleaser of a beer that's sure to quench just about anybody's thirst. We could definitely see ourselves playing bocce ball and enjoying a few of these as the day slips off into the evening.
FLORIDA
Orlando, FL
Tactical Brewing was founded by Veterans and passionate people who love craft beer, simply put. Their motto is "Strategically Chaotic Beer", which emphasizes how they will never stop trying to push the boundaries in their brewing process and the beers the create.
Pushing the boundaries is working really well for them as they have brewed some of the highest quality beers all the while making some of the most extraordinary ones to boot. They're not afraid to branch out and use a plethora of different ingredients in their brewing processes. Some of those ingredients used at different times have been habaneros, grilled pineapples, pistachios and oysters to name a few. While they love creating some of these unique beers, they also have some of your traditional Amber Lagers, IPAs, Wheat Beers and Stouts.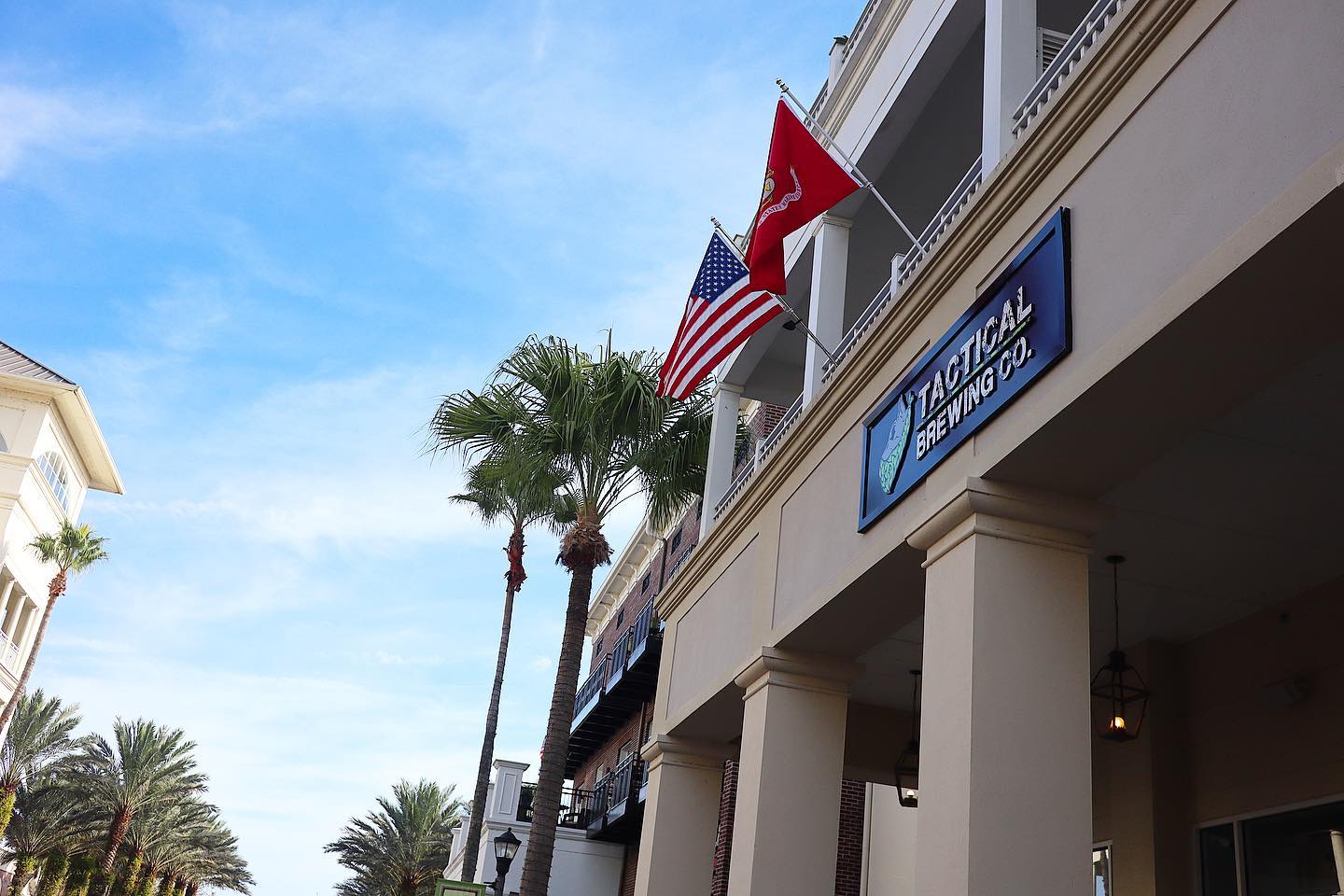 The beer we're featuring for this article is their 11 Alive, a White Stout aged on toasted coconut and coffee. What a joy this beer was to drink! A heavy nose of coffee arose once the cork was popped, as if to tell us what we were about to be in for. As you could expect, the initial first sip produced a delicious coffee flavor that rang like freedom throughout the sip. The beer is silky smooth and slightly sweet as the toasted coconut emerged from it's slumber toward the end of the sip.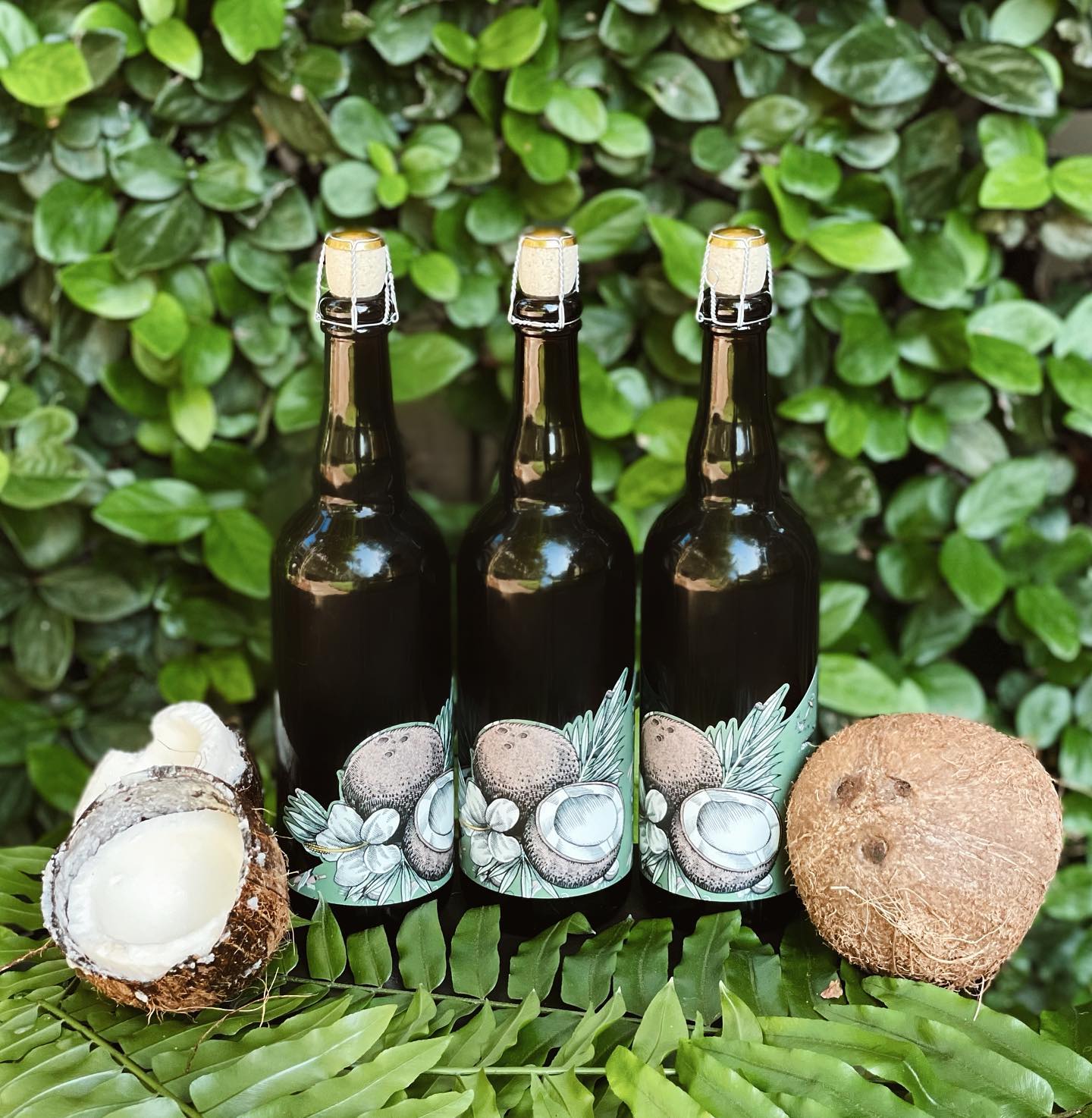 If you like coffee beers, of any style, this one holds up to any of the others out there in the market. The coffee flavor alone is a huge upside for this beer, but then you add the toasted coconut that give it the sweetness that does a great job balancing out the coffee. If we could order one of these at the drive thru of our local coffee shop, the waiting in line wouldn't be so bad at all.
Tactical Brewing says that this is one of their favorite recipes, and the first White Stout they ever created, years ago. We believe they have this recipe down pat and it's no wonder why this beer has stood the test of time. This beer is really a what you see is what you get beer, no crazy adjuncts, just a delicious White Stout with coffee and coconut, and that's perfect for us.
GEORGIA
Atlanta, GA
Fresh off of their nod from USA Today as the #2 best new brewery in America, Fire Maker Brewing is cranking out high quality craft brews in Atlanta.
Fire Maker Brewing is family owned and family built. Elliott Hall, the Owner and Co-Founder spent the years of his youth working in construction learning the value of hard work, and learning to run a business from his family, who owned a construction company. Elliot eventually began working in the craft beer industry where he worked for over a decade doing various jobs while learning the business. His passion for the industry led him to want to build and open his own brewery. Elliot wanted a brewery that was made up of passionate people like himself, free thinkers, go-getters, and explorers, who according to Elliot, "illuminate themselves and the people around them: Fire Makers"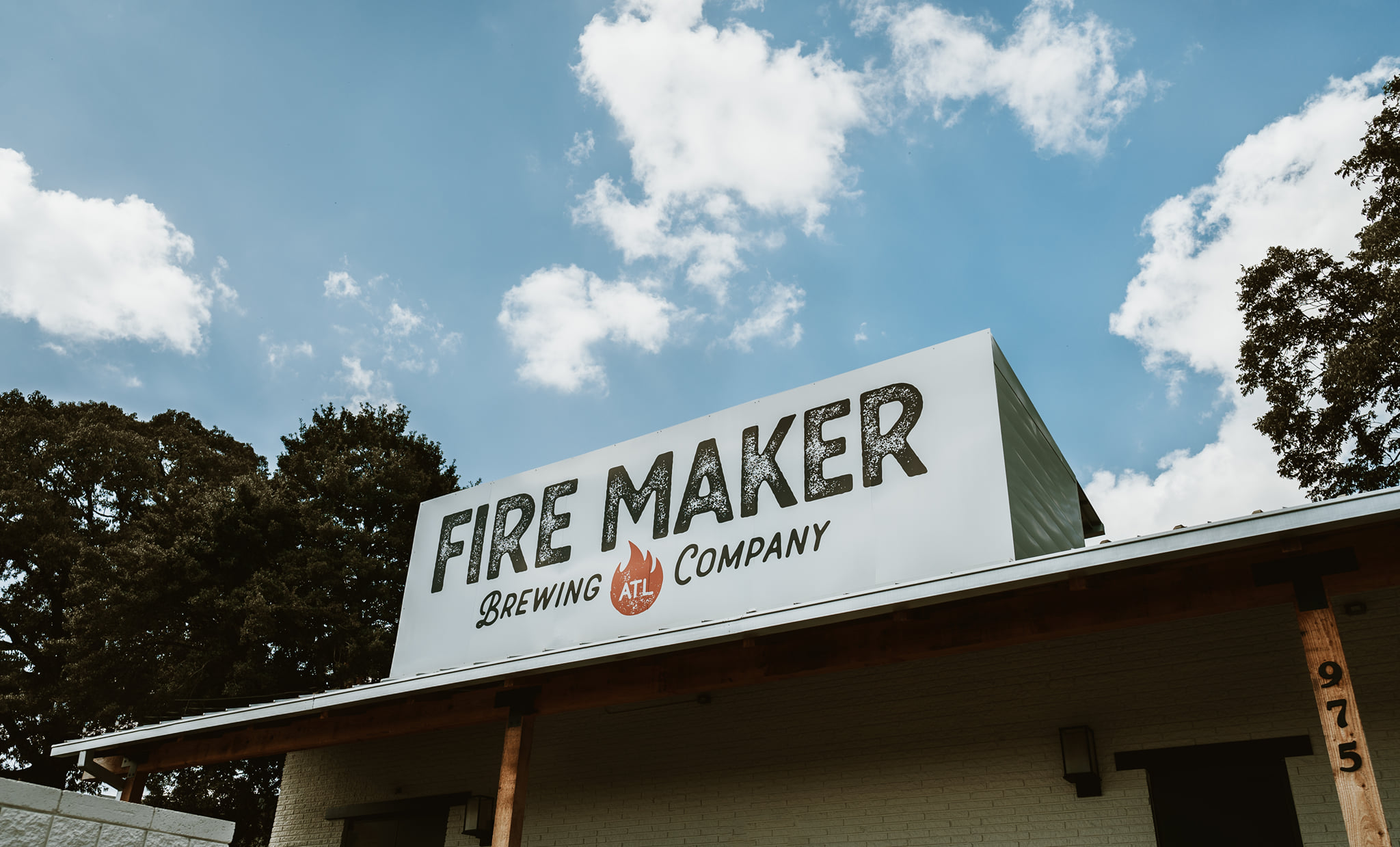 While we could have chosen any of the Fire Maker lineup of craft beers, there was one in particular that we felt was just right for this article. What beer could represent craft beer in the south so well? The answer is simple, Chattahooch-Tea Southeastern IPA.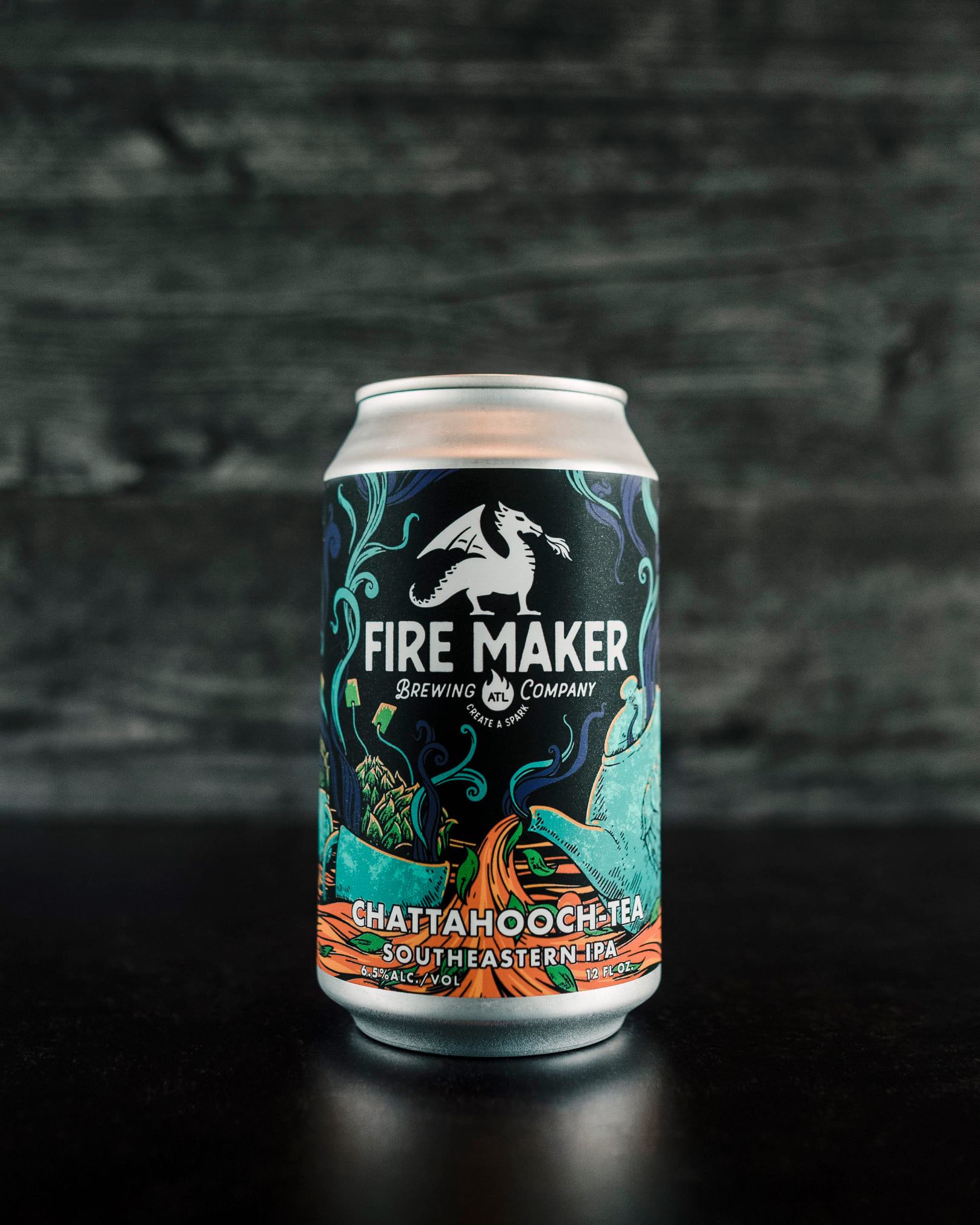 If there's one non-alcoholic drink that's synonymous with the south, it has to be sweet tea. Sweet tea is like liquid delicacy in the south and the sweeter the better. Try to slip a native Georgian an unsweet tea and see how quick it comes back to you, or maybe you shouldn't.
Chattahooch-Tea is a nod to that sweet liquid that's loved around the south by many and to the Chattahoochee River that many Georgians spend their summer on. It's steeped with a custom tea blend and lactose is added to make it sweet, like the South. It's brewed with hints of honey malt and double dry hopped with Lemondrop and Motueka.
This is a very smooth drinking IPA. The use of Lemondrop really accentuates the flavor profile of the beer, and the honey is prevalent on the back end where it's just a subtle, yet noticeable hint. The addition of lactose adds to the smoothness, but also creates an almost creamy mouthfeel that puts you in mind of drinking sweet tea. All the ingredients in this beer just flow so well together and they each play an integral part of the overall flavor of the beer. It's brewed exceptionally well and just right! Sweet Tea and craft beer lovers all around rejoice!
HAWAII
Hilo, HI
Established in 2018, the Hilo Brewing team has decades of brewing and beverage experience and they have been poised to jump in and fill the Big Island craft beer void in their local marketplace since their inception.
Brewmaster Sebastian Bach's career spans over a decade in the craft beer industry. He studied chemistry in San Diego, CA and then began his career interning for several southern California large scale breweries. While in these different positions, he was able to learn and understand how breweries and their equipment ran. He was also able to learn from the brewing industry's top masters. Not limiting himself to the United States, he also studied in Europe and Mexico learning the different beer styles and brewing techniques.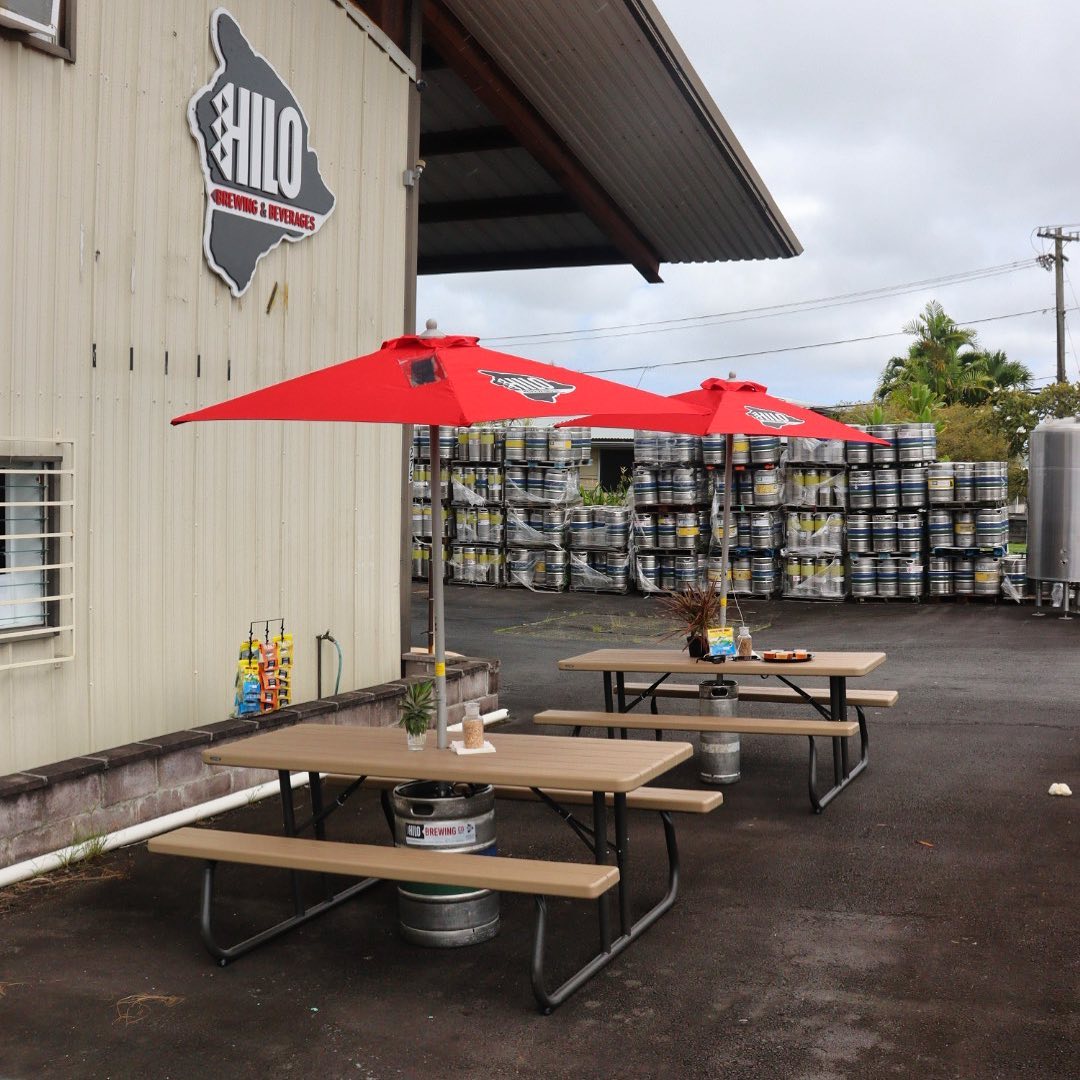 With such a broad background as this, it's easy to see why the quality of beer that Hilo Brewing produces is top notch. Speaking on the quality aspect, Hilo's beer is brewed with Hawaiian water which is rated at the top in the country and the rest of the world for that matter. When you pair that water quality, with the brewing experience from the Hilo team you really can't go wrong.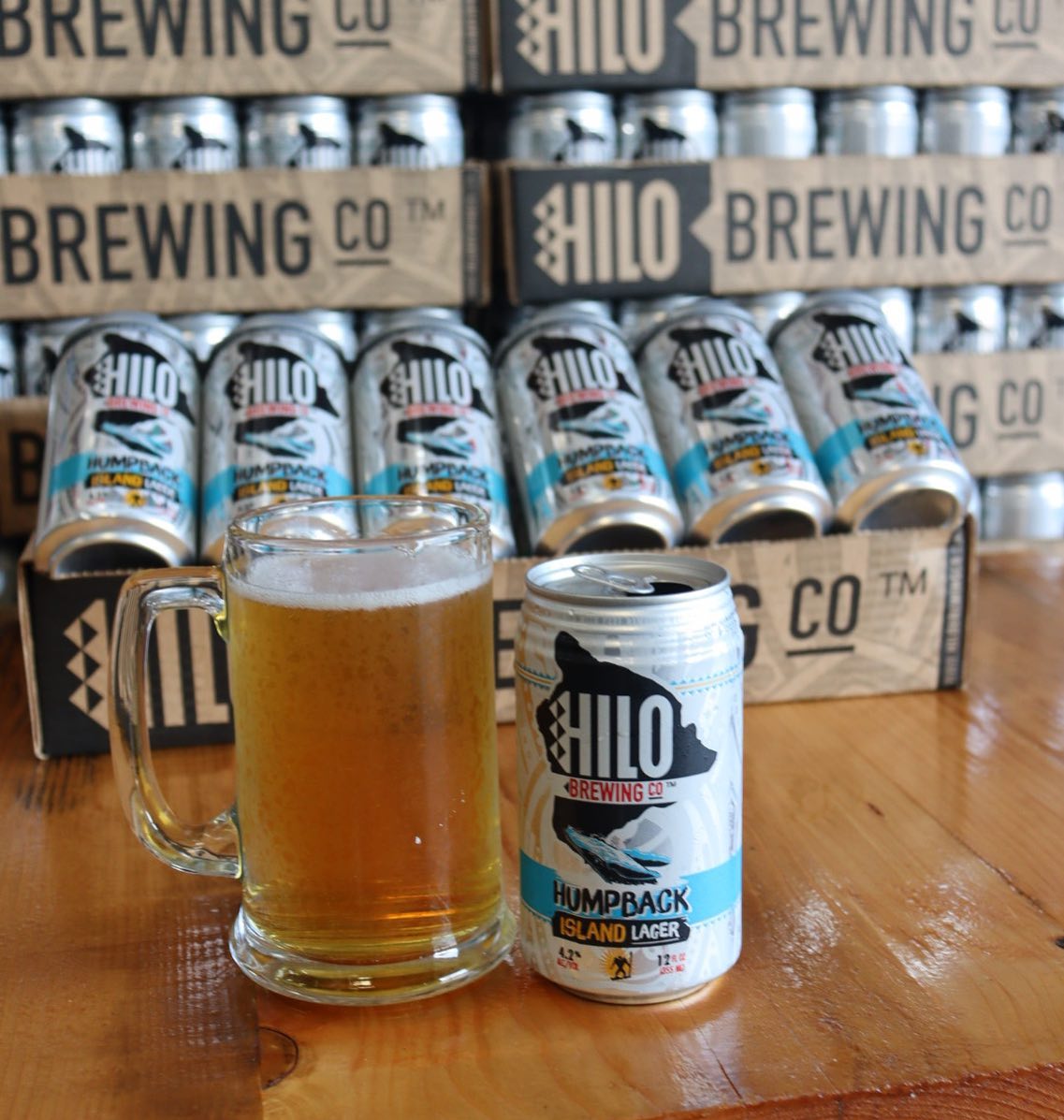 For this article we chose to feature their Humpback Island Lager. Humpback is their American take on a traditional German Lager. Coming in at 4.2% ABV, this is a light beer, but don't let that fool you, it's very high in flavor. It's very crisp and clean with a subtle citrus flavor that lends well to the overall profile of the beer. This is a Hawaiian "Crispy Boi" at it's finest! You could drink your fill of this beer and not ever feel overly full. Unlike a lot of the bigger mass produced American Lagers offering very little flavor, Humpback has you covered. Mahalo to Hilo Brewing company for brewing such a great beer.
IDAHO
Garden City, ID
When your company motto is "Why the F**K not", that sets the tone for what kind of beer you should expect from Barbarian Brewing Company. Their motto is based upon how ancient barbarians didn't bother with pesky concepts like rules or limits, so why should they? When you're not concerned with the status quo per se, that lets you open up your creative minds and get busy creating some of the most extraordinary beers that their minds will let them come up with.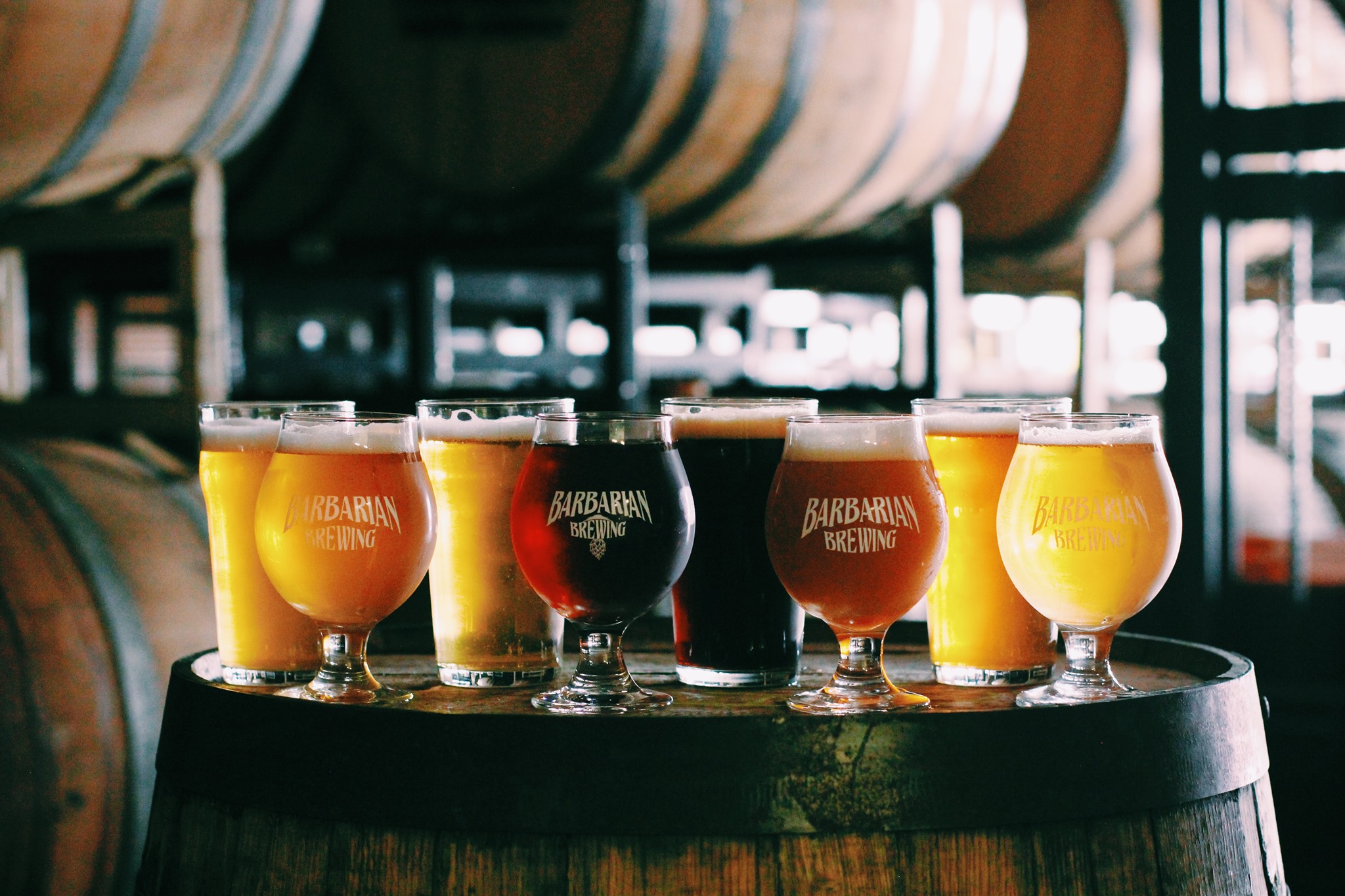 What kind of beer would we feature for a brewery like Barbarian Brewing Company? Well, we felt their Triple New England IPA called FENRIR was a perfect fit for this article. You need a big bold beer for a big bold brewery.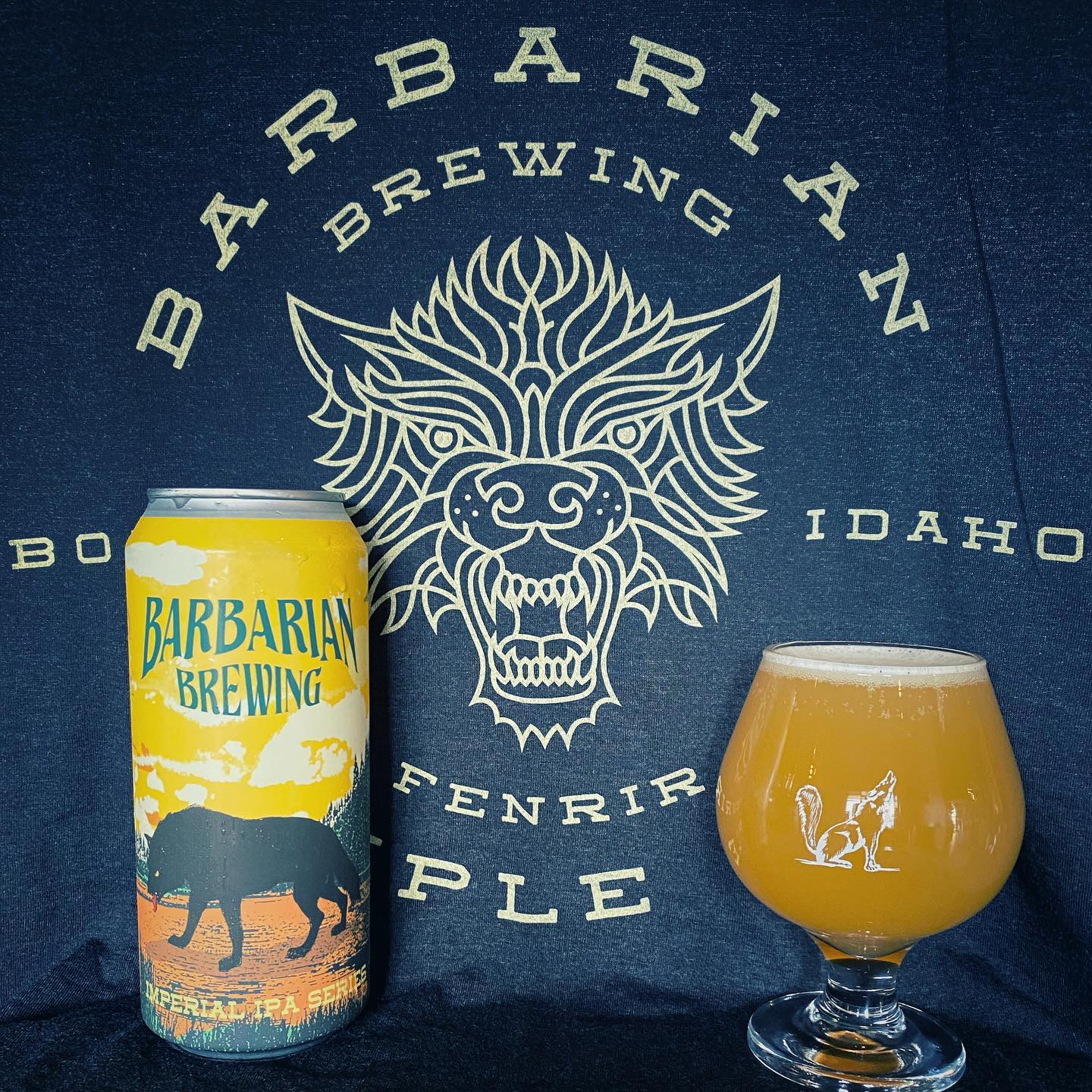 FENRIR is a big Triple IPA weighing in at 11.5% ABV and it packs one giant punch! Brewed with Skagit Valley Malt and hopped with Azacca, Mosaic, Citra and El Dorado, you can see where this behemoth of a beer gets all of its flavor. The end product from all of these pieces coming together is a sweet, dank, hoppy and juicy beer. You get a nice hint of citrus on the nose and that citrus shows up on the front of the beer as well. The initial sip is smooth and sweet and transitions toward the end with that hoppy, dank goodness with a hint of malty backbone. For an 11.5% IPA this beer isn't boozy at all, as a matter of fact you should be very careful drinking this as it could sneak up on you quick because the alcohol is hidden so well. If this is what it's like to brew beers without regard for rules, then we're all about it!
ILLINOIS
Chicago, IL
Finch Beer Co. began brewing beer in 2012 in the heart of Chicago, IL. Their beers are Chicago born and bred, being brewed with the water from Lake Michigan, which is the lifeblood of the city. In 2017 Finch Beer Co. was taken over by new owners and moved into a much larger, state of the art brewery in the heart of the Chicago Brewing District. Their mission is to brew high quality, widely appealing craft beers that are true to their Midwestern values, and they have a helluva lot of fun doing it!
Finch Beer Co. has always brewed their beer in cans since their inception. Noting that canning their beer keeps all that light out of their beer, and cans are portable and easily recyclable. Not to mention cans are the perfect canvas for the killer artwork that goes onto them.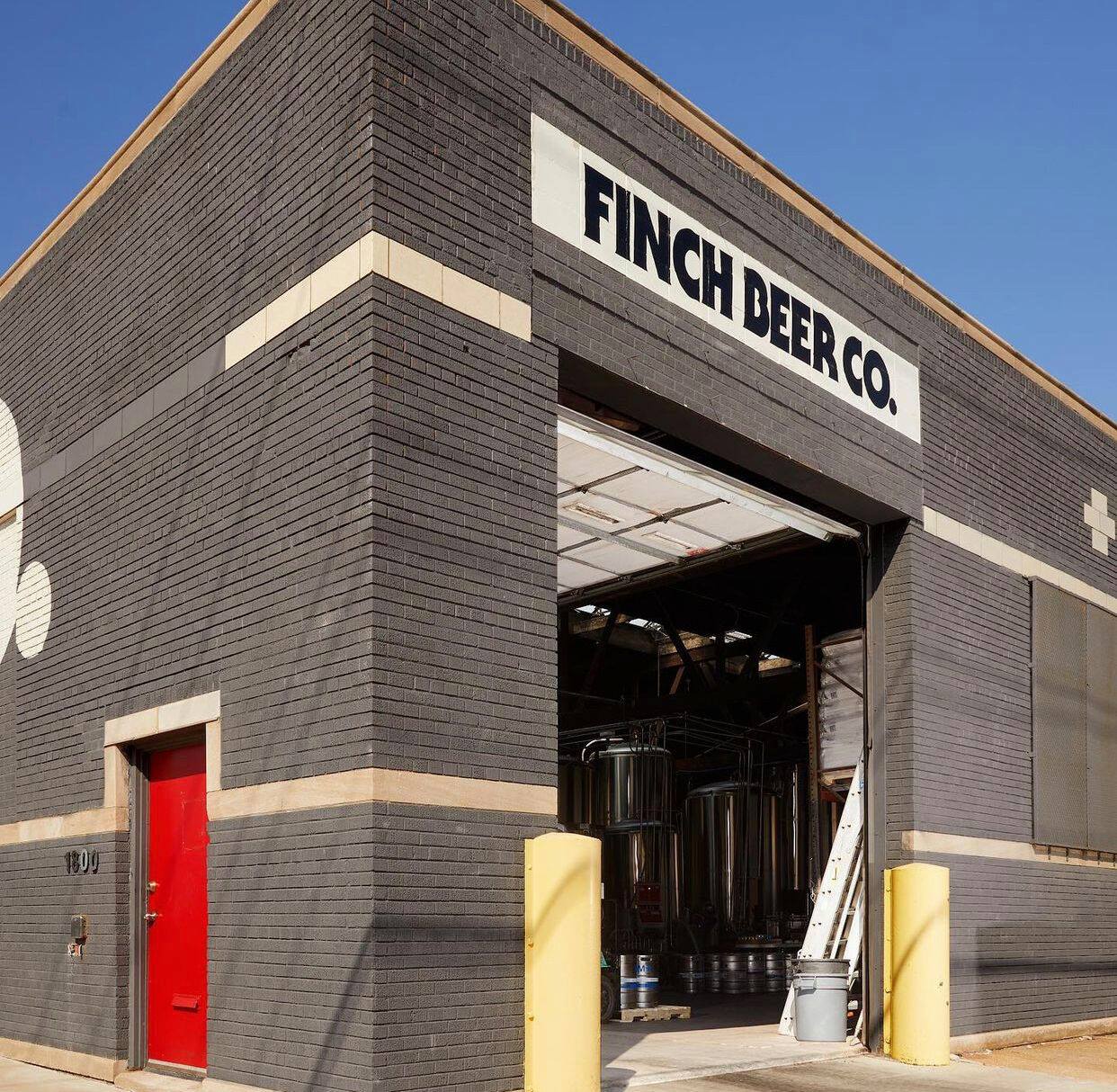 The beer we chose for this article is their Songbird Pilsner. It was a hard choice as all of their beers are top notch, but Songbird struck a chord with us and we just had to feature it.
Songbird is a nod to the traditional Lagers of Germany, brewed with German malts and Michigan grown hops. The saying on the can says "German malts and Michigan hops harmonize to sing you this song", and it's a lovely melody that it sings. Songbird is a light Lager that's crisp and refreshing all along the way. Up front, the flavor profile is malty and with a touch of a bread or biscuit flavor. The hint of sweetness gives way to the hop bitterness that the beer finishes with and it's oh so smooth.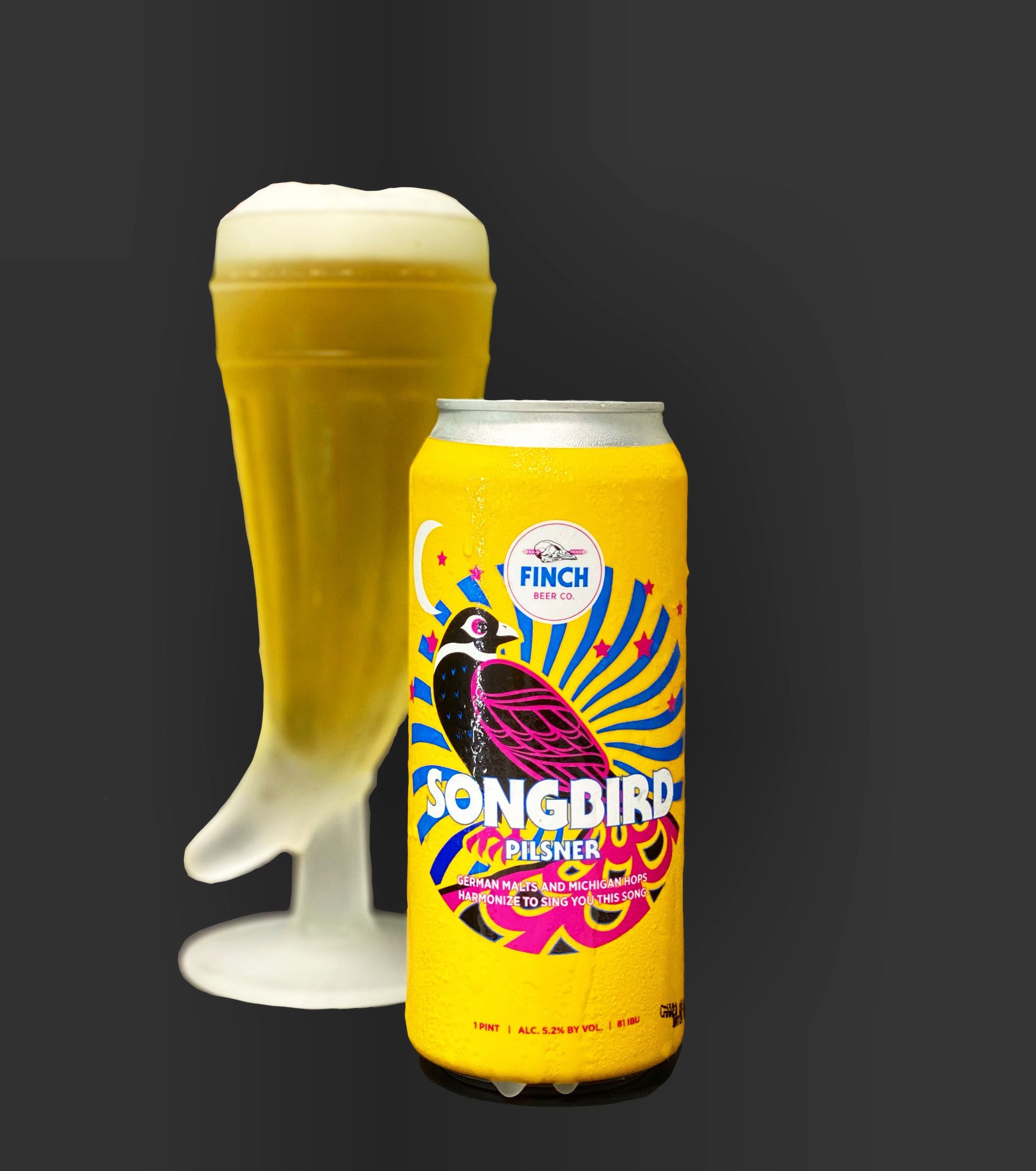 We think the Pilsner doesn't get the love it deserves in today's craft beer market, but beers like Songbird can certainly propel the Pilsner back into the forefront. We know there are several big name domestic options out there, but you won't find the flavor and quality in them like you will in a beer like Songbird. If you're able to find this beer near you, do yourself a favor and go give it a try, you won't regret it!
INDIANA
Indianapolis, IN
Guggman Haus is another brewery on our list that's chock full of history. Back in the 1930's and 1940's, 1701 Gent Avenue (The brewery's current location) was known as the Boyle Racing Headquarters. It was home to three time Indy 500 winner Wilbur Shaw, along with the owner Mike Boyle and many other famous drivers and mechanics. The building eventually became vacant and sat uninhabited for over a decade before a group of vintage racing enthusiasts joined together to help save what was left of the building. Fast forward to 2015 when the idea for Guggman Haus Brewing Co. was born and they eventually restored the two-story family house, which was constructed in 1916, into a basement brewery and main level taproom.
The beer we're featuring from Guggman Haus Brewing for this article is their Sandbar Waves Milkshake IPA. Sandbar Waves was brewed with pineapple, strawberry and banana with vanilla beans and milk sugars added.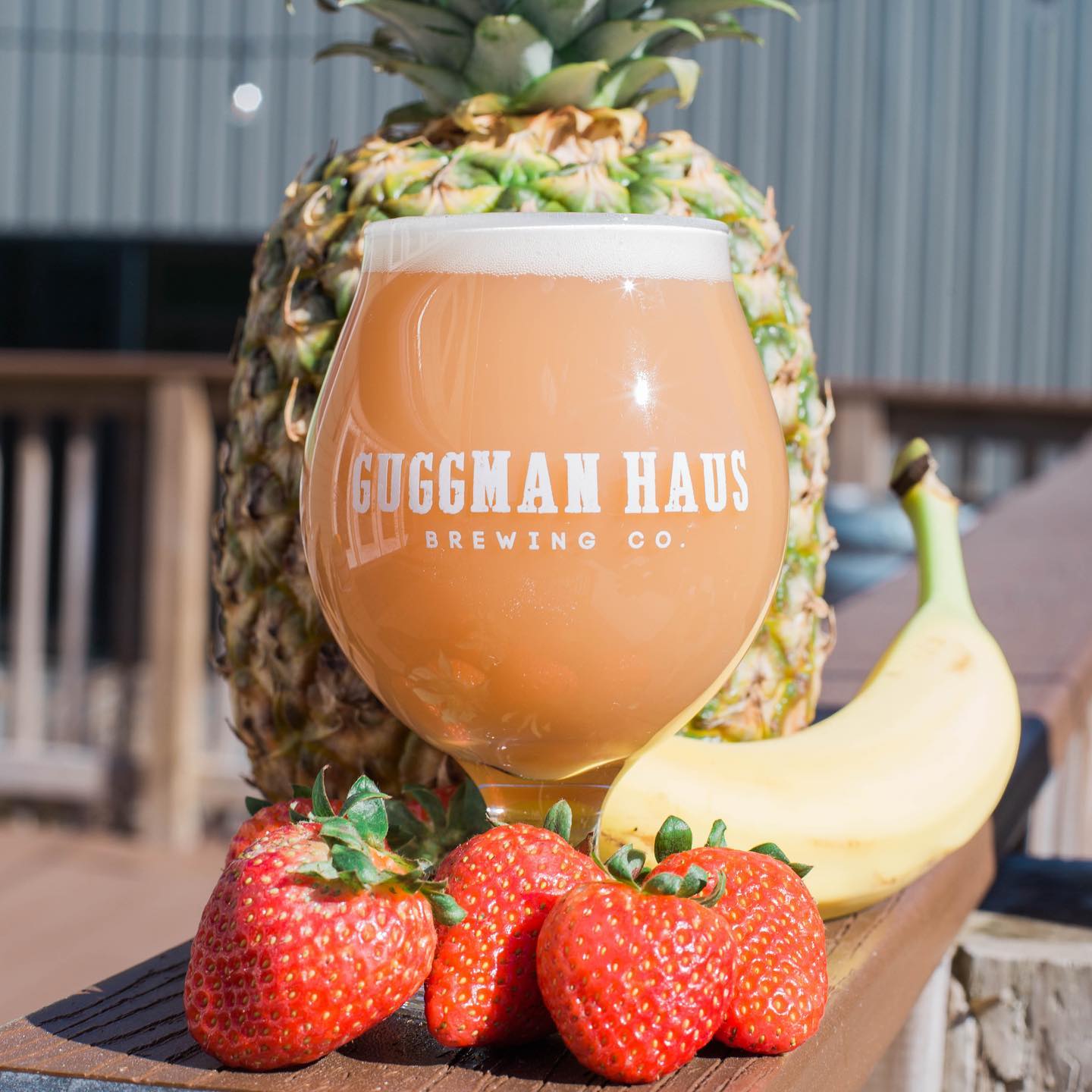 This beer tastes just as advertised! It's like a fruit medley in a can that will have you wanting more. The flavor up front is all strawberry goodness, with a ripe strawberry punch and a hint of tartness along the way. The pineapple opens up in the middle of the profile and you get nice tropical treat. The banana comes into play on the back end of the beer that finishes oh so smooth and creamy and then you get a little more hint of strawberry alongside the banana flavor. The addition of the vanilla beans and milk sugars are a no-brainer for this beer as they add that creamy mouthfeel that gives it that milkshake style texture. Who knew a brewery in Indianapolis could transport you all the way to the beach with this delightful concoction that is Sandbar Waves.
IOWA
Dyersville, IA
History runs deep and rich across the United States, and we keep discovering parts and pieces of history as we did our research for these breweries. Textile Brewing Company is located inside of a building that was built in 1906. It was originally a gasoline engine factory and then in 1910 it became a sewing factory, which it remained as such until 2017. Everything used inside the taproom was found in the old building, except for the chairs and granite bar top. As deep in history as their building is, that doesn't top one other iconic piece of American history.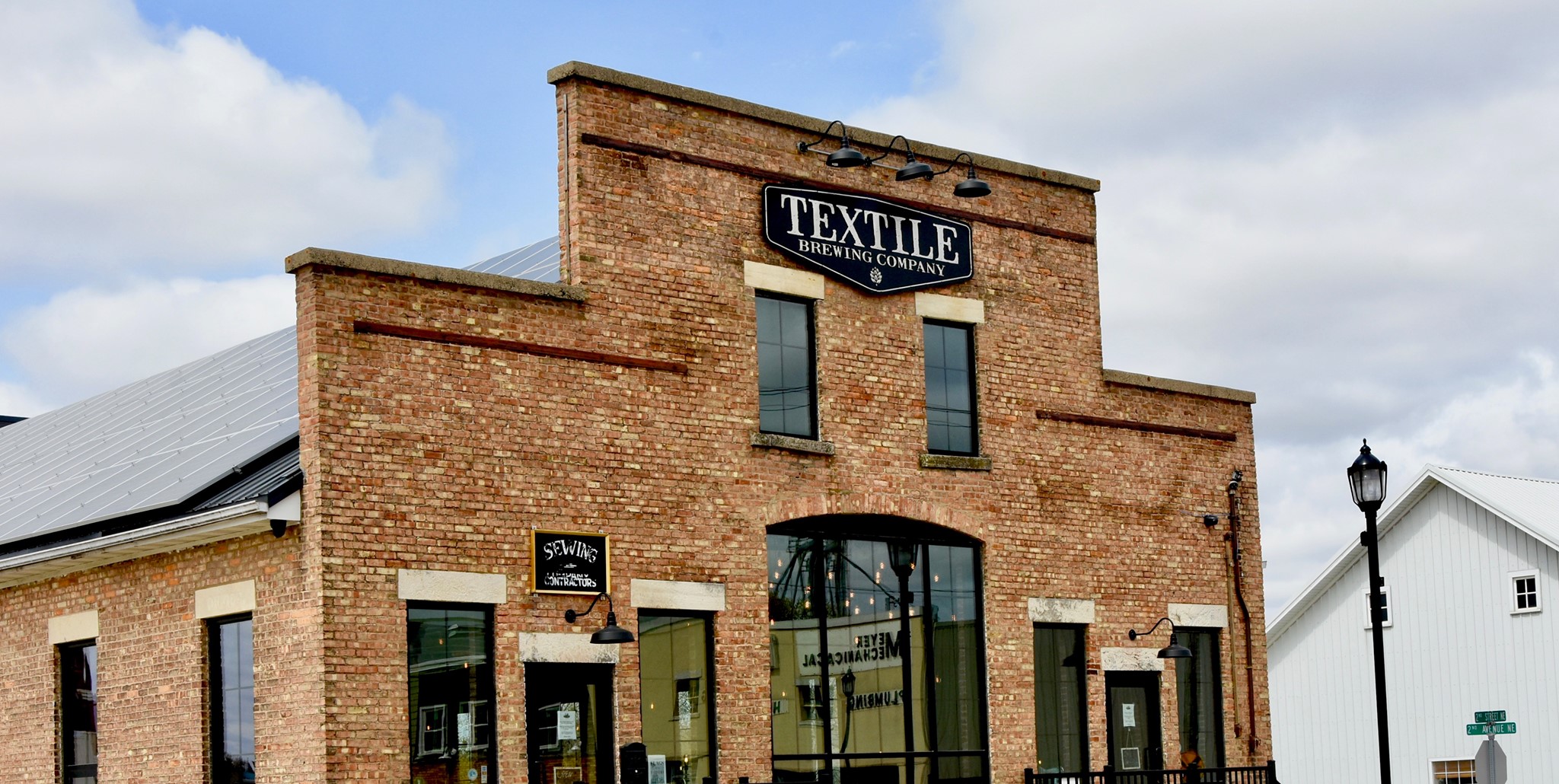 Textile Brewing Company is located in Dyersville, IA as we stated above, but do you know what Dyersville is famous for? Dyersville is home to the "Field of Dreams", the famed field that was used in the cult classic starring Kevin Costner. The field still stands today and is a top tourist attraction and was host to an MLB game this past season. Textile Brewing Company is located only a mere 4 miles away from this historic movie landmark. You can go grab a beer or two and then visit the Field of Dreams while you're in town!
The beer we're featuring for this article is their Vienna Lager called New Vienna. New Vienna is named after a town just 5 miles north of Dyersville called New Vienna.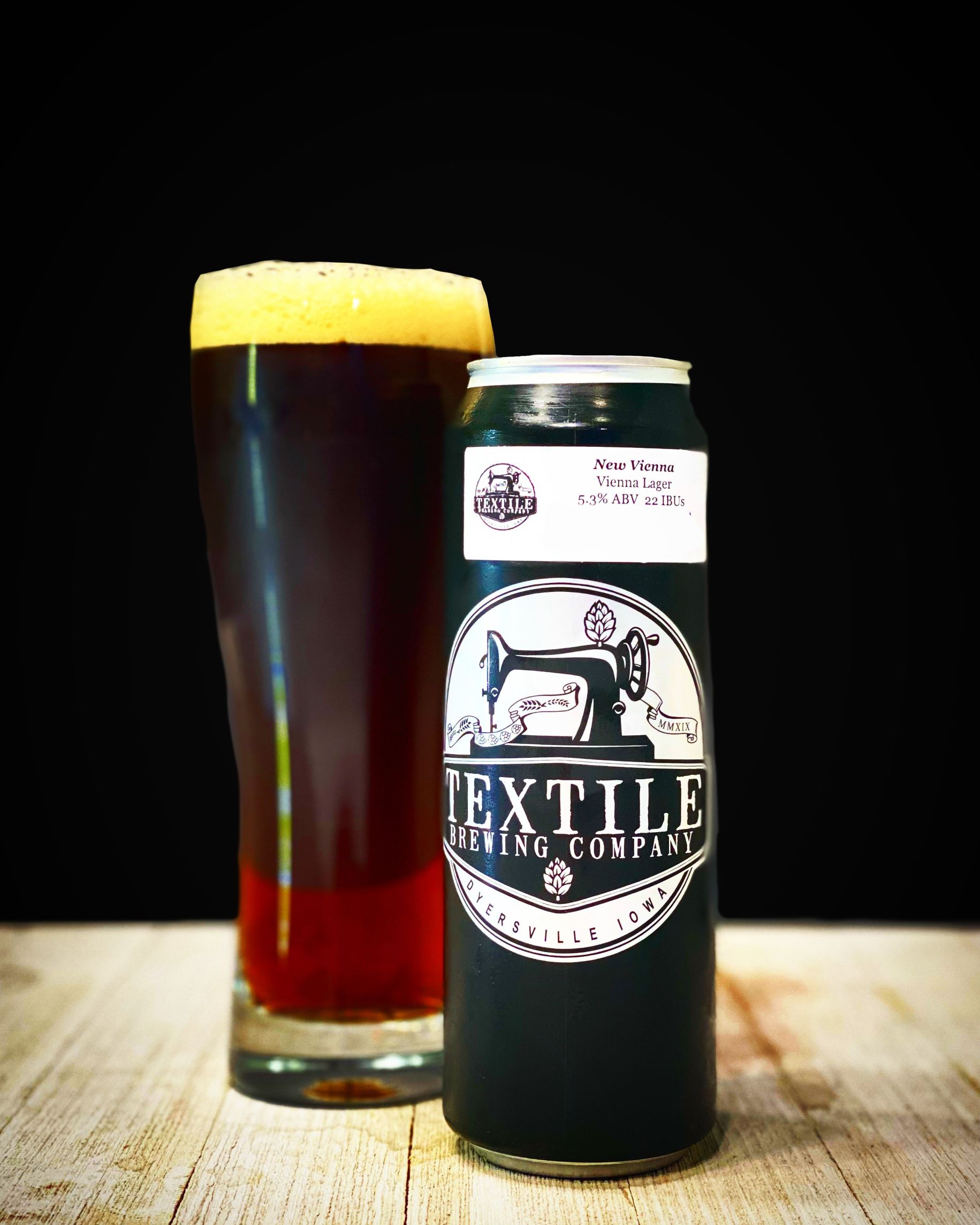 New Vienna pours a beautiful amber color with a hint of malt on the nose as it pours. While the color is impressive, the flavor is even better! It provides a rich, crisp flavor that's very smooth with notes of malt and maybe some corn. This is another beer to just sit back and relax with and enjoy your time, while basking in the glory that is New Vienna. Depending on what mood you're in, you might want a beer that's crushable, or you might want a beer like this that's for savoring, and we did just that!
KANSAS
Manhattan, KS
The owners of the Manhattan Brewing Company have over 20 years of experience collectively in the brewing industry. When it came time to start planning the brewery, they wanted an open place to drink quality beer, elevate the beer education and provide community spirit to the heart of Manhattan, KS. They have over 19 unique beers on tap where you can try anything from an easy-drinking wheat beer to a Belgian Tripel aged in Rye Whiskey Barrels.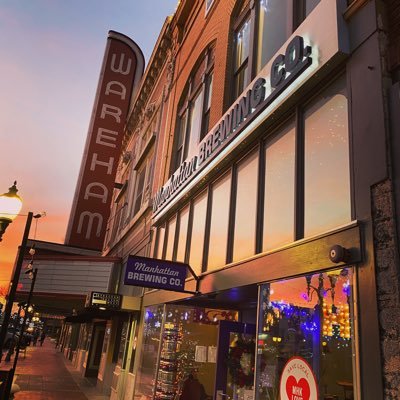 We had the pleasure of speaking with co-owner Jake Voegeli, a former Kansas State football player turned brewery owner. Jake's love for Kansas State leaked over into the design and colors for Manhattan Brewing Company as you will see a purple and gray theme on their merchandise and throughout the brewery. Jake was kind enough to send us a very special beer that's near and dear to him. For this article, we are featuring The Juicy, an American IPA that was originally brewed with a dear friend who they lost to cancer. Jake says his legacy lives on in this bright and citrusy IPA.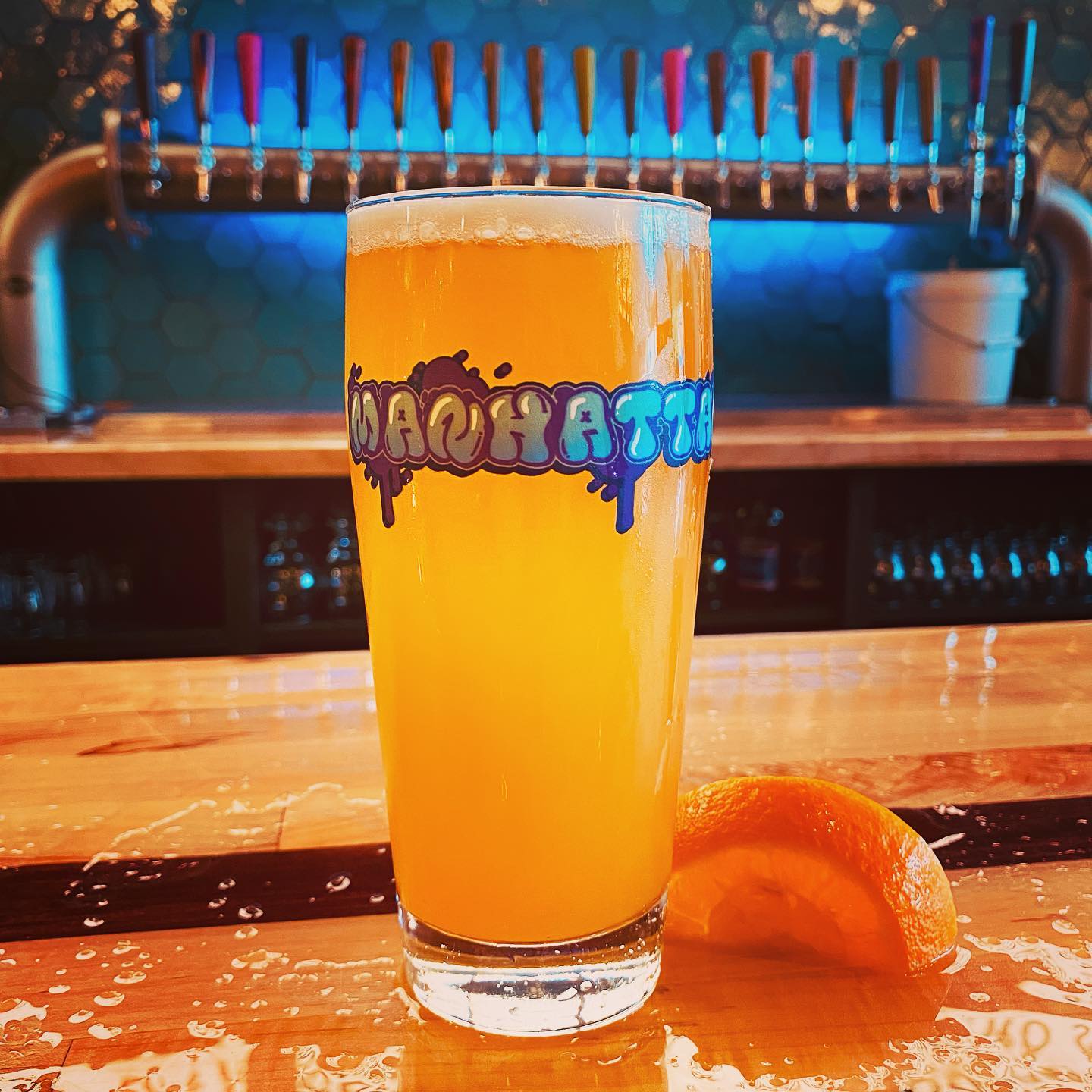 The Juicy is brewed with Citra, Mosaic, Galaxy and Amarillo hops. If you're familiar with this style of beer, you'll know that this combination of hops is bound to create a very juicy and flavorful beer, and does it ever! On the nose you get some orange and possibly even some tangerine. Those notes transfer over into the flavor of the beer as well. You get a citrus burst up front, followed by some delicate hop bitterness that rounds out the beer. It's silky smooth with a plush mouthfeel that rides through the middle and ends with just a little bit of that hop burn. While this beer is full of that juicy goodness, you still get a little hint of an almost west coast IPA style to the beer that lets you know that you're still drinking an IPA. This is a very well-done beer that you need to try if you find yourself near Manhattan, KS anytime soon!
KENTUCKY
Louisville, KY
Chances are that if you're familiar with Louisville, KY or even not familiar with Louisville, you know about the Kentucky Derby. The quarter-mile horse race is held every year on the first Saturday in May, with the exception of 2020 when the pandemic forced the race into September. Kentucky as a whole is also known for its bourbon, and Louisville is deeply rooted in that bourbon heritage as well. With 9 different distillery experiences that are open to the public, you're sure to have a good time with the bourbon experience in Louisville.
Not to be outdone by brown water and horses, Louisville also has a bustling craft beer scene. The Louisville region, including Southern Indiana is home to 21 breweries, of which 19 are locally owned. One of those breweries is Gallant Fox Brewing, Located only a couple of miles from the Ohio River, Gallant Fox is in the heart of downtown Louisville.
The beer we chose for this article is their Key Lime Pie Sour. Not to be confused with a Key Lime Sour, the Pie addition adds so much more to the beer.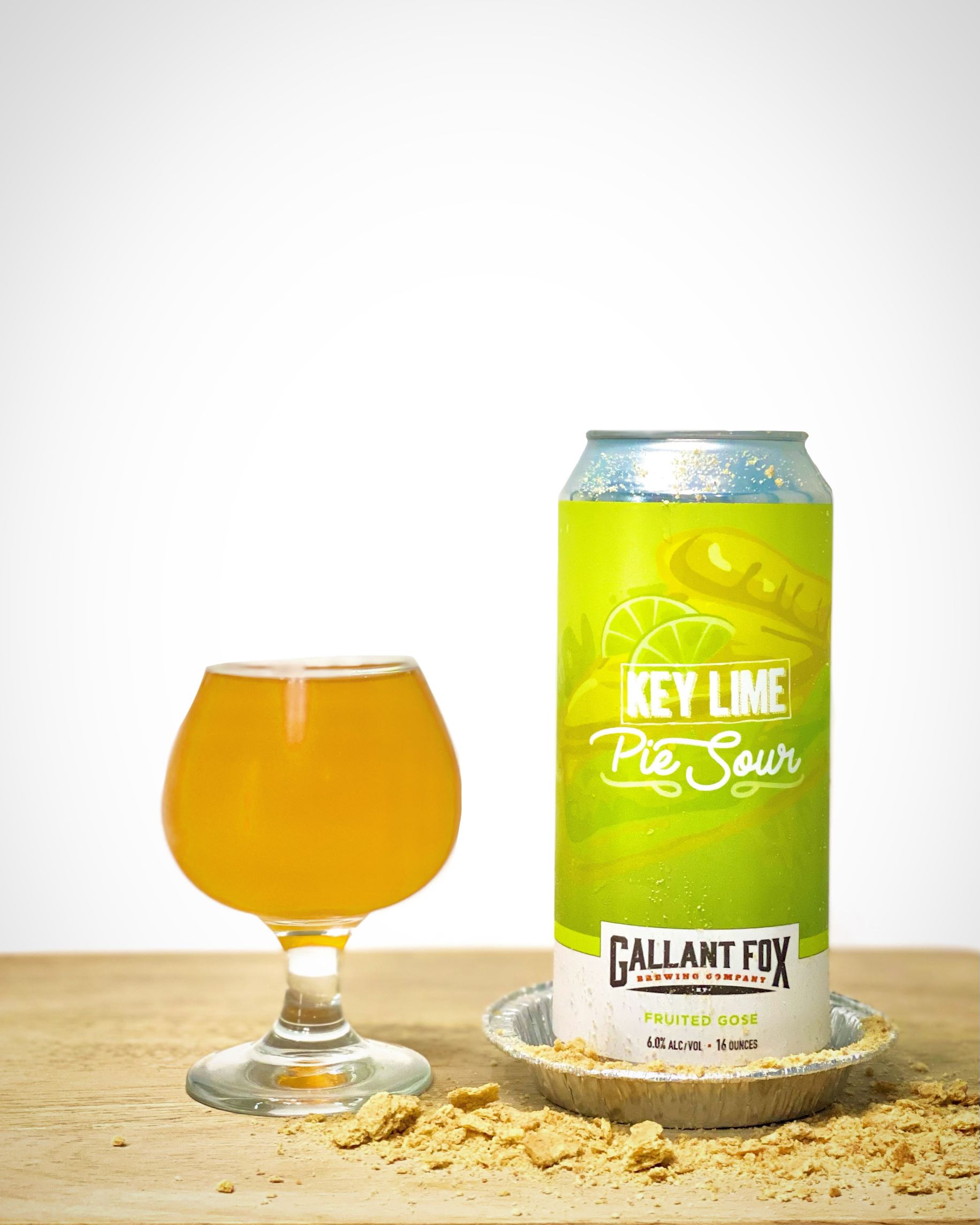 If you like key lime pie, then this beer is definitely for you! We don't know how they did it, maybe magic, but this is like drinking a key lime pie straight out of the can. You get a very tart key lime flavor up front, it doesn't quite make you pucker, but you know you're drinking a Gose. After the tartness subsides, you get that bready flavoring, like you're eating the pie crust. The tartness and creamy mouthfeel along with the pie crust flavor come together to create a masterpiece. This beer is so good and so true to style that we're going to have to make a trip to Louisville to see whose grandma is in the brewhouse making this beer!
LOUISIANA
New Orleans, LA
What happens when you combine a food scientist and a restauranteur and developer? Obviously you end up getting a craft brewery! Wait, you didn't see that coming? Yeah, neither did we, but we really like what they are putting out!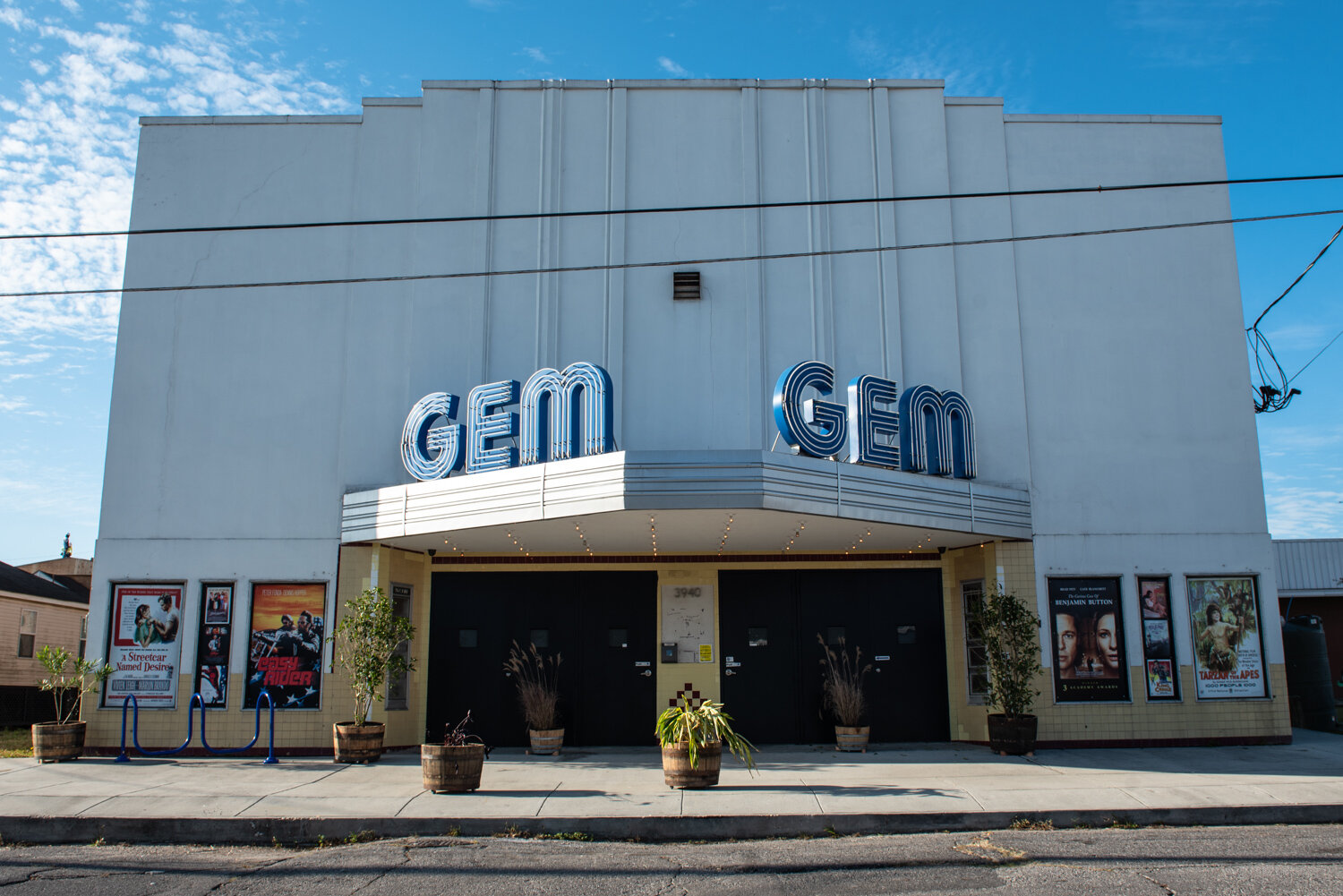 The food scientist turned head brewer Mitch Grittman eventually crossed paths with Adam Ritter, a Philadelphia restauranteur and developer. The two became quick friends and shared several nights home brewing and talking craft beer until it eventually led them to an irresistible opportunity to acquire a building for their brewery. They moved into the historic Gem Theater, one of only two remaining African American movie theaters still standing in the city.
The beer we're featuring from them for this article is their Wheat Lager called Among The Bugs. This is a different Lager, but it's exceptional! Brewed with a Mandarina Bavaria hops blend, you get a nice bright, yet zesty notes of oranges. The yeast that's paired with this beer creates soft notes of banana and a hint of sweetness that balance out the orange zest. The mouthfeel is soft and creamy one that transitions into a slightly bitter finish. This beer would be best paired with a hot summer day, but could definitely be enjoyed any time of the year. Zony Mash says it pairs well with their unofficial state bird, the mosquito, if you happen to be there in warmer weather!
MAINE
Biddeford, ME
Blaze Brewing Company is a part of the Blaze Restaurant Group, a restaurant group owned by Matty Haskell that's focused on local agriculture, wood-fired food, and world class beer. The Blaze Brewing team is lead by Head Brewer Shaun Mcnaulty and sales director Will Ryan, who have been in the industry for over fifteen years collectively. The brewery started out small on a 4-barrel brewhouse, but the demand for their beer grew so much they had to moved down to Biddeford, ME to open up their brewery, tasting room and kitchen. Their beers are meant to be enjoyed by the seasoned beer vet down to the first time craft beer drinkers alike. From brown ales to pastry sours, you're sure to find something you like at Blaze. Although, they are most notably known for their tasty New England IPA's.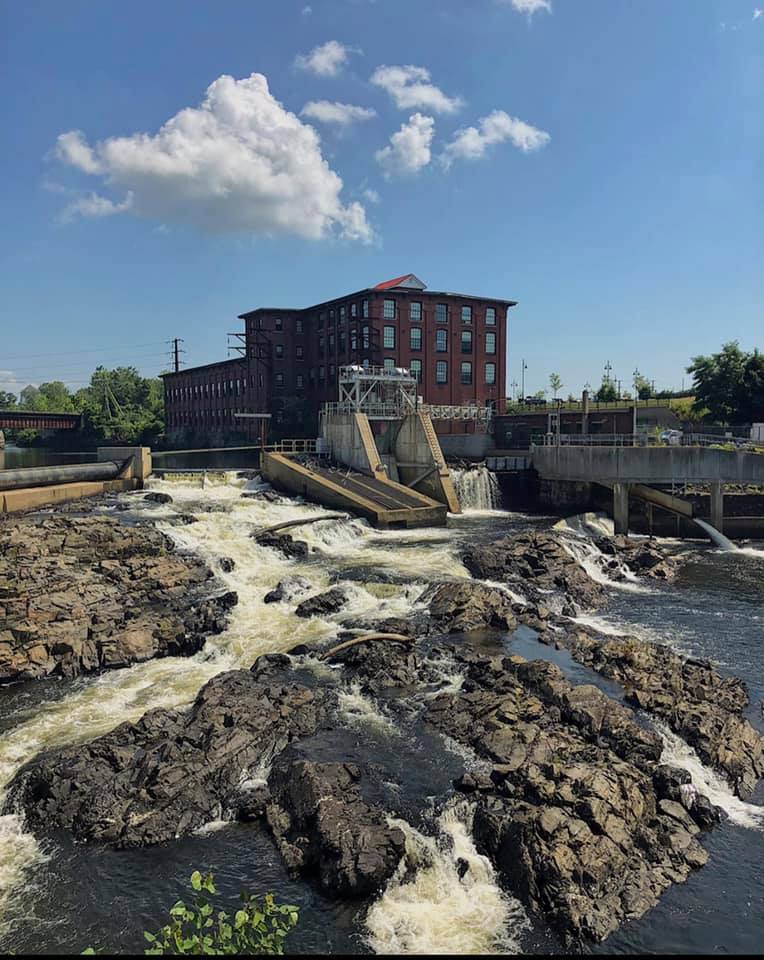 The beer we chose to represent Blaze Brewing Company for this article is their IPA called Peak Foliage. Peak Foliage is their fall IPA that's dedicated to time of year when Maine is the most beautiful.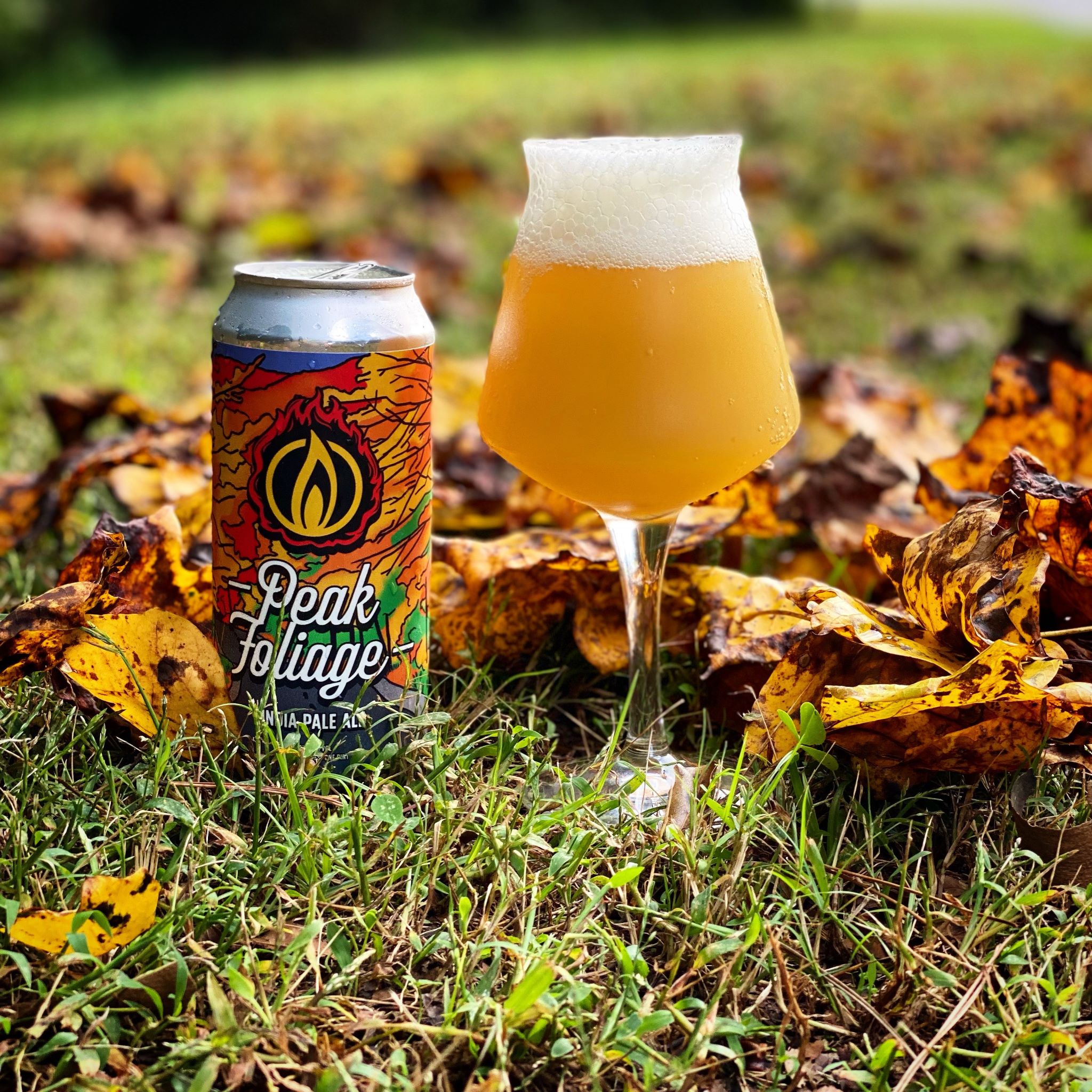 Hopped with Simcoe and Azacca, Peak Foliage is the perfect beer to pair with the beautiful sights that is Maine in the fall. The nose is that of candied oranges, mangos and bright fruits. The flavor profile is very similar to the nose, as you get lush mango flavors along with juicy sweet orange with a hint of tanginess. This beer may have been brewed in dedication to the fall in Maine, but we could certainly envision drinking this on a beach somewhere with your toes in the sand as well, it just has that kind of vibe to it.
MARYLAND
Columbia, MD
Sapwood Cellars' main two areas of focus are barrel aged mixed fermented beers and fresh hoppy ales. Founded on the philosophy that beers shouldn't be brewed with tongue-scraping bitterness or piercing sourness, their belief is that beer should be a pleasure to savor, not a challenge to conquer! Sapwood brews beer that is reasonably priced, with moderate alcohol and above all, delicious. Sapwood Cellars was founded by Michael Tonsmeire and Scott Janish, both of whom are published authors with different books about brewing. They say for now it's just the two of them turning their passion for brewing hobbies in careers.

The beer we're doing for this article is their Simcoe Simpatico, a 6.9% IPA brewed with Simcoe and Simcoe Cryo. What a dream of a beer this was! Simcoe Simpatico is a perfect take on what the New England IPA style is. If you've not had this beer, or if you've never heard of this beer, it should be on your beer bucket list. On the pour you get vibrant notes of citrus and mango, followed by a slight hint of some spruce or pine. It all comes together in the sip though, that's where the real magic happens. Vibrant tropical notes flow across the palate with a hint of bitterness that quickly gives way to the creamy mouthfeel provided by the flaked oats. The flavors tend to stick with you as they don't dissipate quickly after the sip. If you find yourself near Columbia, MD stop by Sapwood and see what else they have to offer as well!
MASSACHUSETTS
Sommerville, MA
Remnant Brewing is situated about 20 minutes just northwest of Boston, MA. Located in the Bow Market, it finds itself being neighbors to several shops, boutiques and restaurants. When they discovered there would be a space big enough in this up and coming market, they jumped on the opportunity to build their brewery there. Remnant has a small brewhouse, but that allows them to have the flexibility to brew beers that go along with what season they're in or what's hot in the current market. Remnant notes that you'll more than likely find an IPA or two on their menu, but they're also passionate about Saisons and they always have something resting in a barrel.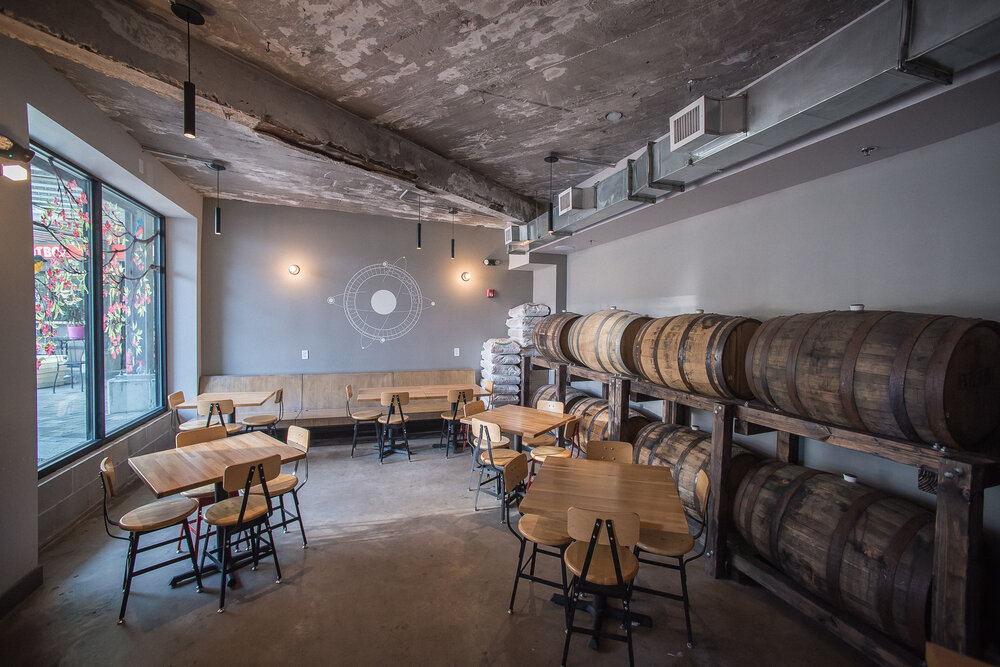 The beer we chose for this article is their Clip Art-Strata, a rotating hop IPA. Clip Art-Strata is a 7% dry hopped New England IPA that's hopped with Mosaic and Strata hops.
The Strata hops give this NEIPA a nice strawberry flavor up front with a hint of grapefruit in the middle and ending on a note of pine for that nice hop bitterness. It packs a very juicy punch that come from those Strata hops as well. There's also some dankness involved with this beer and it's a very nice contributing factor. Remnant says of this beer that it also has some notes of sweet cannabis, which could be the dankness we were tasting on this beer. All of these come together to make an extremely well-balanced and flavorful beer that's sure to impress any IPA fan out there.
MICHIGAN
Grand Rapids, MI
City Built Brewing is all about community in their part of Grand Rapids, MI. Their beer motto if you will is to make the strange familiar and the familiar fresh and bold. Not only are they looking to serve the seasoned craft beer drinker, they are looking to educate the new craft beer drinkers as well. They aren't looking to fall into the monocultural industrial beer culture, instead they are looking to grow that with strength through diversity. We find this extremely refreshing and more than happy to see more diversity in the craft beer community.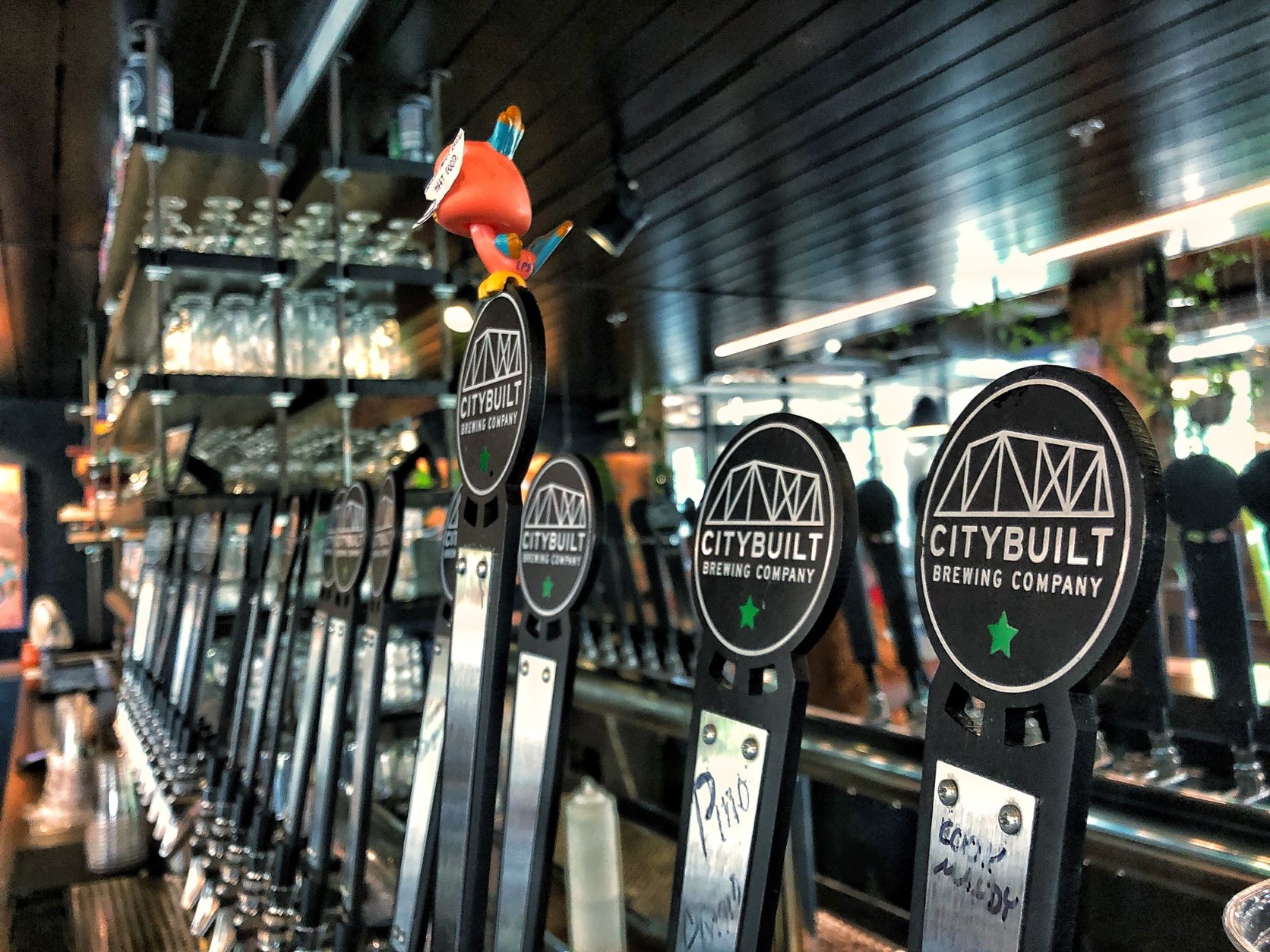 The beer we chose for this article is their Rum Cake, an Imperial Stout aged 14 months in Rum Maple Syrup barrels with coconut, vanilla, chocolate and cinnamon added.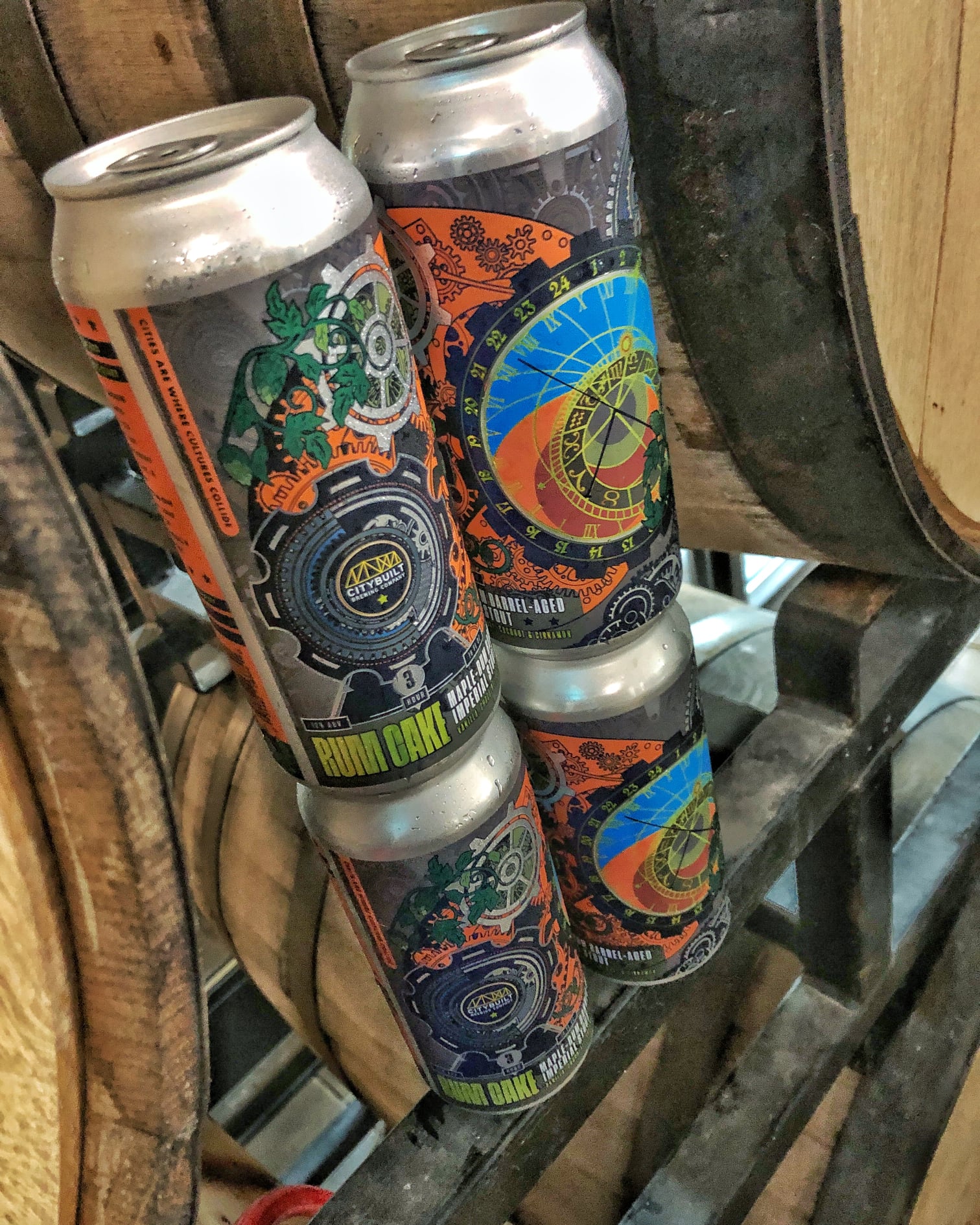 My goodness, this is an absolute desert in a can! This beer is thick, dark, rich, creamy and smooth. Dark chocolate hits your palate up front like a uppercut out of nowhere. Even though you know it has chocolate in it, you don't expect it to be that much of a hit, and that good. You get a hint of rum and spice from the cinnamon that linger throughout the sip, from front to back. The coconut comes in about midway through and rides all the way to the back end of the sip. This is a sipper of a beer, you wouldn't want to try to drink these too fast for a couple of reasons. The first reason being, why would you want to rush this beer and not sip it and savor it? The second reason is that it weighs in at 12% ABV and if you're knocking these back, you'll surely know it! That's not to say this beer is boozy though, the alcohol is hidden very well. This is a spectacular beer from City Built Brewing, one that you should try to find if you can.
MINNESOTA
Luverne, MN
Take 16 gets its name from US Highway 16 that was established in 1926 and spanned across 1,600 miles of hard-packed dirt. Though sections of Minnesota were paved by 1940, the small towns that emerged along Highway 16 were home to hard-working families that were committed to community. Take 16 Brewing notes that the handcrafted beers they brew are a tribute to the rich history shared with other communities along old Highway 16. Not only are they named after the highway, their brewery is located on the old highway in downtown Luverne. The old highway connected communities that share the same heritage throughout the states of Michigan, Wisconsin, Minnesota, South Dakota and Wyoming. In fact, it was our South Dakota brewery on our list that recommended Take 16 to us.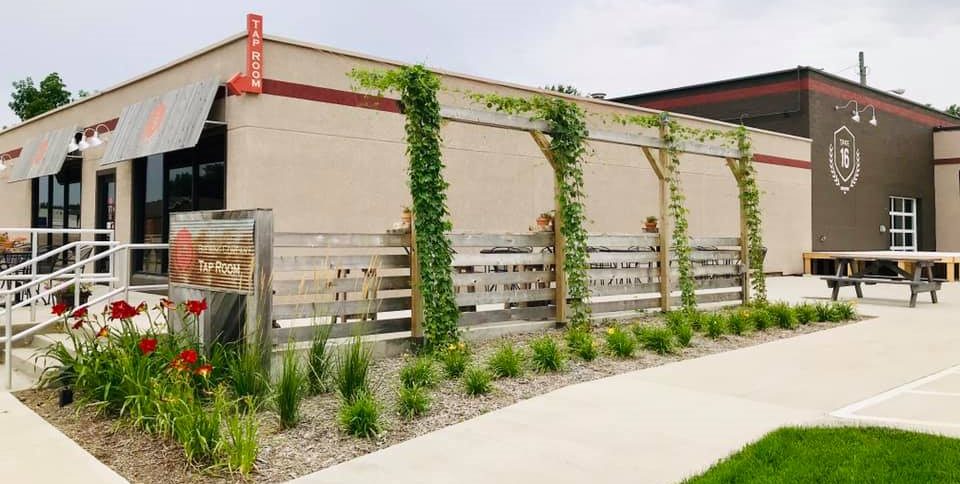 The beer we're featuring from Take 16 for this article is their Luverne Copper Lager. Luverne Copper Lager is smooth, crisp, light and refreshing. Luverne provides a slightly bready characteristic with notes of malt on the back end.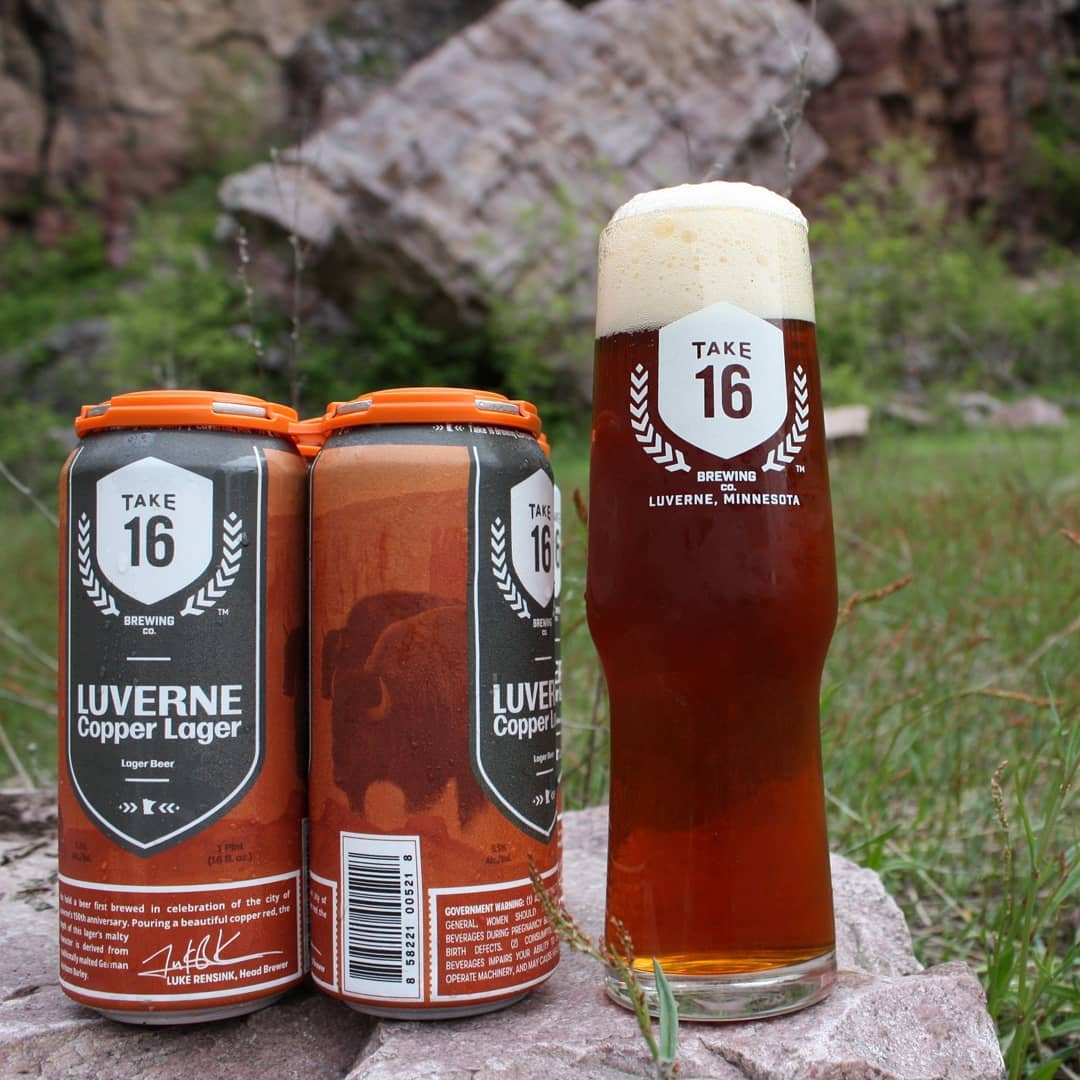 As you can see, it pours a beautiful hue of amber with a red undertone. This is definitely a beer drinkers beer, one that you can certainly handle a few of, because we think you'll want to after tasting your first one. There's a small hint of bitterness on the back end as well that balances out the sweetness from that malty goodness. Take 16 uses traditionally malted German Heirloom Barley to give the malt its depth and flavor. We would definitely be down to take old highway 16 out to Luverne to grab some more of this and sample some of the other offerings they have on tap.
MISSISSIPPI
Biloxi, MS
Fly Llama was founded by David Reese, brewmaster and Advanced Cicerone. David is the only Advanced Cicerone in Mississippi and one of 139 in the world. To have this achievement on your resume requires extraordinary understanding and expertise of beer, as well as an excellent ability to evaluate and describe flavor.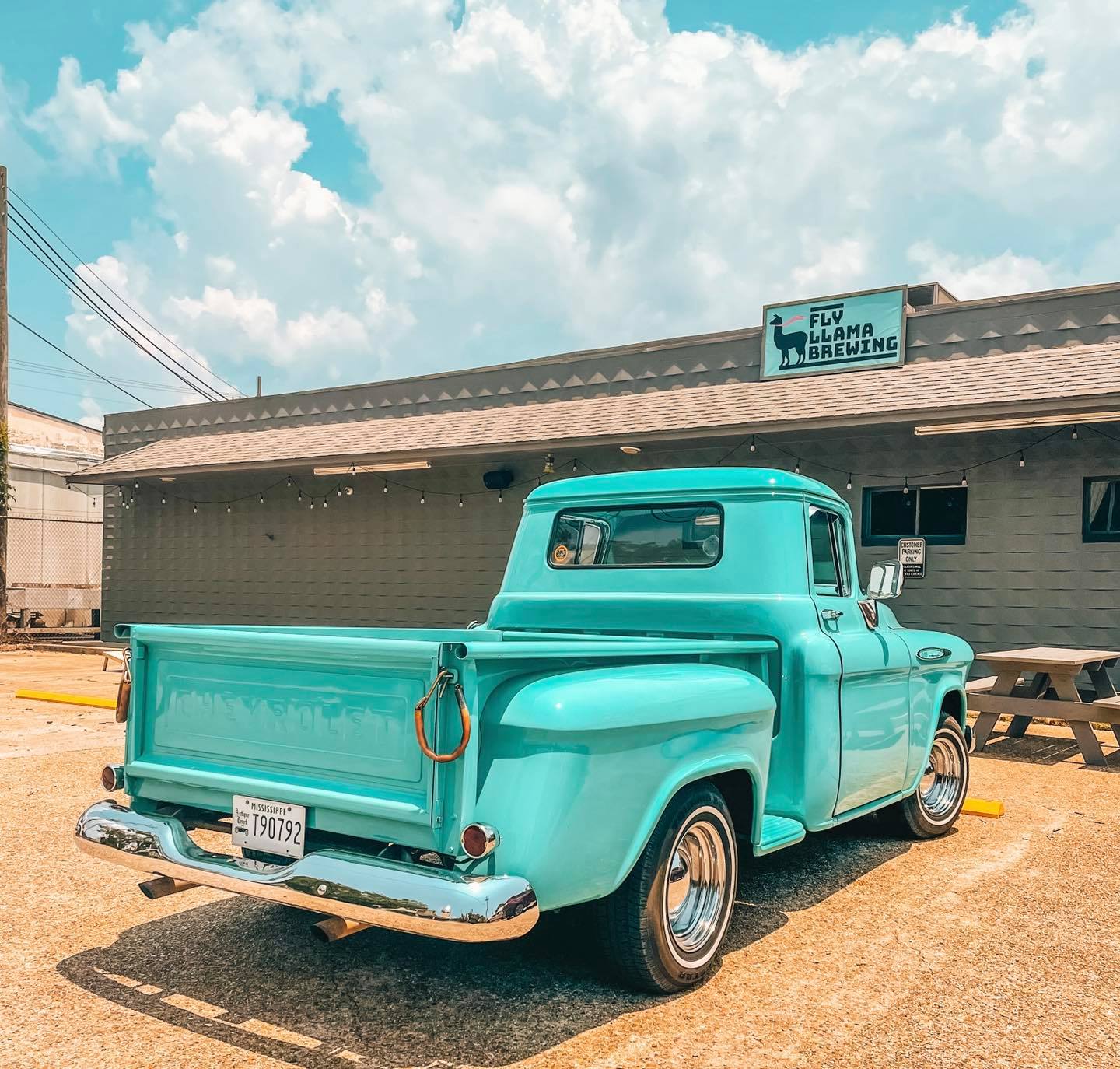 Fly Llama offers approachable craft beer and refreshing hard seltzer made from locally sourced ingredients. Balancing both traditional and new-aged brewing techniques, their portfolio celebrates classic styles and local Southern flavors. Their commitment to local led them to partner with TexMalt, the most local option for a craft maltster located in Forth Worth, TX. They're commited to sourcing the highest quality ingredients while supporting local whenever possible.
The beer we chose to use for this article is their Double IPA called Delores. Delores is a hazy Double IPA that's bold, hoppy and strong.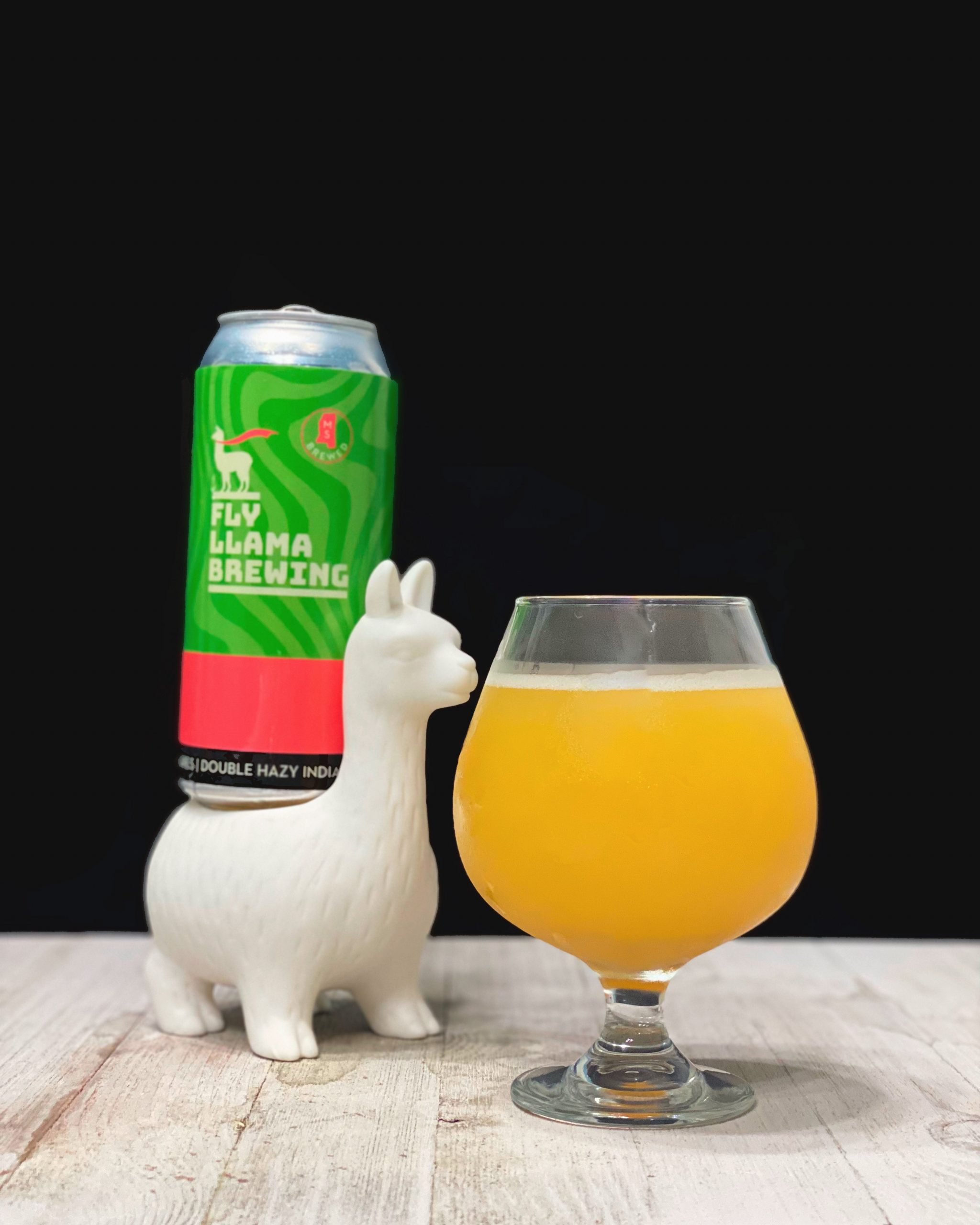 This is a complex Double IPA with notes of melon, peach and maybe a little bit of green tea up front, followed closely by some dankness ends with a slight bitterness. All of those flavors combine together to create a tremendously flavorful beer. Sometimes with a beer like this it's either too sweet or too bitter, it's safe to say this one balances out perfectly. With all that flavor, you also get a little bit of a punch as Delores comes in at 8.5% ABV, but the alcohol is concealed very well in this one. There might be a hint of booziness in there but it works so well in this beer. Fly Llama has a saying that states "When glasses raise, llamas fly", Delores will surely fly to the top shelf of your refrigerator and stay up there as long as you can get it.
MISSOURI
Raytown, MO
Crane Brewing likes to bring some funk to the craft beer table, they focus on wild and vibrant beers that their community has come to know and love so much. They have an in-house laboratory where they propagate their harvested yeast to be able to produce their wild and sour beers. Crane Brewing also has a passion for the dry and rustic ales of Europe.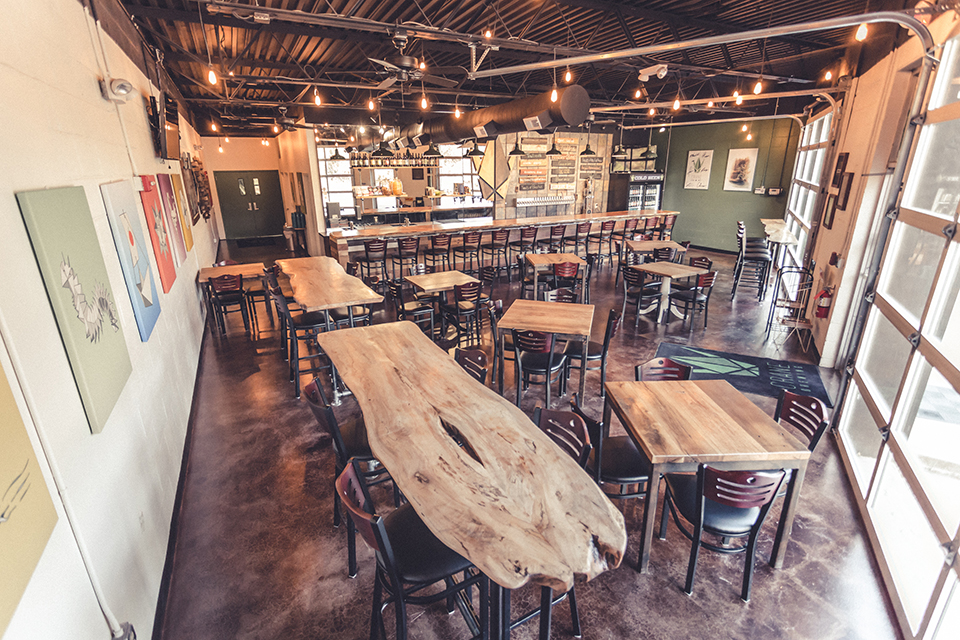 Their taproom is one of beauty. It features locally sourced wood for their 26 foot live-edge bar, reclaimed barn wood for their tables, a custom poured concrete backbar and hand-painted beer menu boards. The vibe is that of rustic character with a modern twist, truly something to be admired.
The beer we're featuring for this article is the Beet Weiss, a Berliner Weiss brewed with an unlikely adjunct, BEETS!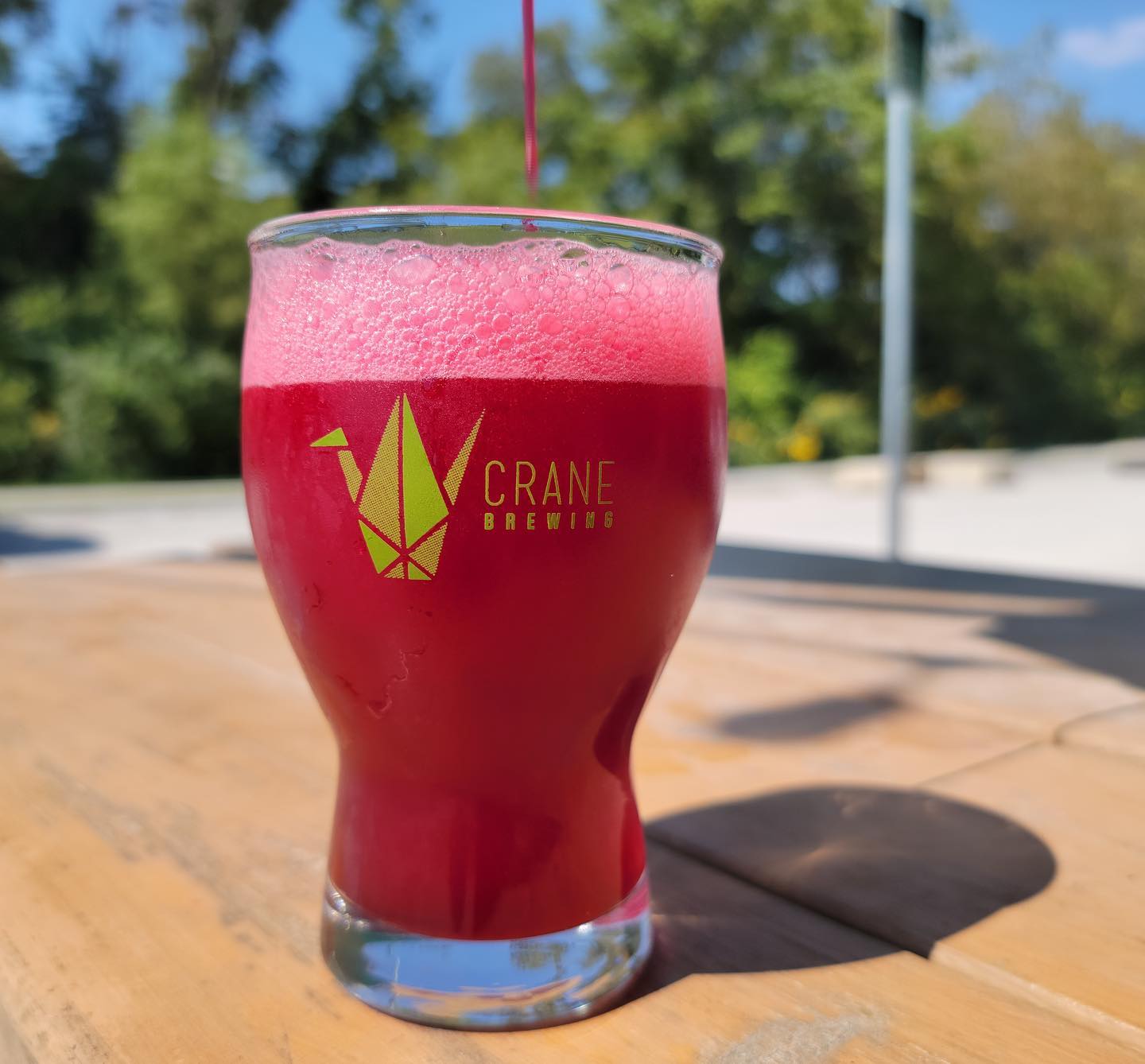 Are you skeptical yet? We were very intrigued by this unique beer and learned to not judge a book by its cover, but by it's contents. The contents, like mostly any craft beer, are what make this beer so special. This beer is sour, and it should be as it's a Berliner Weiss. The sourness punches you in the mouth from the beginning, not quite making you pucker, but you definitely know it's there. This would be a really good base Berliner Weiss by itself, but the addition of the beets accentuate the flavor profile. As you might expect, the beets give it a nice earthy tone that blends well with the sour and helps to cut out some of the tartness. As craft beer drinkers, it's usually easy to describe how a beer tastes, but this is one of those beers that you need to try for yourself to get the true flavor profile of this beer. Don't be shy, give it a try!
MONTANA
Missoula, MT
The mission statement for KettleHouse Brewing is a simple one. They want to match the quality of their beers to the quality of the Montana outdoor experience, or to pair their world class beers with Montana's world class outdoors. KettleHouse produces and packages their beers in environmentally sensitive ways and they hope to grow a community of beer drinkers and thinkers that can help cool off our warming world. As KettleHouse says, they are "In Search of Cooler Times".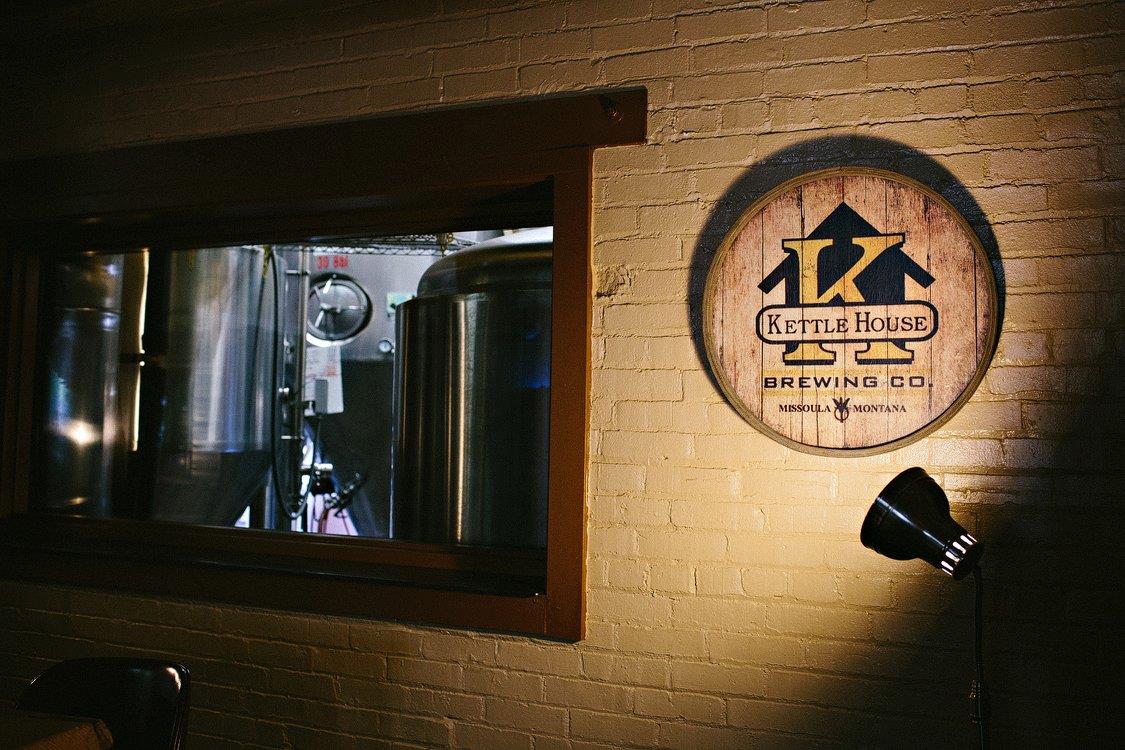 KettleHouse offers growlers as to-go options, and their cans are environmentally friendly and 100% recyclable to help combat waste. Their use of Montana-grown two-row barley, which is malted in Great Falls, MT, cuts back on excess shipping and transportation needs all the while supporting local agri-business. While they do so many things to cut back on waste, we can tell you that they don't cut back on their flavor!
Speaking of flavor, the beer we are featuring for this article is their Cold Smoke Scotch Ale.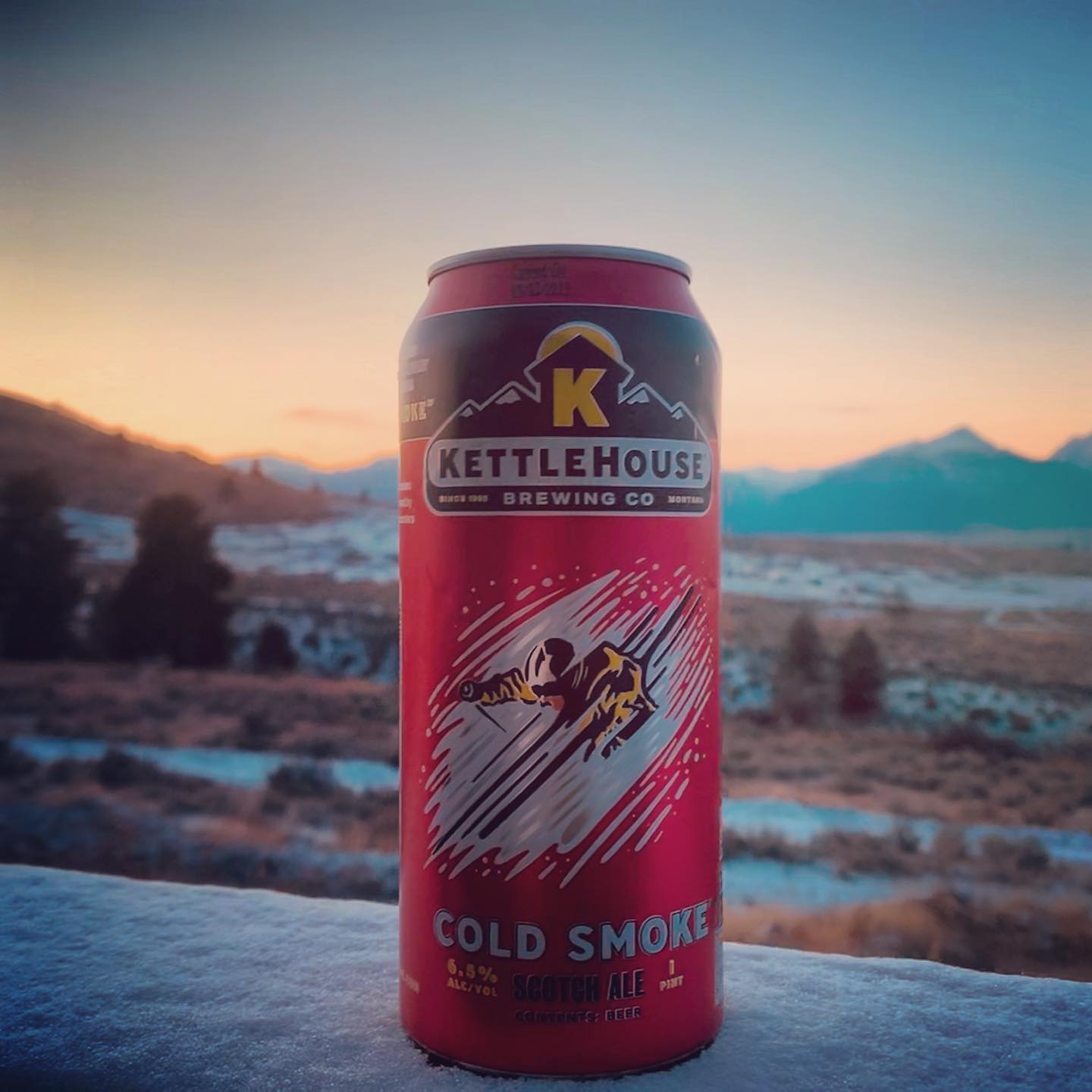 Cold Smoke is the term used by Montanan skiers and snowboarders for the light, bottomless powder snow that falls in Montana. Cold smoke is the transcendent powder experience craved by skiers and boarders alike.
Cold Smoke, the beer, is also something we wish was bottomless too! It's packed with that smooth, almost toffee like richness to the brim. It's not overly complex, but it doesn't need to be, the stellar flavor speaks for itself and to you. This is a great beer to enjoy this time of year, or any time for that matter. The cooler months tend to be called "Stout Season", but we're fine with having a "Scotch Ale" season for the cooler months as well, if they all taste like Cold Smoke. The scotch ale is a classic but underrated style that needs more love and attention than it gets. So, when in Rome, or Montana in this case, go grab some Cold Smoke and enjoy!
NEBRASKA
Lincoln, NE
White Elm's goal is to bring modern takes on rustic ales to southeast Nebraska. In their own words, they love the funk! Brewing such styles as Farmhouse ales, Saisons, Grisettes all call White Elm home on a regular basis. They're not just about rustic ales though, they do offer Scotch Ales, ESB's and several hoppy ales.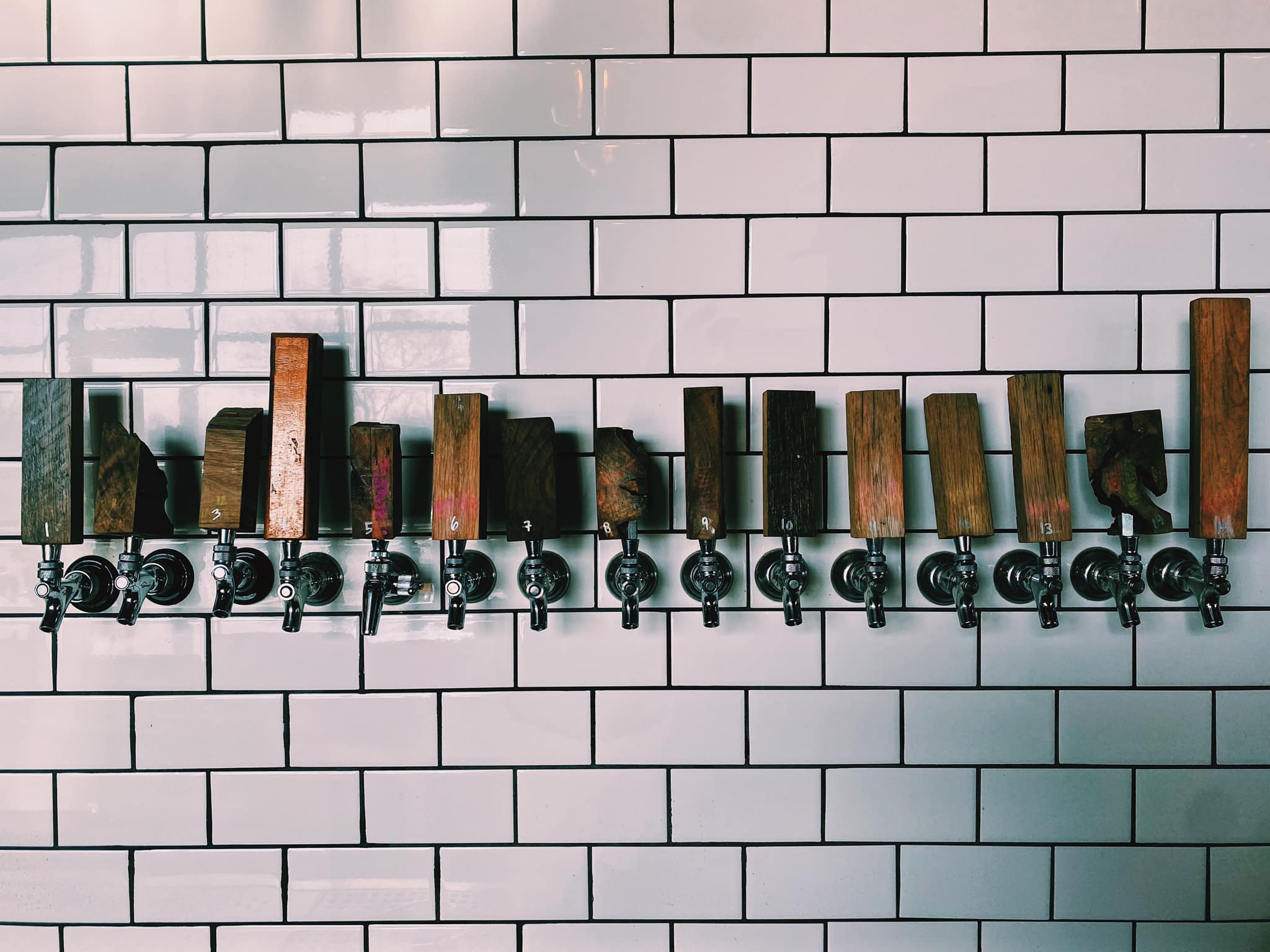 The beer we chose from White Elm for this article is their LNK Czech Pilsner.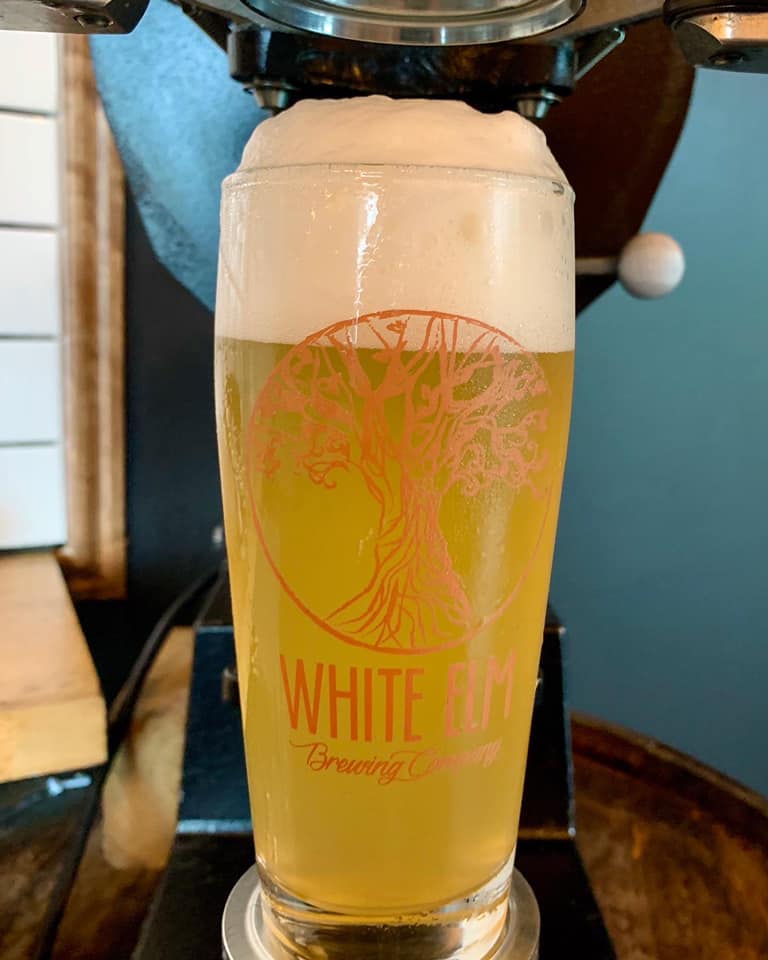 LNK Pils is brewed with Pilsner malt and hopped copiously with Czech grown Saaz. It's cold fermented with their Czech derived Lager yeast strain to deliver a clean, crisp beer. Their brewing process of this beer works so well. It's a deliciously refreshing beer that's a pleasure to drink. It goes down oh so smoothly with a hint of sweetness from the malt character, and finishes on the back end with some hoppy bitterness, not too much though, just enough bite. Weighing in at 4.3% ABV, this is a light lager that's bound to quench the thirst of any beer lover, craft or not. These types of beers always stand the test of time. The what's hot, and fad beers will come and go, but styles like the Czech Pilsner will always be around for us to enjoy, and we thoroughly enjoyed this one!
NEVADA
Henderson, NV
Co-owners Wyndee and Dave Forrest developed the idea for CraftHaus Brewery while traveling through Europe. While on their travels through Europe, they noticed that the craft beer culture was one that took the time to enjoy quality beer, just as much as they enjoyed talking with the people around them. They decided they wanted to bring that feeling of culture back to their Las Vegas community one pint at a time.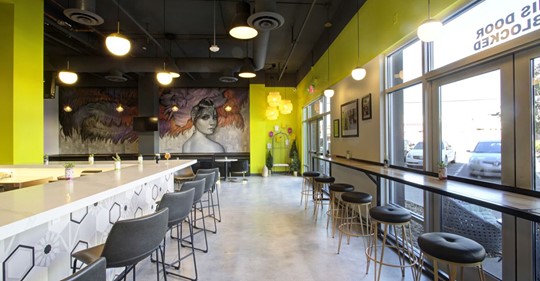 We were able to talk to co-owner Wyndee about their beer when we began talking about featuring one of their beers for this article. Wyndee was a joy to talk with and she decided she wanted us to feature a "wild card" beer from them for the article. Something that was playful and unique! We're glad she did because this beer was definitely fun and unique, and delicious! So, for this article we are featuring Sugoi! a Strawberry Milkshake IPA.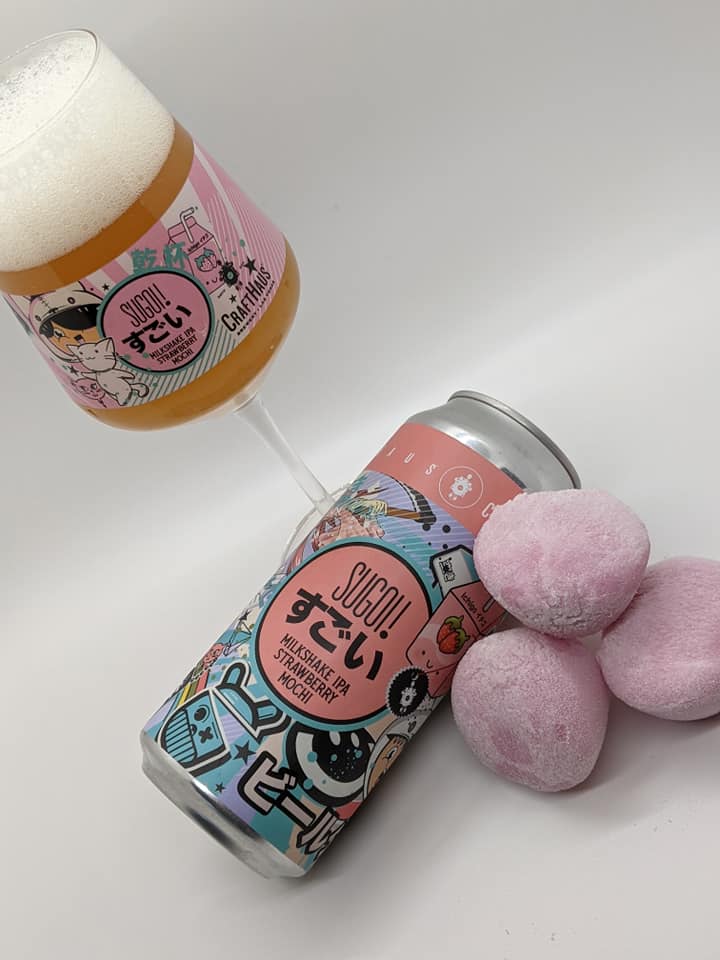 Brewed with Mosaic, Hull Melon and Motueka hops, along with the addition of puffed rice, lactose and pure strawberry puree. This beer will have you saying Sugoi, which translates from Japanese to "awesome" or "wow". We can tell you from experience, this beer will have you saying Sugoi! It starts off with a very creamy first sip followed by a wave of sweet strawberry, finishing with notes of melon and a small amount of hop bite. With the adjuncts that are in this beer, it's very crisp and clean drinking, so much so that you still know you're drinking an IPA. You might find this beer to be out of your wheelhouse, but don't let that stop you from trying it.
NEW HAMPSHIRE
Northwood, NH
Northwoods opened their doors in 2018 with a focus on brewing hoppy ales, farmhouse beers and having an environment where everyone feels like a friend. The folks at Northwoods like to balance old fashioned traditions with new brewing technologies to hone in on the quality of their beers and the ingredients that go into them. Without those high quality ingredients, even the best technology in the world won't be able to produce a tasty beer. Their tasting room is considered the frontline face of the brewery. It's tall glass allows you to see all the brewing operations of the brewery.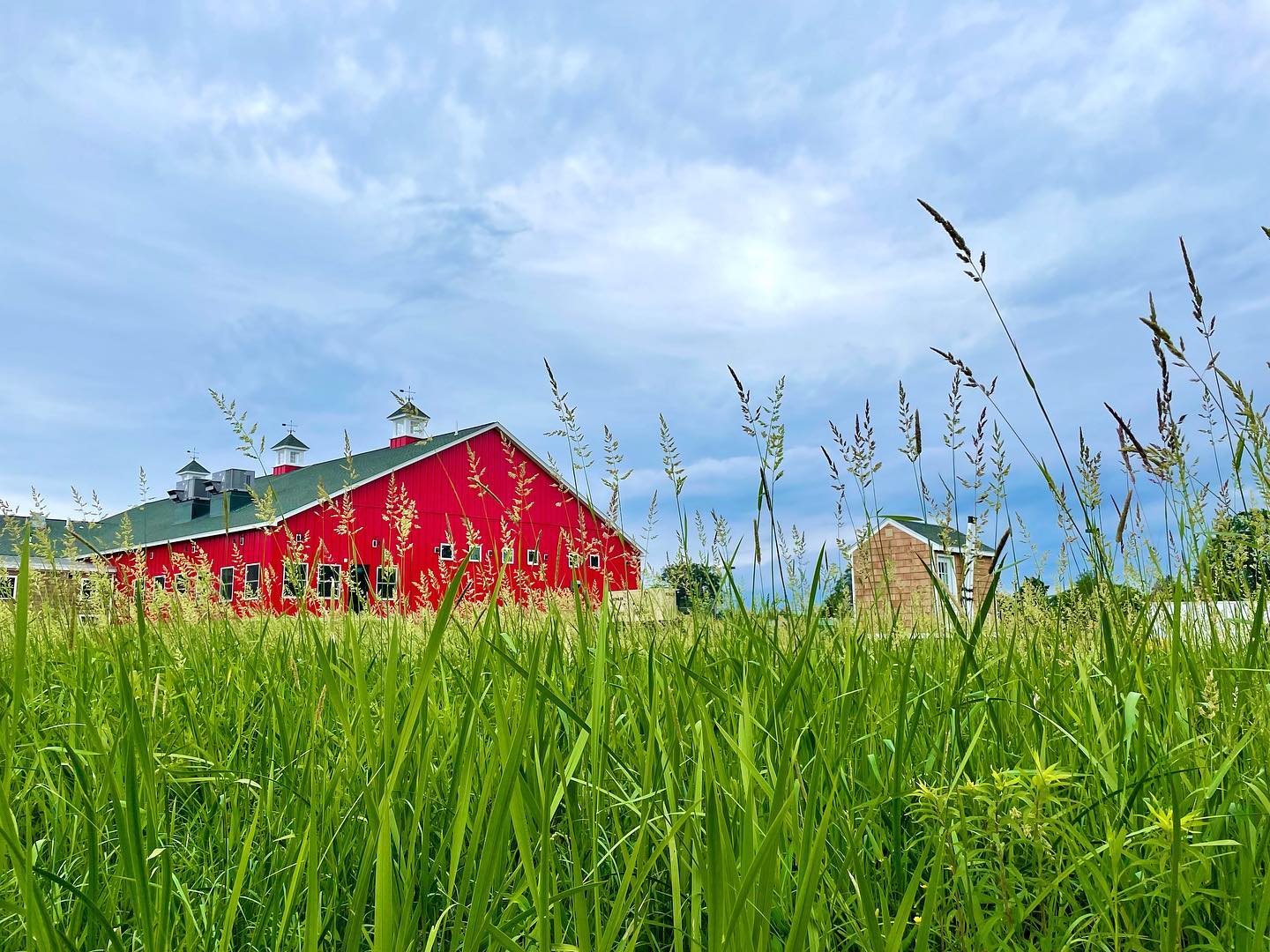 The beer we're featuring for this article is Tall, Tall Trees Volume 4, a New England Style IPA.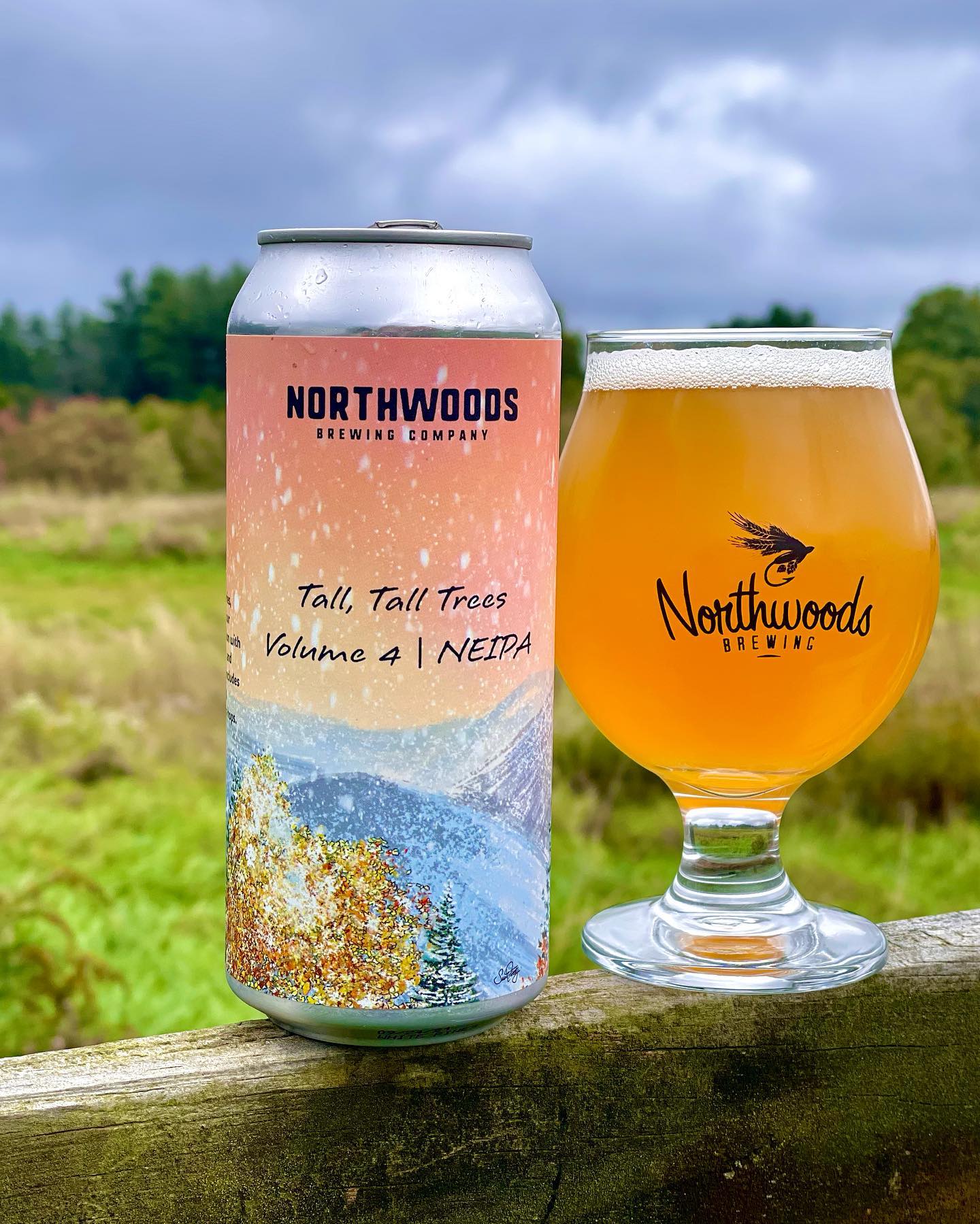 Tall, Tall Trees Volume 4 is part of a rotational series of New England Style IPAs offered by Northwoods Brewing Company. This iteration features Citra, Rakau, Azacca hops and wildflower honey. There's a lot going on in this beer and we like it! A very crisp drinking beer with notes of melon and tropical fruit that give way to a hint of honey and a nice hoppy bite. Citra can sometimes be an overpowering hop, but the Azacca really shines in this beer, creating some nice dankness that pairs well with the bitterness. What a beautifully executed beer this is, one that you should try if you are in the area.
NEW JERSEY
Lakewood, NJ
Icarus Brewing is Lakewood, NJ's first microbrewery. They take pride in their local flavor and fresh, hand-crafted ales and lagers. The naming of the brewery is borrowed from Icarus in Greek Mythology. Icarus had wings and was able to fly, but his father had told him to not fly too low to the ocean or to high to the sun, as the sun would melt his wings that were made from feathers and wax. As the story goes, Icarus didn't listen to his father and flew too close to the sun which melted the wax in his wings and he fell to the sea and drowned. You didn't know you would be getting a small lesson in Greek Mythology today did you? Although Icarus's story ended too soon, Icarus Brewing is just getting started.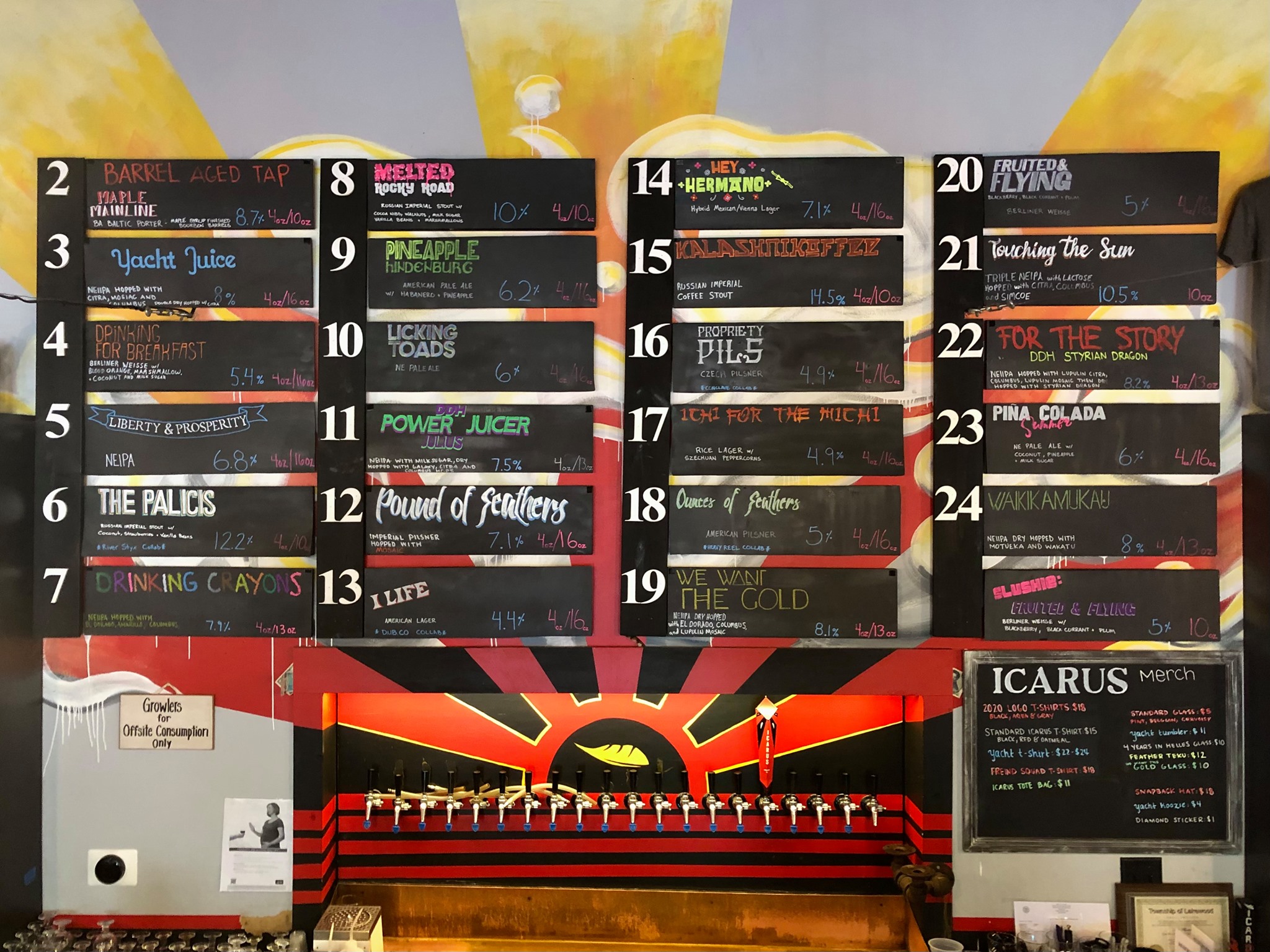 The beer we're featuring from Icarus Brewing for this article is their North East Style Imperial IPA called Yacht Juice.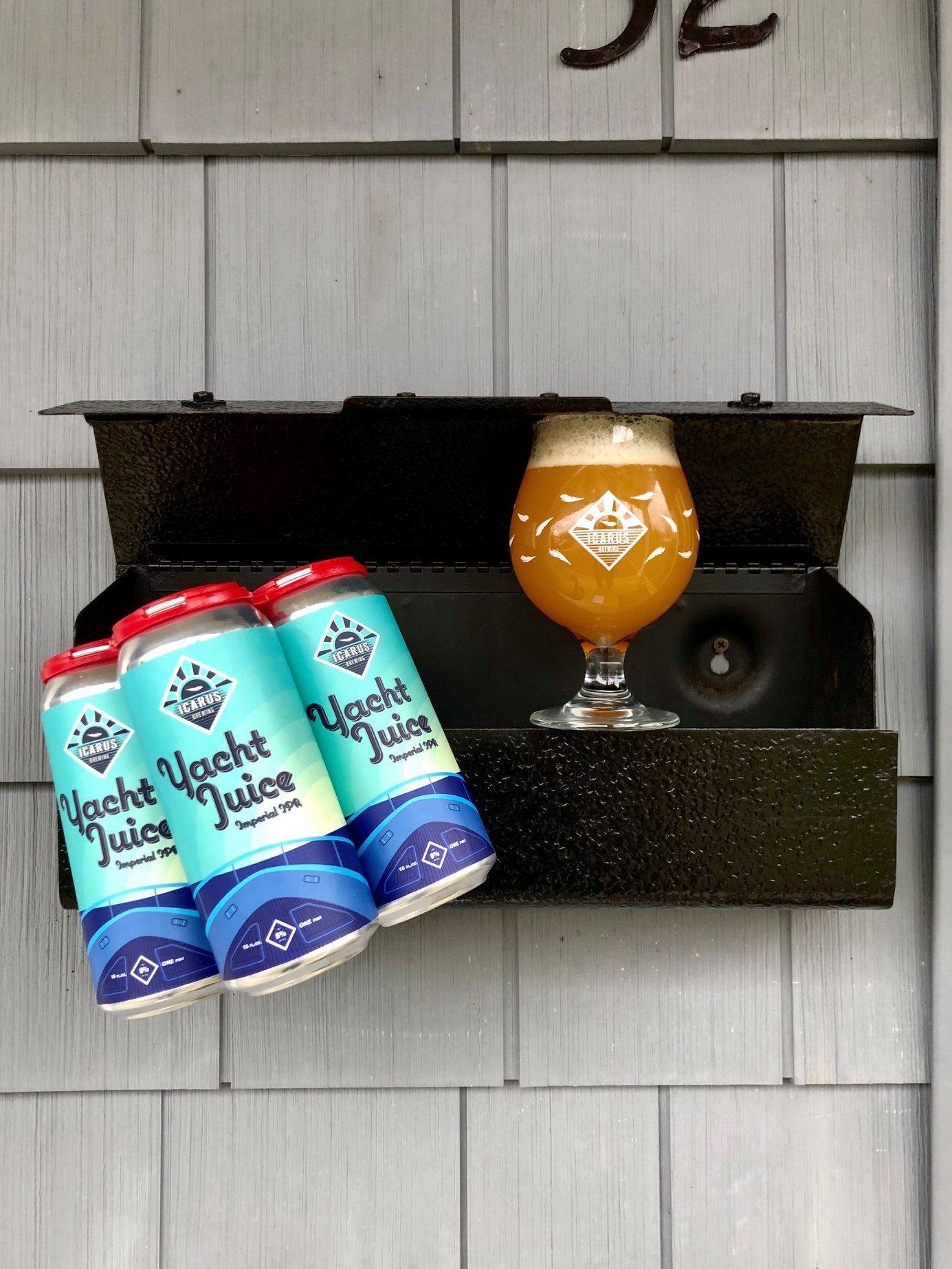 Yacht Juice is hopped with Columbus, Lupulin Mosaic, Lupulin Citra and fermented with their house blend yeast. Pouring this beer give you a thick, hazy orange color with notes of citrus on the nose. The taste is where the real party is at though, with a big burst of citrus flavor up front leading the way, followed by notes of grapefruit and tropical fruit. It produces a very soft mouthfeel that coats the palate. The flavor combo creates is moderately sweet up front, but there's a nice amount of hop bitterness on the finish. This is a model beer for the New England IPA style, it pulls out all the stops and then some.
NEW MEXICO
Albuquerque, NM
Steel Bender Brewyard is a family-owned brewery and pub serving craft beer and cider and scratch pub food from their public house located in the Village of Los Ranchos.
They have 8 house beers on tap, with several other rotating beers and a dynamic barrel-aged and bottle-conditioned program. Their barrel-aging program produces prolific favorites such as their Judy Brett Saison aged on local peaches, Albaricoque Viejo with local apricots, and others aged in wine or spirits barrels.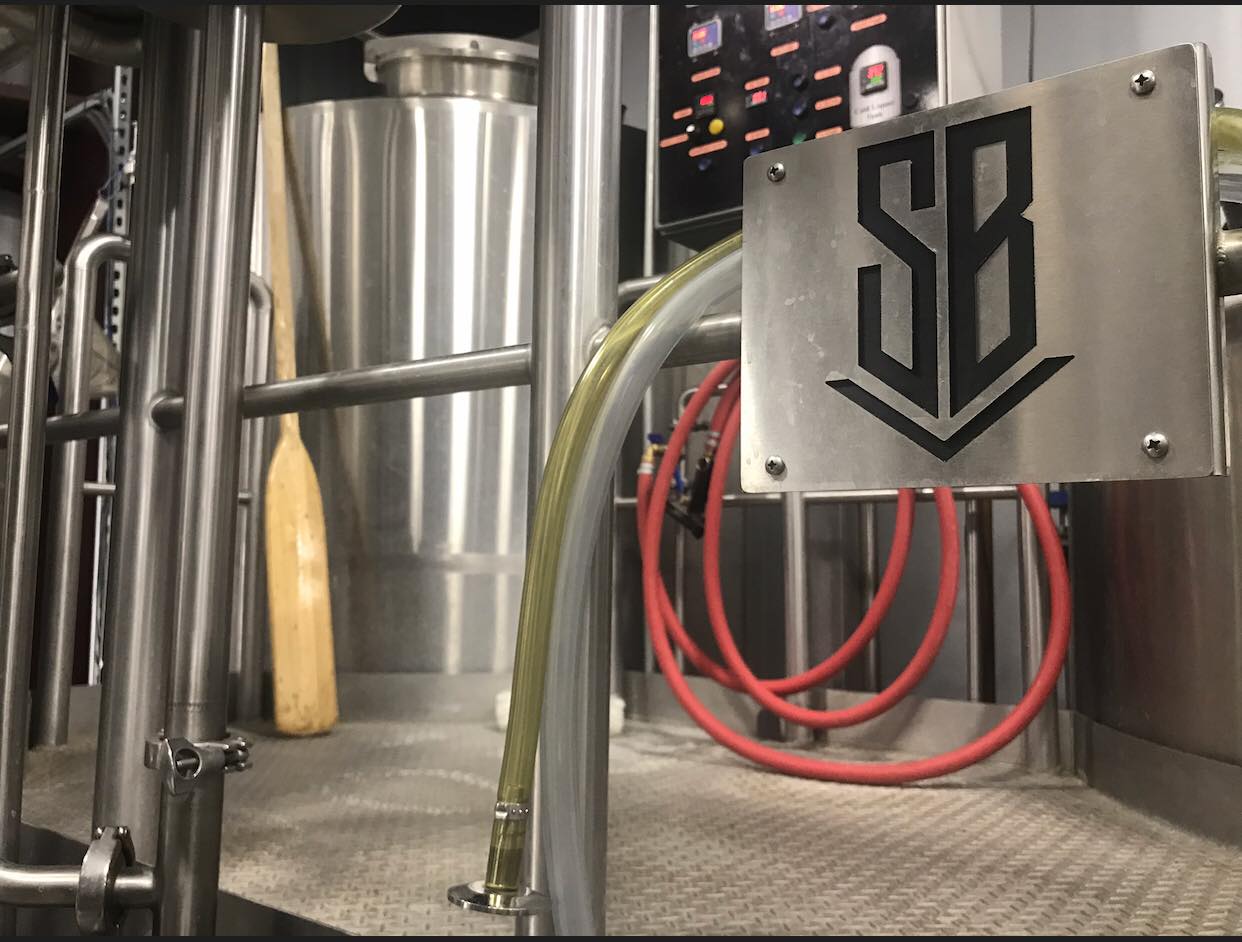 The beer we're featuring from them for this article is Esmerelda, a fine Italian pilsner. When we say fine, we mean of the utmost quality.
Esmerelda is super dry, very bubbly and supremely hoppy. Crisp, clean, refreshing, hoppy and slightly bitter Crystal and Grungeist hops were added in abundance in the kettle and again for fermentation hopping. Made with  Pilsner malt from the New Mexico Malt Project, Esmerelda is a great example of a classic style with a new twist.
We were pleasantly surprised at the amount of citrus flavor that shines through in this beer. It plays a key role in the overall profile of the beer and comes through on the back end. We also noticed just a hint of biscuit or bready that comes through about mid-way through the sip. We really can't say enough about the depth and quality of Esmerelda, a tremendous job well done from the team at Steel Bender Brewyard for making an exceptional beer.
NEW YORK
Bay Shore, NY
Destination Unknown Beer Company, or DUBCO for short, is located on the South Shore of Long Island in Bay Shore, NY. DUBCO opened in the spring of 2014 as a 1 barrel brewery and tasting. room. Things took off quickly for them with the help of massive public support. They quickly began expanding their brand into what it is today. They went from a 1 barrel system to a 7,000 square foot production facility where they produced 20 times the amount of beer they used to.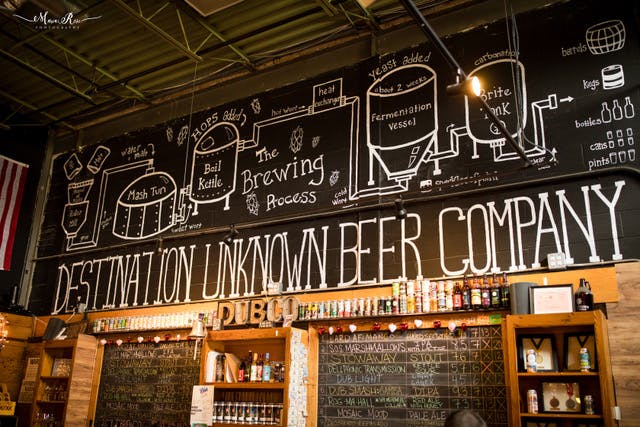 The beer we chose for this article is their Black IPA that goes by the name of Eleanor.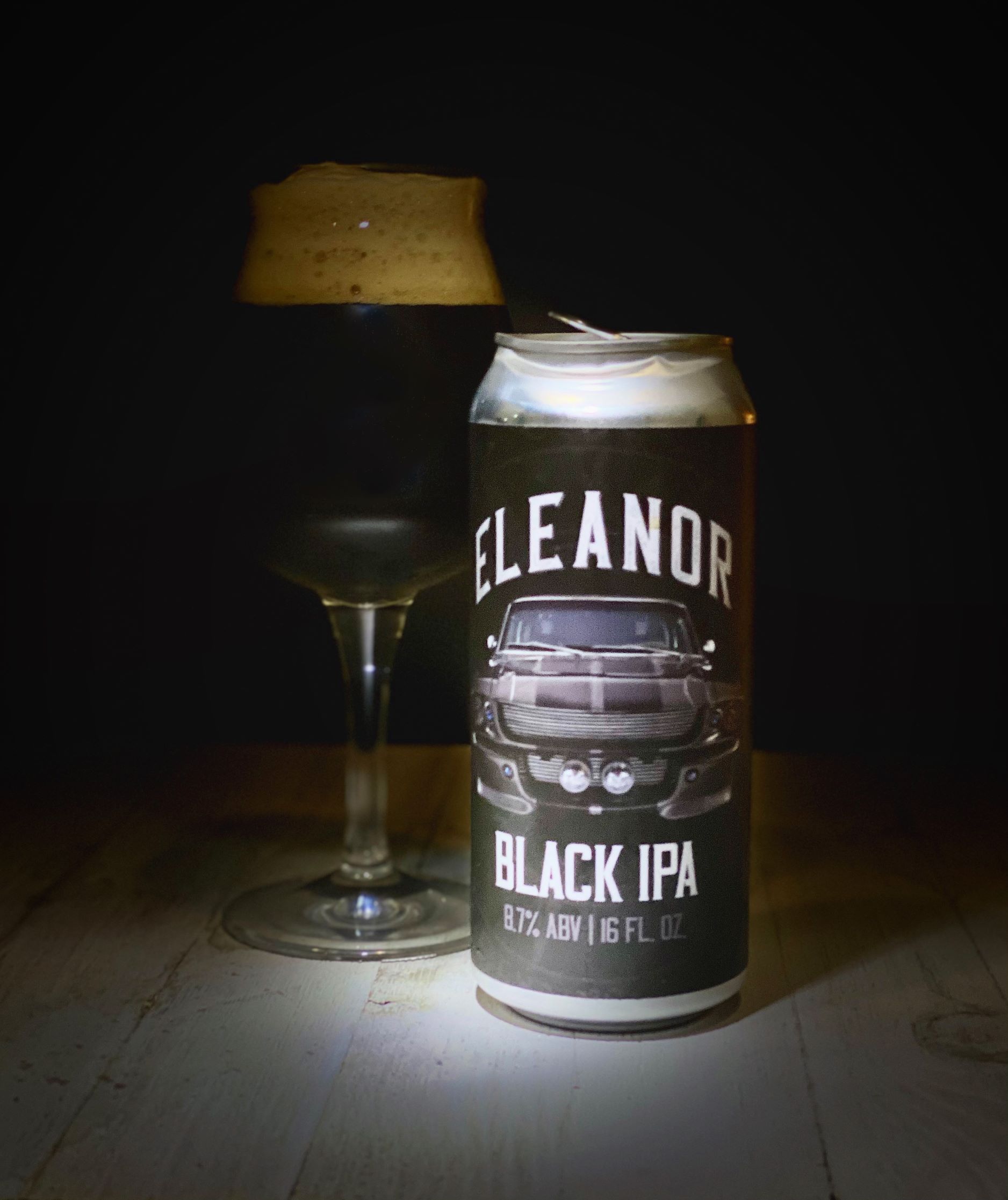 If you've ever seen the cult classic movie Gone In 60 Seconds starring Nicolas Cage, then you're familiar with the elusive 1967 Ford Mustang GT500. If you've not seen it, then maybe you should give it a watch, but that's a story for another time. We're here to talk about the beer, not the movie.
We think Eleanor is the perfect name for this style of beer. The Black IPA can be somewhat elusive at times and a really good one is even harder to score. When you do find one, or hear about one, you want to seek it out and savor it. Eleanor has all specifics we love about a Black IPA. That bold roasty punch up front, bitterness that flows from front to back, and it finishes with a hint of coffee. It's also a very clean and crisp beer that drinks so smooth for an 8.7% Imperial Black IPA.
In the world of classic cars, the term mint condition is often used for those that have been inspected for flaws with a fine-toothed comb. We feel like Eleanor is mint condition for the elusive Black IPA, and DUBCO should be very proud of their achievement.
NORTH CAROLINA
Raleigh, NC
Crank Arm Brewing opened their doors in 2013 in the heart of the warehouse district in downtown Raleigh, NC. Crank Arm started out with the dream of combining their two passions, bikes and beers. The idea for Crank Arm came from co-founder Adam Eckhardt in 2012. Adam has a passion for cycling and saw the need for more quality craft beer in downtown Raleigh. He and the other co-founders, Mike Morris and Dylan Selinger put their varying talents together to Crank Arm with the goal of making Raleigh an even better place with even better beer.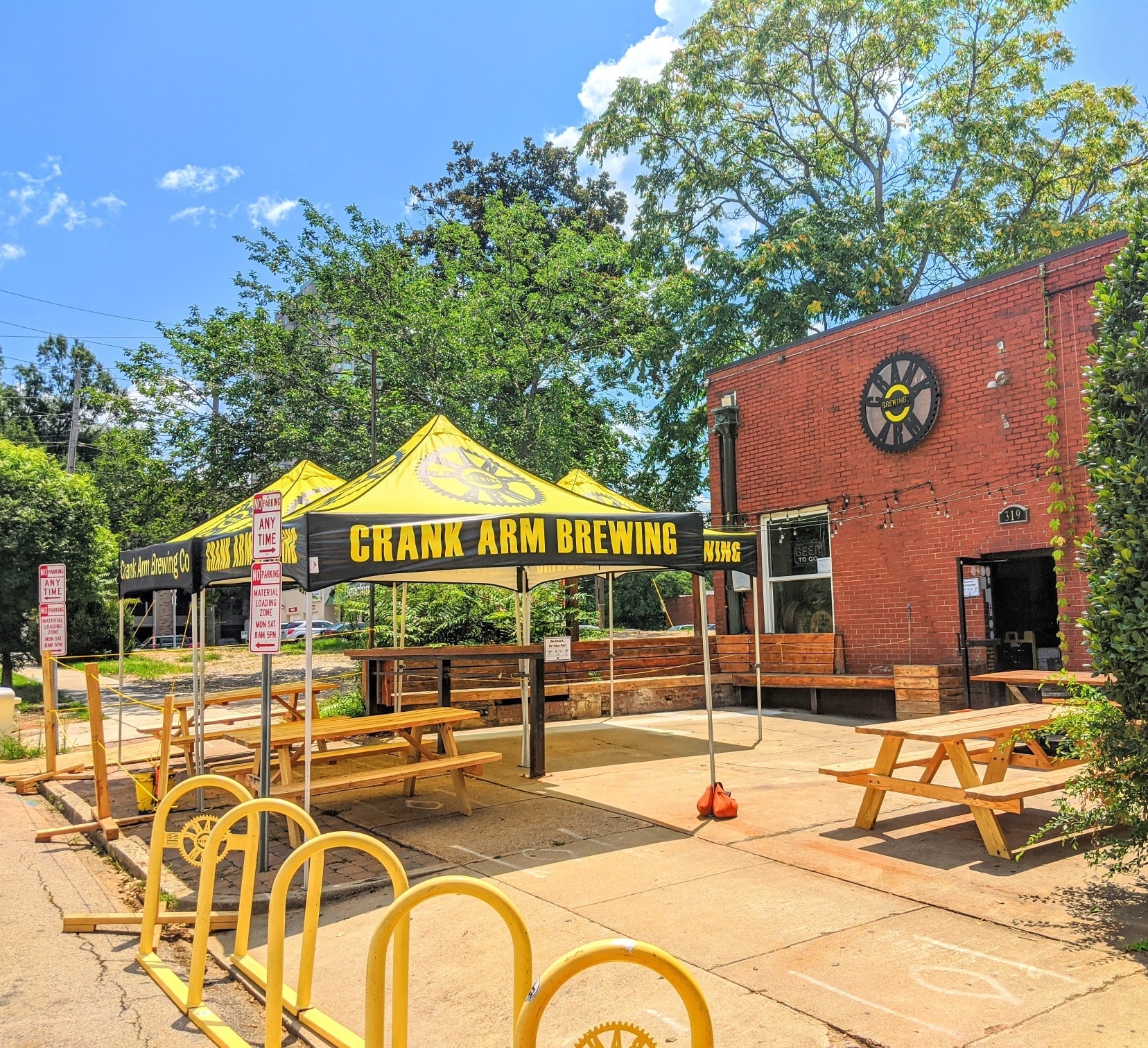 For this article we chose to feature Wet Road, a fresh wet hop Pale Ale.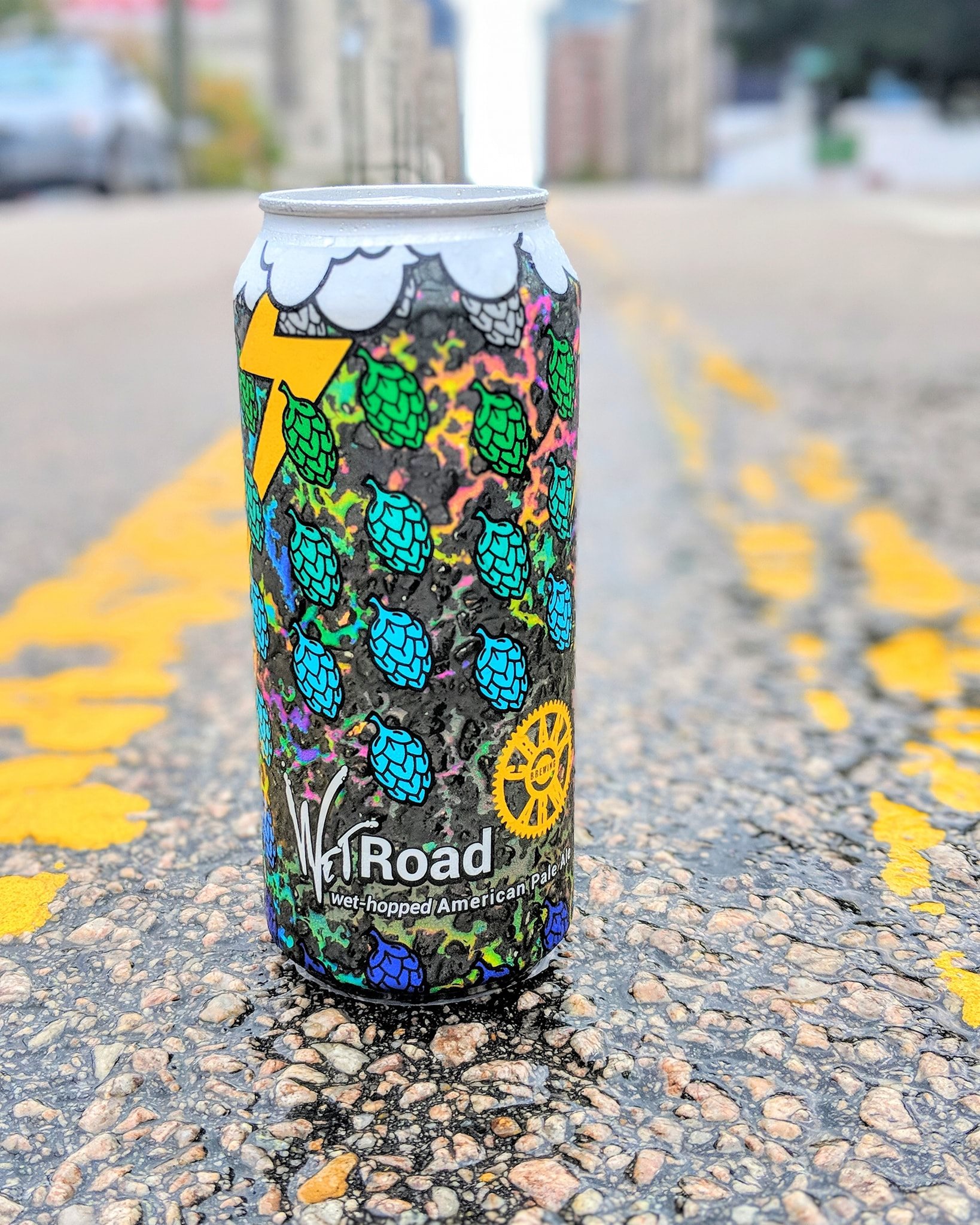 For Wet Road, Crank Arm partners with Farm Boy Farms from Pittsboro, NC to get hops straight off the bine. They also use locally sourced malt from Epiphany Craft Malt. The wet hops give the beer a fresh green, grassy flavor that really makes this beer unique. Up front you get earthy, floral notes followed by a hint of citrus and ends with a bitter hop bite. The bitterness on this beer is more than you normally get with a Pale Ale and it works so well. Bravo to the Crank Arm team for creating this beautufilly done Pale Ale with those wet hops!
NORTH DAKOTA
Grand Forks, ND
Half Brothers Brewing has a love for great beer and it's great community. They spent the last 10 years learning and building the skills necessary to bring a quality craft brewing company to Grand Forks, ND. They've worked hand in hand with local artists and professionals, and they've built something special that goes beyond quality beer and great food. They built the company to be more than just another brewery, and they work hard to build an experience that promotes art and culture in the community.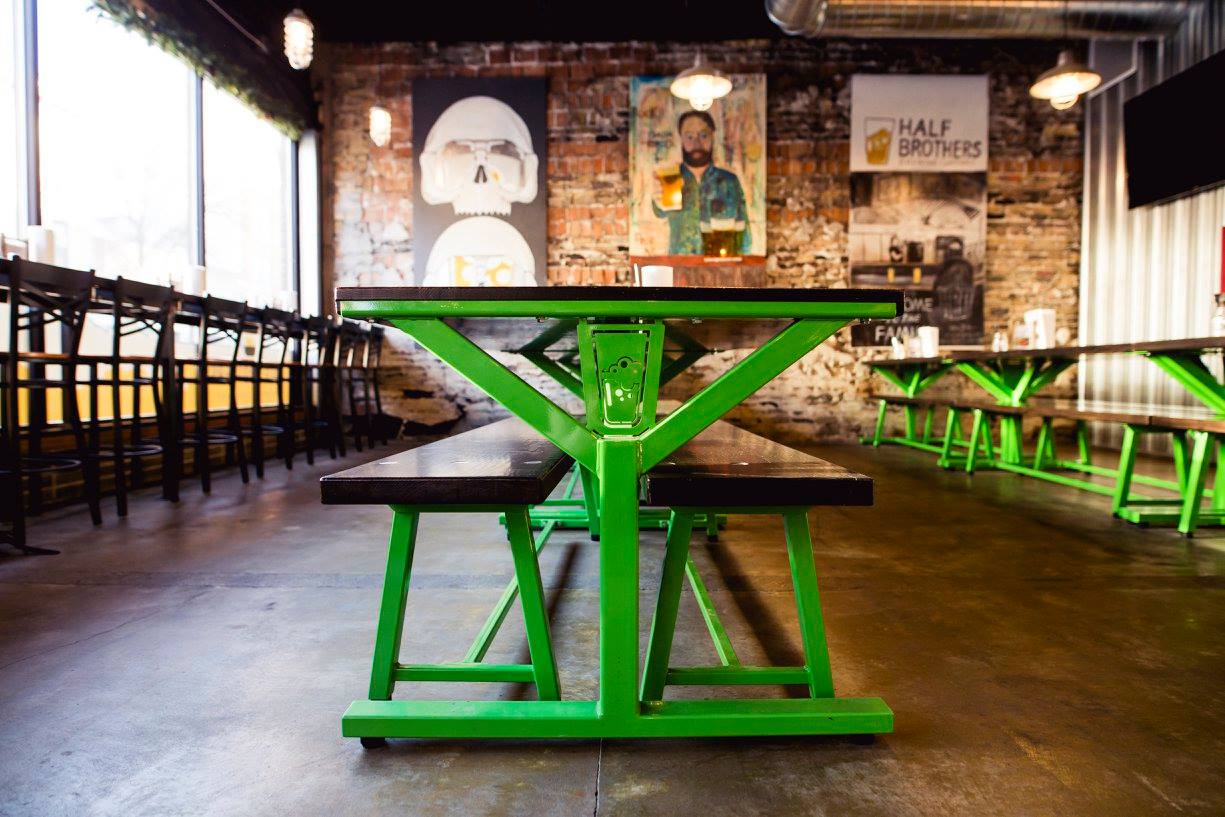 The beer we chose for this article is their Gose beer called Sour Gummy: Lemon+ Peach.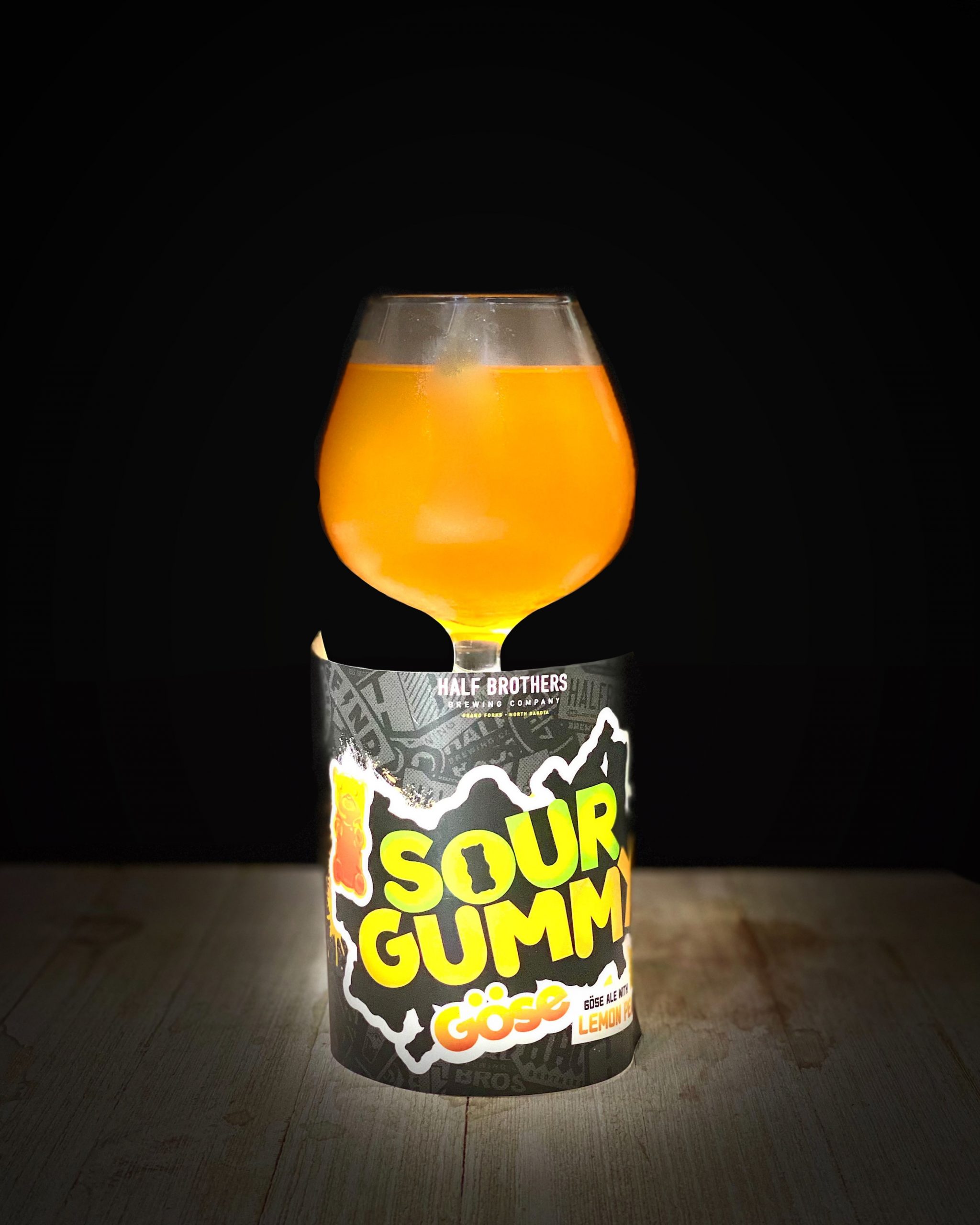 Where do we even start with all the flavors that pop for this beer? Seriously, everything in this beer comes together nicely. If you're a fan of candy peach rings then you'll certainly love this beer. A very distinct peach flavor hits you up front right from the initial sip. Lemon and orange round out the flavor profile and it finishes like an ice cold peach tea. As the beer warms up a bit, if you let it, the lemon becomes more prominent, but peach is still the star of this show. You might not be able to take this peach ring in a can into a movie theater but you can have one at home while you binge watch your favorite show!
OHIO
Cincinnati, OH
Listermann Brewing Company has a long history in the craft brewing industry. It was founded by husband and wife, Dan and Sue Listermann. Founded in 1991, Dan started out by manufacturing home brew parts and shipping them throughout the country. In 1995 their current building was purchased, and their home brew store opened. Fast forward to 2008 when they purchased a 2 BBL brew house and Listermann opened its doors with two 2 BBL fermenters, and as they say, the rest is history.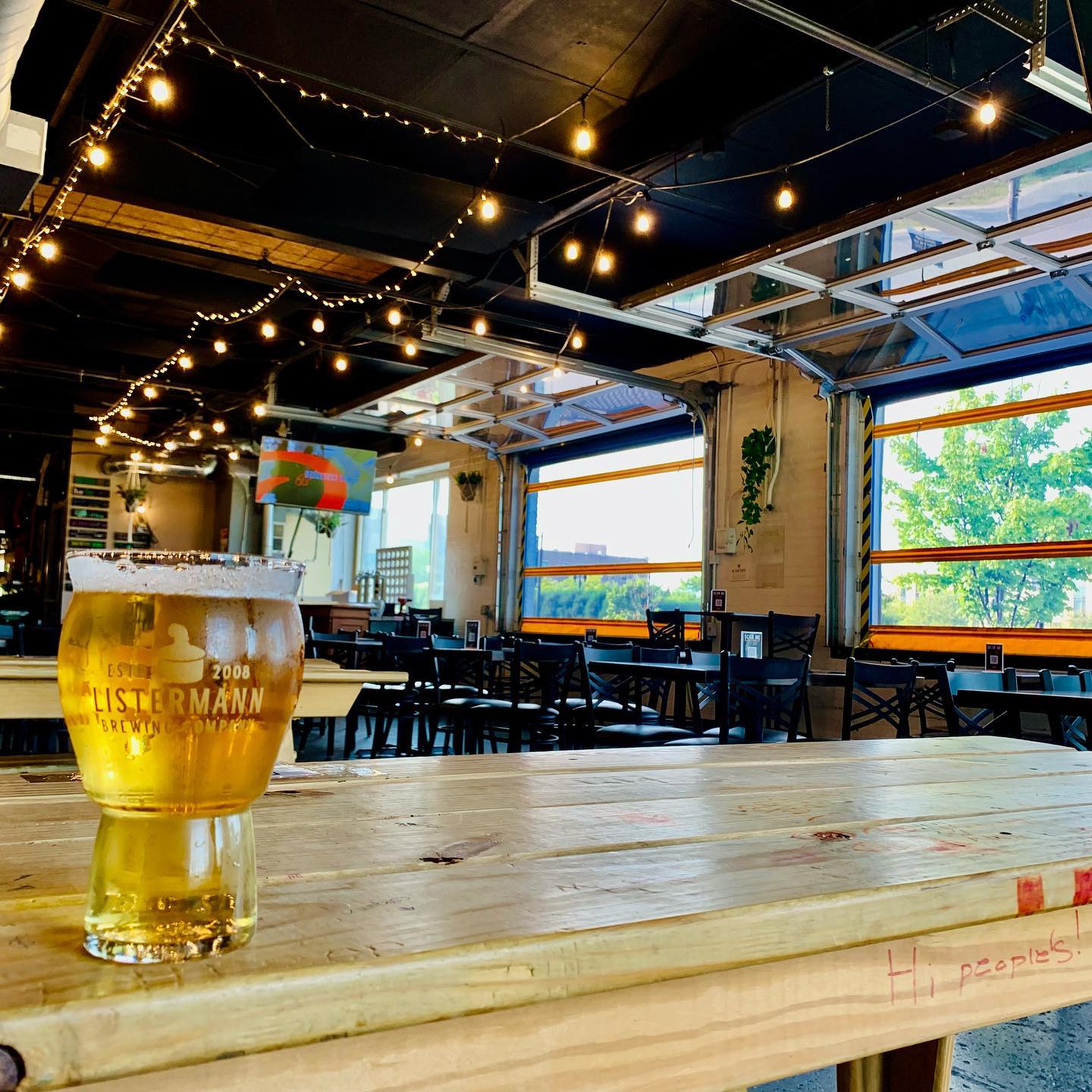 The beer we chose for this article is their Cranium: Orange Espresso Imperial Stout.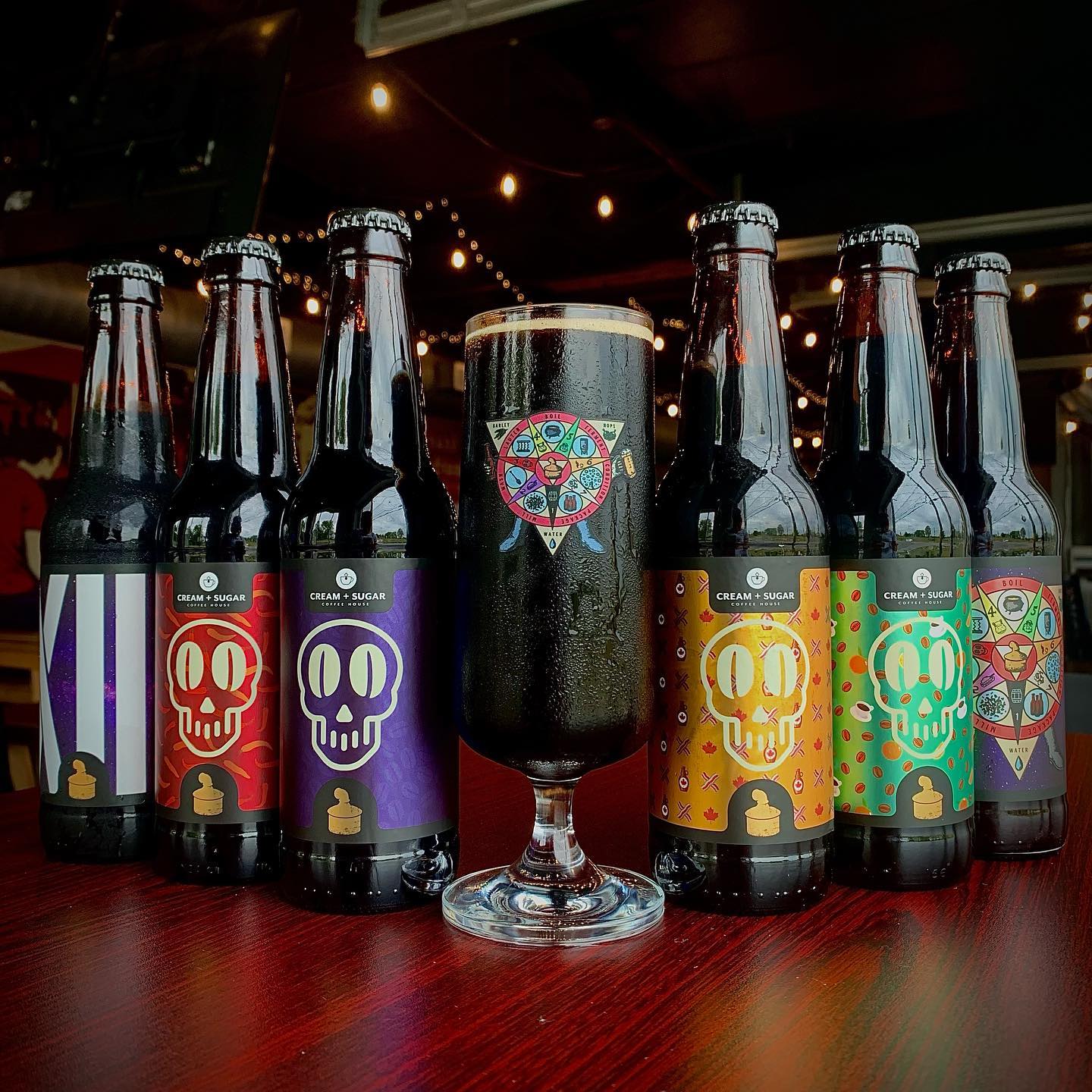 If we had to choose a single word to describe this beer it would be Decadent. It's a luxuriously rich stout brewed with coffee, vanilla, orange peel, espresso and was aged in Rye barrels. First sip bring velvety chocolate to the palate that has your tastes buds begging for more. The chocolate rides all the way through, but the orange flavor comes through about mid way, followed by very prominent notes of coffee. Chocolate and orange tend to go well together and they work extremely well in this beer, but the addition of the coffee balances out the sweetness to create a truly remarkable beer drinking experience.
OKLAHOMA
Norman, OK
Black Mesa's Norman, OK location is their main location where all of their Black Mesa beer is brewed, canned and distributed. It features a 10,000 square foot brew site that produces some of Oklahoma's finest craft beer. In addition they have a 1600 square foot taproom and an outdoor patio to enjoy.
The history of their craft brewery is an interesting story to say the least. Just a mere ten months after their inception, a tornado destroyed their brewery location. They suddenly found themselves gypsy brewing until they could get back up onto their feet with a new location. Gypsy brewing didn't seem to affect the quality of their beer though, as their ESB won Gold at the 2014 World Beer Cup!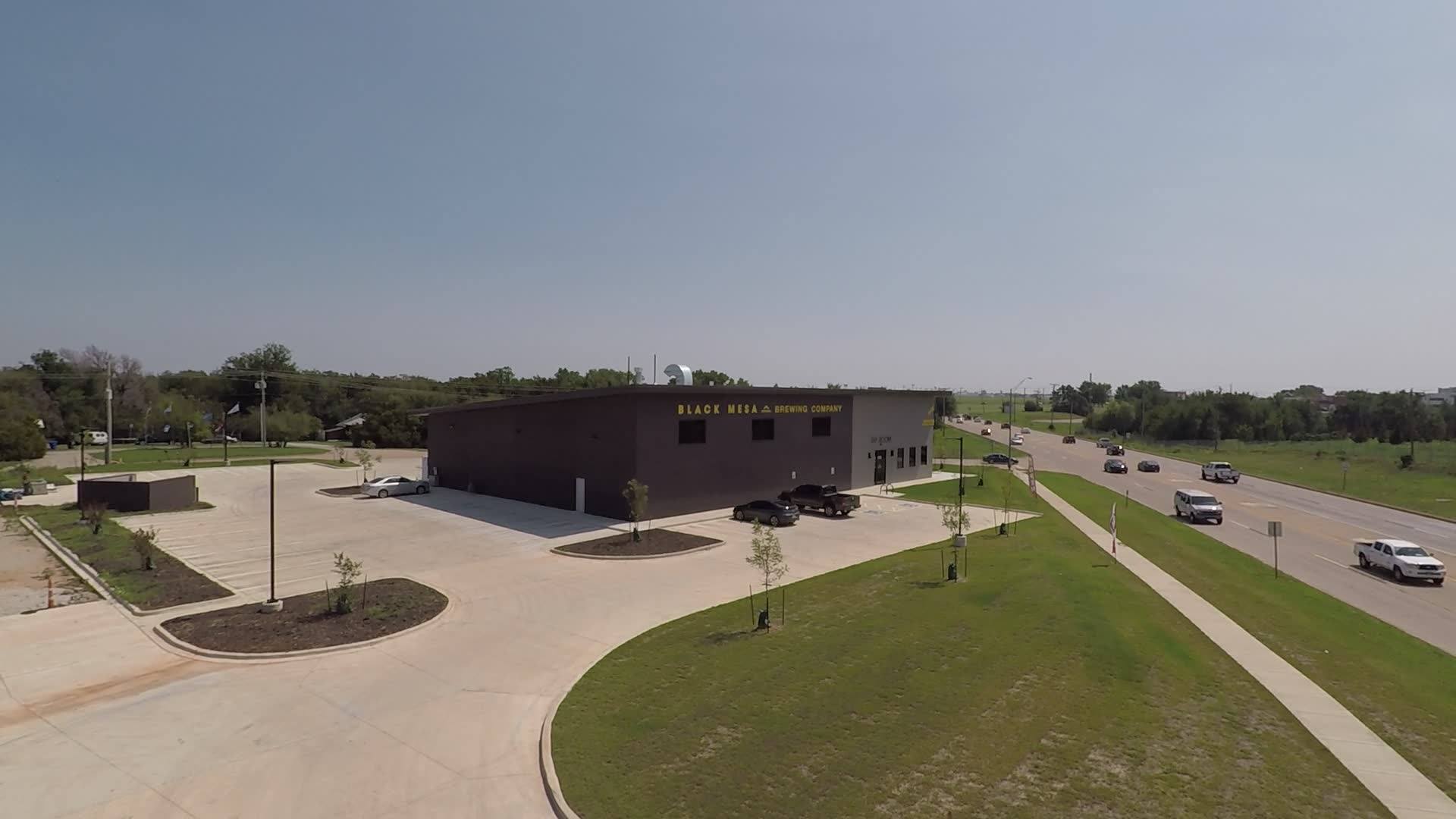 The beer we're featuring from them is their Mountain Boomer Kolsch.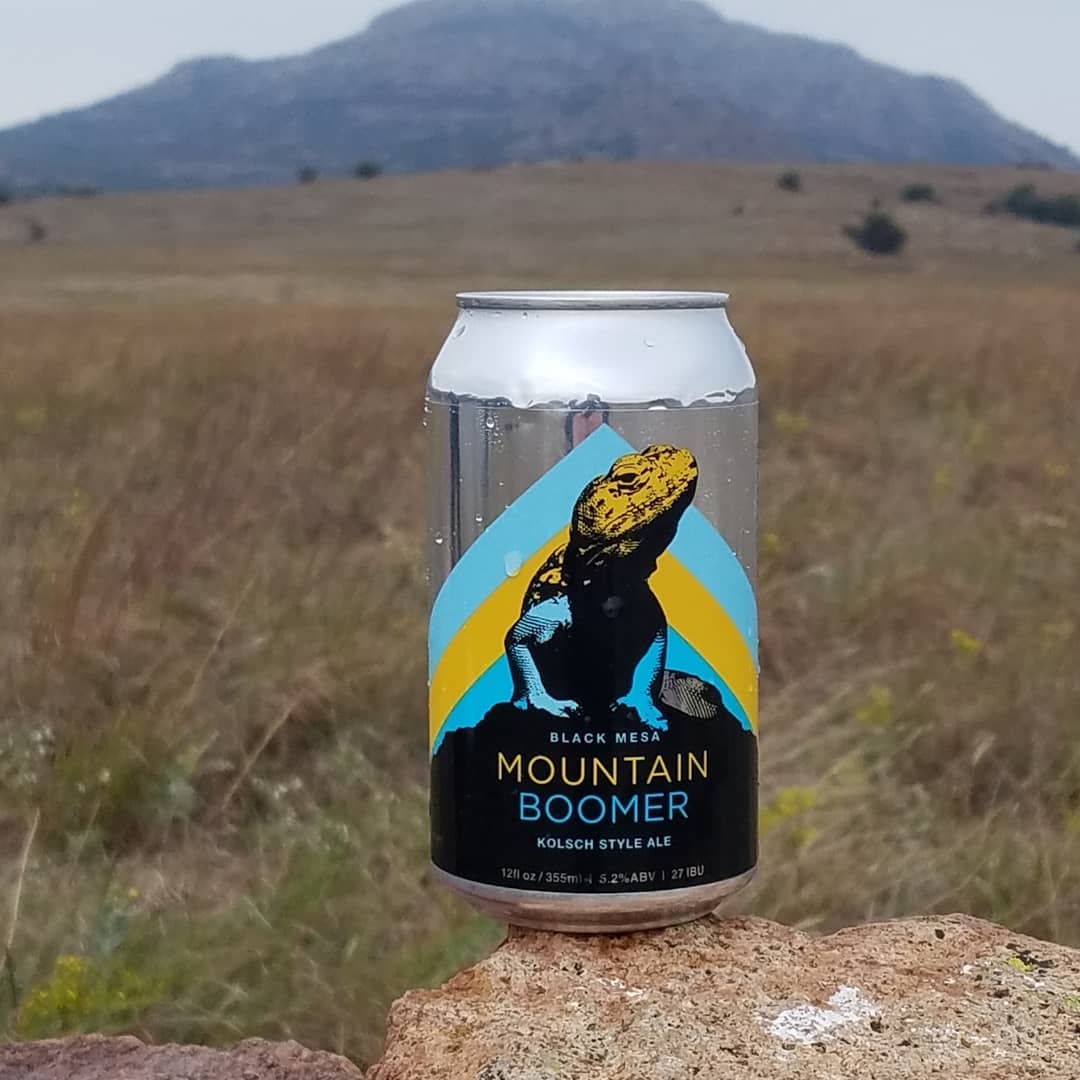 Mountain Boomer is a refreshingly crisp Kolsch that drinks very smooth with a slight bitterness on the back end. Floral notes are abundant from the initial sip and is rounded out with slightly sweet, malty backbone. The Saaz hops provide a touch of spice to the overall profile and it's a very nice touch. We like to think of this a great cooler beer. One that you keep in your cooler and always have on hand, especially for social gatherings (safely) or a backyard BBQ. The Kolsch is another one of those underrated styles that don't seem to garner enough love in the craft beer market. This beer would be a great gateway beer for the average consumer that drinks beer from one of the "Big 3" macro breweries. Pass these out to your friends and give them a taste of what a great Kolsch is.
OREGON
Portland, OR
Cascade Brewing was founded in 1998 by owner Art Larrance and brewmaster Ron Gansberg. They put their 40 years of combined experience to work, designing and installing Cascade's 10 barrel brewing system in Southwest Portland.
Now known for their sour beers, that originally came by default. The two had grown tired of the chasing of the hoppiest beers, especially in the Northwest. Instead, they wanted to turn their attention to creating beers that offered an intense sensory experience, other than hops. Drawing from what their region provided, they focused on an abundant supply of wine barrels from nearby wine country, and access to delicious local fruit. They chose to create sour ales using lactobacillus to produce moderate levels of acidity and sour flavors. By 2006 they were producing a base beer that would be aged up to year in wine, port and whiskey oak barrels.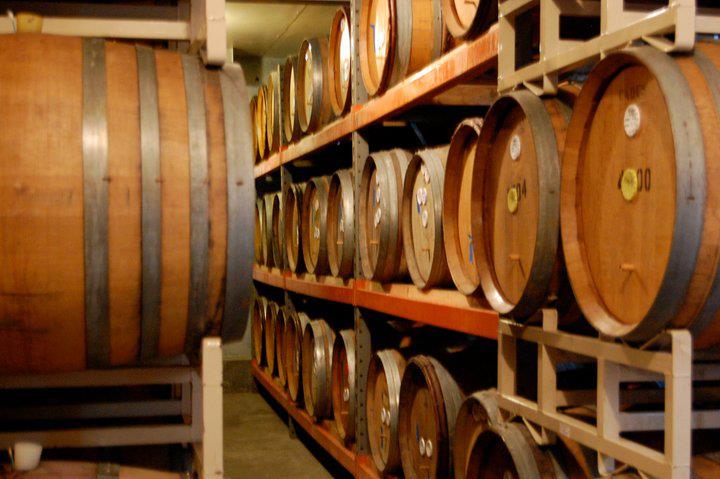 The beer we chose for this article is Cash Nelson, a barrel-aged sour ale.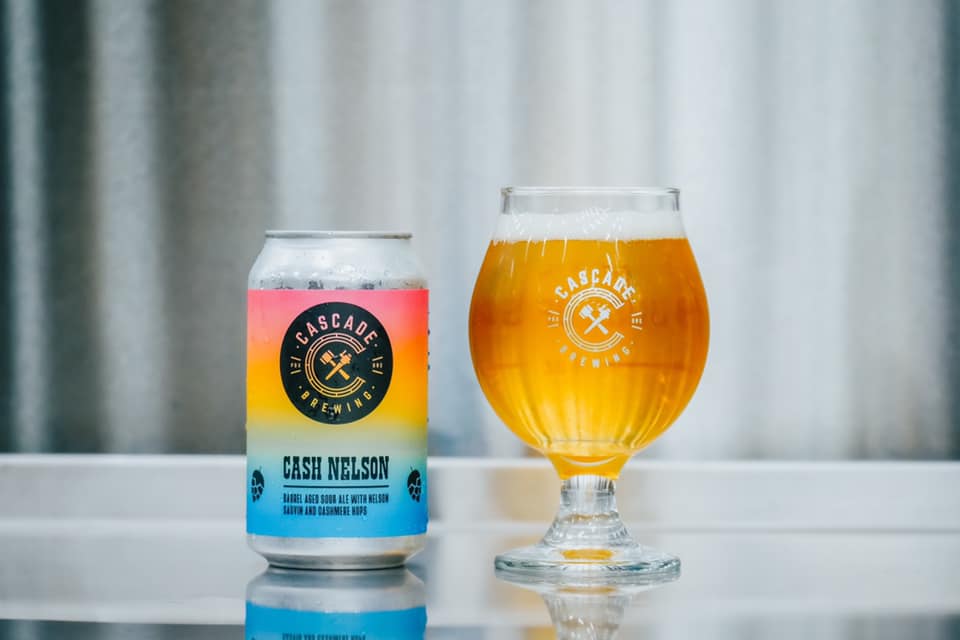 Cash Nelson is a golden sour ale aged on oak barrels and foudres for up to 10 months, then dry-hopped with Cashmere and Nelson Sauvin hops. For us, the star of this show is the Nelson Sauvin hops. They provide a white grape flavor that goes with the sour and bitter flavors of the beer. The sour flavor comes at you right off the bat but it's not too overpowering. You just know you're drinking something funky, but in a good way. The body is light and crisp and goes down very easy, something you can really enjoy. We love a beer like this, something out of the ordinary to wake up those taste buds.
PENNYSYLVANIA
Pittsburgh, PA
Old Thunder Brewing is brewer-owned and brewer-operated and dedicated to serving their diverse community, while remaining loyal to the past, present and future of beer.
They're located in the Blawnox Borough of Pittsburgh, PA with a taproom that is a welcoming place where their guests can enjoy beers and each other's company. Their production schedule includes the highest-quality lagers and ales, with the addition to strong beers and mixed fermentation beers that are destined for wood maturation.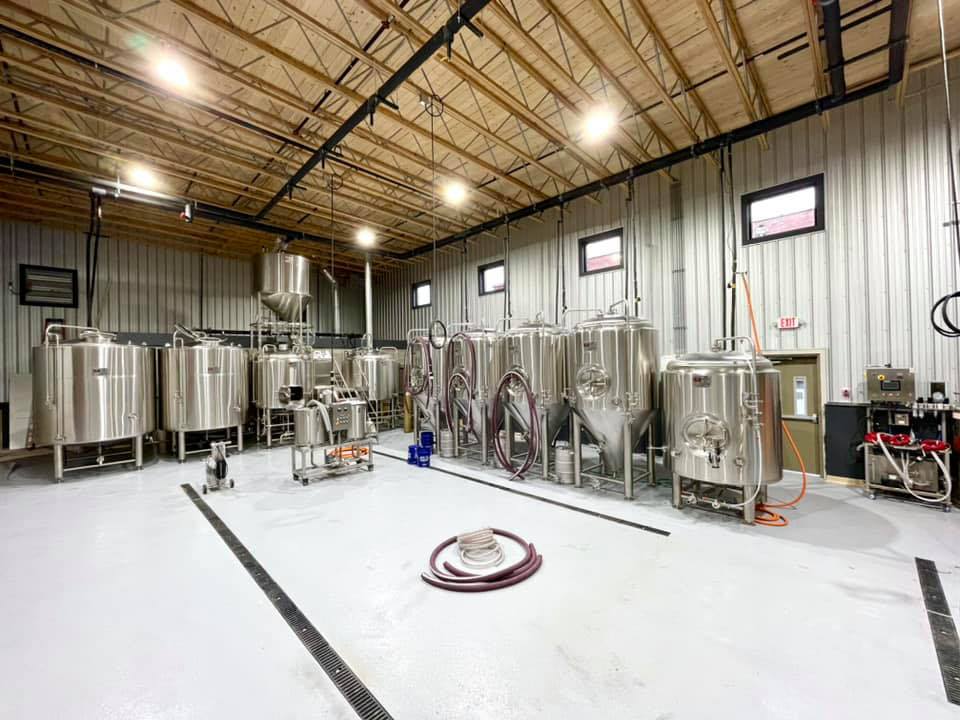 The beer we chose for this article is their year-round IPA called False Kingdom.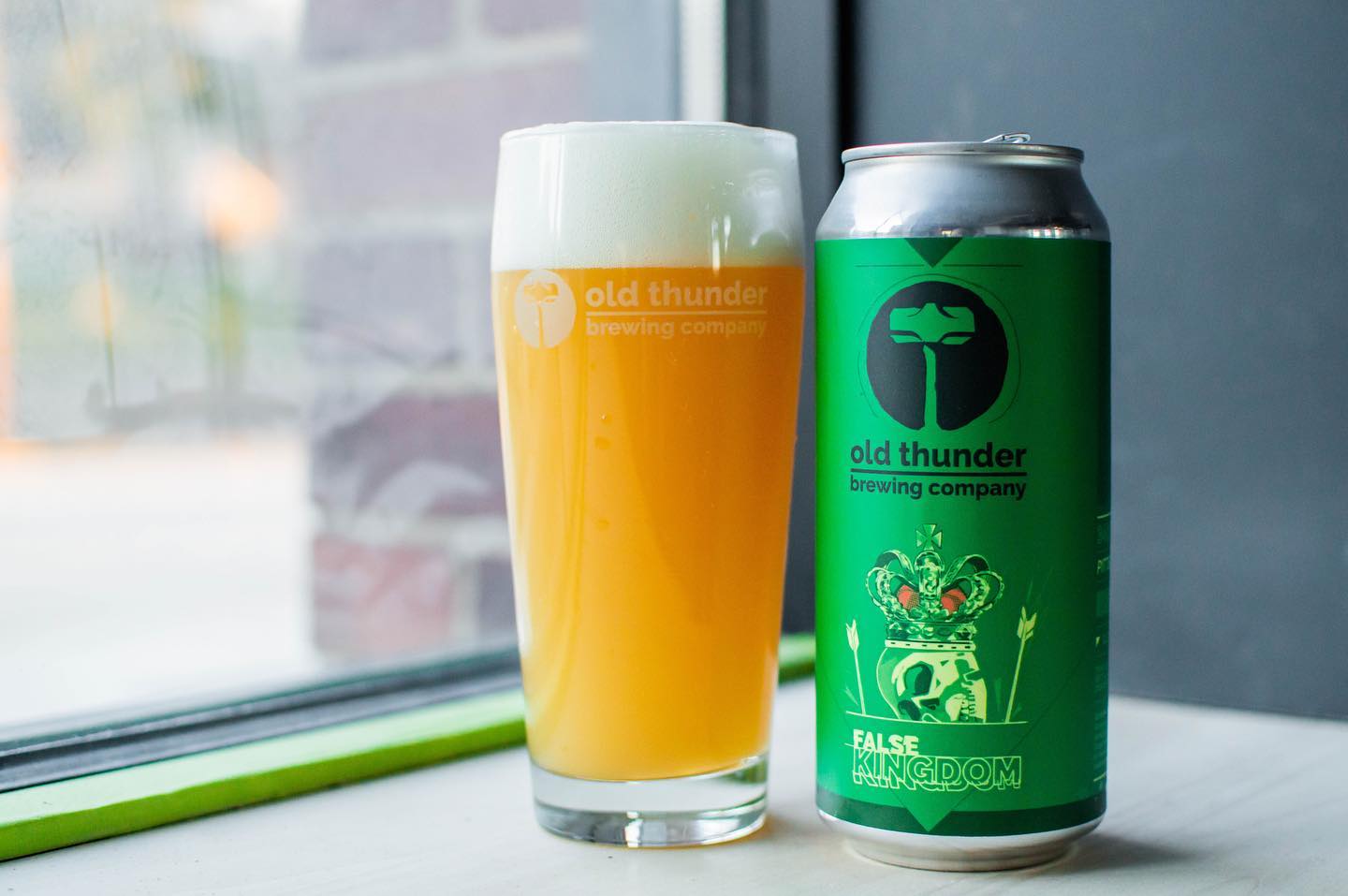 False Kingdom is a real banger of a beer! It has a delicately smooth, almost creamy plush mouthfeel with just the right amount of hop bitterness. First sip gets you a pungent burst of citrus that rides all the way from front to back. The citrus is the main focus of this beer and it shines oh so well. This is a crushable American IPA, but we would prefer to sip and savor this one. It pours a bright orange hue that looks almost like orange juice, though not as thick as orange juice it still packs all that citrusy goodness that you would expect the beer to produce!
RHODE ISLAND
Bristol, RI
The name of their brewery comes from the early Rhode Island Naval vessel, the U.S.S. Providence. Serving in the Revolutionary War under the Continental Navy, the U.S.S. Providence boasted Twelve Guns.
Twelve Guns rotates eight beers on tap in a variety of styles in their Bristol taproom. Their beer is brewed on site with a 10 barrel all-electric brewhouse. Each beer is packaged in 4-packs of 12oz or 16oz cans. You can also bring in any 32oz or 64oz growler and they'll fill it up with any of their beers on tap.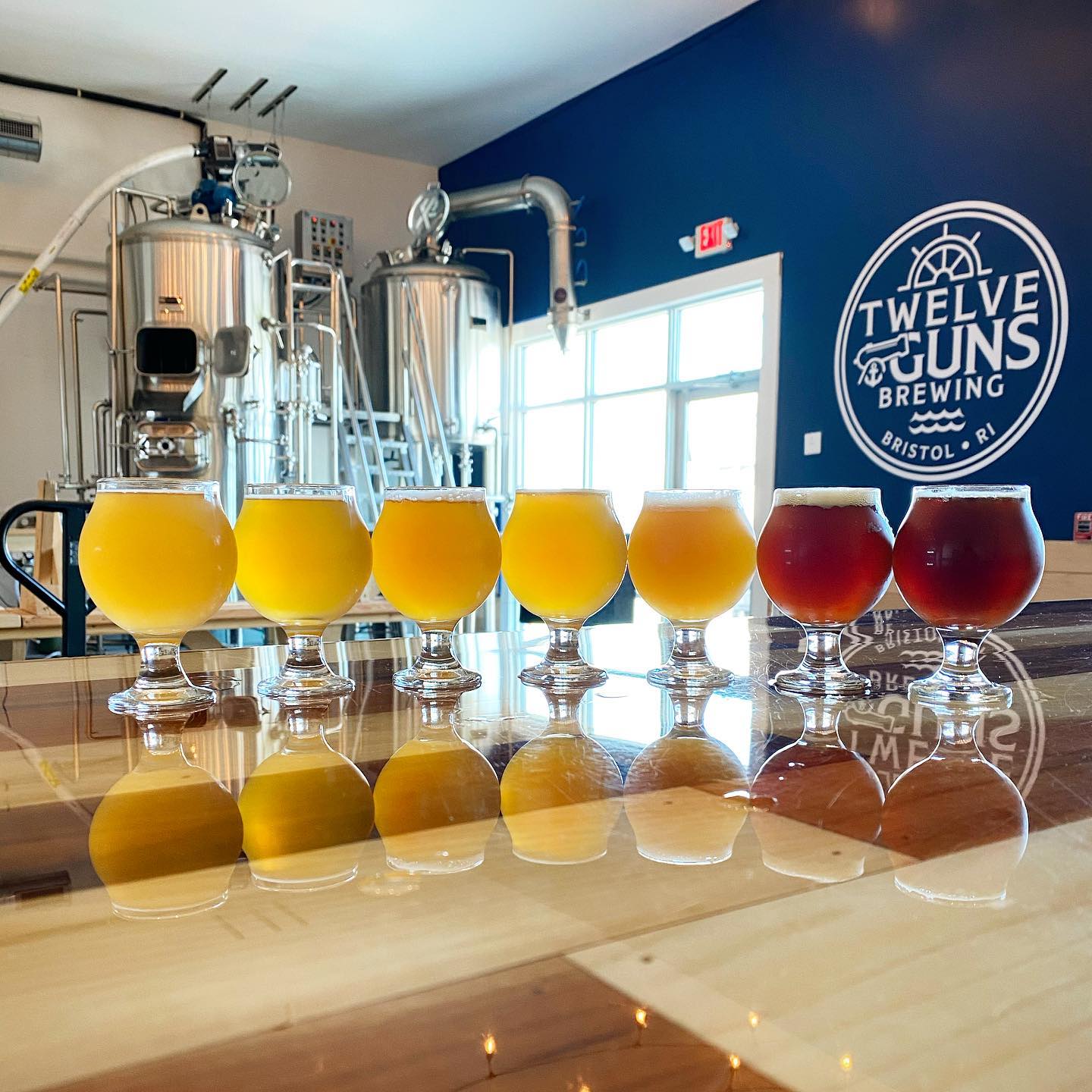 The beer we're featuring for this article is The Meg, an American Blonde Ale.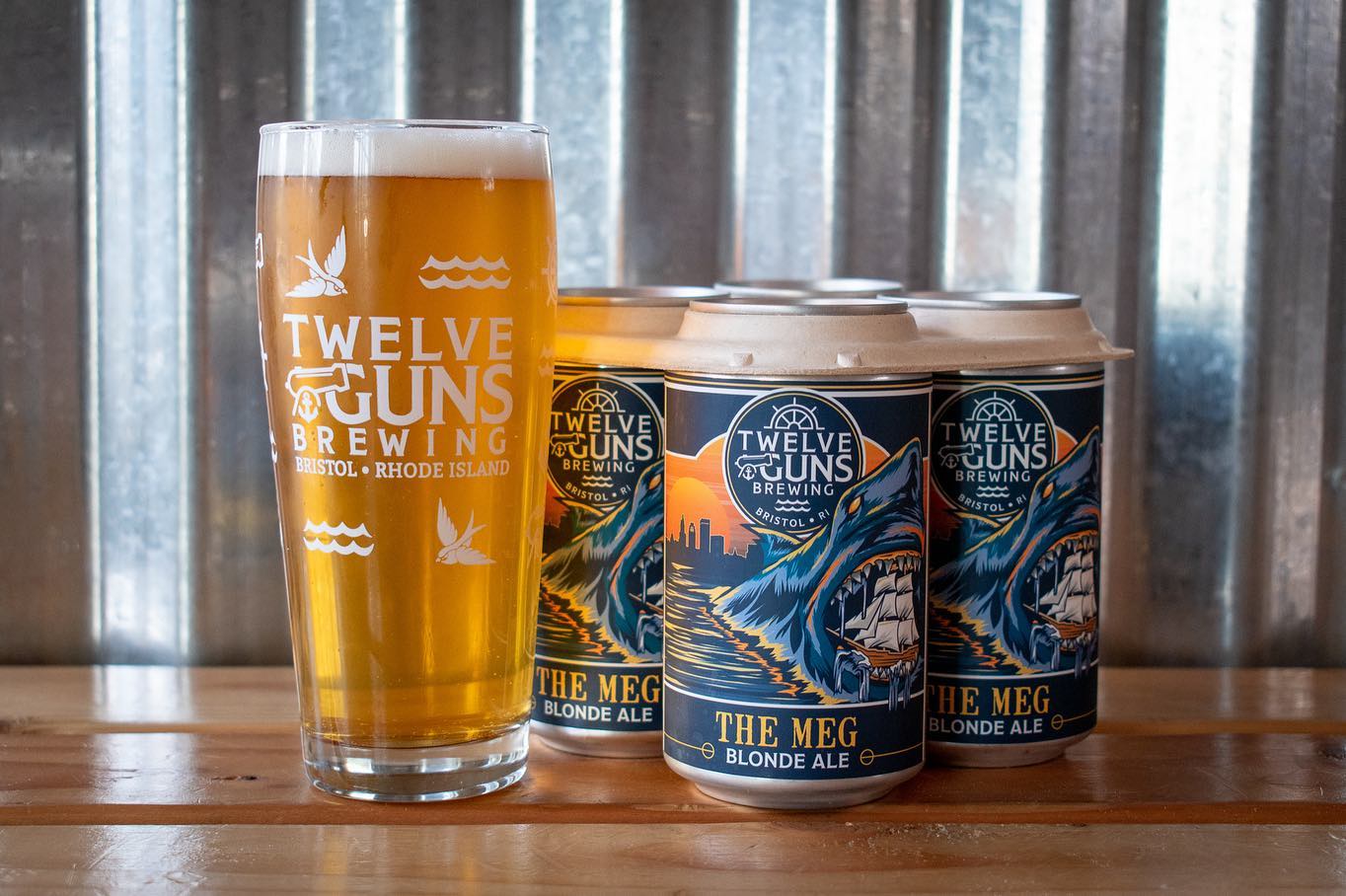 The Blonde Ale is another one of those beer styles that's often overlooked in today's craft beer market. We get it to a certain extent; most people want their high ABV Stouts and IPAs. Which is fine, we love those too, but it's nice to drink a classic style beer you can just sip and enjoy what it has to offer. That's The Meg, a 5.5% ABV American Blonde that's light and refreshing, yet packed full of flavor. It's very easy-drinking and well-balanced. You get a small amount of malty goodness that's accompanied by just a touch of hop bitterness. What a pleasure this beer was to drink, just perfectly well rounded. If you find yourself near Twelve Guns Brewing, stop by and try their beers, but make sure you try The Meg, you'll thank us later.
SOUTH CAROLINA
North Charleston, SC
Snafu Brewing Company specializes in Fruited Sour Beers. Founded in 2016 by industry vet Scott Koon, aka "Skoon" as he's called. They call themselves an old warehouse brewery with new school beers, and boy do they ever have those new school beers! Every once in a while you come across something that just stands out to you. Maybe when you were a kid or an adult for that matter, you always gravitate toward those bright multicolored sneakers, or you listen to your music way too loud. That's Snafu to us, they grab your attention with whatever they brew and they're not afraid to push the limits.
We won't print how they came about the name for their brewery, but you should definitely do a quick web search to see for yourself, it's clever and we feel it represents their brewing style and beers they produce perfectly.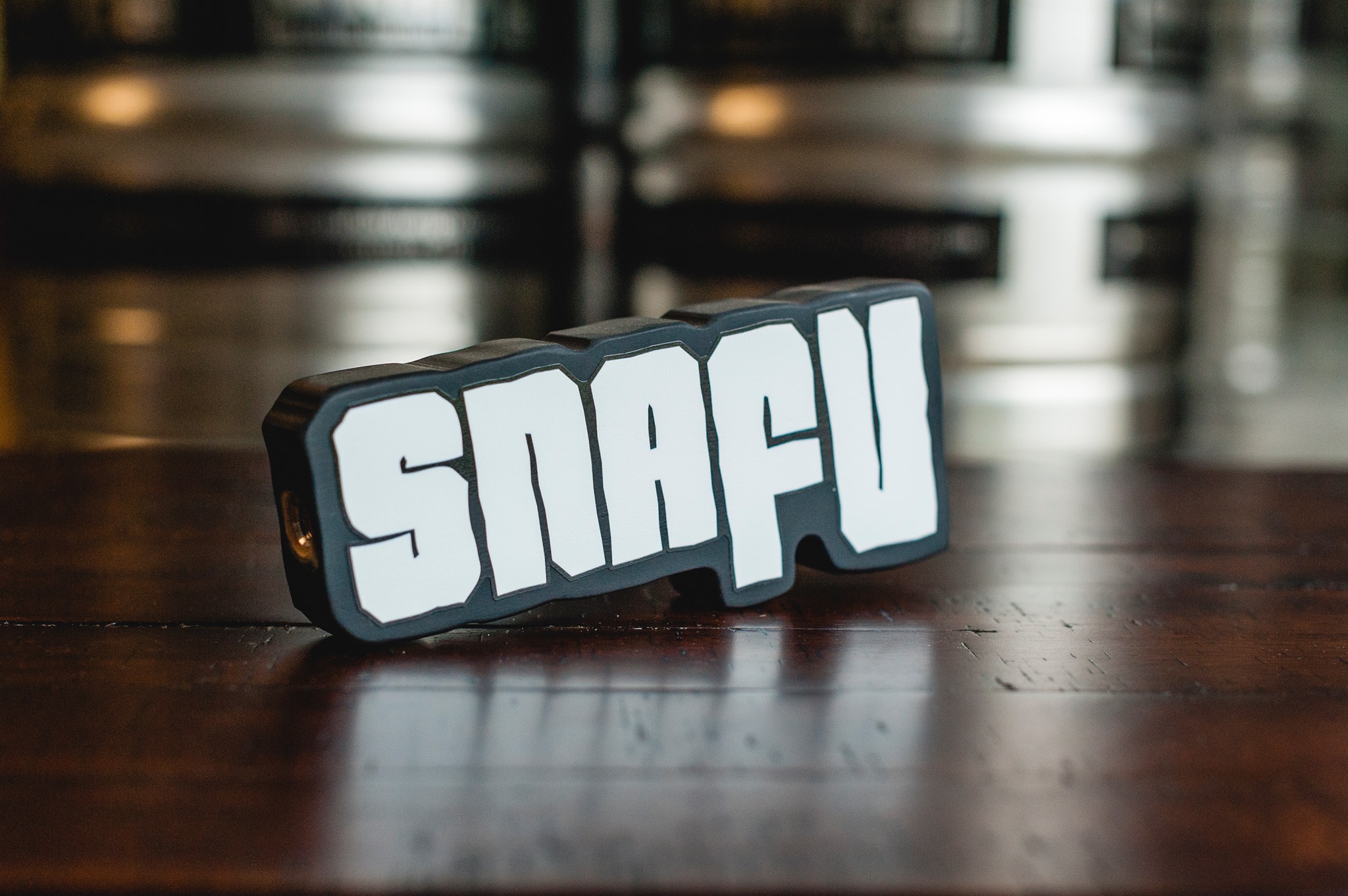 The beer we chose to use for this article is Nu-Tang, a fruited sour beer.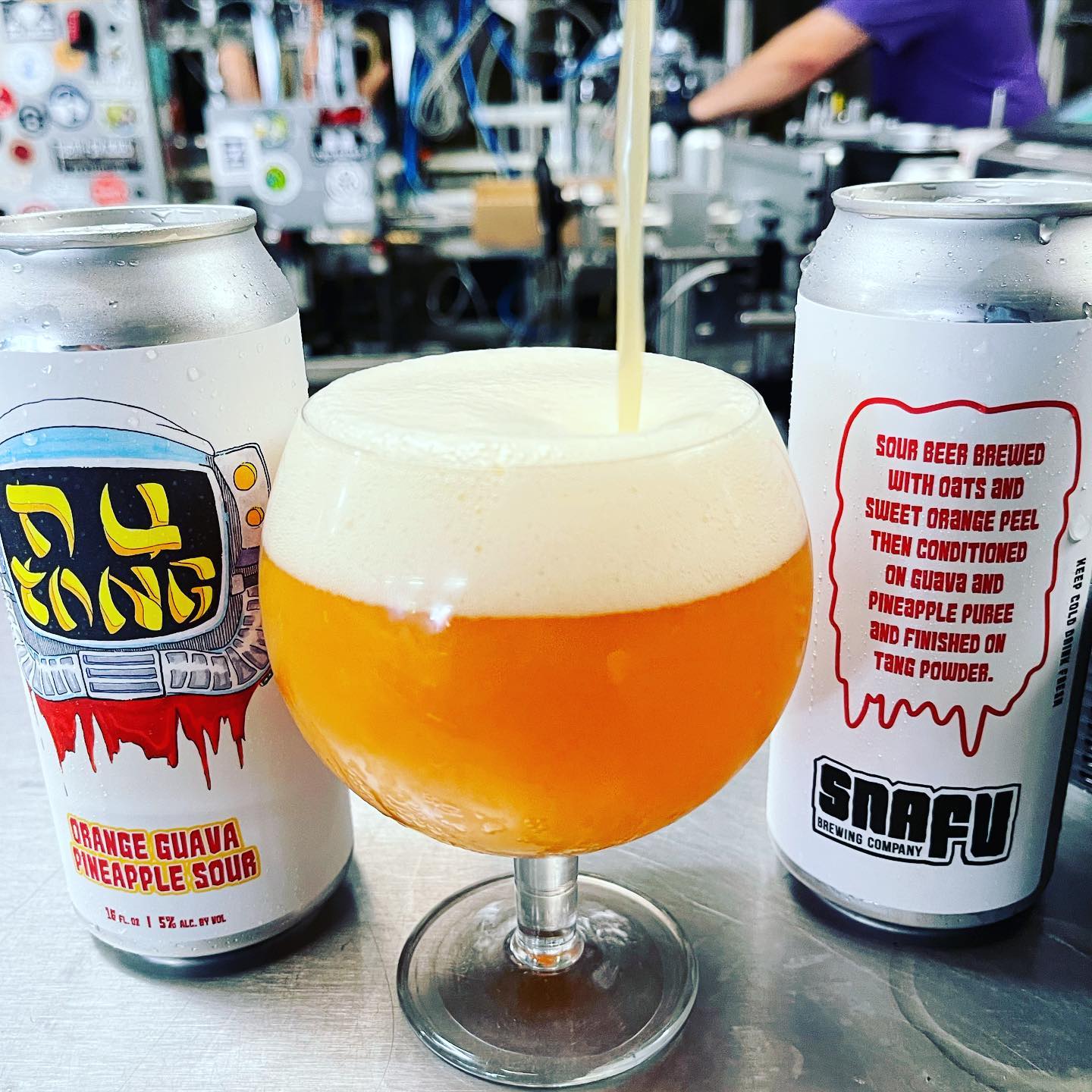 Nu-Tang is a 5.3% Fruited Sour beer brewed with oats and sweet orange peel, conditioned on guava and pineapple puree then finished on Tang powder. Wait, did we just say Tang powder? Yes we did and we absolutely love it! For those not fortunate enough to know what Tang powder is, it's just orange powder you mix with water to make this tangy orange non-alcoholic drink. Now that we're adults, we get to try the alcohol laden version that is Nu-Tang.
As expected, this beer is very tart and tangy! Notes of orange citrus blast your palate up front like a cannon ball wreaking havoc. The beer is smooth, creamy and has a ton of zest to it from the Tang powder and orange peel. The pineapple comes into play towards the end before it gives way to the tart flavors of the Tang. This certainly takes us back to our childhood, but now instead of having to walk to school, we are having to walk home after having a few of these!
SOUTH DAKOTA
Sioux Falls, SD
Covert Artisan Ales began in 2018 when owners Dan and Stacey Berry opened a production brewery on the west side of Sioux Falls. At this point they both still had regular day jobs and began brewing on the weekend and in their free time. After spending several years in Europe, they wanted to incorporate some of those brewing techniques and flavors into their ales. Covert Artisan Ales and Cellars opened the doors to their taproom in 2020.
Their name comes from Dan and Stacey's military background in intelligence. Both Dan and Stacey are Army combat veterans with nearly 15 years in support of intelligence operations all over the world. While in the Army, Stacey was stationed at a unit nicknamed "Sly Fox", which is the inspiration behind the fox logo. Dan designed the fox logo using simple vectors.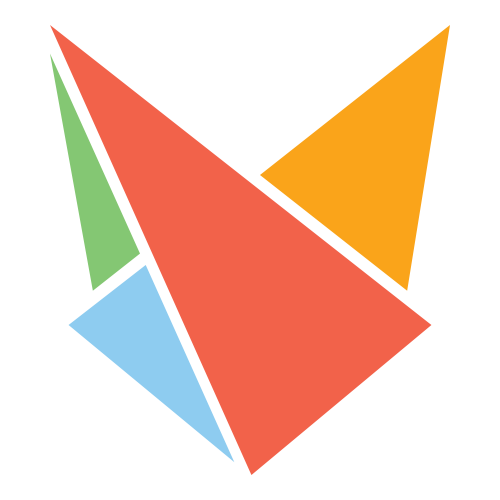 The beer we chose to use for this article is Basis, a Sour Quad.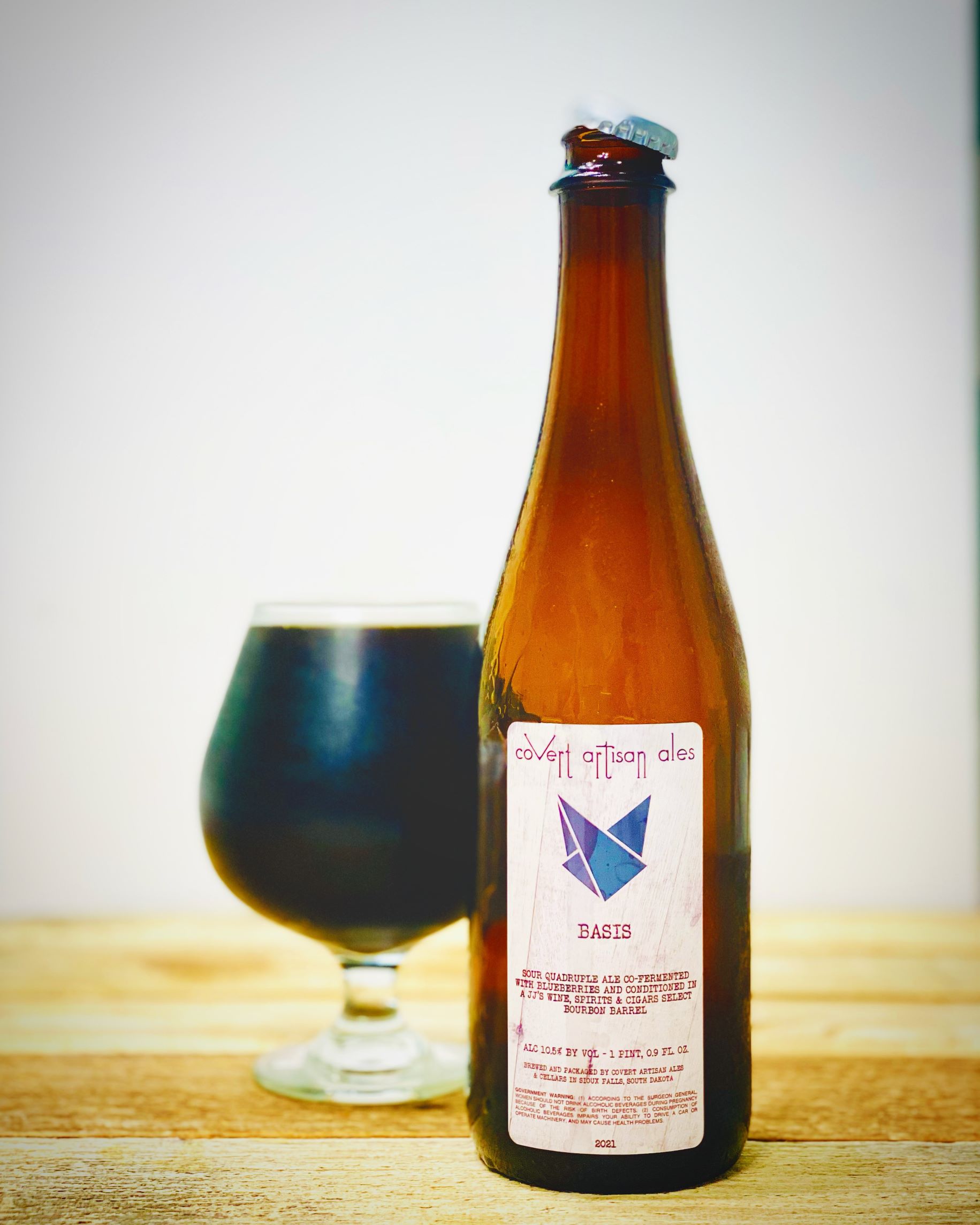 Basis is a mind-blowing Sour Quad co-fermented with blueberries and then bourbon barrel conditioned. Everything the label says about the beer is on point! You get the slightly sweet, yet tartness from the blueberries and the palate-tantalizing flavor from the bourbon barrel. Notes of oak and a hint of caramel are present in the flavor of this beer as well, they tend to come in at the back end of the sip. There's a bit of acidity and sourness that add to the complexity of the beer and help balance it out. Covert not only knocked it out of the park with this beer, but they hit it into the river across the street!
TENNESSEE
Nashville, TN
Bearded Iris boasts a menu that leans heavily towards IPAs, and Pale Ales. It can even appear that they don't cultivate much of a variety at all. Here's the thing though, they're not looking to bombard you with a checklist of styles. Instead, they understand that each hop varietal and every intentionally selected ingredient contains a realm of possibilities that can be unlocked and unleashed. No matter what style or flavor of beer you're seeking, Bearded Iris' goal is to have beers that meet you where you are and deliver the experience you seek, because to them, that's what they believe makes beer worth drinking.
They get their name from the Tennessee state flower, the Bearded Iris. Bearded irises grow worldwide and are a unifier and shared experience for many people. The bearded iris is a symbol of boldness and elegance.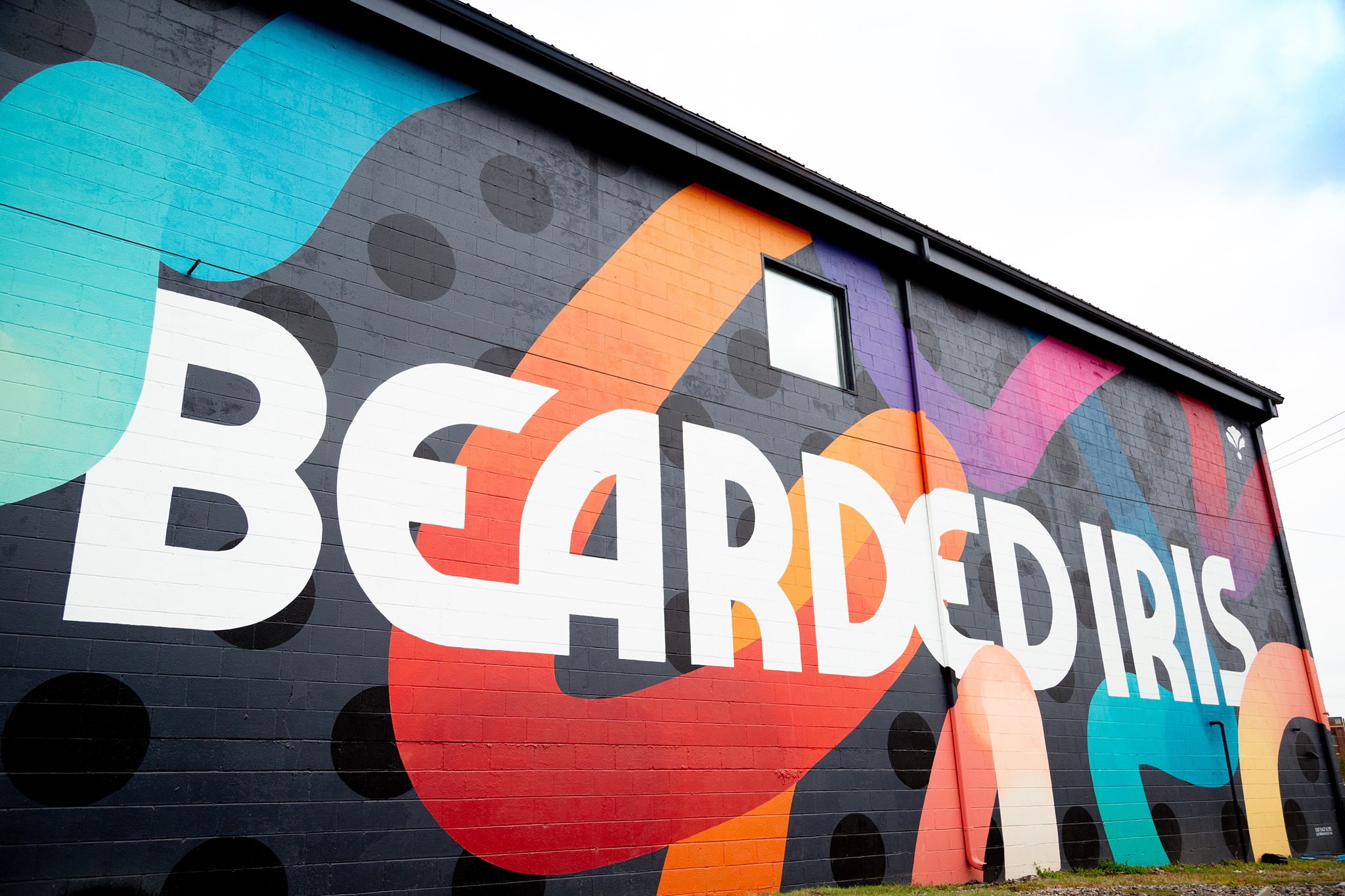 The beer we chose for this article is Homestyle, their New England IPA.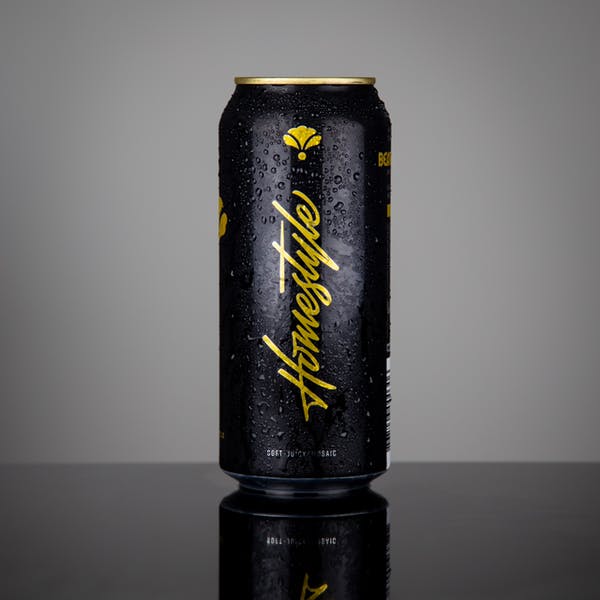 Homestyle is the beer that started it all for Bearded Iris. Homestyle is a single hopped beer that features Mosaic hops. It's a heavily oated IPA that provides a soft, pillow-like mouthfeel that seems to caress the palate. Homestyle is all citrus, and we love it. The citrus and oats work together in this beer to create an experience that have you craving more. At 6% ABV, it's light enough for you to sit back and have a few just in case you are craving more of that juicy flavor. Homestyle is their staple IPA, and it focuses on highlighting the fruity and fragrant nuances of the hop profile. If you find yourself near Bearded Iris, or location that stocks this beer, go out and get yourself or your significant other some flowers, they'll love it!
TEXAS
Brookshire, TX
Baa Baa Brewhouse, have you any beer? Yes, they do have beer and it's exceptional! They specialize in Hazy IPAs, Fruited Sours and "Crispy's" in the heart of Brookshire, TX. They produce some of the most sought-after Hazy IPAs and Fruited Sours in the market. If you're able to get your hands on any of their beer you should do so, because when it's released it tends to get gone really fast!
The beer we chose for this article is Wild Thing, a Sour Ale with Mango, Raspberry, Pistachio and Fluff.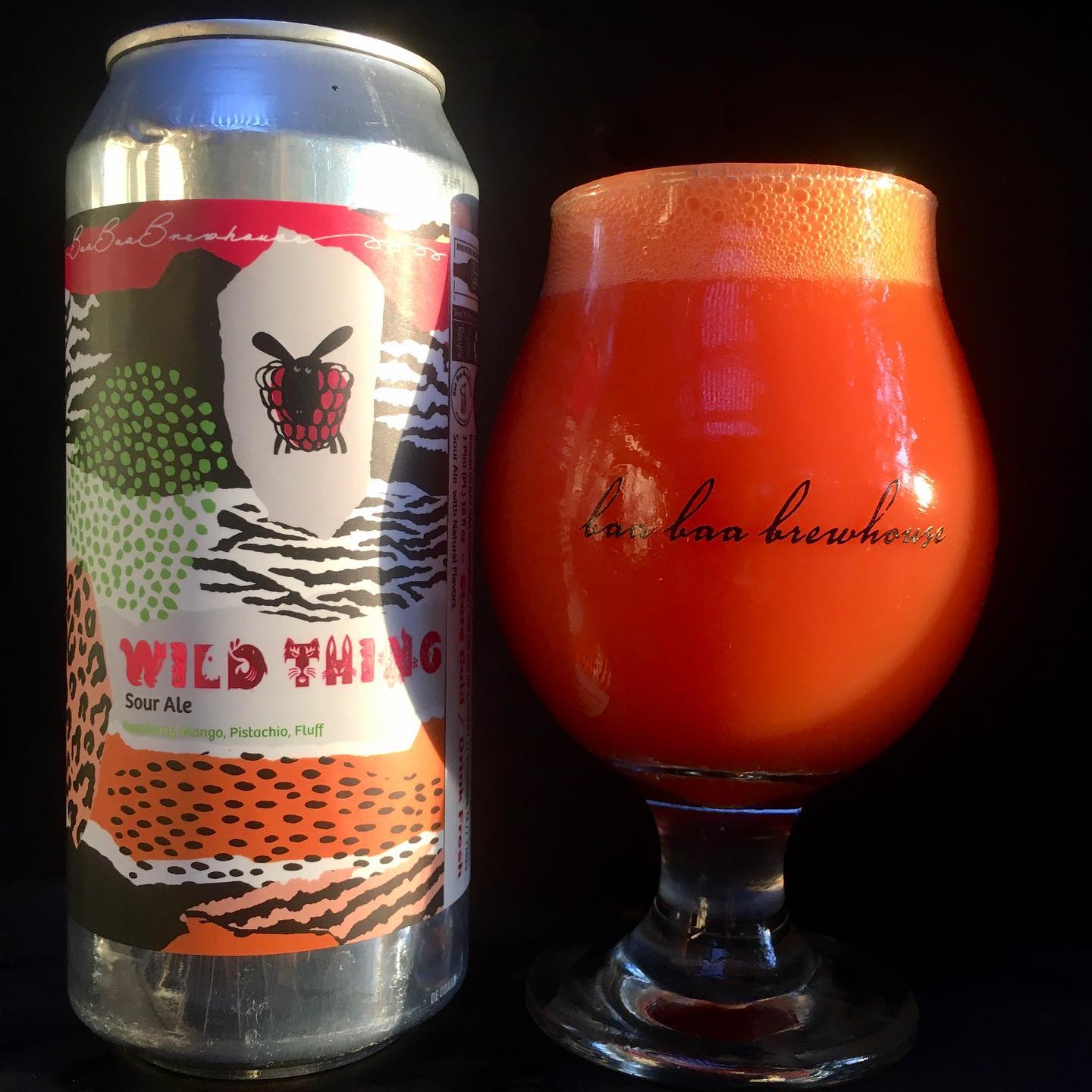 Wild Thing is truly wild with flavors! There's a plentiful amount of Raspberry and Mango up front working together to create this fruity goodness. The pistachio is the difference maker for this beer, it's that little extra that takes this beer from being ordinary for this style to extraordinary. Wild Thing is a thick beer, it pours a soft, creamy texture into the glass and it really coats the palate. This beer goes down like you're drinking a smoothie, it's that thick, but wonderful! We've had the pleasure of tasting some of Baa Baa's other beers before and they are all quite unique, but something about this one stands out, even amongst the style of beers they produce. If you're near the Houston area, you're lucky to have Baa Baa Brewhouse near you. If you ever find yourself in that area, do what you have to do to stop by and see them.
UTAH
Salt Lake City, UT
Epic Brewing Company is Utah's first brewery since prohibition to brew exclusively high alcohol content beer. At Epic, they hand craft and carefully bottle their unique product in 22oz bottles which are perfect for sharing or one to savor for yourself, just don't drink it too quickly!
Epic Brewing Company was founded on one core concept; a passion for strong beer. In the early 2000's, the options for high gravity beer were few and far between. These beers were called high-point beers, which meant the alcohol content was so high that it couldn't be sold in grocery stores and had to be sold in state operated liquor stores. Back in 2009, the cutoff for a high-point beer was 4.0% ABV!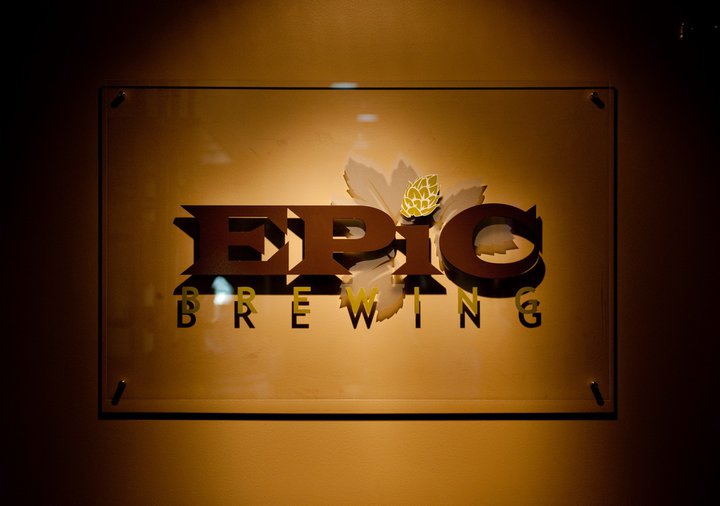 The beer we chose for this article is most certainly of epic proportions. We chose to feature their Big Bad Baptist variant of Black Forest Cake.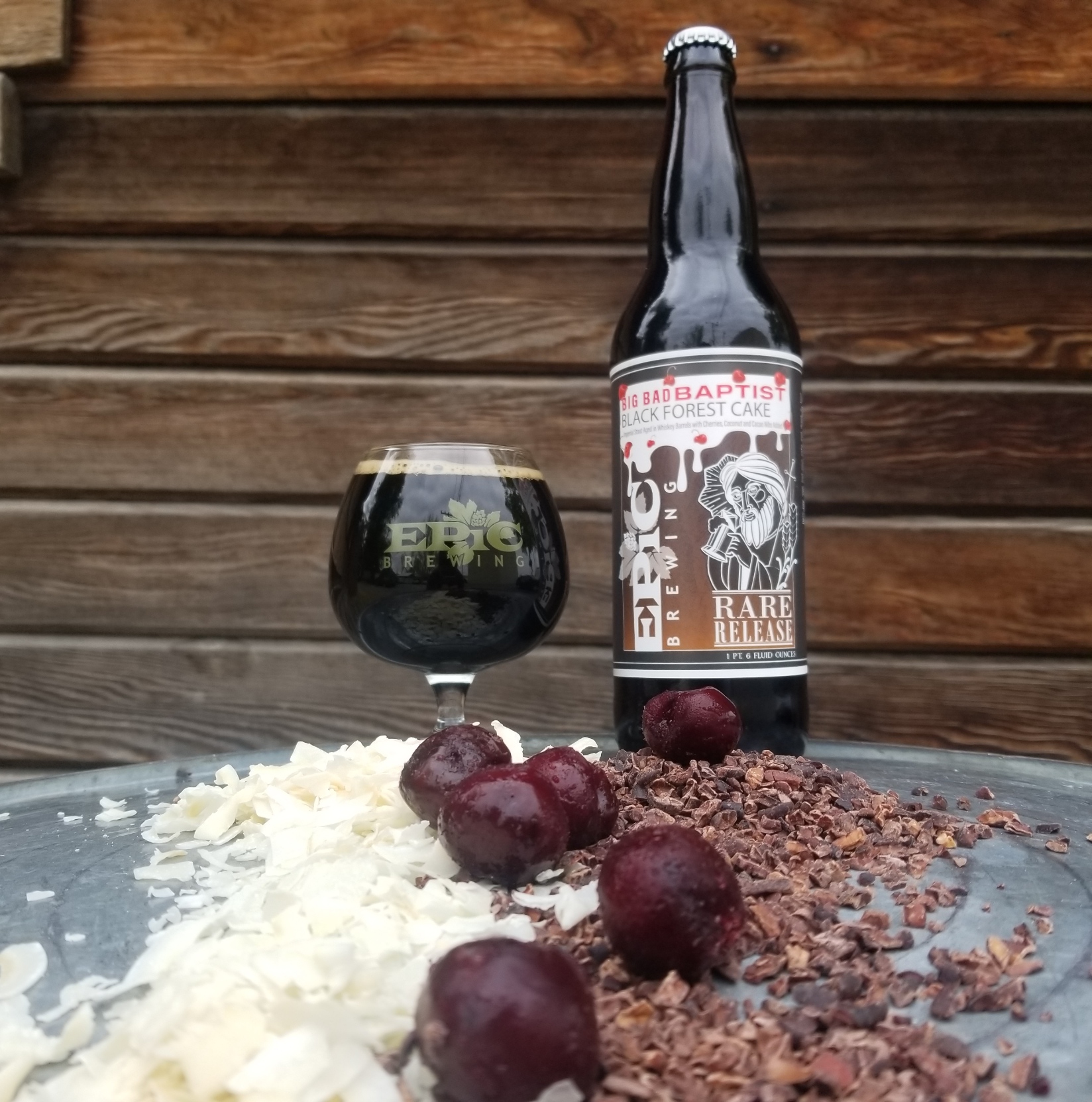 Fall is the favorite time of the year for Epic Brewing Company because its when they release their world-renowned Big Bad Baptist Imperial Stout and all it's specialty variants. Prepping for nearly a year, they do their planning, barrel-aging, blending and packaging of these highly anticipated brews.
The Black Forest Cake variant of the Big Bad Baptist release is just exquisite. It really is a truly remarkable beer and it's no wonder these beers are world-renowned. It's hard not to want to hoard a beer like this when you get it, just because of what it is and how you know it's going to taste. These are barrel-aged Stouts so you could hoard them and age them if you have a cellar like atmosphere and pop one open down the road. We didn't want to do that for a couple of reasons. The main reason is we needed to sample it to be able to write about it! Secondly, we were just too giddy to not open this, even if we weren't writing about it!
Cake in a bottle. That's what we think of when drinking this beer. Huge notes of chocolate and coconut up front work together like two dance partners moving with the music. Then you get the sweet and tart flavor of the cherry that taps the other two on the shoulders as if it's asking to cut in. Those three combine to produce decadent flavors that are pure bliss. The back end is dominated by the coffee and slight notes of whiskey that cut into the sweetness to create an even more balanced attack on the palate.
If you're lucky enough to nab one of these beers, enjoy and savor it. If your luck is astronomical and you have two, then by all means, cellar one and drink the other!
VERMONT
St. Albans City, VT
14th Star Brewing started out as a daydream in the mountains of Eastern Afghanistan. The business plan for 14th Star Brewery was originally drafted on the back of a notebook by co-founder Steve Gagner while serving our country on the battlefields of Afghanistan.
Once he returned home to Vermont from deployment, Steve and his best friend and fellow soldier matt Kehaya, worked to refine their plans to make their dream become a reality in 2012. They opened their doors in 2012 with a 3.5 bbl pilot brewhouse they hand-built using retrofitted maple sap collection tanks. Crazy right? Fast forward to the current day where they operate a 30 barrel brewery and taproom.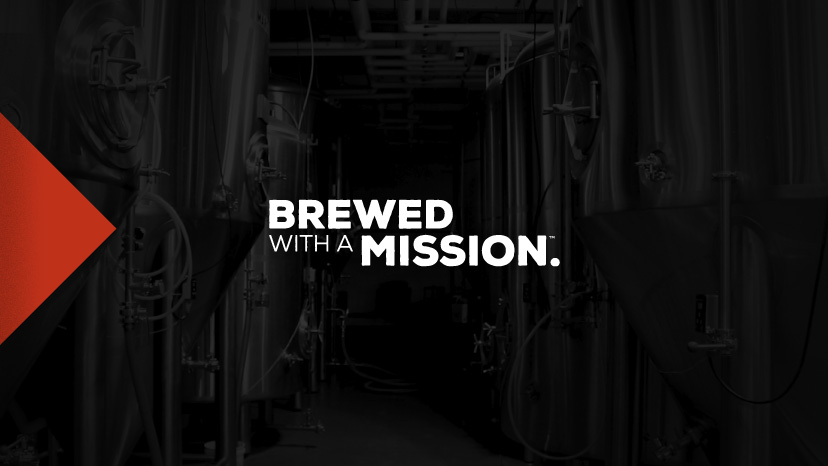 The beer we chose to feature for this article is their aptly named Double IPA called Tribute.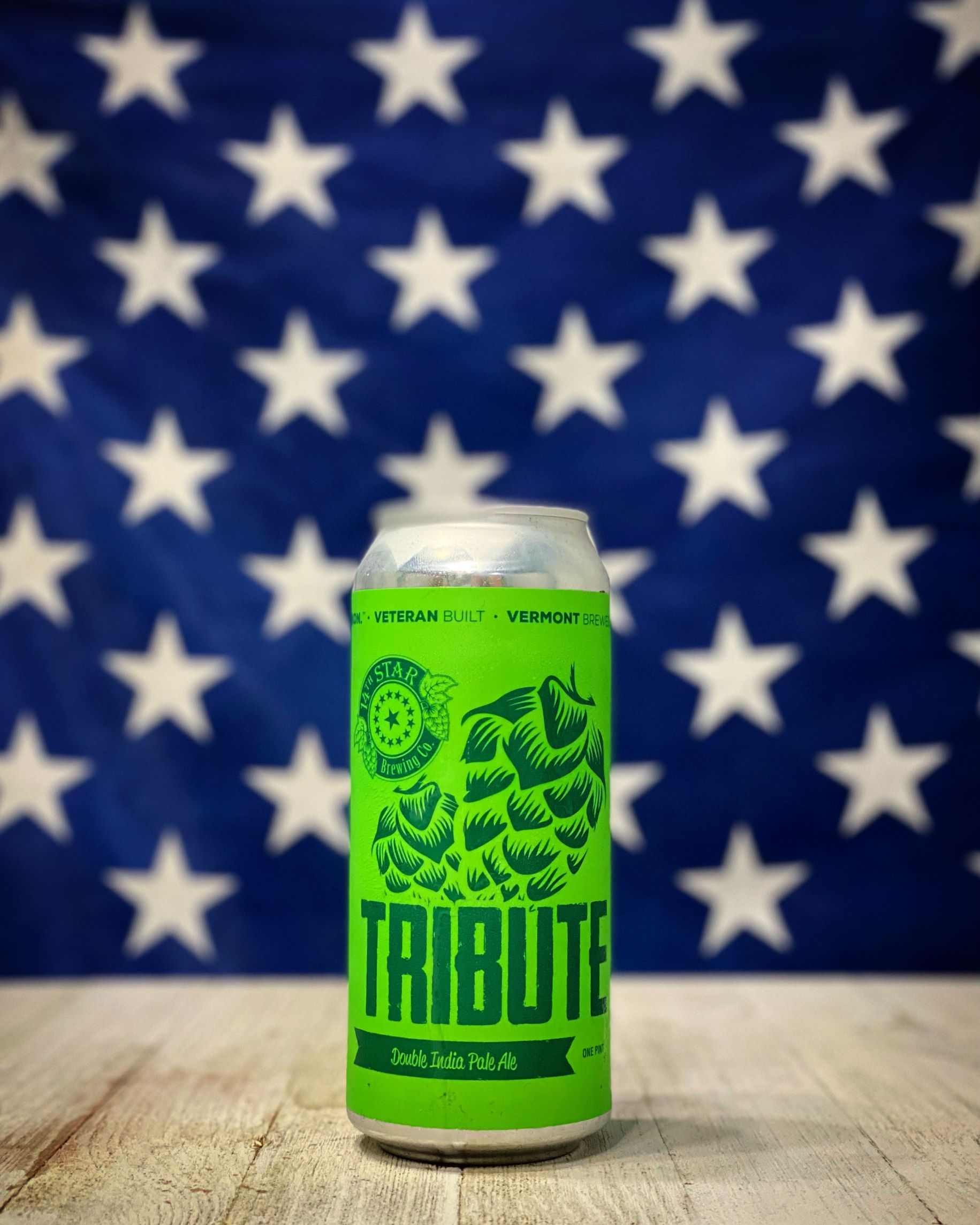 Tribute is a celebration of hops, using 5 different hop varietals to brew the beer. What you get with the hop combo is a truly sensational Double IPA. Fresh citrus and pine are noticeable up front and give it a nice juicy flavor. The beer has a smooth malty backbone that lends some sweetness to this big Double IPA. The finish is crisp and clean with a nice hop bite. At 75 IBUs you know you're still drinking an IPA and we thank them for that! Everything comes together in this beer to create an exciting Double IPA experience that you should try for yourselves. Don't just take our word for it though, go pay them a visit and give Tribute a try, it's available year-round so you don't have to worry about not being able to find it.
VIRGINIA
Purcellville, VA
Adroit Theory prides themselves in making esoteric and style challenging beers with an emphasis on Hazy IPAs, Fruited Sours, Pastry Stouts and Barrel Aging projects. They often have up to 16 beers on tap plus 10-20 options for bottles and cans. Their beers tend to sell out quickly though, so be sure to go grab a beer if you see one you want to try, or one that you already know and love.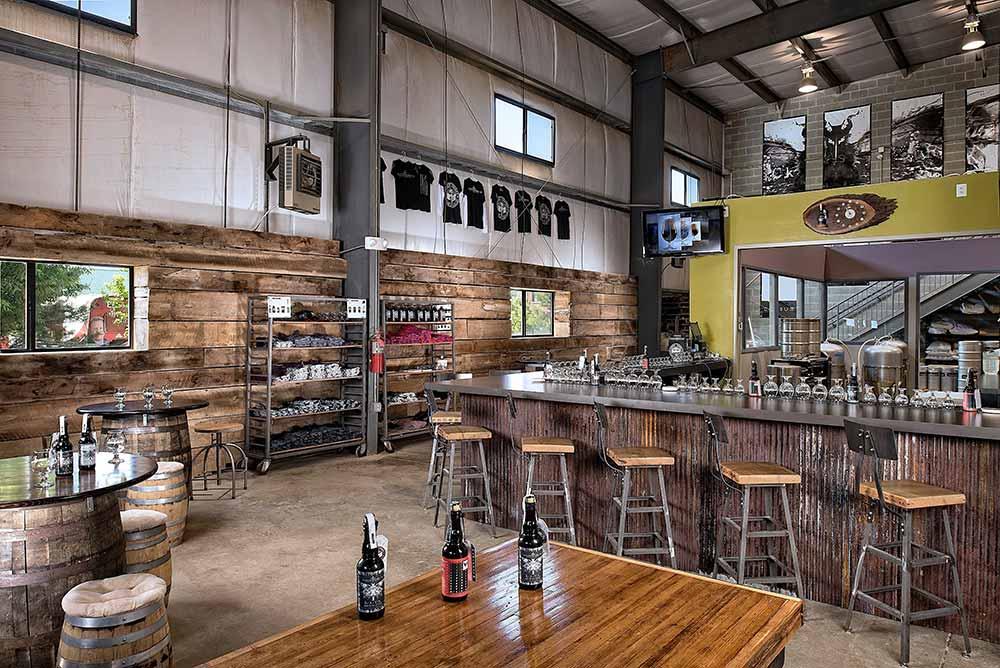 The beer we're featuring from them for this article is their Russian Imperial Stout called Demons Surround me.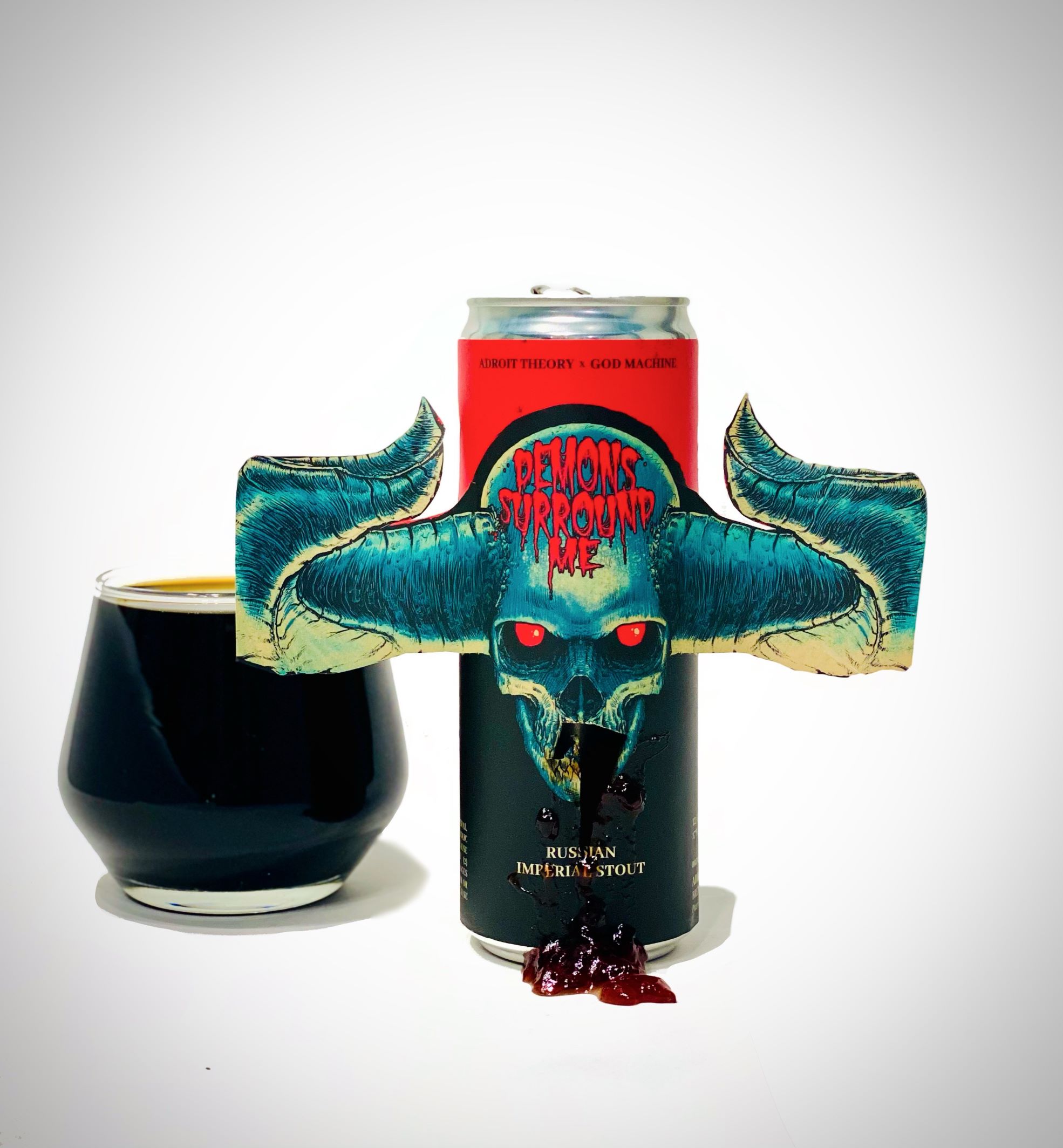 Demons Surround Me is a mammoth of a beer, weighing in at 17% ABV it packs a punch. We will say though, the alcohol is hidden extremely well. Of course, it's a tad on the boozy size, but not much at all considering the ABV.
Chocolate and coffee are the primary players in this beer. There's a heavy dose up chocolate up front that fades away and then comes back into play on the back end. The coffee follows the chocolate and cuts into the sweetness to help balance it out. While the chocolate is the main flavor of the beer, we feel like the notes of coffee is the key player as it cuts the sweetness down and helps deliver an extremely smooth flavor profile. Adroit says this beer is rich, luscious, decadently smooth and scary drinkable, and we agree with them on that!
WASHINGTON
Seattle, WA
Reuben's Brews opened in 2012 after Adam Robbings' award-winning homebrewing career, naming the brewery after their first child, Reuben. At their family brewery, they brew from the glass backwards: designing each beer with intention, unbound by constraints. To them, making the extra effort is worth it.
They launched their original brewery in 2012 with a 5bbl brew system. This space has since closed, but they still use the 5bbl system to brew pilot batches every week. In 2015 they opened their taproom which features a 15bbl brew system. Their even larger production facility houses a 30bbl brewhouse. This is where the majority of the beers that are in cans or bottles are brewed.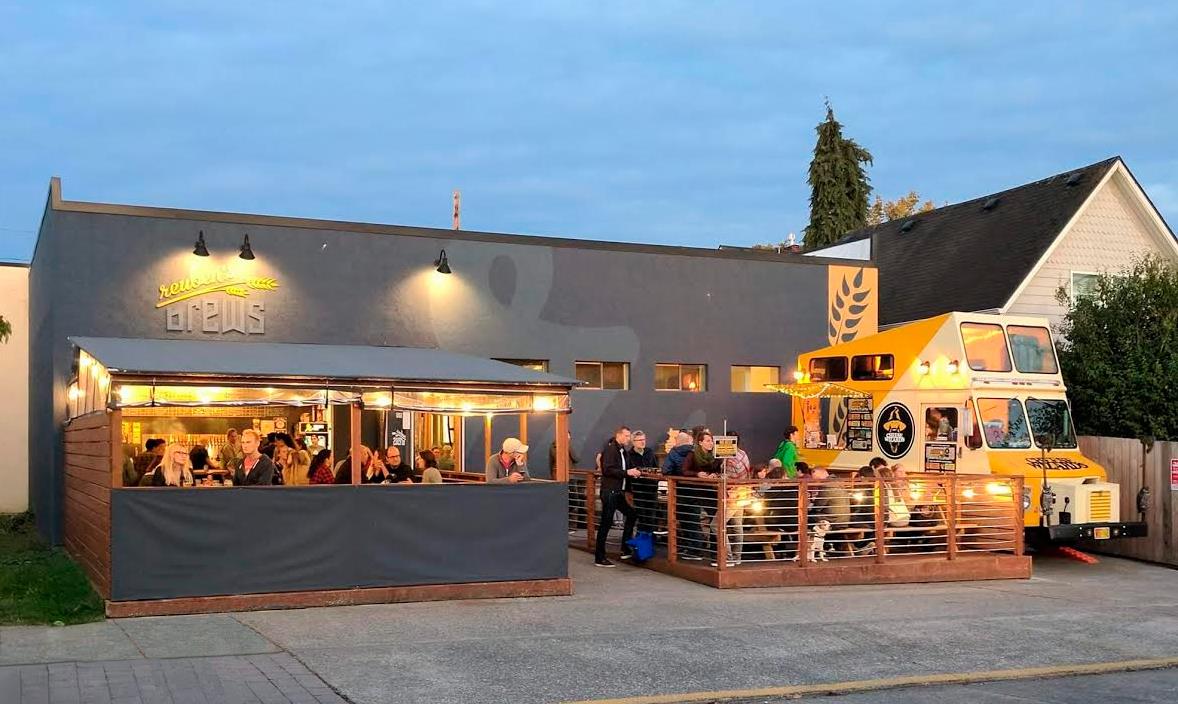 The beer we're featuring from them for this article is Stay Frosty, a Cold India Pale Ale.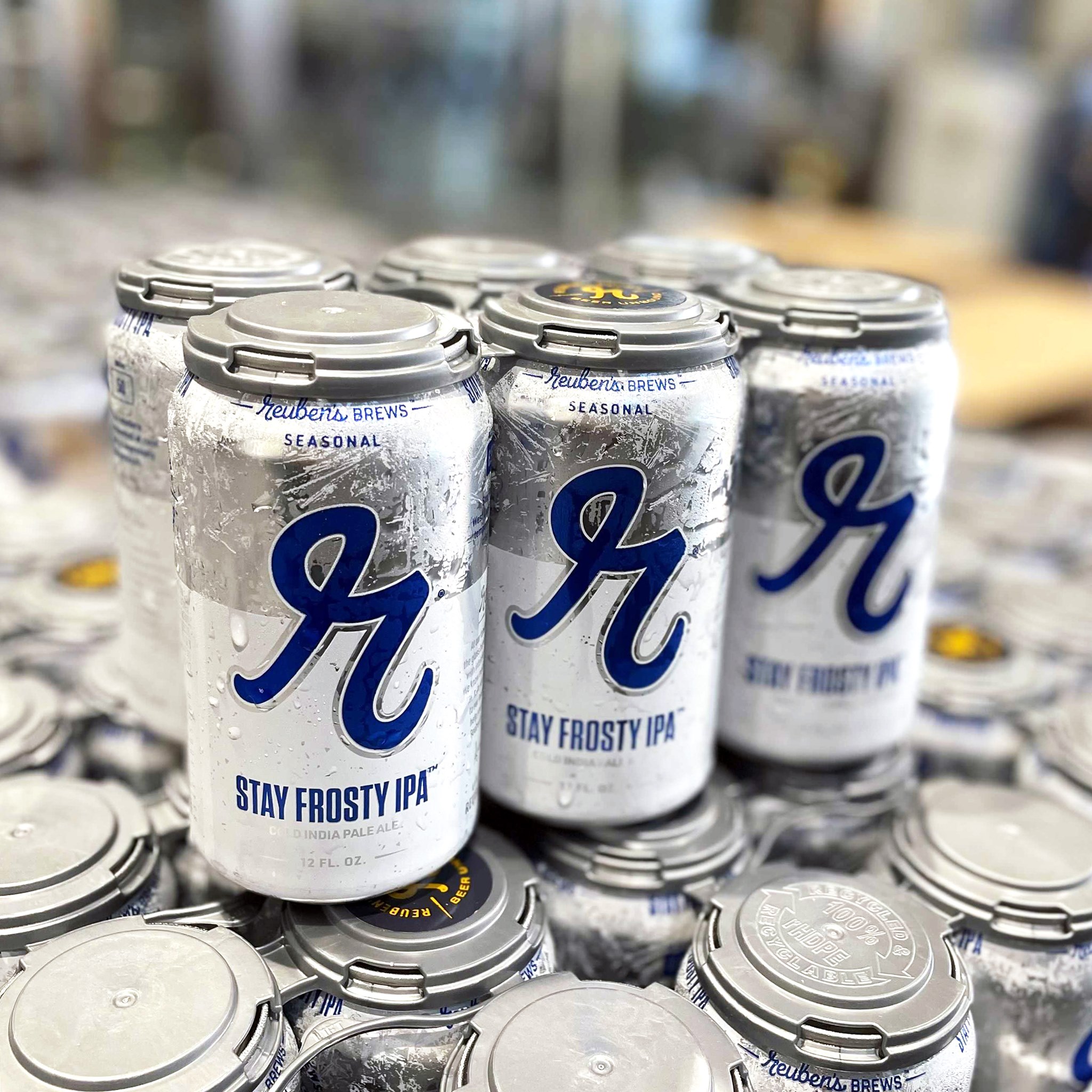 Instead of using traditional ale yeast, in this hybrid IPA they use Lager yeast and ferment at cooler temperatures than normal IPAs to deliver a clean body that allows those hops to shine without any of the usual ale yeast aromas. They add flaked rice to the grain bill that imparts clarity and crispiness. Mounds of hops help build an assertive bitterness, and they also dry hop at the end of fermentation to deliver even more hop boldness.
Driven by the hop combo of Simcoe, Centennial, Cascade and Columbus, Stay Frosty has a whirlwind of crispy flavors. It has the crispiness of a West Coast style IPA, but the flavors of an American IPA. It's like you married a West Coast IPA with an East Coast IPA and Stay Frosty is their offspring. We'd be happy to babysit this beer anytime!
WEST VIRGINIA
Maxwelton, WV
The mission for Greenbrier Valley Brewing Company, or GVBC for short, is to enhance their customers' lives by producing unique craft beer brought to and reached for on adventures small or large. They partner with local and regional retailers to help strengthen their local community and economy. They follow their motto that states "Get Out. Explore. Bring Beer"
They have six flagship beers and an ever-changing selection of small batches that proudly offer a beer for every occasion and every West Virginia craft beer lover.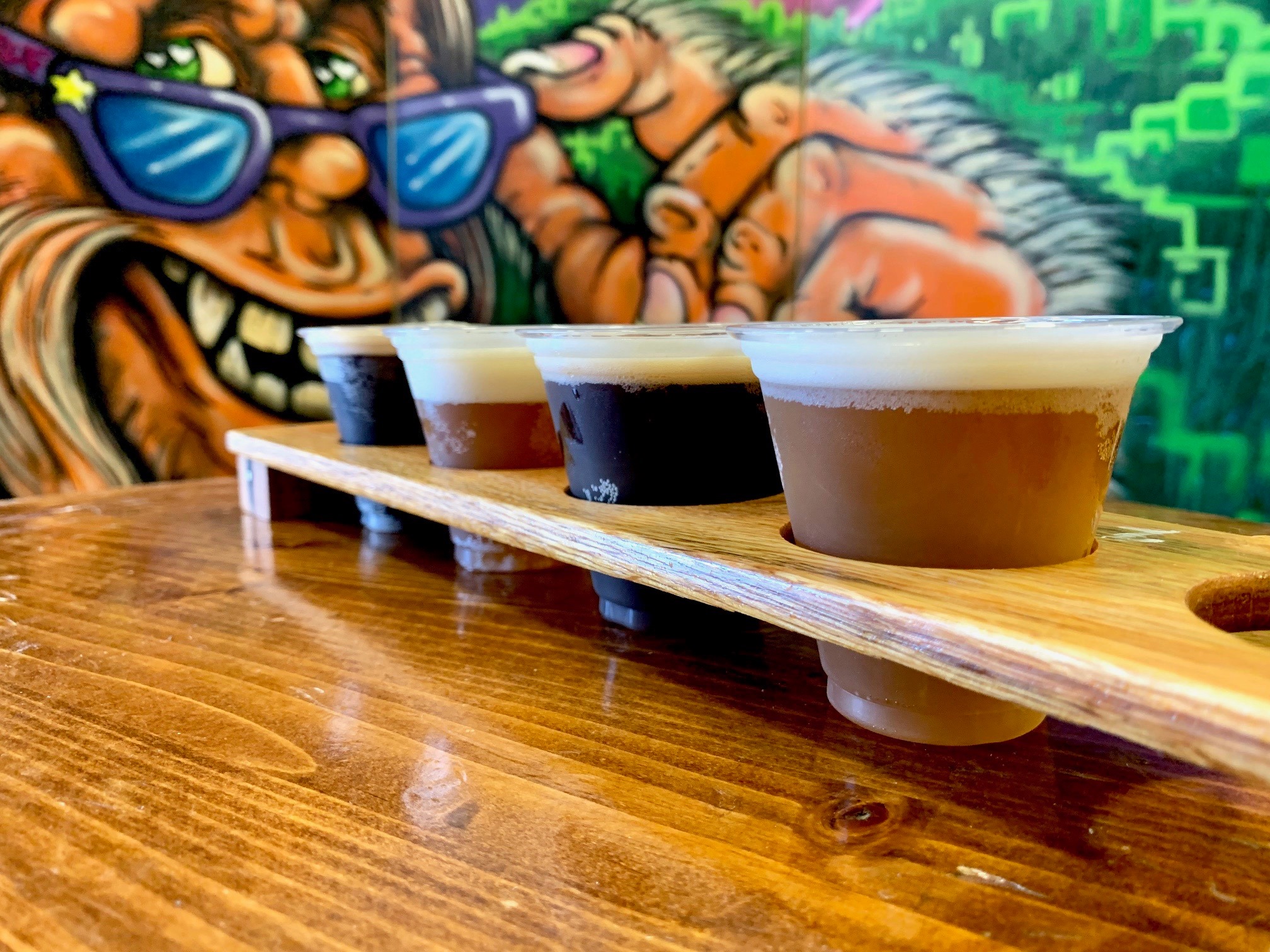 The beer we chose to feature for this article from them is Mothman, a Black IPA.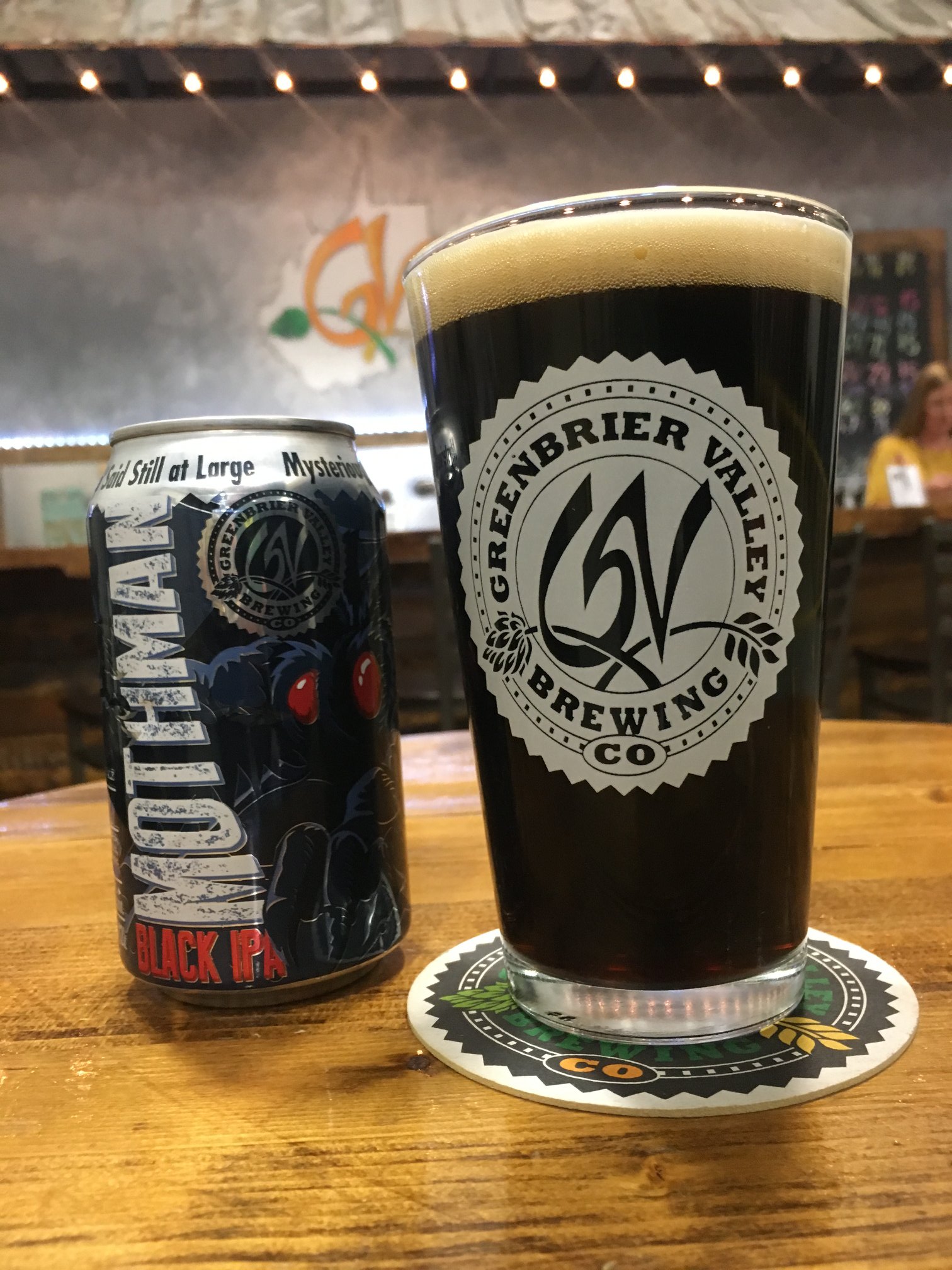 The name Mothman comes from a legendary moth-like creature reportedly seen in the Point Pleasant area of West Virginia. Mothman was never to be seen again after the collapse of the Silver Bridge. His spirit lives on in this darkly delicious Black IPA, that has a balanced blend of roasted malts and citrusy hops to enjoy on moonlit nights!
GVBC nailed this beer. Supreme roasted notes on the nose that seem to heighten your senses. Roasted malt flavors up front are bitter yet slightly sweet on the palate. Those flavors are immediately followed by a hint of citrus and hoppy bitterness. It's very smooth and crisp and will have you wanting more from the Mothman. We'd venture out into the dark of the West Virginia mountains to find more of this beer. We might even share one with the Mothman if he's nice enough. If you're not too crazy about a moth-like creature to share your beer with, then grab some of these and share them with your friends!
WISCONSIN
Waunakee, WI
Humble Forager is a distribution brewery located just outside Madison, WI. Created by Forager Brewery's head brewer Austin Jevne. Their mission is to offer their thoughtful, specialty beers developed at Forager Brewery wherever adventure takes you. Each beer they create uses high quality ingredients, inspired by flavors from around the world.
Their ales represent stimulating, though provoking flavors and aromas from around the world. THey offer a variety of styles which each bring their own special flavor profile and different rotating ingredients throughout the seasons.

The beer we chose to feature for this article is their Coastal Sunset V4, a Dessert Pastry Sour.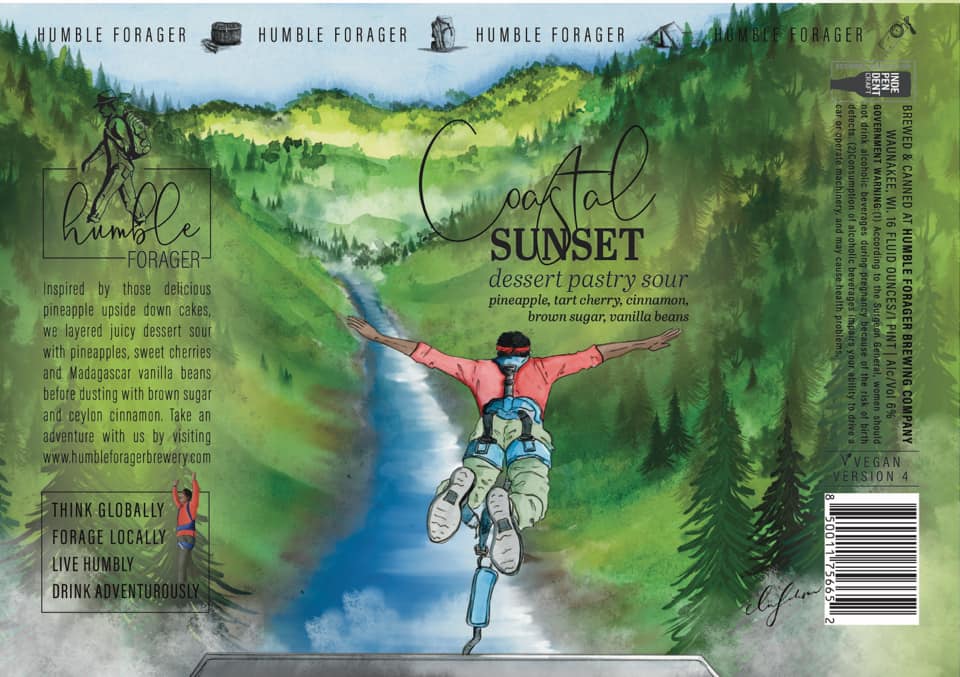 Wow, what an extremely flavorful beer! You taste every flavor advertised on the label. The cherry hits you up front and it's a flavor of natural cherries, not one of fake cherry flavoring. The cinnamon and pineapple come into play after the tartness of the cherry subside. The flavor combo of the sweetness and the sour just go so well together, like peanut butter and jelly! There's even a hint of brown sugar on the back end that takes this beer to the next level. They list this beer as a dessert pastry sour and it's like you are drinking a decadent dessert in a can. If the flavors alone aren't enough, the body of the beer is thick and creamy and helps carry those flavors and distribute them across your palate! What a joy this was to drink, and we're happy that Humble Forager executed this so very well!
WYOMING
Jackson Hole, WY
The brewery is Roadhouse's full production facility with a 30 barrel brewhouse, canning line and barrel room. They have a small taproom on-site with 10 rotating taps of their latest and greatest creations.
At Roadhouse, they strive to capture the soul of Jackson Hole with every beer they produce. Living deep isn't just a dream, it's a passionate pursuit everyday. Roadhouse says that for those lucky enough to call Jackson Hole home, and for those that are just visiting, there is a common thread that binds those together. A desire to satisfy your primal adventurous spirit!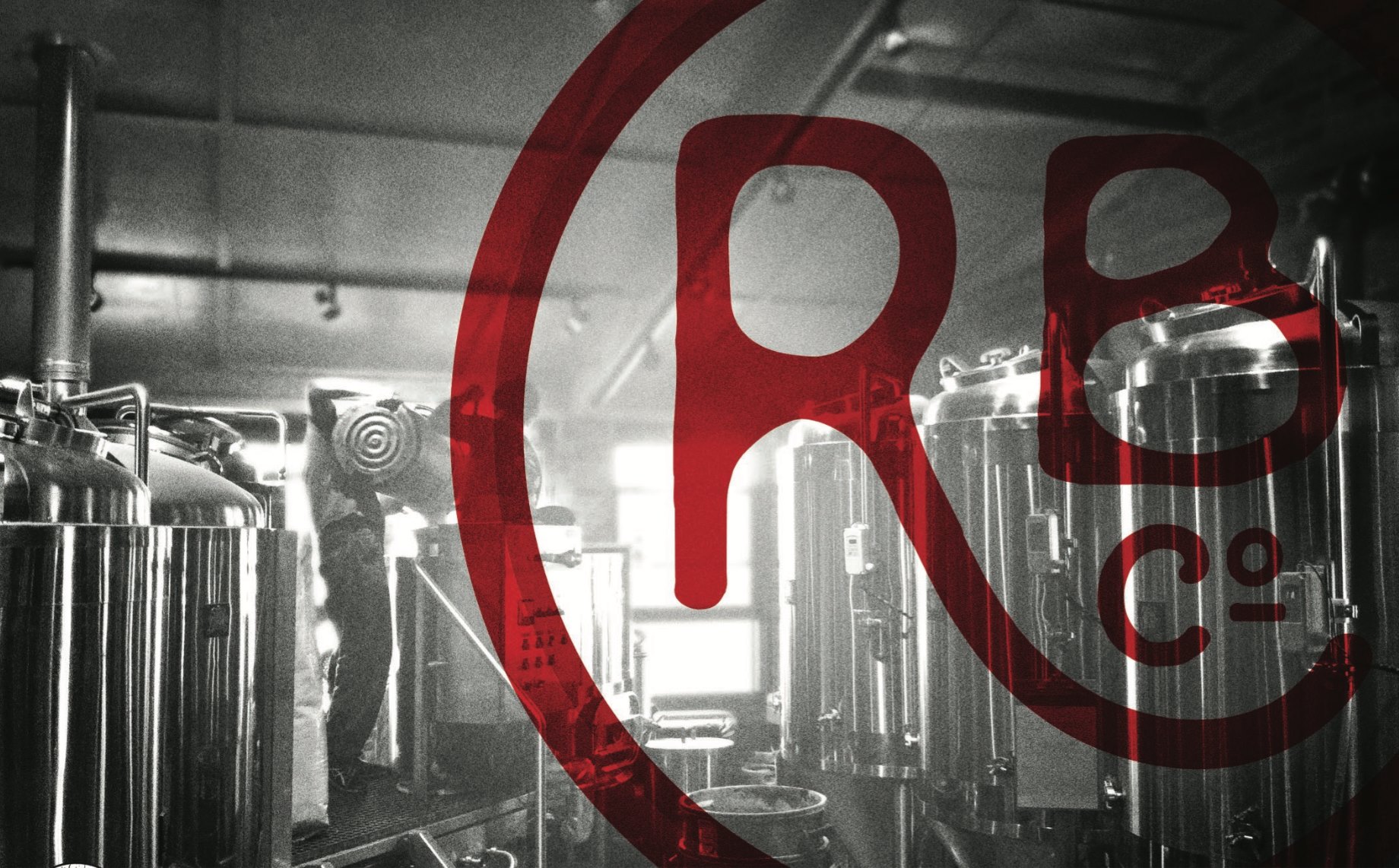 The beer we chose to feature for this article is The Walrus, a New England IPA.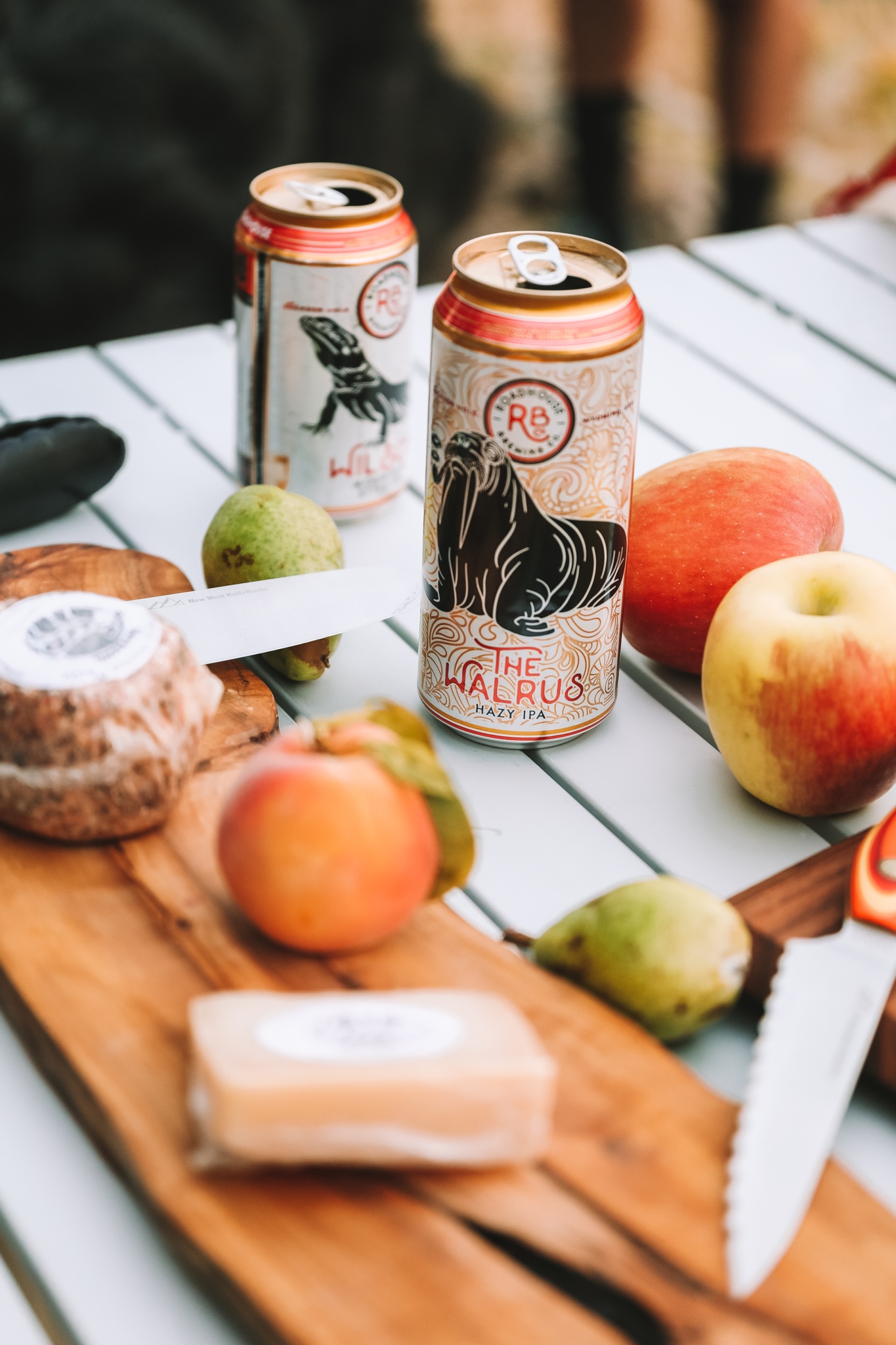 The Walrus is their Hazy IPA with Peaches and Tangerines, and it's phenomenal. It's very crisp and clean and so smooth. You begin your journey with notes of peach that are bright and juicy. Next stop is all tangerine town, as you begin to experience the slightly tart, yet fruity notes provided by the fruit. This is a refreshing beer that you can really enjoy without it being too much of any one thing in particular. All the sweetness and tartness are broken up by subtle bitterness that comes in on the back end to create a masterfully crafted beer. The Walrus weighs in at 8.3% too, so you're getting a whole lot of bang for your buck!
---