No Comments
Revolution Brewing Expands Freedom Session Sour Series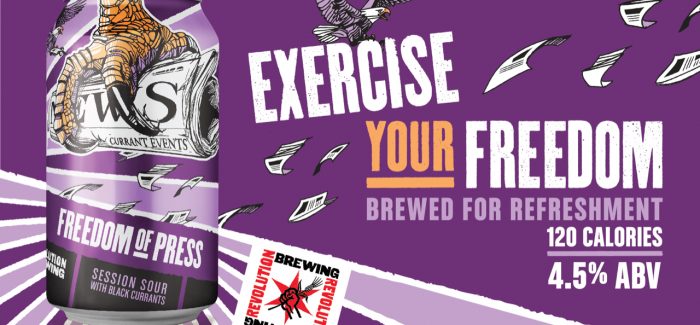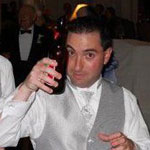 In what could be a sign of changing times, Revolution Brewing announced earlier this month, that they would begin expanding their Freedom Session Sour lineup making that series available in cans all year round. Next up in the series is a Kettle Sour with black currants called Freedom of Press. In order to make room for those beers, a Revolution staple, Bottom Up Wit, will no longer be canned.
While Bottom Up Wit will still be available in kegs and at both Revolution locations, the move from a classic Witbier to a Session Sour lineup, where the calorie count is a selling point, is a clear signal of how the beer industry is changing.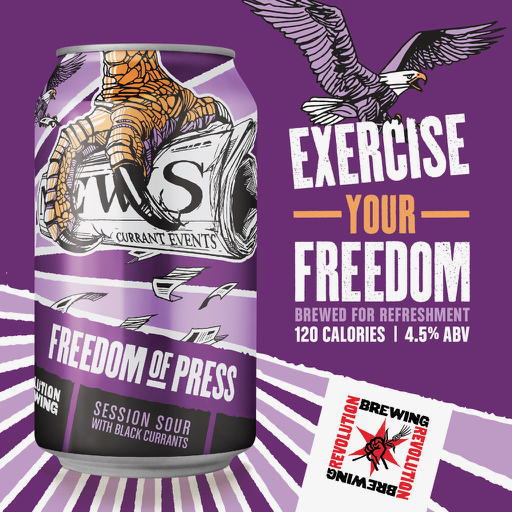 "Fan reaction was a big reason for the Freedom Series going year-round," said Revolution Communications Manager John Carruthers. "These beers also let us provide something for sour lovers, session beer fans, and people who might otherwise opt for wine or a cocktail when they're having a night out. We're going to keep Wit around on draft, but Freedom of Press and Freedom of Speach bring a lot to our lineup that we couldn't ignore."
The Freedom Series launched earlier this summer with Freedom of Speach, a kettle sour with peaches, while Freedom of Press is the next in the lineup and features black currants.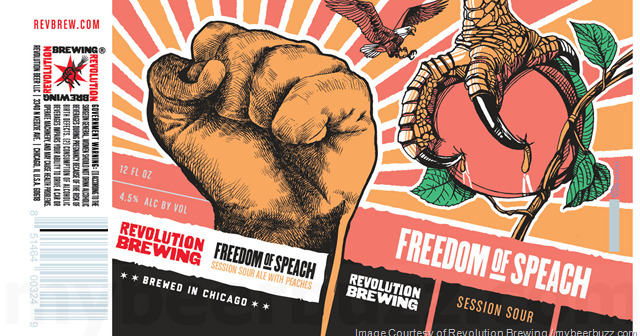 There's more in the works for the series. After Freedom of Press, Revolution plans to bring back Freedom of Speach in the spring of 2019. There are also new beers with other fruits in the works that will see draft-only releases. Based on their popularity it would be very likely that successful beers will find their way into cans.
"We've also created a few different draft-only versions of these Freedom beers with different fruit elements — including strawberry/rhubarb and pomegranate — as well as an unfruited version," Carruthers said. All of those were pretty big hits for us at Great Taste of the Midwest earlier this year, and they're likely to come back."
As for highlighting the calorie count in Freedom of Press, Carruthers says it wasn't intentional, but as the market trends towards being more open with nutritional facts, it worked out well.
"Health-conscious consumers have always tried to align their food and beverage decisions with their lifestyles," Carruthers said. "Lower calorie beers are less of a trend than a way to reach different segments of the public – and more brewers are recognizing this. We didn't really set out to make a low-calorie beer – we'd been developing kettle sours for a bit, and then realized a bit later that they hit a pretty low-calorie mark. It's not a direction we're moving in as much as something that made a lot of sense for Freedom of Press."
Freedom of Press began distribution in November.
---