No Comments
Drinking Through the 2019 Surly Darkness Barrel-Aged Variants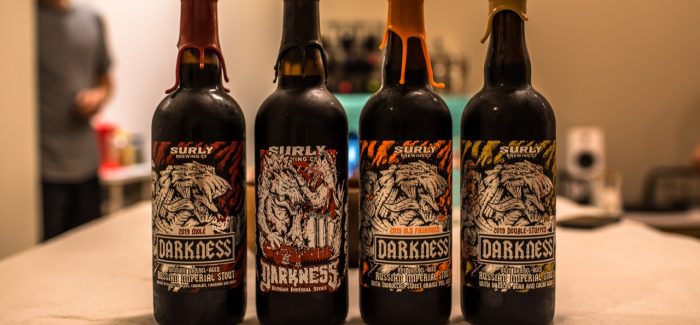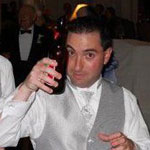 For the second year in a row, Surly Brewing Co. will be releasing a series of barrel-aged variants of their popular Russian Imperial Stout, Darkness. The different barrel and adjunct beers were released at Darkness Day last year and will follow suit this year.
Last year they released a version in a rum barrel with coconut, a bourbon barrel version with cherry and vanilla, and a fernet barrel Darkness. This year Surly kept the rum and bourbon barrel, but changed the fernet to a rye barrel. An acquired taste, the fernet barrel was a unique release as there weren't, and still aren't, many breweries using the fernet barrel, which highlights notes of licorice in the beer.
So for this year, those going to Darkness Day will be able to pick up four new beers: The base Darkness, a version called "Molé," which is aged in a bourbon barrel with vanilla, chocolate, cinnamon and chilies; the rye barrel-aged version called "Old Fashioned" with sweet orange peel, and finally "Double-Stuff," which is aged in rum barrels with vanilla and cacao added.
Surly sent us the lineup to try ahead of time and some of the Chicago staff got together to try them all. National Content Editor Mathew Powers and I give our thoughts below.
Darkness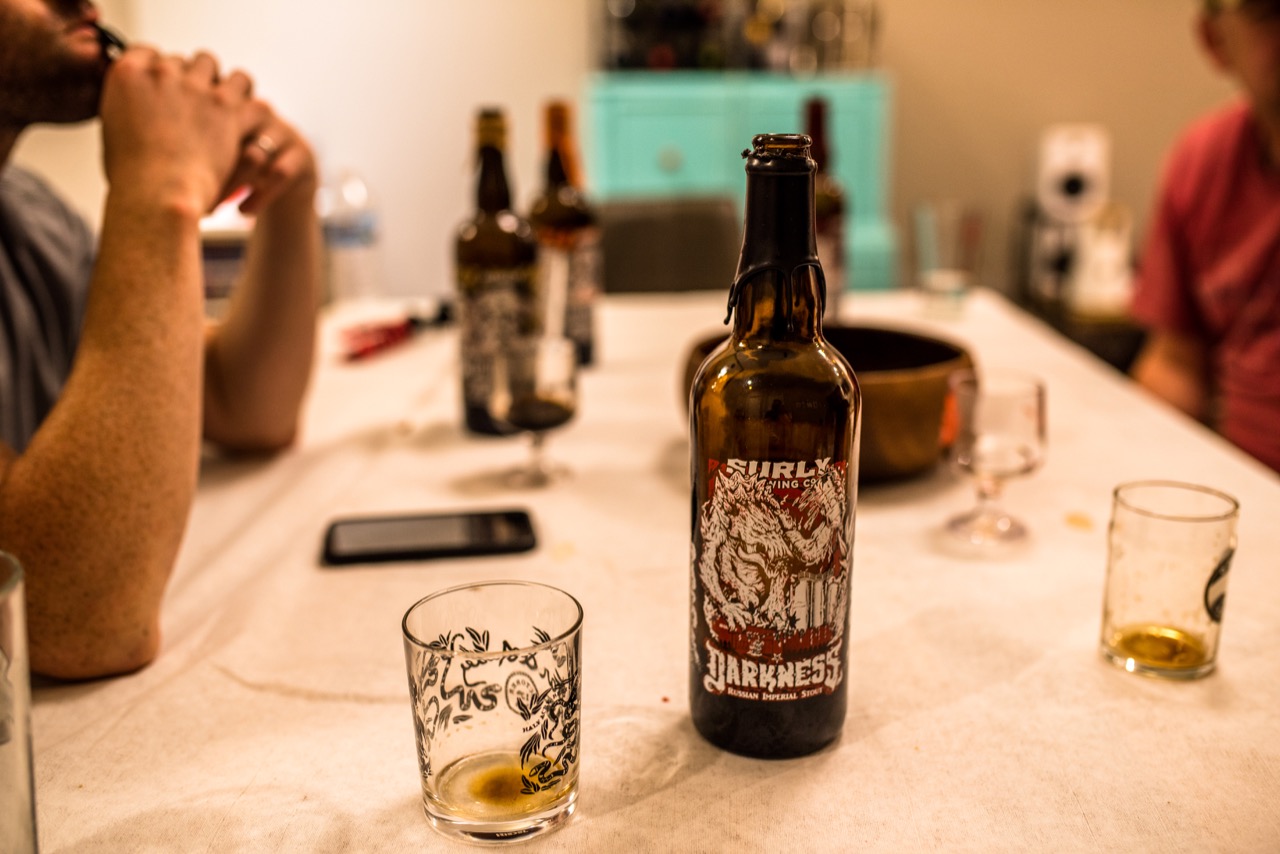 MZ: Overall I liked the base Darkness for this year. It seemed much lighter/thinner than in years past but there were still nice notes of chocolate. At 10.3% ABV, it definitely doesn't taste overly boozy and is actually pretty easy to drink considering the high alcohol content.
MP: I thought it was super light on the tongue; it feels like a Schwarzbier but tastes like a Russian Imperial Stout. I love the chocolate notes and the velvety smoothness. 
Molé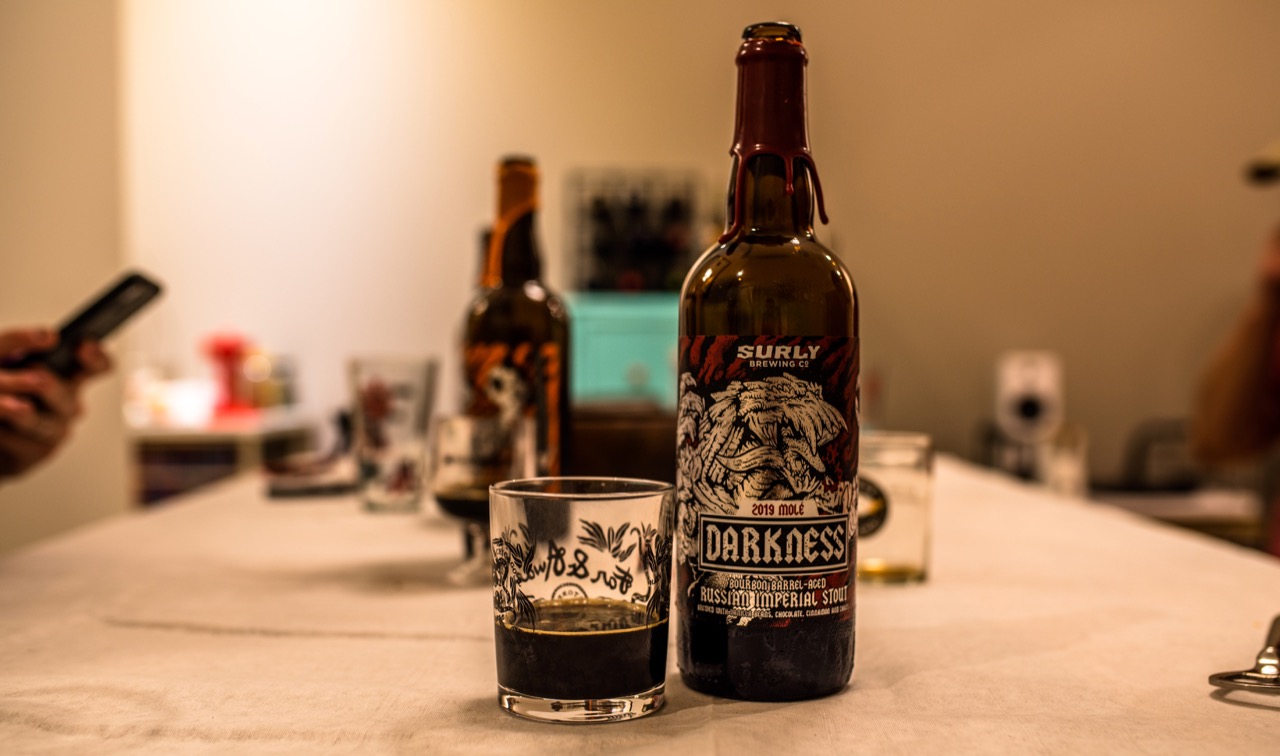 MZ: There's a lot going on in this beer and it worked well. Cinnamon is an easy adjunct to overdo and it can dominate a beer. I don't want to be drinking Big Red. The cinnamon in this one is very present but blended nicely into the beer. I didn't get a ton of vanilla but there is definitely some smooth chocolate notes as well. The chili at the end won't make you sweat. You'll feel it in the back of your throat late and it will tingle a bit as it goes down.
MP: My favorite, and it's not even close. I'm a sucker for cinnamon, but the beer exceeded my expectations. The chili spice was mainly subtle, but grew substantial on the finish–a lovely, gentle burning on the throat. A fan of Mexican chocolate would love a beer like this as it's a bit earthy-spiced, a little chocolate, and just a bit spicy. My only complaint was the lack of barrel-character, but that is at best something to quibble over. 
Old Fashioned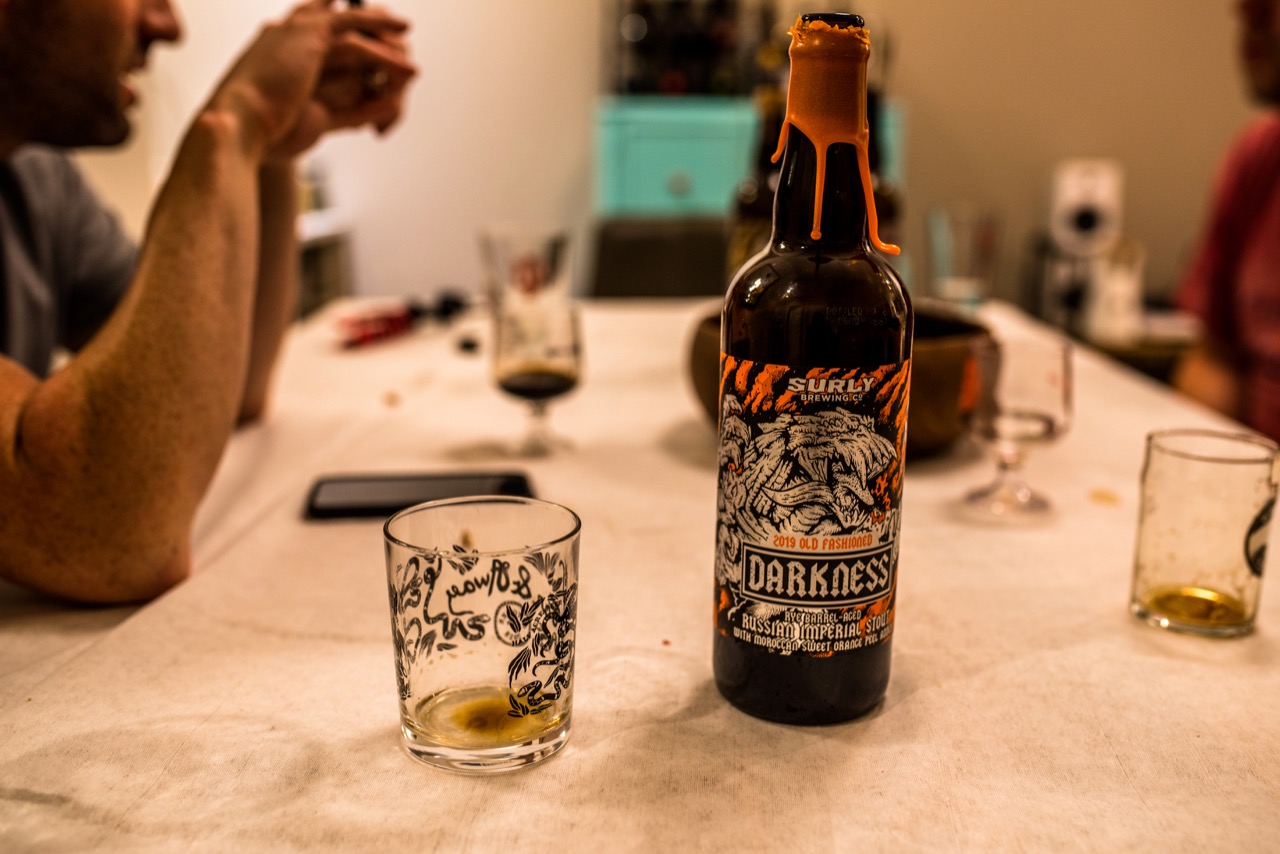 MZ: This one was probably my favorite, but the Molé would be a close second. I'm a big fan of Old Fashioneds. They're my drink of choice when I go to a nice cocktail bar, so when I saw that there was an Old Fashioned version of Darkness I was really excited. The key is to let this one warm up just a bit and you'll get a bit more of the rye barrel. The sweet orange peel is present on the nose and the taste and you'll get that feeling of drinking an Old Fashioned.
MP: Is it mixology? Is it a beer? Is it alchemy from the barrel aging? Well, the answer is yes, yes and yes. The Old Fashioned truly draws on the familiar Old Fashioned cocktail, though the Rye is muted. The orange sweetness is prevalent on the nose, which gives way to the Darkness stout and a little booziness. Wonderful beer cocktail type of beer. 
Double-Stuffed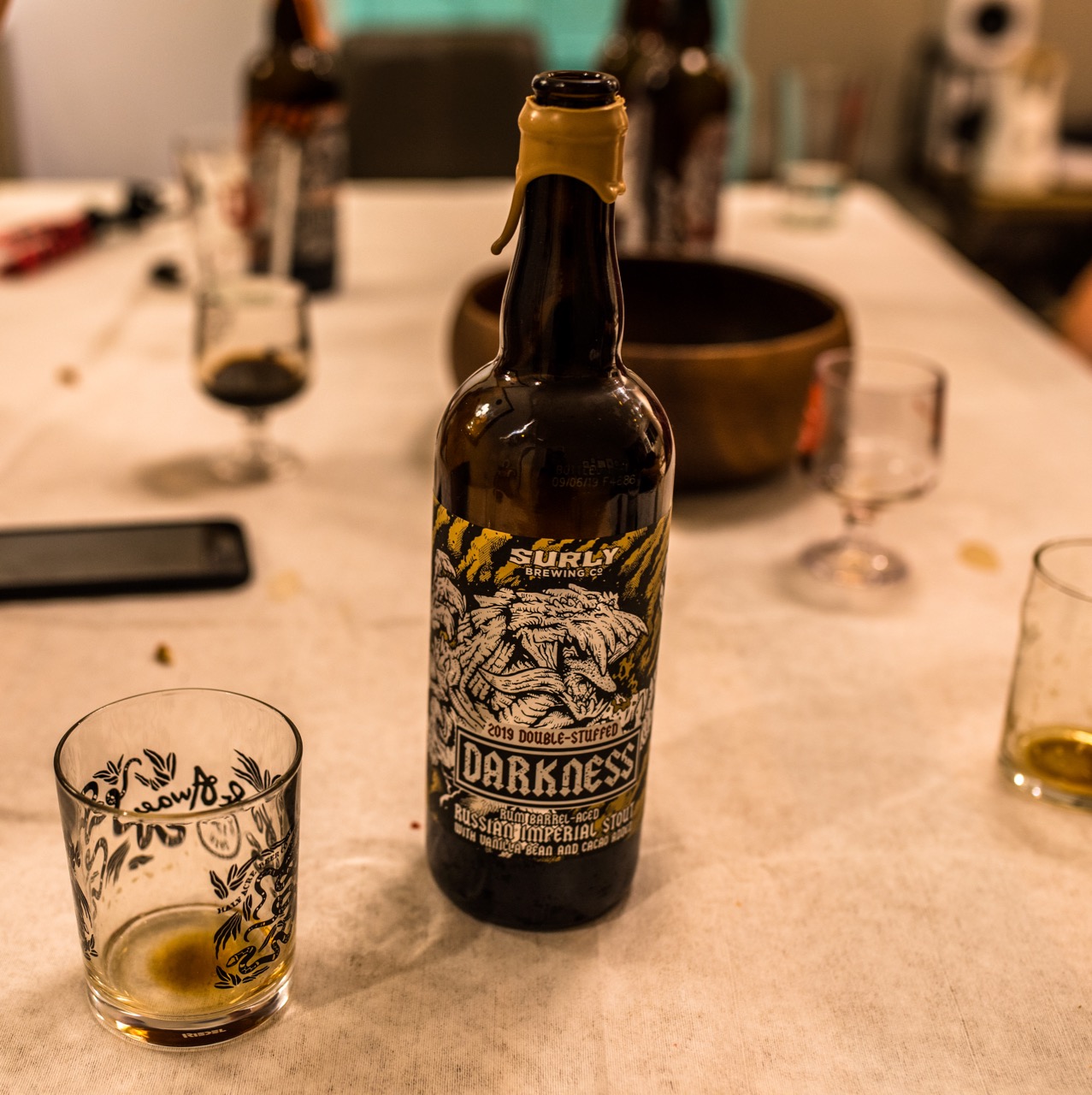 MZ: This one didn't do it for me. While the first two barrel-aged beers were controlled with how the barrel flavor came through, with Double-Stuffed it punches you in the face with the tropical rum notes and is the dominating flavor throughout. Rum already has vanilla notes, so the addition of vanilla enhances those flavors and you don't get much of the cacao. If you're a fan of good rum you'll probably have a better experience with Double-Stuffed than I did.
MP: Apparently I'm in the minority, but rather enjoyed the rum version. Yes, it was sweet, like one would expect from wet barrels full of fermented sugar cane. By far, the Rum BA version enjoyed the most barrel character, and I appreciated it. The vanilla overpowers much (if any) of the cacao, but the vanilla and rum and beer, to this writer, worked well.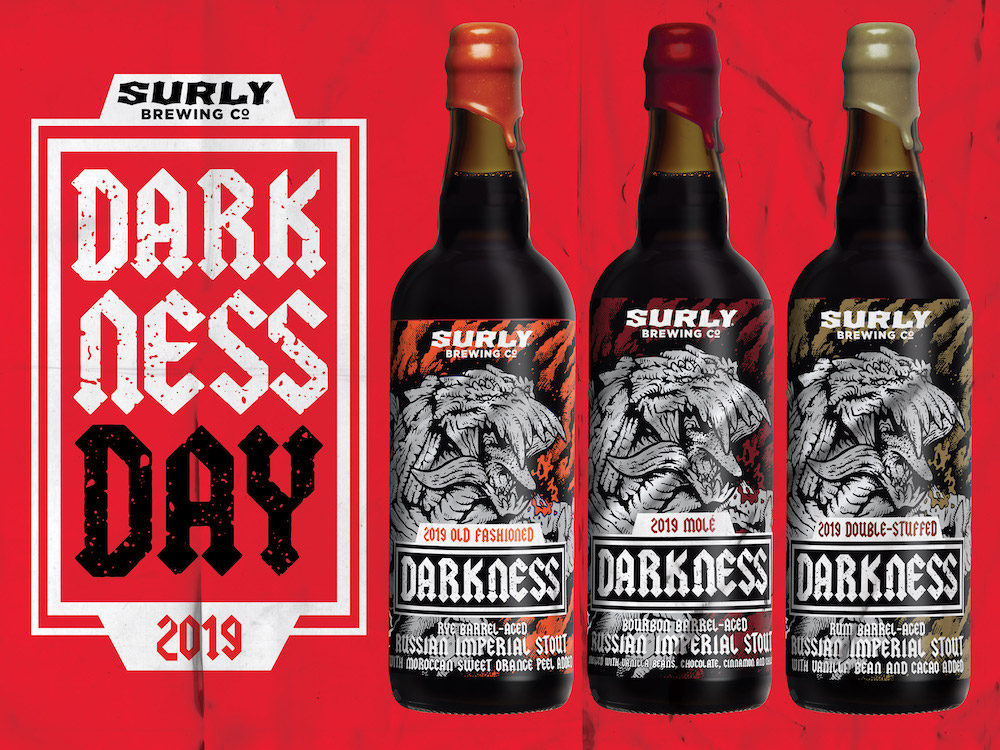 Tickets are currently available for 2019 Darkness Day festivities, as well as for the 2019 Darkness and 2019 Darkness Variant Packages.
---